The Boothbay Explorer Sailboat

Specs & Key Performance Indicators
The Boothbay Explorer, a centre-cockpit ketch, was designed by Clifford Swain & John G Alden and built in the USA by Hodgdon Bros.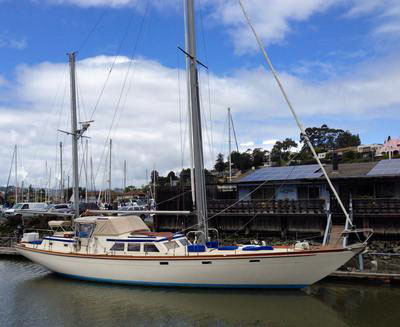 The Boothbay Explorer
Published Specification for the Boothbay Explorer
Underwater Profile: Long Keel
Hull Material: GRP (Fibreglass)
Length Overall: 58'7" (17.7m)
Waterline Length: 41'0" (12.8m)
Beam: 19'8" (4.8m)
Draft: 6'2" (1.9m)
Rig Type: Masthead Ketch
Displacement: 53,300lb (24,177kg)
Designer: Clifford Swain & John G Alden
Builder:  Hodgdon Bros. (USA)
Year First Built: 1968
Year Last Built: 1974
Number Built: 5
---
Published Design Ratios for the Boothbay Explorer
1. Sail Area/Displacement Ratio: 15.3
2. Ballast/Displacement Ratio: Not published
3. Displacement/Length Ratio: 321
4. Comfort Ratio: 44.6
5. Capsize Screening Formula: 1.7
Summary Analysis of the Design Ratios for the Boothbay Explorer
1. A Sail Area/Displacement Ratio of 15.3 suggests that the Boothbay Explorer will need a stiff breeze to get her going. In light conditions, unless you've got plenty of time on your hands, motor-sailing may be the way to go.
2. The Ballast/Displacement Ratio of the Boothbay Explorer has not been published - unless you know differently in which case, contact us.
3. A Displacement/Length Ratio of 321, tells us the Boothbay Explorer is clearly a heavy displacement cruising boat. You can load her down with all your cruising gear and equipment and it will hardly affect her waterline. Not an ideal choice for coastal sailing, but she'll come into her own on an offshore passage in testing conditions.
4. Ted Brewer's Comfort Ratio of 44.6 suggests that crew comfort of a xxxx in a seaway is similar to what you would associate with the motion of a heavy bluewater cruising boat. Pitching and rolling will be well damped - your cup of coffee on the salon table stands a reasonable chance of staying there in most conditions.
5. The Capsize Screening Formula (CSF) of 1.7 tells us that a xxxx would be a safer choice of sailboat for an ocean passage than one with a CSF of more than 2.0. 
---
Any Questions?
The Boothbay Explorer is based on the earlier Boothbay Challenger, which was also designed by John G. Alden and built by Hodgdon Bros in the late 1960s. The Boothbay Challenger was a 56-foot centreboard ketch with a slightly different hull shape and rigging than the Boothbay Explorer.
The Boothbay Explorer has a spacious and comfortable interior, with a large saloon, a galley, a navigation station, and four cabins. The master cabin is located aft, with a double berth, a settee, a vanity, and an ensuite head. The forward cabin has a V-berth, a hanging locker, and a head. The two guest cabins have upper and lower berths, drawers, and lockers.
According to one source, there are two alternative accommodation layouts for the Boothbay Explorer. One option is to have three cabins instead of four, with the forward cabin having two single berths instead of a V-berth. The other option is to have two cabins instead of four, with the forward cabin having a double berth instead of a V-berth, and the guest cabins being converted into storage space.
The Boothbay Explorer is a heavy and sturdy sailboat, which can handle rough seas and strong winds. It is not very fast or agile, but it is reliable and comfortable. It has a good balance of sail power and engine power, with a John Deere diesel engine that can produce up to 135 HP. It has a hydraulic steering system, which makes it easy to maneuver.
The average cost of a secondhand Boothbay Explorer depends on the condition, age, and equipment of the boat. According to one website, the price range for a used Boothbay Explorer is between $99,900 and $149,000.
Yes, Hodgdon Brothers is still in business as Hodgdon Yachts, which is one of the oldest boatbuilders in America. They are based in East Boothbay, Maine, and they specialize in custom yachts, refits, repairs, and marine services.
Clifford Swain was a yacht designer who worked for John G. Alden & Associates, one of the most influential yacht design firms in the 20th century. He was the chief designer at Alden for a number of years, and he drew the lines for many famous sailboats, such as the 'When and If', which was commissioned by General George S. Patton. He also designed the Bristol 35 and the Barnacle 34, among others. He was known for his skill and creativity in creating elegant and seaworthy yachts.
John G. Alden & Associates was one of the most influential yacht design firms in the 20th century. They created over 1000 designs for sailboats and powerboats of various sizes and styles. Some of their famous sailboats include the Malabar schooners, the Bermuda Class sloops, the Alden Caravelle yawls, the Alden Zephyr ketches, and the Alden Challenger series.
The above answers were drafted by sailboat-cruising.com using GPT-4 (OpenAI's large-scale language-generation model) as a research assistant to develop source material; to the best of our knowledge, we believe them to be accurate.
---
Nov 29, 23 08:35 AM

Here's where people with sailing equipment for sale advertise their stuff entirely free of charge. If you're looking for used sailing gear or other used boating accessories, here's where to find it!

Nov 10, 23 02:34 AM

My 47' Cheoy Lee sailboat is for sale. Designed by Bill Luders, she is a beautiful and functional liveaboard cruising yacht.

Oct 30, 23 04:22 PM

This article explores the journey of chartering a sailing yacht, from the initial planning stages to the final touches. It provides insight into the joys and challenges of embarking on a voyage of dis…
---