The Bristol 29.9 Sailboat

The Bristol 29.9, designed by Halsey Herreshoff and built in the USA by Bristol Yachts, was first built in 1977.
Many thanks to Stephen Fasciana for submitting this pic of 'Sea Fever', a Bristol 29.9
Published Specification for the Bristol 29.9
Underwater Profile: Fin keel with transom-hung rudder
Hull Material: GRP (fibreglass)
Length Overall: 29' 11" / 9.1m
Waterline Length: 24' 0" / 7.3m
Beam: 10' 2" / 3.1m
Draft: 4' 4" / 1.3m
Rig Type: Masthead Sloop
Displacement: 8,650lb / 3,924kg
Designer: Halsey Herreshoff
Builder: Bristol Yachts Inc (USA)
Year First Built: 1977
Year Last Built: 1986
Number Built: 216
Owners Association: Bristol Sailboats
---
Published Design Ratios for the Bristol 29.9
Sail Area/Displacement Ratio: 14.9
Ballast/Displacement Ratio: 41.6
Displacement/Length Ratio: 279
Comfort Ratio: 23.6
Capsize Screening Formula: 2.0
Summary Analysis of the Design Ratios for the Bristol 29.9
1. A Sail Area/Displacement Ratio of just 14.9 suggests that she'll need a stiff breeze to get her going. In any other conditions, unless you've got plenty of time on your hands, motor-sailing will be the way to go.
2. A Ballast/Displacement Ratio of 41.6 means that she'll stand up well to her canvas in a blow, enabling her to power through the waves.

3. A Displacement/Length Ratio of 279, tells us she's clearly a heavy displacement cruising boat. You can load her down with all your cruising gear and equipment and it will hardly affect her waterline. Not an ideal choice for coastal sailing, but will come into her own on an offshore passage in testing conditions.
4. Ted Brewer's Comfort Ratio of 23.6 suggests that crew comfort in a seaway is similar to what you would associate with the motion of a moderate offshore cruising boat - most seasoned sailors can handle that.
5. Her Capsize Screening Formula (CSR) of 2.0 tells us that she would be a better choice of sailboat for an ocean passage than one with a CSR rating of more than 2.0 - but with the CSR being right on the cusp, it's marginal. 
---
---
More about the Bristol 29.9...
The Bristol 29.9 is a classic American sailboat that was designed by Halsey Chase Herreshoff, a renowned naval architect and grandson of the legendary Nathanael Herreshoff. The boat was first built in 1977 by Bristol Yachts in Rhode Island and was intended as a racer-cruiser that could compete in the Midget Offshore Racing Class (MORC) and the International Offshore Rule (IOR). The boat was also designed to be comfortable and seaworthy for coastal cruising and weekend sailing. The Bristol 29.9 is a well-built and elegant boat that has a loyal following among owners and admirers.

The Bristol 29.9 Accommodation Plan & Elevation
Accommodation
The Bristol 29.9 has a spacious and cozy interior that can sleep up to six people. The boat has two factory cabin layouts that were available, differing in the galley location. In one layout, the galley is located on the port side of the main cabin, opposite the dinette settee that converts into a double berth. In the other layout, the galley is located aft on the starboard side, next to the navigation station and the quarter berth. The boat has plenty of storage space in lockers, drawers, and shelves throughout the cabin. There are ten cabin ports, four of which open. The boat also has an electrical system with 12-volt lighting and outlets, as well as shore power connection and battery charger.
Hull and Deck
The Bristol 29.9 has a solid fiberglass hull with a balsa-cored deck. The hull shape is moderate, with a fine entry, a long waterline, and a reverse transom. The boat has a white gelcoat finish with blue stripes and trim. The deck has molded-in nonskid surfaces and teak toe rails. The boat has a large cockpit with wheel steering, pedestal-mounted engine controls, and cockpit cushions. The cockpit also has two large lockers for storage and access to the engine compartment. The boat has stainless steel bow and stern pulpits, stanchions, lifelines, cleats, chocks, and handrails. 
Mast and Rigging
The Bristol 29.9 has a masthead sloop rig with aluminum spars and stainless steel standing rigging. The mast is deck-stepped on a compression post and has single spreaders and an internal halyard system. The boom has an outhaul, reefing lines, and a topping lift. The boat has jiffy reefing genoa tracks and four cockpit winches for sail handling.
Keel and Rudder
The Bristol 29.9 has two keel options: a fixed fin keel or optionally, a stub keel and centerboard. The fin keel is made of lead and has a draft of 4.33 ft (1.32m). The stub keel is also made of lead and has a draft of 3.5 ft (1.1m) with the centerboard retracted and 7.5 ft (2.3m) with it extended. The centerboard is made of fiberglass and is operated by a winch in the cockpit. Both keel options provide good stability and performance for the boat.
The boat has a skeg-mounted rudder that is controlled by a wheel on a pedestal in the cockpit. The rudder is made of fiberglass and has a stainless steel shaft and fittings. The rudder provides good manoeuvrability and balance for the boat.

The above text was drafted by sailboat-cruising.com using GPT-4 (OpenAI's large-scale language-generation model) as a research assistant to develop source material; we believe it to be accurate to the best of our knowledge.
---
Other sailboats in the Bristol range include: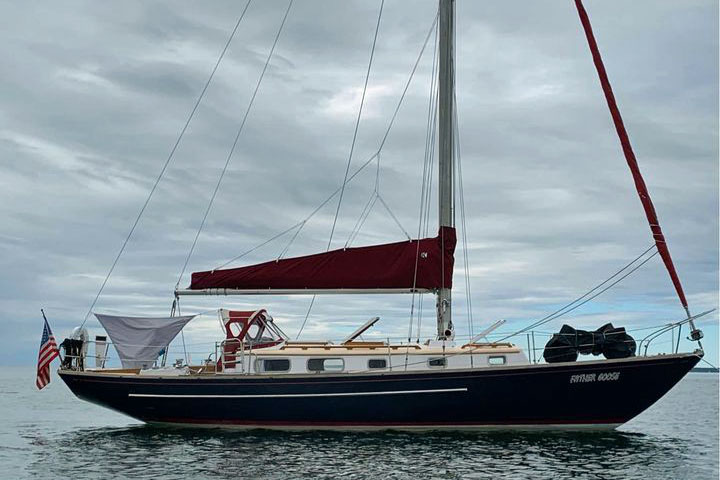 The Bristol 40
---
Nov 29, 23 08:35 AM

Here's where people with sailing equipment for sale advertise their stuff entirely free of charge. If you're looking for used sailing gear or other used boating accessories, here's where to find it!

Nov 10, 23 02:34 AM

My 47' Cheoy Lee sailboat is for sale. Designed by Bill Luders, she is a beautiful and functional liveaboard cruising yacht.

Oct 30, 23 04:22 PM

This article explores the journey of chartering a sailing yacht, from the initial planning stages to the final touches. It provides insight into the joys and challenges of embarking on a voyage of dis…
---