The Bristol 32 Sailboat

Specs & Key Performance Indicators
The Bristol 32, an ultra-heavy displacement sloop, was designed by Ted Hood & Dieter Empacher and built in the USA by Bristol Yachts Inc.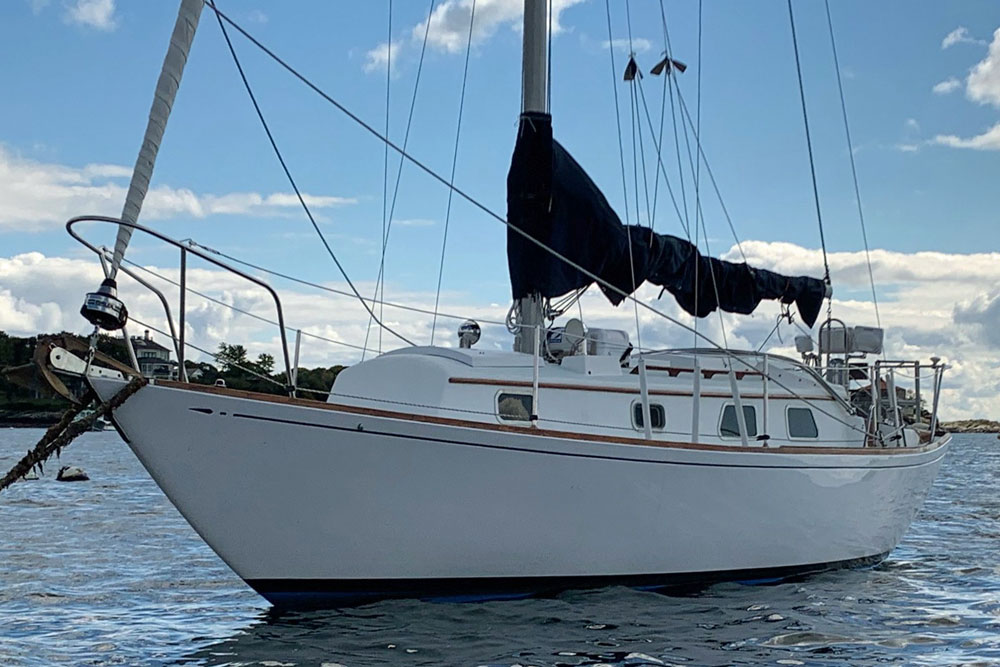 A Bristol 32
Published Specification for the Bristol 32
Underwater Profile: Long keel
Hull Material: GRP (Fibreglass)
Length Overall: 32'0" (9.8m)
Waterline Length: 22'0" (6.7m)
Beam: 9'6" (2.9m)
Draft: 4'8" (1.4m)*
Rig Type: Masthead sloop**
Displacement: 10,800lb (4,899kg)
Designer: Ted Hood & Dieter Empacher
Builder: Bristol Yachts Inc. (USA)
Year First Built: 1966
Year Last Built: 1983
Number Built: 322
* Centreboard version also available, drawing 3'6" with board up and 7'6" with it down.
** Also available as a ketch or yawl
---
Published Design Ratios for the Bristol 32
1. Sail Area/Displacement Ratio: 15.3
2. Ballast/Displacement Ratio: 36.1
3. Displacement/Length Ratio: 453
4. Comfort Ratio: 33.3
5. Capsize Screening Formula: 1.7
Summary Analysis of the Design Ratios for the Bristol 32
1. A Sail Area/Displacement Ratio of just 15.3 suggests that the Bristol 32 will need a stiff breeze to get her going. In light conditions, unless you've got plenty of time on your hands, motor-sailing may be the way to go.
2. A Ballast/Displacement Ratio of 36.1 means that the Bristol 32 is likely to benefit from being reefed early to keep her sailing upright in a moderate breeze.
3. A Displacement/Length Ratio of 453, tells us the Bristol 32 is firmly in the ultra-heavy displacement category. Load her up as much as you like and her performance will be hardly affected, not that it was ever startling. Few if any sailboats are built to this displacement category these days - but they remain popular with some long-distance sailors.
4. Ted Brewer's Comfort Ratio of 33.3 suggests that crew comfort of a Bristol 32 in a seaway is similar to what you would associate with the motion of a moderate bluewater cruising boat - a predictable and acceptable motion for most seasoned sailors.
5. The Capsize Screening Formula (CSF) of 1.7 indicates that a Bristol 32 would be a safer choice of sailboat for an ocean passage than one with a CSF of more than 2.0. 
---
Any Questions?
There were three versions of the Bristol 32 built: a sloop, a yawl and a ketch. The sloop was the most common, with 322 units built between 1966 and 1983. The yawl and ketch versions had different mast heights and sail areas.
The Bristol 32 has a traditional layout with a V-berth forward, followed by a head compartment with a hanging locker opposite, a main saloon with settees and a fold-down table, and a galley and a quarter berth aft. The interior is finished in teak and has a classic feel.
As mentioned above, the Bristol 32 was available as a sloop, a yawl or a ketch. The sloop had a masthead rig with a single spreader and a roller furling genoa. The yawl and ketch had similar rigs but with shorter main masts and additional mizzen masts. The sail area varied depending on the rig type, from 43.3 m² for the sloop to 51.1 m² for the ketch.
The Bristol 32 had two keel options: a fin keel or a keel/centerboard. The fin keel had a draft of 1.4 m and a ballast of 1,769 kg. The keel/centerboard had a draft of 1.1 m with the board up and 2.3 m with the board down, and a ballast of 1,814 kg.
The Bristol 32 is a heavy displacement sailboat that is stable, comfortable and seaworthy. It is not very fast or agile, but it can handle rough weather and long passages well. It is easy to sail single-handed or with a small crew, and it has good balance and steering response. It performs best in moderate to strong winds, as it is slightly underpowered in light airs.
The average cost of a secondhand Bristol 32 depends on the condition, age, equipment and location of the boat. According to some online listings, the price range can vary from $10,000 to $40,000 USD
No, this boatbuilder is not still in business. Bristol Yachts was founded in 1966 by Clint Pearson, who also founded Pearson Yachts. The company produced several models of sailboats until it ceased operations in 1997 due to financial difficulties.
The designer of the Bristol 32 was Ted Hood, who was also an accomplished sailor and sailmaker. He designed many other sailboats, such as the Hood 38, the Little Harbor series, the Wauquiez Hood 38, the Bristol Channel Cutter, the Robinhood series and the Ted Hood Yachts series. He also collaborated with Dieter Empacher on some designs, such as the Bristol 35.5 and the Bristol 41.1.
The above answers were drafted by sailboat-cruising.com using GPT-4 (OpenAI's large-scale language-generation model) as a research assistant to develop source material; to the best of our knowledge, we believe them to be accurate.
---
Other sailboats in the Bristol range include: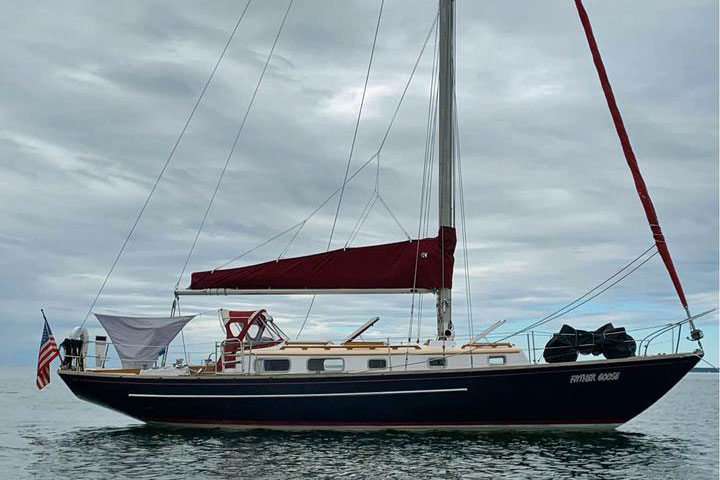 The Bristol 40
---
Oct 02, 23 12:17 PM

It's true that the ketch sailboat with its split rig can make an attractive cruising sailboat for a short-handed crew, but there is a downside to these types of sailboats

Oct 02, 23 08:47 AM

Thinking of buying a Hanse 548 sailboat? Perhaps you should first take a look at these pics, specs and key performance indicators...

Oct 02, 23 04:56 AM

Thinking of buying a Hanse 458 sailboat? Perhaps you should first take a look at these pics, specs and key performance indicators...
---