The C&C 34+ Sailboat

Specs & Key Performance Indicators
The C&C 34+, a cruiser/racer sailboat, was designed by Robert Ball and built in Canada by C&C (Cuthbertson & Cassian) Yachts.

The sailing performance of the C&C 34+ makes her a popular choice for cruising sailors wishing to compete in club races and regattas
Published Specification for the C&C 34+
Underwater Configuration: Wing keel and spade rudder

Hull Material: GRP (Fibreglass)
Length Overall: 35'6" (10.8m)
Waterline Length: 30'10" (9.4m)
Beam: 11'7" (3.5m)
Draft: 5'0" (1.5m)
Rig Type: Masthead sloop
Displacement: 12,000lb (5,443kg)
Ballast: Lead
Designer: Robert Ball
Builder: C&C Yachts
First Built: 1989
---
Published Design Ratios for the C&C 34+
1. Sail Area/Displacement Ratio: 20.5
Less than 16 would be considered under-powered;
16 to 20 would indicate reasonably good performance;
Over 20 suggests relatively high performance.
2. Ballast/Displacement Ratio: 43.5
Under 40: less stiff, less powerful
Over 40: stiffer, more powerful
3. Displacement/Length Ratio: 183
Under 100: Ultralight
100 to 200: Light
200 to 275: Moderate
275 to 350: Heavy
Over 350: Ultraheavy
4. Comfort Ratio: 22.0
Under 20 indicates a lightweight racing boat
20 to 30 indicates a coastal cruiser
30 to 40 indicates a moderate offshore cruising boat
40 to 50 indicates a heavy offshore boat
Over 50 indicates an extremely heavy offshore boat
5. Capsize Screening Formula: 2.0
Under 2.0 (the lower the better): Better suited for ocean passages
Over 2.0: Less suited for ocean passages
read more about these all-revealing numbers...
---
Summary Analysis of the Design Ratios for the C&C 34+
1. A Sail Area/Displacement Ratio of 20.5 suggests that, in the right hands, the C&C 34+ will have enough performance to leave most other sailboats of similar waterline length in her wake. 
2. A Ballast/Displacement Ratio of 43.5 means that the C&C 34+ will stand up well to her canvas in a blow, helping her to power through the waves.
3. A Displacement/Length Ratio of 183, tells us the C&C 34+ is clearly a light displacement sailboat. If she's loaded with too much heavy cruising gear her performance will suffer dramatically.
4. Ted Brewer's Comfort Ratio of 22.0 suggests that crew comfort of a C&C 34+ in a seaway is similar to what you would associate with the motion of a coastal cruiser with moderate stability, which is not encouraging news for anyone prone to seasickness. 
5. The Capsize Screening Formula of 2.0 tells us that a C&C 34+ would not be the better choice of sailboat for ocean passage-making, owing to the increased risk of capsize in strong winds and heavy seas, when compared to a similar sailboat with a CSF of less than 2.0.
---
The C&C 34+: A Fast and Fun Cruiser/Racer
Designed by Robert Ball and built by C&C Yachts in Canada, the C&C 34+ is a versatile and attractive performer that can satisfy a wide range of sailing needs. But the C&C 34+ is not just a regular 34-footer. It's actually a modified version of the C&C 34/36, which was introduced in 1989 as a replacement for the older C&C 34. The 34/36 came in two versions: the R (racer) and the DK (deep keel). The R had a lighter displacement, a taller mast, and a deeper fin keel, while the DK had a heavier displacement, a shorter mast, and a shoal draft wing keel.

The 34+ was created by combining the best features of both versions. It has the same hull shape and rig as the R, but with a wing keel that reduces the draft to 5.5 feet. It also has a more spacious and comfortable interior than the R, with more headroom, storage, and amenities. The result is a boat that can sail fast and point high in light to moderate winds, but also offer stability and comfort in heavier conditions.
What are the pros and cons of the C&C 34+?
Like any boat, the C&C 34+ has its strengths and weaknesses. Here are some of the main ones:
The Pros:
Performance: The C&C 34+ is a lively and responsive boat that can reach speeds of over 7 knots in favorable winds. It has a well-balanced helm, a powerful sail plan, and a low wetted surface area that make it easy to handle and fun to sail. It can also perform well in club races and regattas, especially in PHRF ratings.
Versatility: The C&C 34+ can adapt to different sailing scenarios, from day sailing to coastal cruising to offshore passages. It has enough space and equipment to accommodate up to six people for overnight or longer trips, but it's also not too big or complex to manage single-handedly or with a small crew. It can sail in shallow waters thanks to its wing keel, but it can also handle rough seas thanks to its sturdy construction and seakindly motion.
Style: The C&C 34+ has a sleek and elegant appearance that reflects its heritage and quality. It has a low-profile cabin trunk, a reverse transom, and a graceful sheerline that give it a modern and sporty look. It also has a spacious and bright cockpit, with an ergonomic layout and ample seating. The interior is warm and inviting, with teak woodwork, white bulkheads, and blue cushions.
The Cons
Maintenance: The C&C 34+ is not a low-maintenance boat. It requires regular care and attention to keep it in good shape and prevent problems. Some of the common issues that owners have reported include blistering on the hull, corrosion on the keel bolts, leaks around the ports and hatches, cracks on the deck hardware, and wear on the rigging. Some of these issues may be due to age or neglect, but some may also be due to design flaws or poor quality control.
Cost: The C&C 34+ is not a cheap boat. It was originally sold for around $100,000 in the early 1990s, which was quite expensive for its size and category at the time. Today, it can still fetch between $50,000 and $80,000 on the used market, depending on its condition and equipment. This may be beyond the budget of some sailors who are looking for a similar boat.
Availability: The C&C 34+ is not a common boat. It was only produced for about four years, from 1989 to 1993¹, and only about 100 units were built. This means that finding one for sale may not be easy, especially in some regions or countries. It also means that finding spare parts or service may be challenging or costly.
What are the main features of the C&C 34+?
The C&C 34+ has many features that make it an attractive sailboat for cruising and racing enthusiasts. Here are some of the most notable ones:
Hull and Deck: The C&C 34+ has a fiberglass hull and deck, with a balsa core for stiffness and insulation. The hull is molded in one piece, with a vinylester resin barrier coat to prevent osmosis. The deck is attached to the hull with bolts and adhesive, and has an aluminum toe rail for safety and durability.
The hull has a fine entry, a flat run aft, and a moderate beam, which give it a low drag and a high lift-to-drag ratio. The deck has a flush foredeck, a large anchor locker, and a molded bow sprit for an asymmetric spinnaker. The cockpit has a bridgedeck, a pedestal wheel steering, and a walk-through transom with a swim ladder.
Keel and Rudder: The C&C 34+ has a cast lead wing keel, which provides a low center of gravity and a high righting moment. The keel is bolted to the hull with stainless steel bolts, which are accessible from the bilge.
The rudder is a balanced spade type, which is mounted on a stainless steel stock and supported by two bearings. The rudder has a high aspect ratio and a low wetted surface area, which give it a good control and maneuverability.
Rig and Sails: The C&C 34+ has a masthead sloop rig, which consists of an aluminum mast and boom, stainless steel wire standing rigging, and dacron running rigging. The mast is deck-stepped, with two sets of spreaders and an internal conduit for wiring.
The boom has an internal outhaul and reefing lines, and a rigid vang. The sail inventory includes a fully battened mainsail with two reef points, a 150% genoa with roller furling, and an asymmetric spinnaker with a snuffer. The sail area is 517 square feet for the main and genoa, and 900 square feet for the spinnaker.
Engine and Propulsion: The C&C 34+ has a Yanmar 3GM30F diesel engine, which delivers 27 horsepower at 3600 rpm. The engine is located under the companionway steps, with easy access from three sides. The engine drives a two-blade folding propeller through a saildrive unit. The fuel tank has a capacity of 20 gallons, which gives the boat a range of about 150 nautical miles at 6 knots.
Electrical and Plumbing: The C&C 34+ has a 12-volt DC electrical system, with two batteries, a selector switch, and a breaker panel. The boat also has shore power capability, with an AC outlet, a battery charger, and an inverter. The boat has two water tanks, with a total capacity of 40 gallons. The boat also has a manual bilge pump, an electric bilge pump, and a pressure water system with hot and cold water.
Accommodation and Layout: The C&C 34+ has an open and spacious interior layout, with six berths in three cabins. The forward cabin has a V-berth with storage underneath, a hanging locker, and an overhead hatch. The main cabin has two settees that convert to single berths, a folding table that can seat six people, and several lockers and shelves.
The galley is located on the port side of the main cabin, and has a two-burner stove with oven, a double sink with hot and cold water, a top-loading refrigerator/freezer, and ample counter space and storage.
The navigation station is located on the starboard side of the main cabin, opposite the galley, and has a large chart table with drawers, an instrument panel, and an electrical panel.
The head is located aft of the navigation station, on the starboard side of the companionway steps, and has a marine toilet, a sink with hot and cold water, a shower head with sump pump, and storage cabinets.
The aft cabin is located on the port side of the companionway steps,and has a double berth that extends under the cockpit sole, a hanging locker and an opening port.
The above text was drafted by sailboat-cruising.com using GPT-4 (OpenAI's large-scale language-generation model) as a research assistant to develop source material; we believe it to be accurate to the best of our knowledge.
---
Other sailboats in the C&C range include: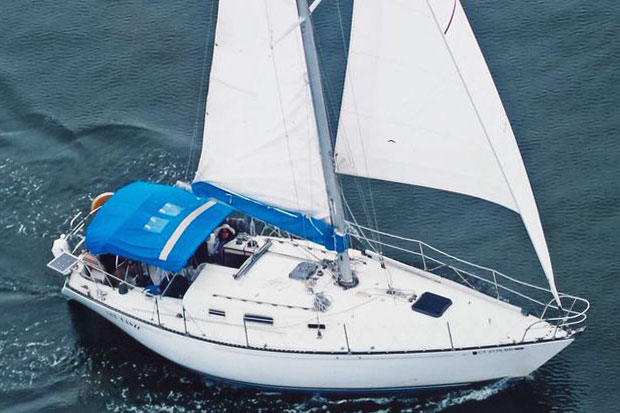 The C&C 36.1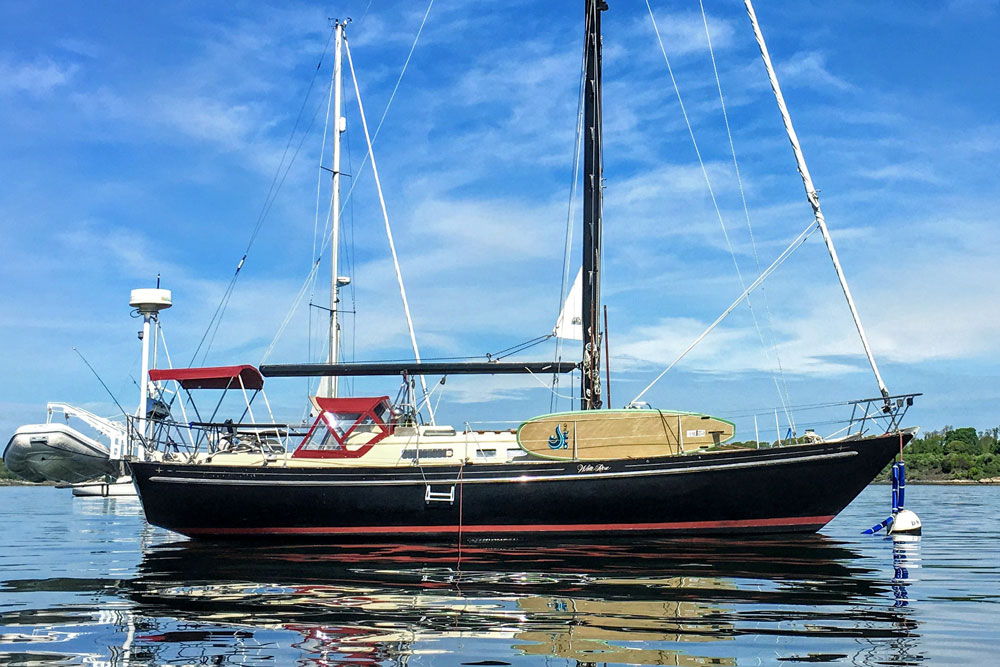 The C&C Landfall 42
---
Sep 30, 23 11:02 AM

Experience luxury and performance with our Bavaria 44AC sailboat! With its well-crafted interiors, state-of-the-art navigation gear, spacious layout, and robust sailing capabilities, it's perfect for…

Sep 29, 23 05:38 PM

Sailing characteristics and performance predictions, pics, specifications, dimensions and those all-important design ratios for the Hanse 400 sailboat...

Sep 29, 23 03:17 AM

Interested in the Gulf 32 sailboat? Here are the pics, specs and performance predictions you're looking for...
---