The Dehler 37 CWS Sailboat

Specs & Key Performance Indicators
The Dehler 37 CWS, a fractionally rigged sloop, was designed by E. G. van de Stadt and built in Germany by Dehler Yachts.

A Dehler 37 CWS (Central Winch System)
Published Specification for the Dehler 37 CWS

Underwater Profile: Fin keel & spade rudder
Hull Material: GRP (Fibreglass)
Length Overall: 36'1" (11.0m)
Waterline Length: 29'6" (9.0m)
Beam: 11'5" (3.5m)
Draft: 5'11" (1.8m)
Rig Type: Fractional sloop
Displacement: 11,684lb (5,300kg)
Ballast: 4,630lb (2,100kg)
Designer: E. G. van de Stadt
Builder: Dehler Yachts (Germany)
Year First Built: 1990
Year Last Built: 1996
---
Published Design Ratios for the Dehler 37 CWS
1. Sail Area/Displacement Ratio: 20.8
2. Ballast/Displacement Ratio: 39.6
3. Displacement/Length Ratio: 203
4. Comfort Ratio: 22.2
5. Capsize Screening Formula: 2.1
Summary Analysis of the Design Ratios for the Dehler 37 CWS
1. A Sail Area/Displacement Ratio of 20.8 suggests that, in the right hands, the Dehler 37 CWS will have enough performance to leave most other sailboats of similar waterline length well astern. 

2. A Ballast/Displacement Ratio of 39.6 means that a sailboat like the Dehler 37 CWS (which doesn't have a stiffness-enhancing bulb keel), is likely to benefit from being reefed early to keep her sailing upright in a moderate breeze.
3. A Displacement/Length Ratio of 203, tells us the Dehler 37 CWS is a moderate displacement cruiser, which means she'll carry all your cruising gear without it having a dramatic effect on her performance. Most of today's sailboats intended for offshore cruising fall into this displacement category.
4. Ted Brewer's Comfort Ratio of 22.2 suggests that crew comfort of a Dehler 37 CWS in a seaway is similar to what you would associate with the motion of a coastal cruiser with moderate stability, which is not the best of news for anyone prone to seasickness. 
5. The Capsize Screening Formula of 2.1 tells us that a Dehler 37 CWS would not be as good a choice of sailboat for ocean passage-making, owing to the increased risk of capsize in strong winds and heavy seas when compared to a sailboat with a CSF of less than 2.0.
---
about the Dehler 37 CWS...
The Dehler 37 CWS was designed by Van De Stadt and built by Dehler Yachts in Germany from 1990 to 1996. It is a fractionally rigged sloop that features a fin keel, a spade rudder, and a deck-stepped mast with swept-back spreaders.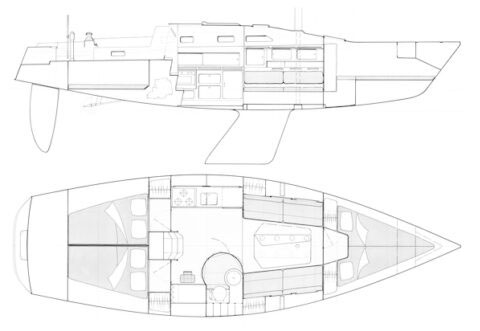 Dehler 37CWS Accommodation Layout
The Dehler 37 CWS has exceptional performance and is a tried and tested thoroughbred racer/cruiser.

There are two versions of the Dehler 37 CWS: the standard version and the owner's version. The standard version has three cabins: one forward and two aft. The owner's version has two cabins: one large forward cabin with an ensuite head and one aft cabin. Both versions have a spacious saloon with a navigation station, a galley and a second head.
Accommodation
The accommodation in the Dehler 37 CWS has been compared to that of an executive jet. The boat can sleep up to eight people in the standard version or six people in the owner's version. The cabins are cozy and well-ventilated, with opening hatches and portholes. The forward cabin has a V-berth that can be converted into a double bed with an infill cushion. The aft cabins have double berths that are accessible from both sides. The owner's version has more storage space and privacy in the forward cabin, which also has an ensuite head with a shower.
The saloon is bright and airy, with large windows and skylights. The U-shaped dinette can seat six people comfortably and can also be converted into a double berth. The navigation station is located on the starboard side, opposite the galley. It has a large chart table, an instrument panel, and a seat that can be folded away when not in use. The galley is well-equipped with a two-burner gas cooker/stove with an oven and grill, a sink, a refrigerator, and plenty of storage space.
The second head is located on the port side, next to the companionway. It has a marine toilet, a sink, and a shower. The boat has hot and cold pressurized water throughout, as well as cabin heating for colder climates.
Hull and Deck
The hull of the Dehler 37 CWS is made of fiberglass-reinforced plastic (GRP) with a gelcoat finish.
The deck of the Dehler 37 CWS is also made of GRP with an anti-slip surface. It has a sleek profile with flush hatches and recessed fittings. The cockpit is spacious and ergonomic, with comfortable seats and coamings. The boat is steered by a single wheel that is mounted on a pedestal with engine controls and instruments. The cockpit also has a folding table, a sprayhood, a cockpit cover, and storage lockers.

The above text was drafted by sailboat-cruising.com using GPT-4 (OpenAI's large-scale language-generation model) as a research assistant to develop source material; we believe it to be accurate to the best of our knowledge.
---
Sep 29, 23 05:38 PM

Sailing characteristics and performance predictions, pics, specifications, dimensions and those all-important design ratios for the Hanse 400 sailboat...

Sep 29, 23 03:17 AM

Interested in the Gulf 32 sailboat? Here are the pics, specs and performance predictions you're looking for...

Sep 28, 23 04:04 PM

Sailing characteristics and performance predictions, pics, specifications, dimensions and those all-important design ratios for the Fuji 35 sailboat
---