The Dufour 2800 Sailboat

Specs & Key Performance Indicators
The Dufour 2800, a masthead sloop, was designed by Michel Dufour and built in France by Dufour Yachts.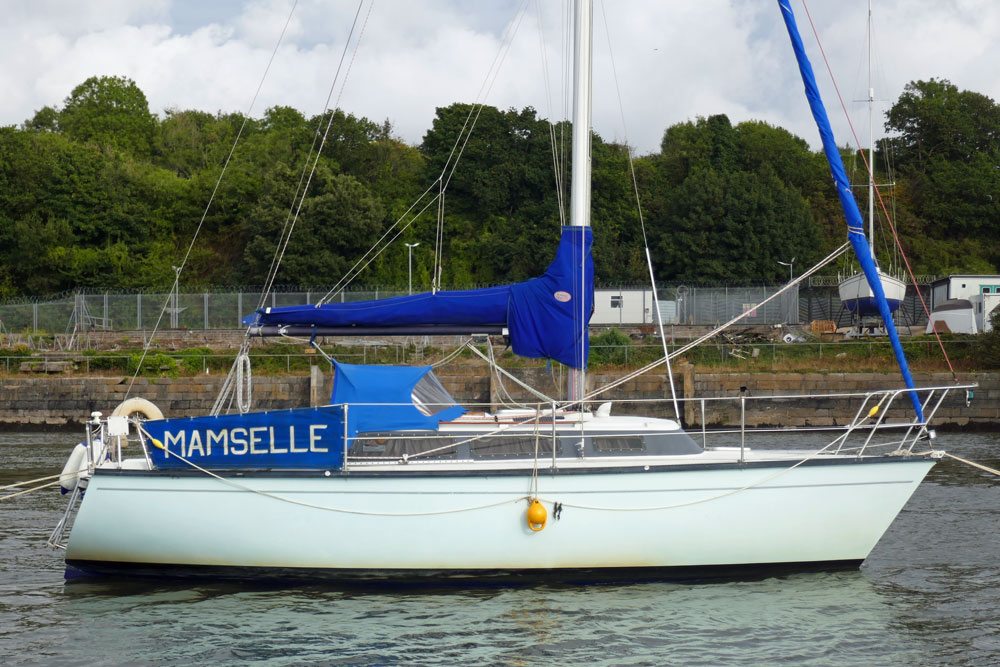 The Dufour 2800 Sailboat
Published Specification for the Dufour 2800
Underwater Profile: Fin keel & spade rudder
Hull Material: GRP (Fibreglass)
Length Overall: 27'1" (8.3m)
Waterline Length: 22'2" (6.8m)
Beam: 9'7" (2.9m)
Draft: 4'10" (1.5m)
Rig Type: Masthead sloop
Displacement: 6,064lb (2,751kg)
Designer: Michel Dufour
Builder: Dufour Yachts (France)
Year First Built: 1977
Year Last Built: 1984
Number Built: 1,300
---
Published Design Ratios for the Dufour 2800
1. Sail Area/Displacement Ratio: 15.7
Less than 16 would be considered under-powered;
16 to 20 would indicate reasonably good performance;
Over 20 suggests relatively high performance.
2. Ballast/Displacement Ratio: 32.7
Under 40: less stiff, less powerful
Over 40: stiffer, more powerful
3. Displacement/Length Ratio: 249
Under 100: Ultralight
100 to 200: Light
200 to 275: Moderate
275 to 350: Heavy
Over 350: Ultraheavy
4. Comfort Ratio: 20.0
Under 20 indicates a lightweight racing boat
20 to 30 indicates a coastal cruiser
30 to 40 indicates a moderate offshore cruising boat
40 to 50 indicates a heavy offshore boat
Over 50 indicates an extremely heavy offshore boat
5. Capsize Screening Formula: 2.1
Under 2.0 (the lower the better): Better suited for ocean passages
Over 2.0: Less suited for ocean passages
Read more about these Key Performance Indicators...
---
Summary Analysis of the Design Ratios for the 
Dufour 2800
1. A Sail Area/Displacement Ratio of just 15.7 suggests that the Dufour 2800 will need a stiff breeze to get her going. In light conditions, unless you've got plenty of time on your hands, motor-sailing may be the way to go.
2. A Ballast/Displacement Ratio of 32.7 means that a sailboat like the Dufour 2800 (which doesn't have a stiffness-enhancing bulb keel), is likely to benefit from being reefed early to keep her sailing upright in a moderate breeze.
3. A Displacement/Length Ratio of 249, tells us the Dufour 2800 is a moderate displacement cruiser, which means she'll carry all your cruising gear without it having a dramatic effect on her performance. Most of today's sailboats intended for offshore cruising fall into this displacement category.
4. Ted Brewer's Comfort Ratio of 20.0 suggests that crew comfort of a Dufour 2800 in a seaway is similar to what you would associate with the motion of a coastal cruiser with moderate stability, which is not the best of news for anyone prone to seasickness. 
5. The Capsize Screening Formula of 2.1 tells us that a Dufour 2800 would not be as good a choice of sailboat for ocean passage-making, owing to the increased risk of capsize in strong winds and heavy seas when compared to a sailboat with a CSF of less than 2.0.
---
Other sailboats in the Dufour range include:
---
Nov 22, 22 05:09 AM

Medium sized cruising yachts like these are often the sailboat of choice for short-handed crews, and if properly equipped and maintained, will take long offshore voyages in their stride.

Nov 22, 22 04:53 AM

Thinking of buying a Dehler 38 sailboat? Perhaps you should first take a look at these pics, specs and key performance indicators...

Nov 21, 22 06:22 AM

Thinking of buying a Moody 41 Classic sailboat? Perhaps you should first take a look at these pics, specs and key performance indicators...
---