The Dufour 2800 Sailboat

Specs & Key Performance Indicators
The Dufour 2800, a masthead sloop, was designed by Michel Dufour and built in France by Dufour Yachts.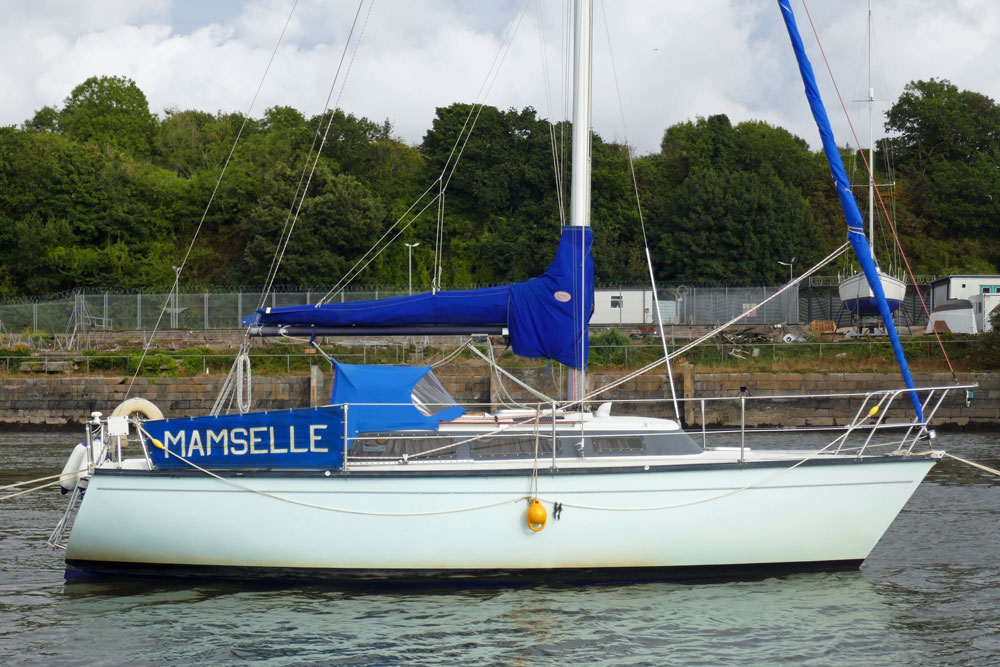 The Dufour 2800 Sailboat
Published Specification for the Dufour 2800
Underwater Profile: Fin keel & spade rudder
Hull Material: GRP (Fibreglass)
Length Overall: 27'1" (8.3m)
Waterline Length: 22'2" (6.8m)
Beam: 9'7" (2.9m)
Draft: 4'10" (1.5m)
Rig Type: Masthead sloop
Displacement: 6,064lb (2,751kg)
Designer: Michel Dufour
Builder: Dufour Yachts (France)
Year First Built: 1977
Year Last Built: 1984
Number Built: 1,300
---
Published Design Ratios for the Dufour 2800
1. Sail Area/Displacement Ratio: 15.7
2. Ballast/Displacement Ratio: 32.7
3. Displacement/Length Ratio: 249
4. Comfort Ratio: 20.0
5. Capsize Screening Formula: 2.1
Summary Analysis of the Design Ratios for the 
Dufour 2800
1. A Sail Area/Displacement Ratio of just 15.7 suggests that the Dufour 2800 will need a stiff breeze to get her going. In light conditions, unless you've got plenty of time on your hands, motor-sailing may be the way to go.
2. A Ballast/Displacement Ratio of 32.7 means that a sailboat like the Dufour 2800 (which doesn't have a stiffness-enhancing bulb keel), is likely to benefit from being reefed early to keep her sailing upright in a moderate breeze.
3. A Displacement/Length Ratio of 249, tells us the Dufour 2800 is a moderate displacement cruiser, which means she'll carry all your cruising gear without it having a dramatic effect on her performance. Most of today's sailboats intended for offshore cruising fall into this displacement category.
4. Ted Brewer's Comfort Ratio of 20.0 suggests that crew comfort of a Dufour 2800 in a seaway is similar to what you would associate with the motion of a coastal cruiser with moderate stability, which is not the best of news for anyone prone to seasickness. 
5. The Capsize Screening Formula of 2.1 tells us that a Dufour 2800 would not be as good a choice of sailboat for ocean passage-making, owing to the increased risk of capsize in strong winds and heavy seas when compared to a sailboat with a CSF of less than 2.0.
---
More about the Dufour 2800
Accommodation
The Dufour 2800 has a bright and spacious saloon with a U-shaped dinette that converts to a double berth, a galley with a two-burner stove and a sink, a chart table with a quarter berth, and a forward cabin with a V-berth and a hanging locker. There is also a separate head compartment with a marine toilet and a washbasin. The Dufour 2800 can sleep up to five people comfortably.

Sail Plan & Rigging
The Dufour 2800 has a sloop rig with a small mainsail and a large overlapping genoa. The mast is deck-stepped and supported by two sets of spreaders and stainless steel shrouds. The mainsail has slab reefing and the genoa has roller furling. The sail area is 30.2 m² (325 ft²).

Keel Options
The Dufour 2800 has three keel options: a standard fin keel, a deeper 'Club Special' keel, and a lifting keel. The standard fin keel has a draft of 1.5 m (4.92 ft) and a ballast of 900 kg (1984 lbs). The 'Club Special' keel has a draft of 1.7 m (5.58 ft) and a ballast of 950 kg (2094 lbs). The lifting keel has a minimum draft of 0.9 m (2.95 ft) and a maximum draft of 1.6 m (5.25 ft) and a ballast of 1000 kg (2205 lbs).
The 'Club Special' keel option on the Dufour 2800 is a deeper fin keel that was designed to improve the sailing performance of the boat, especially upwind, and was intended for competitive sailors, who were willing to sacrifice some access to shallow water for better speed and handling. It was also more expensive than the standard fin keel.
Sailing Performance
The Dufour 2800 is a pleasing and responsive sailboat that can handle various wind and sea conditions. She has good speed and stability, especially upwind, thanks to her well-designed hull and deep keel. She is easy to sail single-handed or with a small crew, as the mainsail is small and the genoa can be partially furled. However, the genoa can also be demanding to trim in stronger winds, and the rig must be well-balanced to keep the helm light. The Dufour 2800 was a popular cruiser-racer in her day, winning many regattas.
Average Used-Boat cost
The average cost of a secondhand Dufour 2800 sailboat depends on the year, condition, equipment, and location of the boat. Based on the listings I found online, the price range is between £6,000 and £15,000 (between $8,000 and $20,000 USD).
Other sailboats were designed by Michel Dufour
Michel Dufour was a naval architect and engineer who founded Dufour Yachts in 1964. He designed many sailboats for the company, ranging from small cruisers to large racers. Some of his most famous designs are:

The Dufour Arpege, which was launched in 1966 and became one of the most successful yachts of its time, with over 1,500 units built. It was a 9.1 m (30 ft) sloop with a distinctive hull shape and a spacious interior.
The Dufour Sylphe, which was introduced in 1964 and was one of the first polyester yachts. It was a 6.5 m (21 ft) sloop with a simple and elegant design that could be used for cruising or racing.
The Dufour 34, which was produced from 1974 to 1981 and was a popular cruiser-racer. It was a 10.2 m (33 ft) sloop with a sleek and fast hull, a comfortable cockpit, and a well-equipped interior.
Other sailboats designed by Michel Dufour include:

The Dufour T6 and T7, which were small trailer-sailers with lifting keels and swing rudders;
The Dufour Sortilege 41, which was a large ocean racer with a flush deck and a powerful rig;
The Dufour 1200, which was a luxury cruiser with a centre cockpit and a ketch rig;
The Dufour 1800, which was a compact cruiser with a wide beam and a spacious saloon;
The Dufour 2800, which was one of his most successful designs, with over 1,300 units built between 1977 and 1984;
The Dufour 12000, which was a flagship yacht with a pilothouse and a cutter rig;
The Dufour 3800, which was a modern cruiser with a high freeboard and a large genoa;
The Dufour 4800, which was a performance cruiser with a fin keel and a spade rudder;
The Dufour 24, which was a budget cruiser with a lifting keel and an outboard motor;
The Dufour 25, which was an improved version of the Dufour 24 with more headroom and storage space;
The Dufour 27, which was the predecessor of the Dufour 2800;
The Dufour 29, which was a family cruiser with a good sailing performance;
The Dufour 31, which was an upgraded version of the Dufour 29 with more space and comfort;
The Dufour 35, which was one of his best designs, combining speed, stability, and elegance.
The above text was drafted by sailboat-cruising.com using GPT-4 (OpenAI's large-scale language-generation model) as a research assistant to develop source material; we believe it to be accurate to the best of our knowledge.
Other sailboats in the Dufour range include:
---
Oct 02, 23 12:17 PM

It's true that the ketch sailboat with its split rig can make an attractive cruising sailboat for a short-handed crew, but there is a downside to these types of sailboats

Oct 02, 23 08:47 AM

Thinking of buying a Hanse 548 sailboat? Perhaps you should first take a look at these pics, specs and key performance indicators...

Oct 02, 23 04:56 AM

Thinking of buying a Hanse 458 sailboat? Perhaps you should first take a look at these pics, specs and key performance indicators...
---