The Dufour 460 Grand Large Sailboat

Specs & Key Performance Indicators
The Dufour 460 Grand Large, a light displacement fractional sloop, was designed by Umberto Felci and built in France by Dufour Yachts.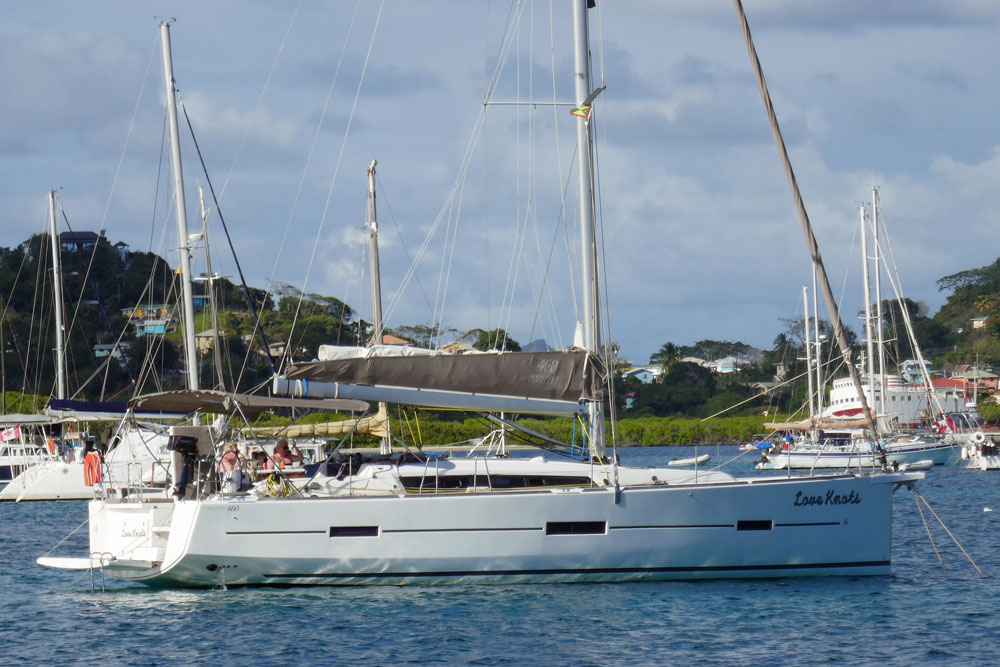 A Dufour 460 Grand Large sailboat
Published Specification for the Dufour 460 Grand Large
Underwater Profile: Bulb fin keel & spade rudder
Hull Material: GRP (Fibreglass)
Length Overall: 46'5" (14.2m)
Waterline Length: 41'2" (12.5m)
Beam: 14'9" (4.5m)
Draft: 7'3" (2.2m)
Rig Type: Fractional sloop
Displacement: 23,721lb (10,760kg)
Designer: Umberto Felci
Builder: Dufour Yachts (France)
Year First Built: 2016
Published Design Ratios for the Dufour 460 Grand Large
1. Sail Area/Displacement Ratio: 20.9

Less than 16 would be considered under-powered;
16 to 20 would indicate reasonably good performance;
Over 20 suggests relatively high performance.
2. Ballast/Displacement Ratio: 26.5
Under 40: less stiff, less powerful
Over 40: stiffer, more powerful
3. Displacement/Length Ratio: 152
Under 100: Ultralight
100 to 200: Light
200 to 275: Moderate
275 to 350: Heavy
Over 350: Ultraheavy
4. Comfort Ratio: 23.8
Under 20 indicates a lightweight racing boat
20 to 30 indicates a coastal cruiser
30 to 40 indicates a moderate offshore cruising boat
40 to 50 indicates a heavy offshore boat
Over 50 indicates an extremely heavy offshore boat
5. Capsize Screening Formula: 2.1
Under 2.0 (the lower the better): Better suited for ocean passages
Over 2.0: Less suited for ocean passages
Summary Analysis of the Design Ratios for the Dufour 460 Grand Large
1. A Sail Area/Displacement Ratio of 20.9 suggests that, in the right hands, the Dufour 460 Grand Large will have enough performance to leave most other sailboats of similar waterline length well astern. 
2. A Ballast/Displacement Ratio of 26.5 would usually mean that the Dufour 460 Grand Large would have a tendency to heel uncomfortably in a gust, and need to be reefed early to keep her sailing upright in a moderate breeze.
However, as she has much of her ballast concentrated in a bulb at the foot of her keel, she's likely to be considerably stiffer than her published Ballast/Displacement Ratio might suggest.
3. A Displacement/Length Ratio of 152 tells us the Dufour 460 Grand Large is clearly a light displacement sailboat. If she's loaded with too much heavy cruising gear her performance will suffer to a degree.
4. Ted Brewer's Comfort Ratio of 23.8 suggests that crew comfort of a Dufour 460 Grand Large in a seaway is similar to what you would associate with the motion of a coastal cruiser with moderate stability, which is not encouraging news for anyone prone to seasickness. 
5. The Capsize Screening Formula of 20.1 tells us that a Dufour 460 Grand Large would not be as good a choice of sailboat for ocean passage-making, owing to the increased risk of capsize in strong winds and heavy seas when compared to a sailboat with a CSF of less than 2.0.
Other sailboats in the Dufour range include:
---
Jul 04, 22 10:29 AM

'Stormalong', a steel-hulled go-anywhere Van de Stadt Caribbean 40 sailboat is for sale

Jul 01, 22 03:18 AM

Interested in the Tartan 34 sailboat? Here are the pics, specs and performance predictions you're looking for...

Jun 29, 22 02:45 PM

'Endeavour' is a very special Tartan 34C, as you will see from the cutter rig modification, Ratcliffe wind vane auxiliary rudder self-steering, SSB radio, radar, and more.
---