The Dufour 460 Grand Large Sailboat

Specs & Key Performance Indicators
The Dufour 460 Grand Large, a fractional sloop, was designed by Umberto Felci and built in France by Dufour Yachts.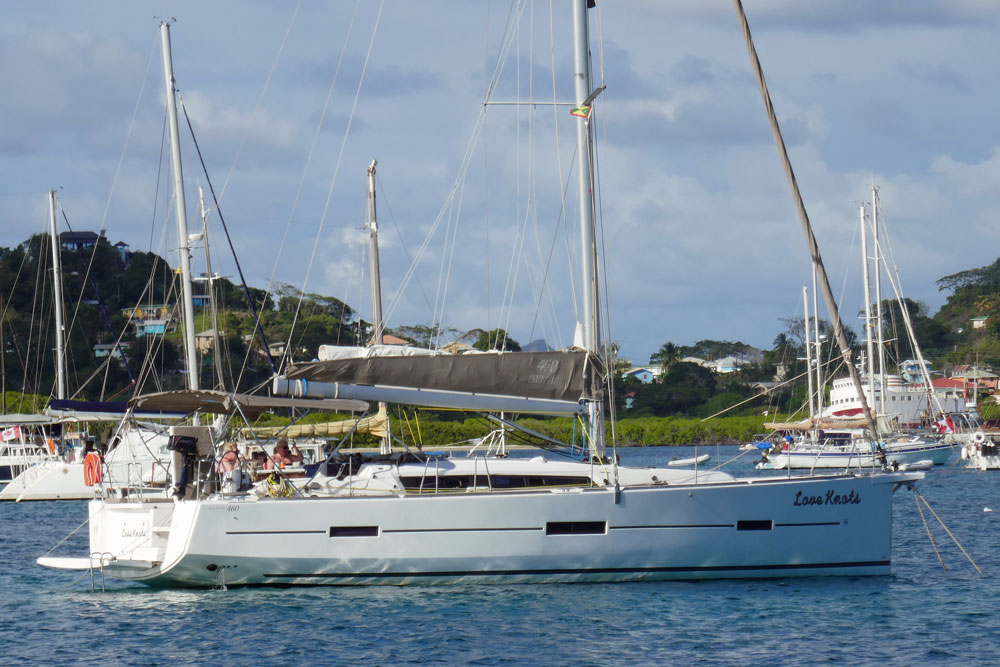 A Dufour 460 Grand Large sailboat
The term "Grand Large" refers to Dufour's cruising range of yachts, so the Dufour 460 and Dufour 460 Grand Large are essentially the same boat, with the latter specifically denoting its cruising-oriented design.
Dufour also makes performance-version models, the Grand Prix line, which may feature a different rigging, sail plan, or structural optimizations for racing or high-performance sailing.
So, there really is not any difference between the Dufour 460 and the Dufour 460 Grand Large. Any variations would be down to specific optional extras or configurations chosen when the boat is ordered. 
Published Specification for the Dufour 460 Grand Large
Underwater Profile: Bulb fin keel & spade rudder
Hull Material: GRP (Fibreglass)
Length Overall: 46'5" (14.2m)
Waterline Length: 41'2" (12.5m)
Beam: 14'9" (4.5m)
Draft: 7'3" (2.2m)
Rig Type: Fractional sloop
Displacement: 23,721lb (10,760kg)
Designer: Umberto Felci
Builder: Dufour Yachts (France)
Year First Built: 2016
Design Ratios
The Dufour 460 'Grand Large' showcases an excellent performance under sail. This is largely due to its impressive design ratios.
The Sail Area/Displacement Ratio (SA/D) is a measure of the sailboat's power. Higher SA/D ratios mean more power, and the Dufour 460 'Grand Large' boasts an SA/D ratio of 18.4, indicating a powerful and fast boat.
The Ballast/Displacement Ratio (B/D) of this sailboat is 29.1%. This ratio is a measure of the sailboat's stability. A higher B/D ratio suggests a more stable boat, especially in rough weather conditions. The Dufour 460 'Grand Large's' B/D ratio suggests it is a stable and safe boat, even in challenging weather.
The Displacement/Length Ratio (D/L) of the Dufour 460 'Grand Large' is 174.7. This ratio is indicative of the boat's speed and comfort. A lower D/L ratio means a lighter, faster boat, while a higher ratio suggests a heavier, more comfortable boat. The Dufour 460 'Grand Large' strikes an excellent balance between speed and comfort.
The Comfort Ratio (CR) of the Dufour 460 'Grand Large' is 29.8, suggesting it offers a comfortable and smooth sailing experience. This ratio measures the boat's motion comfort, with higher ratios indicating a gentler, more comfortable ride.
The Capsize Screening Formula (CSF) for this sailboat is 1.94. This is a measure of the boat's seaworthiness and safety in heavy seas. A CSF less than 2.0 is considered relatively safe, indicating that the Dufour 460 'Grand Large' is a safe boat in rough seas.
Read more about these mysterious design ratios and how they are formulated...
On Deck
Here are some of the exterior features and deck layout of the Dufour 460 Grand Large:
Deck Layout: The deck layout is designed for easy manoeuvrability and comfort. The cockpit is spacious with dual helm stations, providing excellent visibility for the captain. The main sheet is led back to the helm, making it easy to control the sails.
Cockpit: The cockpit is one of the main features of the Dufour 460. It's designed for relaxation and entertainment, with a large seating area and a built-in BBQ. The cockpit table can comfortably seat six to eight people.
Swimming Platform: At the stern of the boat, there's a large fold-down swimming platform providing easy access to the water. It also doubles as a boarding platform when moored.
Sails and Rigging: The Dufour 460 Grand Large is equipped with a high aspect ratio rig, optimizing performance and ease of handling. The sails include a furling genoa and a fully battened mainsail.
Bow Area: The bow area features a large sunbathing deck with comfortable cushions. There's also a built-in anchor locker and an electric windlass for easy anchoring.
Deck Gear: The deck gear is high quality and designed for easy handling. It includes self-tailing winches, adjustable genoa lead cars, and a mainsheet traveller.
Safety: The boat is equipped with a double lifeline, a manually operated bilge pump, and a life raft locker.
Storage: There's plenty of storage on deck, with large lockers in the cockpit and additional storage under the seats.
Please note that specific features and layout may vary slightly depending on the model year and optional extras chosen.

Down Below
The Dufour 460 Grand Large is a luxury sailing yacht designed for comfort and performance. Here's a glimpse of its interior features and layout:
Layout: The Dufour 460 Grand Large typically has a 3 or 4 cabin layout with 2 bathrooms, ideal for family or group sailing trips. The spacious master cabin is located in the bow, and the aft holds the guest cabins. There is also an option for a 5 cabin layout.
Saloon: The saloon is bright and airy, thanks to the numerous deck hatches and portholes. It includes a large U-shaped dining area that can comfortably seat eight people. The saloon table can be converted into an additional berth.
Galley: The L-shaped galley is fully equipped with a gas stove, an oven, a large fridge, and plenty of storage. It's designed to be practical and efficient, even while sailing.
Navigation Station: The navigation station is fully equipped with all the necessary instruments for safe sailing. It features a large chart table and comfortable seating.
Finishes: The interior is beautifully finished with Moabi timber and Corian countertops, giving it a luxurious and modern feel. The upholstery is comfortable and durable, ideal for long sailing trips.
Ventilation & Lighting: The interior is well ventilated and lighted, thanks to the numerous hatches and portholes. LED lights are used for interior lighting to reduce power consumption.
Heating & Air Conditioning: The boat is equipped with a heating system, and air conditioning is available as an optional extra.
Storage: There is plenty of storage space throughout the boat, including under the berths and in the numerous lockers and cabinets.
Entertainment: The saloon features a flat-screen TV and a music system for entertainment.
Please note that specific features and layout may vary slightly depending on the model year and optional extras chosen.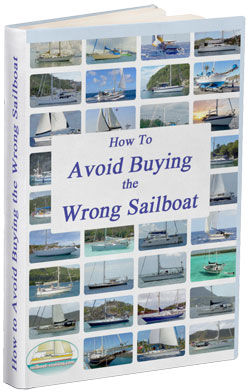 The essential eBook for potential boat buyers...
Pros & Cons
The Dufour 460 Grand Large is a well-regarded sailing yacht, but like all boats, it has its pros and cons:
Pros:
Versatility: The Dufour 460 Grand Large is designed for a range of sailing conditions, from coastal cruising to long-distance voyages. It performs well in both light and heavy wind conditions.
Comfort: The interior is spacious and luxurious, with a well-equipped galley and comfortable sleeping arrangements for up to 8 people. The cockpit is also designed for relaxation and socializing.
Performance: With its high aspect ratio rig and efficient hull design, the Dufour 460 performs well under sail. The deep keel and twin rudder design also provide excellent stability and control.
Quality: The Dufour 460 is built with quality materials and craftsmanship. The interior is finished in Moabi timber, and the deck gear is high quality.
Design: The design of the Dufour 460 Grand Large is modern and attractive, with clean lines and a sleek profile.
Cons:
Price: As a luxury yacht, the Dufour 460 Grand Large can be quite expensive to purchase and maintain.
Size: While the size of the Dufour 460 provides plenty of space and comfort, it can also make the boat more challenging to handle, especially in tight marinas.
Weight: The boat is relatively heavy, which can impact its performance under sail, especially in light wind conditions.
Layout: Some people might find the interior layout less traditional compared to other yachts, with the galley located aft and the chart table facing aft.
Equipment: Some of the equipment, like the electric windlass and air conditioning, are optional extras and not included in the base price.
Other sailboats in the Dufour range include:
I wrote this article using GPT-4, OpenAI's large-scale language-generation model, as a research assistant to develop source material. I wrote the final draft in its entirety and believe it to be accurate to the best of my knowledge.
Dick McClary, creator and owner of sailboat-cruising.com
---
Sep 29, 23 05:38 PM

Sailing characteristics and performance predictions, pics, specifications, dimensions and those all-important design ratios for the Hanse 400 sailboat...

Sep 29, 23 03:17 AM

Interested in the Gulf 32 sailboat? Here are the pics, specs and performance predictions you're looking for...

Sep 28, 23 04:04 PM

Sailing characteristics and performance predictions, pics, specifications, dimensions and those all-important design ratios for the Fuji 35 sailboat
---