The Dufour 40 Sailboat

Specs & Key Performance Indicators
The Dufour 40, a light displacement fractional sloop, was designed by Umberto Felci and built in France by Dufour Yachts.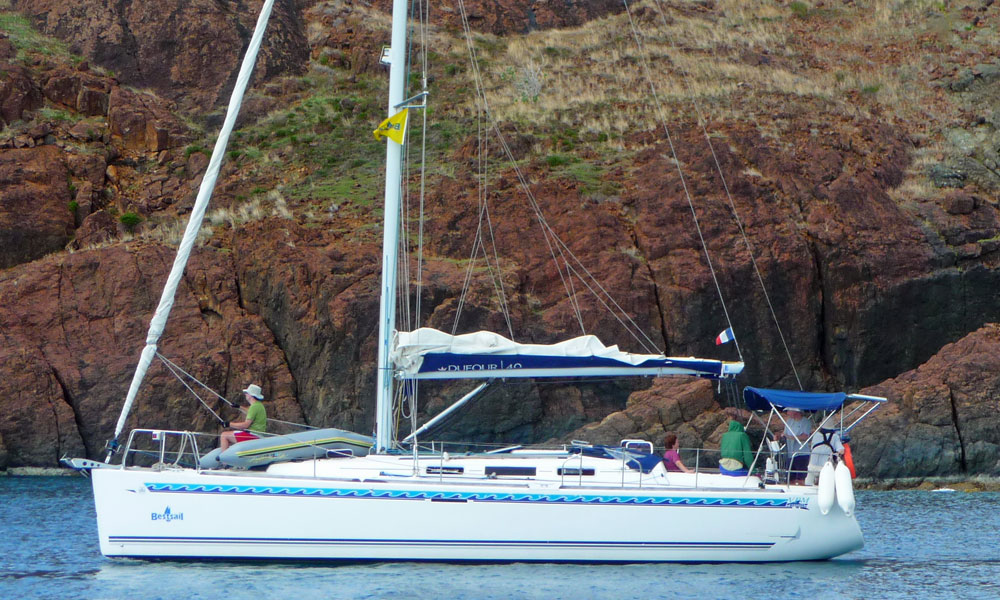 The Dufour 40
Published Specification for the Dufour 40
Underwater Profile: Bulb fin keel & spade rudder
Hull Material: GRP (Fibreglass)
Length Overall: 40'5" (12.3m)
Waterline Length: 35'3" (10.7m)
Beam: 12'10" (3.9m)
Draft: 5'5" (1.7m)
Rig Type: Fractional sloop
Displacement: 17,196lb (7,800kg)
Designer: Umberto Felci
Builder: Dufour Yachts (France)
Year First Built: 2005
Design Ratios: The Key Performance Indicators
The Dufour 40 exhibits admirable performance, partly due to its impressive design ratios.
The Sail Area/Displacement Ratio (SA/D) is 19.3, suggesting a good balance between speed and stability. A high SA/D ratio often indicates a fast, powerful boat, and the Dufour 40 doesn't disappoint on this count.
The Ballast/Displacement Ratio (B/D) of the Dufour 40 is 30.7%. This ratio is an indicator of the boat's stability and its ability to right itself after being heeled by the wind. A high B/D ratio often means a more stable boat, and the Dufour 40's ratio suggests it can handle strong winds and rough seas.
The Displacement/Length Ratio (D/L) of the Dufour 40 is 174. A lower D/L ratio often indicates a lighter, faster boat, but the Dufour 40's moderate D/L ratio suggests it strikes a balance between speed and comfort.
The Comfort Ratio of the Dufour 40 is 23.6. This ratio provides an indication of a boat's motion in a seaway, with higher numbers indicating a more comfortable ride. The Dufour 40's Comfort Ratio suggests that it offers a relatively smooth and comfortable sailing experience.
The Capsize Screening Formula for the Dufour 40 is 2.03. This value indicates the boat's stability and its likelihood to capsize in extreme conditions. A lower value is generally better, with values under 2.0 considered safe for offshore sailing. The Dufour 40's value suggests it is relatively safe, but might require careful handling in extreme conditions.
But how dependable are these design ratios and how are they calculated?
Dufour 40 Accommodation Layout
Below Decks
The Dufour 40 offers a spacious and comfortable interior layout that is designed with both practicality and luxury in mind.

The main saloon typically features a large seating area around a dining table, perfect for entertaining guests or family meals. The table often folds down to create an additional double berth if needed.
The galley is usually well-equipped with a gas stove, oven, refrigerator, and sink, providing all the amenities needed for preparing meals onboard. There is also ample storage space in the galley for food and kitchenware.
The Dufour 40 typically comes with two or three cabins, providing comfortable sleeping arrangements for up to six people. The master cabin often features a large double berth, while the additional cabin(s) offer twin berths. All cabins usually have storage lockers for personal belongings.
There are usually one or two heads, complete with a marine toilet, sink, and shower. Some models also feature a separate shower stall for added convenience.
The interior of the Dufour 40 is typically finished with high-quality woodwork, giving the yacht a classic and elegant feel. The large windows and hatches provide plenty of natural light, making the interior feel bright and airy.
Please note that the specifics can vary depending on the model year and any customizations made by previous owners. It's always best to check the exact specifications and layout of the particular Dufour 40 you are considering.
Pros & Cons
The sailing press has generally reviewed the Dufour 40 positively. Sailing World, for instance, has praised the boat's combination of speed, comfort, and quality construction. The boat's strengths include its excellent handling, spacious and well-designed interior, and high-quality finish.

However, like any boat, the Dufour 40 has its weaknesses. Some reviewers have pointed out that the boat's high freeboard can make it difficult to board from a dinghy. Others have noted that the standard two-burner stove might be insufficient for long voyages.
The Dufour 40 is relatively common on the secondhand market, with prices varying depending on the boat's age, condition, and equipment. As of writing, prices for used Dufour 40s range from around $100,000 to $150,000.
Other Versions
The Dufour 40 and the Dufour 40e are both popular models from Dufour Yachts, but they do have some differences, mainly in design focus and performance characteristics.
The Dufour 40 described above is essentially a cruiser, designed with a balance of comfort and sailing performance. It is well-suited for family cruising, with a comfortable interior layout and easy handling. The Dufour 40 typically has a more traditional design, with a focus on stable and comfortable cruising.
The Dufour 40e (the 'e' stands for 'Evolution') is a more performance-oriented model. While it still offers a comfortable interior for cruising, it has design and construction elements aimed at enhancing speed and performance. It often includes a more powerful rig, a deeper keel, and a hull design optimized for speed. The 40e is more likely to appeal to those who plan on participating in club racing or who simply enjoy a more sporty, responsive sailing experience.
The Builder
Dufour Yachts is a well-established French yacht manufacturer that has been producing high-quality sailing vessels since 1964. The company was founded by Michel Dufour, an engineer and sailing enthusiast, who started with a 6.5-meter sailing yacht, the Sylphe. This was one of the first sailboats built using a new material at that time, polyester resin.
The company has since grown and evolved, producing a wide range of cruising and racing yachts that are known for their performance, durability, and comfort. Dufour Yachts have been recognized for their innovative design and construction techniques, continually striving to improve and enhance their models.

Dufour Yachts has a strong reputation in the sailing community. Their boats are known for their quality craftsmanship, solid construction, and excellent sailing characteristics. They are often praised for their balance of comfort and performance, making them popular choices for both cruising and racing.
Over the years, Dufour Yachts has won numerous awards for their designs, further solidifying their position as a leading yacht manufacturer. Despite changes in ownership over the decades, the brand has maintained its commitment to quality and innovation, continuing to produce yachts that meet the high standards set by its founder.
As always, it's recommended to thoroughly research and inspect any specific model before purchase, as the condition and performance can vary based on factors such as age, maintenance, and usage.

Other sailboats in the Dufour range include:
I wrote this article using GPT-4, OpenAI's large-scale language-generation model, as a research assistant to develop source material. I wrote the final draft in its entirety and believe it to be accurate to the best of my knowledge.
Dick McClary, creator and owner of sailboat-cruising.com
---
Nov 29, 23 08:35 AM

Here's where people with sailing equipment for sale advertise their stuff entirely free of charge. If you're looking for used sailing gear or other used boating accessories, here's where to find it!

Nov 10, 23 02:34 AM

My 47' Cheoy Lee sailboat is for sale. Designed by Bill Luders, she is a beautiful and functional liveaboard cruising yacht.

Oct 30, 23 04:22 PM

This article explores the journey of chartering a sailing yacht, from the initial planning stages to the final touches. It provides insight into the joys and challenges of embarking on a voyage of dis…
---