The Dufour 412 'Grand Large' Sailboat

Specs & Key Performance Indicators
The Dufour 412 'Grand Large', a light displacement fractionally rigged sloop, was designed by Umberto Felci and built in France by Dufour Yachts.

The standard version of the 412 comes well-equipped for cruising, with a spacious interior, a well-laid-out deck, and a powerful sail plan. However, the "Grand Large" version of the 412 described here includes additional luxury features and a more powerful rigging system for enhanced performance. Both versions are popular on the charter market.
Published Specification for the Dufour 412 'Grand Large'
Underwater Profile: Fin keel with spade rudder
Hull Material: GRP
Length Overall: 40'6" (12.4m)
Waterline Length: 36'7" (11.2m)
Beam: 13'8" (4.2m)
Draft: 6'6" (2.0m)
Rig Type: Fractional Sloop
Displacement: 19,709lb (8,940kg)
Designer: Umberto Felci
Builder: Dufour Yachts (France)
Year First Built: 2016
Owners Association: Dufour Owners Association
Known for its exceptional sailing capabilities, the Dufour 412 "Grande Large" features a sleek and modern design, with a spacious interior that can comfortably accommodate up to six people.
It is equipped with advanced navigation and safety systems, making it a popular choice for both experienced sailors and beginners.
The yacht is also designed for comfort and convenience, with features such as a fully equipped galley, a large cockpit, and a bathing platform.
Design Ratios: The Key Performance Indicators
One of the critical factors determining a sailboat's performance is its design ratios. The Dufour 412 boasts impressive numbers in this regard.
To start with, it has a Sail Area/Displacement Ratio (SA/D) of around 18. This ratio indicates the boat's speed potential; a higher number generally means a faster boat. The Dufour 412's SA/D ratio suggests that it is capable of high speeds, especially in light wind conditions.
The Ballast/Displacement Ratio of the Dufour 412 is approximately 30%. This ratio indicates the boat's stability; a higher percentage means a more stable boat. The Dufour 412's ratio suggests it has a good balance between stability and performance, making it suitable for both racing and cruising.
The Displacement/Length Ratio (D/L) of the Dufour 412 is around 200, which suggests that the boat is relatively light for its size. A lower D/L ratio generally means a quicker, more agile boat, especially in light wind conditions.
The Comfort Ratio of the Dufour 412 is approximately 25. This ratio indicates how comfortable the boat is likely to be at sea, with higher numbers suggesting a more comfortable ride. The Dufour 412's ratio suggests it provides a moderate level of comfort, which is suitable for long-distance cruising.
The Capsize Screening Formula for the Dufour 412 is roughly 2.0. This calculation suggests that the boat has a moderate risk of capsize in extreme conditions. However, it's important to note that this is just a theoretical calculation and actual performance in rough conditions can vary significantly.
But just how should these design ratios be interpreted, and how have they been developed?
Down Below
The Dufour 412 has a spacious and modern interior that is designed for comfort and functionality. It features three cabins with ample storage space, and two bathrooms, providing privacy and convenience for everyone on board.

The saloon area is large and inviting, with a U-shaped settee and a large dining table that can accommodate all guests. The interior is beautifully finished with high-quality materials, including Moabi woodwork and Corian countertops in the galley.
The galley is well-equipped with a two-burner stove, an oven, a large refrigerator, and a double sink, making meal preparation a breeze. It's designed in an L-shape layout, providing more counter space and making it easy to use even when the boat is heeling.
The navigation station is located on the port side of the saloon, featuring a large chart table and a comfortable seat, making it a perfect workspace for planning the journey.
Overall, the interior of the Dufour 412 is designed to be a comfortable living space, with a modern and stylish design that doesn't compromise on functionality.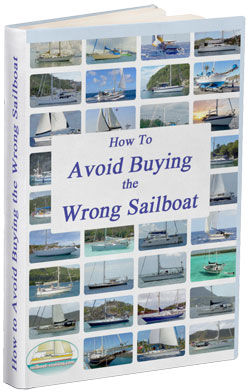 The essential eBook for potential boat buyers...
Pros & Cons
The sailing press has generally been positive about the Dufour 412. Reviewers have praised its comfortable interior, easy handling, and impressive performance. They've also highlighted its versatility, noting that it's equally suited to racing and cruising.
Common issues reported by Dufour 412 owners include minor maintenance problems related to the boat's complex systems and high-tech equipment. However, these issues are generally easy to resolve with regular maintenance and care.
The Dufour 412 is readily available on the secondhand market, with prices ranging from around $200,000 for older models to over $300,000 for newer, well-equipped versions. Prices can vary significantly depending on the boat's condition and the equipment included.
When comparing the Dufour 412 to other sailboats in its class, it stands out for its impressive performance, luxurious features, and versatility. It offers a good balance between speed and comfort, making it an excellent choice for both racing and cruising.
In a Nutshell
Comfort and Space: The Dufour 412 has a spacious design that provides ample room for comfortable living. It features three cabins and two bathrooms, ensuring privacy and comfort for all on board. The deck layout is open and uncluttered, making it easy to move around.
Modern Design: The Dufour 412 has a sleek and modern design that stands out among other sailboats. It features an integrated BBQ and sink in the cockpit, a distinctive feature not commonly found in other sailboats.
Performance: The Dufour 412 is designed for superior sailing performance. It is equipped with a powerful and reliable engine and a high aspect ratio rig, which allows for faster sailing speeds and better maneuverability.
Innovative Features: The boat has several innovative features like a retractable bow thruster for easy docking, an optional outdoor galley, and a convertible cockpit lounge area that can be transformed into a large sunbathing area.
Quality Construction: The Dufour 412 is made with high-quality materials and craftsmanship. It features a solid fiberglass hull and a deck that is both bonded and bolted to the hull, which ensures durability and longevity.
User-Friendly: The Dufour 412 is designed to be user-friendly. It has a twin helm design that provides excellent visibility and control, and the control lines are led back to the cockpit, making it easy to handle the boat even with a small crew.
Versatility: The Dufour 412 is versatile and can be used for a variety of purposes, from cruising to racing. It's also designed to be easy to customize, with a variety of layout options and equipment choices available.
In conclusion, the Dufour 412 sailboat offers a compelling mix of performance, luxury, and versatility. Whether you're looking for a boat for racing, cruising, or both, the Dufour 412 is a worthy contender. Its impressive design ratios indicate high speed potential and good stability, while its moderate comfort ratio suggests a comfortable ride for long-distance cruising.
Other sailboats in the Dufour range include:
I wrote this article using GPT-4, OpenAI's large-scale language-generation model, as a research assistant to develop source material. I wrote the final draft in its entirety and believe it to be accurate to the best of my knowledge.
Dick McClary, creator and owner of sailboat-cruising.com
---
Nov 29, 23 08:35 AM

Here's where people with sailing equipment for sale advertise their stuff entirely free of charge. If you're looking for used sailing gear or other used boating accessories, here's where to find it!

Nov 10, 23 02:34 AM

My 47' Cheoy Lee sailboat is for sale. Designed by Bill Luders, she is a beautiful and functional liveaboard cruising yacht.

Oct 30, 23 04:22 PM

This article explores the journey of chartering a sailing yacht, from the initial planning stages to the final touches. It provides insight into the joys and challenges of embarking on a voyage of dis…
---