The Elan 333 Sailboat

Specs & Key Performance Indicators
The Elan 333, a light-displacement, fractionally-rigged sloop, was designed by Rob Humphreys and built in Slovenia by Elan Yachts.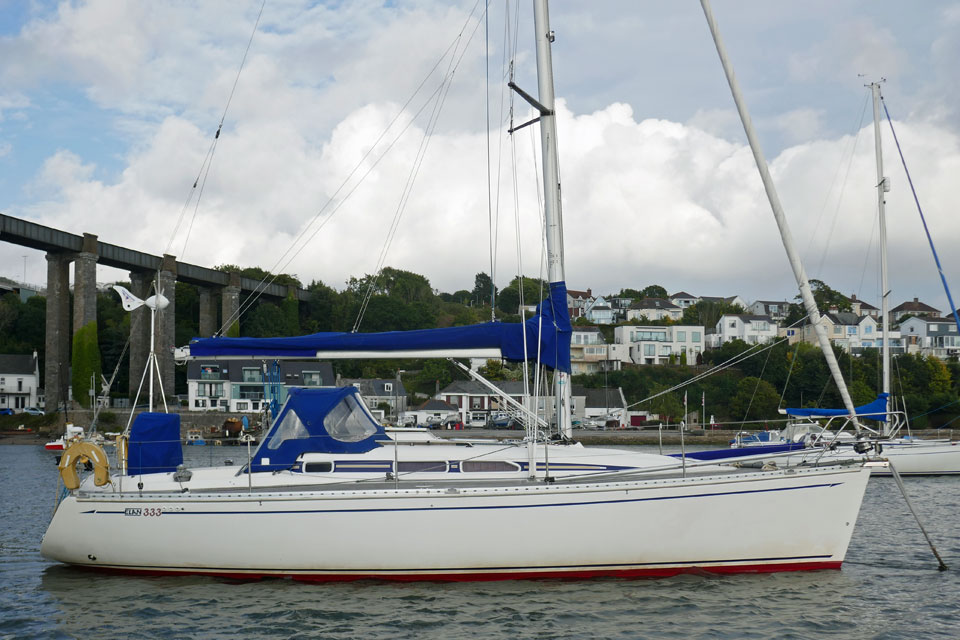 An Elan 333 Sailboat
Published Specification for the Elan 333
Underwater Profile: Bulb-fin keel & spade rudder
Hull Material: GRP (Fibreglass)
Length Overall: 32'9" (10.0m)
Waterline Length: 28'9" (8.8m)
Beam: 11'4" (3.5m)
Draft: 6'3" (1.9m)
Rig Type: Fractional sloop
Displacement: 8,818lb (4,000kg)
Ballast: 3,351lb (1,520kg)
Designer: Rob Humphreys
Builder: Elan Yachts (Slovenia)
Year First Built: 1999
Year Last Built: 2005
---
Published Design Ratios for the Elan 333
1. Sail Area/Displacement Ratio: 20.7
Less than 16 would be considered under-powered;
16 to 20 would indicate reasonably good performance;
Over 20 suggests relatively high performance.
2. Ballast/Displacement Ratio: 38.0
Under 40: less stiff, less powerful
Over 40: stiffer, more powerful
3. Displacement/Length Ratio: 166
Under 100: Ultralight
100 to 200: Light
200 to 275: Moderate
275 to 350: Heavy
Over 350: Ultraheavy
4. Comfort Ratio: 17.9
Under 20 indicates a lightweight racing boat
20 to 30 indicates a coastal cruiser
30 to 40 indicates a moderate offshore cruising boat
40 to 50 indicates a heavy offshore boat
Over 50 indicates an extremely heavy offshore boat
5. Capsize Screening Formula: 2.2
Under 2.0 (the lower the better): Better suited for ocean passages
Over 2.0: Less suited for ocean passages
Read more about these Key Performance Indicators...
---
Summary Analysis of the Design Ratios for the Elan 333
1. A Sail Area/Displacement Ratio of 20.7 suggests that, in the right hands, the Elan 333 will have enough performance to leave most other sailboats of similar waterline length well astern. 
2. A Ballast/Displacement Ratio of 38.0 would usually mean that the Elan 333 would have a tendency to heel uncomfortably in a gust, and need to be reefed early to keep her sailing upright in a moderate breeze.
However, as she has much of her ballast concentrated in a bulb at the foot of her keel, she's likely to be considerably stiffer than her published Ballast/Displacement Ratio might suggest.
3. A Displacement/Length Ratio of 166, tells us the Elan 333 is clearly a light displacement sailboat. If she's loaded with too much heavy cruising gear her performance will suffer to a degree.
4. Ted Brewer's Comfort Ratio of 17.9 suggests that the Elan 333 will have the motion underway to that of a lightweight racing boat. Crew comfort will often be memorable for all the wrong reasons. Beating upwind in lively conditions the Elan 333 will slam enough to shake your fillings out with a motion that most cruising sailors have no desire to get used to.
5. The Capsize Screening Formula of 2.2 tells us that a Elan 333 would not be as good a choice of sailboat for ocean passage-making, owing to the increased risk of capsize in strong winds and heavy seas when compared to a sailboat with a CSF of less than 2.0.
Nov 22, 22 05:09 AM

Medium sized cruising yachts like these are often the sailboat of choice for short-handed crews, and if properly equipped and maintained, will take long offshore voyages in their stride.

Nov 22, 22 04:53 AM

Thinking of buying a Dehler 38 sailboat? Perhaps you should first take a look at these pics, specs and key performance indicators...

Nov 21, 22 06:22 AM

Thinking of buying a Moody 41 Classic sailboat? Perhaps you should first take a look at these pics, specs and key performance indicators...
---