The Freedom 44 Cat Ketch Sailboat

Specs & Key Performance Indicators
The Freedom 44 Cat Ketch was designed by Halsey Herreshoff & Gary Hoyt and built in the USA by Tillotson Pearson Inc.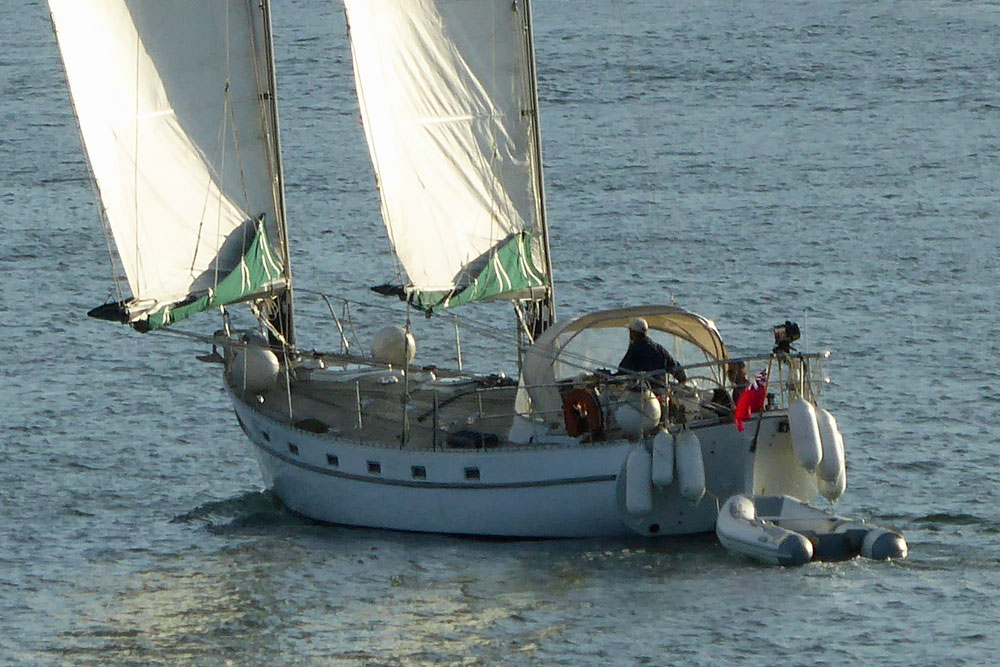 The Freedom 44 Cat Ketch
Published Specification for the Freedom 44 Cat Ketch
Underwater Profile: Fin keel & skeg-hung rudder
Hull Material: GRP (Fibreglass)
Length Overall: 44'0" (13.4m)
Waterline Length: 39'6" (12.0m)
Beam: 12'0" (3.7m)
Draft: 6'0" (1.8m)
Rig Type: Unstayed cat ketch
Displacement: 24,000lb (10,886kg)
Designer: Halsey Herreshoff & Gary Hoyt
Builder: Tillotson Pearson Inc (USA)
Year First Built: 1981
---
Published Design Ratios for the Freedom 44 Cat Ketch
1. Sail Area/Displacement Ratio: 19.3
2. Ballast/Displacement Ratio: 29.2
3. Displacement/Length Ratio: 174
4. Comfort Ratio: 33.2
5. Capsize Screening Formula: 1.7
Summary Analysis of the Design Ratios for the Freedom 44 Cat Ketch
1. A Sail Area/Displacement Ratio of 19.3 suggests that the Freedom 44 Cat Ketch will, in the right conditions, approach her maximum hull speed readily and satisfy the sailing performance expectations of most cruising sailors.
2. A Ballast/Displacement Ratio of 29.2 means that a sailboat like the Freedom 44 Cat Ketch (which doesn't have a stiffness-enhancing bulb keel), is likely to benefit from being reefed early to keep her sailing upright in a moderate breeze.
3. A Displacement/Length Ratio of 174, tells us the Freedom 44 Cat Ketch is a light displacement sailboat. If she's loaded with too much heavy cruising gear her performance will suffer to a degree.
4. Ted Brewer's Comfort Ratio of 33.2 suggests that crew comfort of a Freedom 44 Cat Ketch in a seaway is similar to what you would associate with the motion of a moderate bluewater cruising boat - a predictable and acceptable motion for most seasoned sailors.
5. The Capsize Screening Formula (CSF) of 1.7 indicates that a Freedom 44 Cat Ketch would be a safer choice of sailboat for an ocean passage than one with a CSF of more than 2.0. 
---
Any Questions?
The Freedom 44 Cat Ketch has a spacious and comfortable interior, with a flush deck design that adds headroom and light to the cabin. The standard layout features a V-berth master stateroom forward, with a private head and shower. Aft of the stateroom is a large salon with two settees that can be used as berths, a drop-leaf table, and ample storage. The galley is to port, with a three-burner stove, oven, refrigerator, freezer, and double sink. To starboard is a nav station with a chart table and an electrical panel. Aft of the nav station is another head with shower, and a quarterberth that can sleep two.
There were some variations in the interior layout of the Freedom 44 Cat Ketch, depending on the year of production and the owner's preferences. Some examples are:


A center cockpit version, with an aft cabin that has a double berth and a private head;

A pilothouse version, with a raised deckhouse that has a steering station, seating, and windows;

A customized version, with a modified salon that has an L-shaped settee and a larger table, or a U-shaped galley that has more counter space.
The Freedom 44 Cat Ketch has a unique sail plan and rigging system, designed by Gary Hoyt. It features two tapered carbon fibre masts, with no standing rigging or headsails. The masts are keel-stepped and can flex in strong winds, reducing heel and increasing stability. The sails are either fully battened mainsails with wishbone booms, or cambered spar sails with conventional booms. The cambered spar sails have curved battens that create an airfoil shape for better performance. The sails are controlled by electric winches and can be reefed or furled from the cockpit.

The Freedom 44 Cat Ketch is a fast and easy-to-handle sailboat, ideal for short-handed cruising or family sailing. It has a balanced helm and good manoeuvrability, thanks to its fin keel and skeg rudder. It can sail well on all points of sail, especially reaching and running. It can also tack quickly and smoothly, without needing to adjust any headsails. The cat-ketch rig offers simplicity and versatility, as well as safety and comfort in heavy weather.
The average cost of a secondhand Freedom 44 Cat Ketch depends on the year, condition, equipment, and location of the boat. According to some online listings, the price range can vary from around $60,000 to $120,000 USD.
The boatbuilder of the Freedom 44 Cat Ketch was Freedom Yachts, founded by Gary Hoyt in Rhode Island in 1976. The company produced various models of sailboats with the cat-ketch rig or the sloop rig until 1996, when it merged with Legacy Yachts and became known as Freedom-Legacy Yachts. The merged company ceased operations in 2008, due to the global financial crisis. However, there is still an active community of Freedom owners and enthusiasts, who share information and support through online forums and associations.
The designer of the Freedom 44 Cat Ketch was Gary Hoyt, a renowned naval architect and sailor. He is best known for his innovative sail plans and rigs, such as the cat-ketch, the cambered spar, the unstayed mast, and the self-tacking jib. He has designed many sailboats for Freedom Yachts, as well as other companies, such as Alerion Yachts, Nonsuch Yachts, and Etchells Yachts. Some of his notable designs are:


The Freedom 40, the first sailboat with the cat-ketch rig and the carbon fiber mast, launched in 1976;

The Alerion Express 28, a classic-looking daysailer with a self-tacking jib and a wishbone boom, launched in 1985;

The Nonsuch 30, a catboat with a single unstayed mast and a fully battened mainsail, launched in 1978;

The Etchells 22, a one-design racing keelboat with a fractional sloop rig and a spinnaker, launched in 1966.
The above answers were drafted by sailboat-cruising.com using GPT-4 (OpenAI's large-scale language-generation model) as a research assistant to develop source material; to the best of our knowledge, we believe them to be accurate.
---
Nov 29, 23 08:35 AM

Here's where people with sailing equipment for sale advertise their stuff entirely free of charge. If you're looking for used sailing gear or other used boating accessories, here's where to find it!

Nov 10, 23 02:34 AM

My 47' Cheoy Lee sailboat is for sale. Designed by Bill Luders, she is a beautiful and functional liveaboard cruising yacht.

Oct 30, 23 04:22 PM

This article explores the journey of chartering a sailing yacht, from the initial planning stages to the final touches. It provides insight into the joys and challenges of embarking on a voyage of dis…
---