The Fuji 35 Sailboat
The Fuji 35, a clipper-bowed staysail ketch, was designed by John Alden and built in Japan by Fuji Yacht Builders.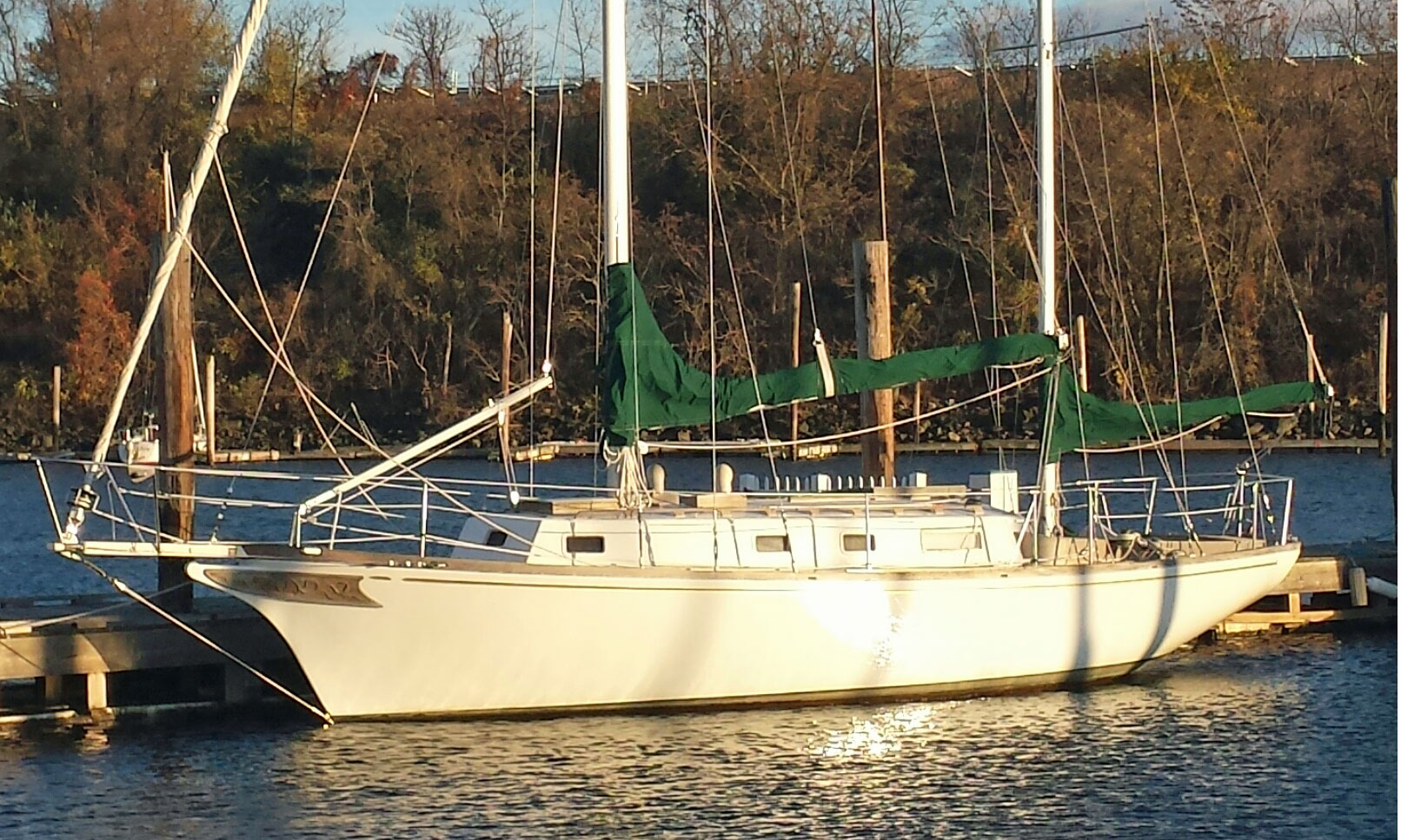 The Fuji 35, a long-keeled staysail ketch
The Fuji 35 is a full-keel, heavy displacement, ocean cruising sailboat, and is known for its strong and sturdy construction, making it a reliable vessel for long-distance sailing. It has a fiberglass hull with a traditional design, a long overhang, and a wineglass transom.
Published Specification for the Fuji 35
Underwater Profile: Full keel, with a cut-away forefoot;
Hull Material:  GRP;
Length Overall: 34'7" (10.5m);
Waterline Length: 26'00" (7.9m);
Beam: 10'00" (3.1m);
Draft: 5'0" (1.5m);
Rig Type: Staysail Ketch;
Displacement: 6,302lb (7,395kg);
Designer: John Alden;
Builder:  Fuji Yacht Builders (Japan);
Year First Built: 1973;
Year Last Built: 1982; 
Design Ratios
The Fuji 35's design ratios are crucial to understanding its sailing performance.
The Sail Area/Displacement Ratio (SA/D) is a measure of the sailboat's ability to move efficiently. For the Fuji 35, this ratio is 15.22, indicating a relatively moderate ability to accelerate and maintain speed, making it a balanced choice for both cruising and racing.
The Ballast/Displacement Ratio (B/D) of the Fuji 35 is 40.73. This ratio reflects the boat's stability and resistance to capsizing. A higher ratio suggests a more stable boat, and the Fuji 35's ratio indicates a well-balanced vessel that can handle a variety of sea conditions.
The Displacement/Length Ratio (D/L) is another critical measure. A higher D/L ratio generally suggests a slower but more comfortable ride. The Fuji 35 has a ratio of 327.11, indicating a boat designed for comfort and stability, rather than speed.
The Fuji 35's Comfort Ratio (CR), which measures the motion comfort of the boat, is 35. This suggests a boat that provides a smoother ride in rough conditions, making it ideal for those long passages where comfort becomes paramount.
The Capsize Screening Formula (CSF) for the Fuji 35 is 1.72. A lower CSF is better, as it indicates a lower likelihood of capsizing. With a CSF of 1.72, the Fuji 35 offers a good level of safety for offshore sailing.
But how reliable are these design ratios and how are they derived?
The Rig
The Fuji 35 was available in two versions: a staysail ketch and a cutter. The ketch version has a smaller mainmast, a mizzenmast and a staysail, while the cutter version has a single taller mast and a staysail. The ketch version has more sail area and more options for sail trimming, but the cutter version is simpler to handle and has less windage.
Add a staysail (like the cutter rig) to the ketch and you have a staysail ketch.
Above & Below Deck
The Fuji 35 is also praised for its beautiful craftsmanship, both on the exterior and the interior. The woodwork is typically made of high-quality teak, giving the boat a classic and elegant look.
The interior of the Fuji 35 is crafted from teak and offers a warm, traditional feel. The layout includes a forward V-berth, a main saloon with settees that can double as bunks, a navigation station, a galley, and a separate aft cabin.
The galley in the Fuji 35 is well-equipped for long voyages. It includes a stove, oven, and refrigerator, as well as ample storage for provisions. The layout allows for easy meal preparation even while underway.
The Fuji 35's cockpit is spacious and well-protected, offering a safe and comfortable space for the crew while sailing. The helm is responsive, and the cockpit layout provides easy access to all the necessary controls and instruments.
The deck layout of the Fuji 35 is practical and efficient, with all lines leading aft for easy handling. The wide side decks and high lifelines provide a safe and secure environment when moving around the boat at sea.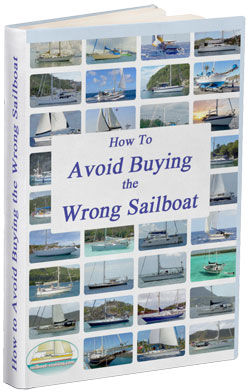 The essential eBook for potential boat buyers...
What the Sailing Press and Fuji Owners have said...
The sailing press generally praised the Fuji 35 for its classic design, solid construction, comfortable interior, and seaworthy performance. Some of the reviews are:
"Both the Fuji 35 ketch and the cutter are John Alden-designed masterpieces with beautiful lines, seaworthy construction and the ability to safely transport a small crew offshore in style over long distances."
"The Fuji 35 is a very heavy sailboat which is underpowered. It is stable/stiff and has an excellent righting capability if capsized. It is best suited as a heavy bluewater cruising boat."
"The Fuji 35 is one of those boats that makes you stop and stare. She has graceful lines, a clipper bow, a wineglass transom, and a traditional rig. She looks like she belongs in another era, but she was built to modern standards of quality and safety."
Owners of the Fuji 35 tend to love their boats for their beauty, comfort, durability, and reliability. They also appreciate their boats' ability to handle rough seas and strong winds with ease. Some of the owners' comments are:
"We have owned our Fuji 35 ketch for over 20 years and have sailed her extensively in the Caribbean, Bahamas, and US East Coast. She is a wonderful boat that always gets compliments wherever we go. She is well-built, spacious, and comfortable. She sails well in light airs and heavy weather. She is easy to maintain and repair. We have never regretted buying her."
"Our Fuji 35 cutter is our dream boat. We bought her in 2010 and have since sailed her across the Pacific Ocean to Australia. She has proven to be a sturdy, safe, and fast boat that can handle anything we throw at her. She is also very beautiful and attracts attention everywhere we go. She has a cozy and functional interior that makes living aboard a pleasure. We are very happy with our boat."
"I have owned my Fuji 35 ketch since 1985 and have sailed her around the world twice. She is an amazing boat that has never let me down. She is strong, stable, and seaworthy. She can sail well in all conditions and point high into the wind. She is also very elegant and charming. She has a lot of character and history. She is more than just a boat, she is my home."
The Secondhand Market
The Fuji 35 is not a common boat on the market, but it is not impossible to find one either. According to some online sources, there were about 200 Fuji 35s built, and some of them are still sailing today.
The asking prices vary depending on the condition and the equipment of the boat, but they range from $30,000 to $60,000 on average.
Under Sail
The Fuji 35's performance under sail is commendable. It is known for its steady course-keeping ability and its predictable handling characteristics.
This makes it a boat that is easy to sail, even for less experienced sailors, and one that can provide a challenge for those seeking to refine their sailing skills.
The Competition
In terms of comparable sailboats, the Fuji 35 often gets compared to other cruising sailboats of similar size and displacement. These include the Island Packet 35, the Hallberg-Rassy 352, and the Pacific Seacraft 34.
Each of these boats offers similar performance and comfort levels but may differ in terms of layout, construction quality, and price.
Summing Up
In conclusion, the Fuji 35 is a robust and reliable sailboat that offers a unique blend of comfort, performance, and craftsmanship.
Its design ratios suggest a boat that is stable, comfortable, and reasonably quick, making it an excellent choice for those seeking to undertake long passages or live aboard.
I wrote this article using GPT-4, OpenAI's large-scale language-generation model, as a research assistant to develop source material. I wrote the final draft in its entirety and believe it to be accurate to the best of my knowledge.
Dick McClary, creator and owner of sailboat-cruising.com
Sep 30, 23 11:02 AM

Experience luxury and performance with our Bavaria 44AC sailboat! With its well-crafted interiors, state-of-the-art navigation gear, spacious layout, and robust sailing capabilities, it's perfect for…

Sep 29, 23 05:38 PM

Sailing characteristics and performance predictions, pics, specifications, dimensions and those all-important design ratios for the Hanse 400 sailboat...

Sep 29, 23 03:17 AM

Interested in the Gulf 32 sailboat? Here are the pics, specs and performance predictions you're looking for...
---