The Grand Soleil 343 Sailboat

Specs & Key Performance Indicators
The Grand Soleil 343, a light-displacement sloop, was designed by Alain Jezequel and built in Italy by Grand Soleil.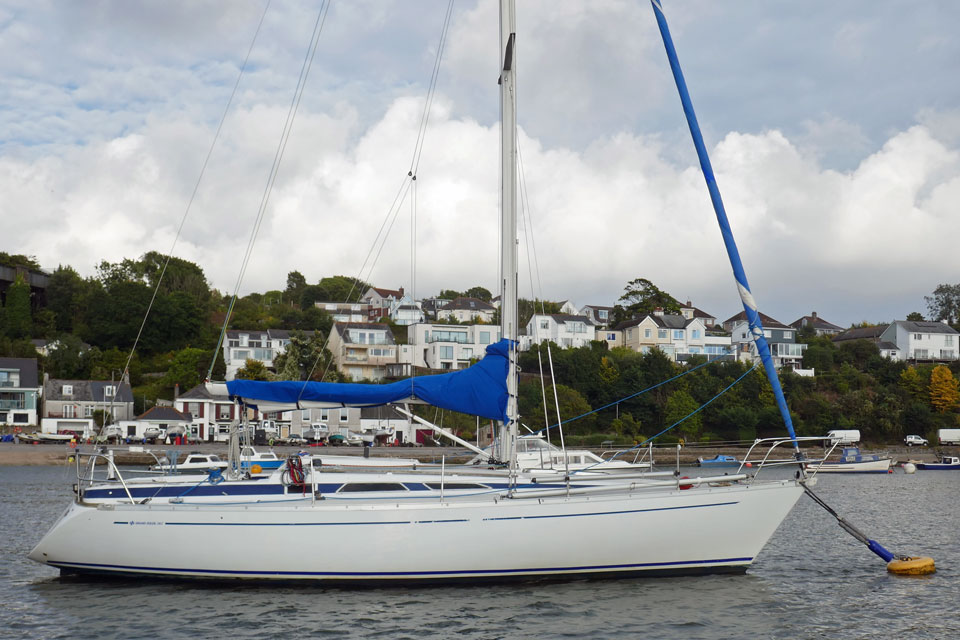 A Grand Soleil 343 Sailboat
Published Specification for the Grand Soleil 343
Underwater Profile: Fin keel & spade rudder
Hull Material: GRP (Fibreglass)
Length Overall: 34'2" (10.4m)
Waterline Length: 28'9" (8.8m)
Beam: 11'3" (3.4m)
Draft: 5'11" (1.8m)
Rig Type: Masthead sloop
Displacement: 10,251lb (4,650kg)
Ballast: 3,858lb (1,750kg)
Designer: Alain Jezequel
Builder: Grand Soleil (Italy)
Year First Built: 1985
---
Published Design Ratios for the Grand Soleil 343
1. Sail Area/Displacement Ratio: 22.8
2. Ballast/Displacement Ratio: 37.6
3. Displacement/Length Ratio: 193
4. Comfort Ratio: 20.9
5. Capsize Screening Formula: 2.1
Summary Analysis of the Design Ratios for the Grand Soleil 343
1. A Sail Area/Displacement Ratio of 22.8 suggests that, in the right hands, the Grand Soleil 343 will have enough performance to leave most other sailboats of similar waterline length well astern. 

2. A Ballast/Displacement Ratio of 37.6 means that a sailboat like the Grand Soleil 343 (which doesn't have a stiffness-enhancing bulb keel), is likely to benefit from being reefed early to keep her sailing upright in a moderate breeze.
3. A Displacement/Length Ratio of 193, tells us the Grand Soleil 343 is clearly a light displacement sailboat. If she's loaded with too much heavy cruising gear her performance will suffer to a degree.
4. Ted Brewer's Comfort Ratio of 20.9 suggests that crew comfort of a Grand Soleil 343 in a seaway is similar to what you would associate with the motion of a coastal cruiser with moderate stability, which is not the bequestst of news for anyone prone to seasickness. 
5. The Capsize Screening Formula of 2.1 tells us that a Grand Soleil 343 would not be as good a choice of sailboat for ocean passage-making, owing to the increased risk of capsize in strong winds and heavy seas when compared to a sailboat with a CSF of less than 2.0.
---
Any Questions?
The Grand Soleil 343 is no longer in production. It was first built in 1985, but the exact date when production ended and the number of boats built are not known.
The Grand Soleil 343 was built by Cantiere del Pardo, an Italian company that has been building sailboats since 1974. The company is still in business and continues to produce high-quality sailboats under the Grand Soleil brand.
The Grand Soleil 343 has two cabins and can accommodate up to six people for sleeping.
The cost of a secondhand Grand Soleil 343 varies depending on its condition, age, and location. As of August 2023, secondhand Grand Soleil 343s were listed for sale at prices ranging from £31,703 to £37,044.

The above answers were drafted by sailboat-cruising.com using GPT-4 (OpenAI's large-scale language-generation model) as a research assistant to develop source material; to the best of our knowledge, we believe them to be accurate.
---
Other sailboats in the Grand Soleil range include:
---
Sep 29, 23 05:38 PM

Sailing characteristics and performance predictions, pics, specifications, dimensions and those all-important design ratios for the Hanse 400 sailboat...

Sep 29, 23 03:17 AM

Interested in the Gulf 32 sailboat? Here are the pics, specs and performance predictions you're looking for...

Sep 28, 23 04:04 PM

Sailing characteristics and performance predictions, pics, specifications, dimensions and those all-important design ratios for the Fuji 35 sailboat
---