The Gulfstar 36 Sailboat

Specs & Key Performance Indicators
The Gulfstar 36, an aft-cockpit sloop, was designed by Vince & Richard Lazarra and built in the USA by Gulfstar Yachts.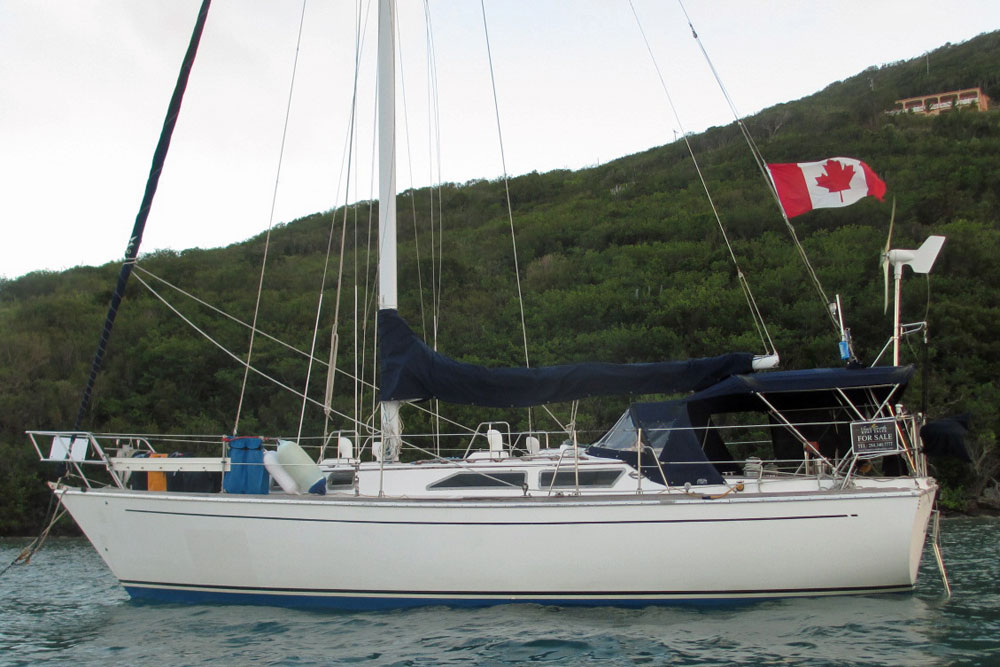 A Gulfstar 36
Published Specification for the Gulfstar 36
Underwater Profile: Fin keel & skeg-hung rudder
Hull Material: GRP (Fibreglass)
Length Overall: 36'1" (11.0m)
Waterline Length: 30'4" (9.2m)
Beam: 12'0" (3.7m)
Draft: 4'10" (1.5m)
Rig Type: Masthead sloop
Displacement: 14,250lb (6,464kg)
Designer: Vince & Richard Lazarra
Builder: Gulfstar Yachts (USA)
Year First Built: 1983
Year Last Built: 1985
Number Built: 23
---
Published Design Ratios for the Gulfstar 36
Sail Area/Displacement Ratio: 16.6
Ballast/Displacement Ratio: 38.3
Displacement/Length Ratio: 228
Comfort Ratio: 25.1
Capsize Screening Formula: 2.0
Summary Analysis of the Design Ratios for the Gulfstar 36
1. A Sail Area/Displacement Ratio of 16.6 suggests that the Gulfstar 36 will, in the right conditions, approach her maximum hull speed readily and satisfy the sailing performance expectations of most cruising sailors.
2. A Ballast/Displacement Ratio of 38.3 means that a sailboat like the Gulfstar 36 (which doesn't have a stiffness-enhancing bulb keel), is likely to benefit from being reefed early to keep her sailing upright in a moderate breeze.
3. A Displacement/Length Ratio of 228, tells us the Gulfstar 36 is a moderate displacement cruiser, which means she'll carry all your cruising gear without it having a dramatic effect on her performance. Most of today's sailboats intended for offshore cruising fall into this displacement category.
4. Ted Brewer's Comfort Ratio of 25.1 suggests that crew comfort of a Gulfstar 36 in a seaway is similar to what you would associate with the motion of a coastal cruiser with moderate stability, which is not encouraging news for anyone prone to seasickness. 
5. The Capsize Screening Formula of 2.0 tells us that a Gulfstar 36 would not be as good a choice of sailboat for ocean passage-making, owing to the increased risk of capsize in strong winds and heavy seas, when compared to a sailboat with a CSF of less than 2.0.
---
---
More about the Gulfstar 36 Sailboat...
The Gulfstar 36 is a sloop-rigged monohull with a fin keel and a skeg-hung rudder. It has a fiberglass hull and deck, with a balsa core in the deck for stiffness and insulation. The boat has a moderate displacement of 14,250 lbs (6,464 kg), with a lead ballast of 5,460 lbs (2,478 kg). The sail area is 608 sq ft (56.5 sq m), giving it a sail area/displacement ratio of 16.6, which indicates good performance in light to moderate winds. The boat has a hull speed of 8.4 knots, and can easily tack through 90 degrees and achieve hull speed in 12 to 14 knots of wind.

The Gulfstar 36 has a spacious and well-laid-out cockpit, with a single-wheel steering system and an instrument panel above the companionway. The cockpit seats are long and wide enough to accommodate six people or serve as berths. There is a large lazarette locker behind the helm seat, and two smaller lockers under the port and starboard seats. The cockpit is protected by a dodger and a bimini top, which can be removed or folded down when not needed.
The deck is clean and uncluttered, with wide side decks and sturdy handrails for easy movement. The mast is deck-stepped and supported by stainless steel wire rigging with double lower shrouds and a single backstay. The boat has a standard sloop rig with a single spreader mast and a boom vang. The mainsail has slab reefing with two reef points, and the genoa is roller-furled on the forestay.
Accommodation
The Gulfstar 36 has a comfortable and cozy interior, with teak woodwork and plenty of natural light and ventilation from the large windows and hatches. The boat can sleep up to six people in two separate cabins and the main saloon.
The forward cabin has shelves along the hull sides, drawers under the berth, and a hanging locker to starboard. There is also an overhead hatch and two opening ports for light and air.
The main saloon has an L-shaped settee to port that can be converted into a double berth, and a straight settee to starboard that can serve as a single berth. There is a folding table on the centerline that can be lowered or raised as needed. There are storage lockers behind and under the settees, as well as bookshelves along the hull sides. There are four fixed windows and two opening ports in the saloon, as well as an overhead hatch.
The galley is located aft of the saloon to port, and features a three-burner propane stove with oven, a double stainless steel sink with hot and cold water, a large top-loading icebox with refrigeration unit, and ample counter space and storage cabinets. There is also an opening port above the stove for ventilation.
The navigation station is located opposite the galley to starboard, and features a large chart table with storage drawers underneath, an electrical panel, and space for mounting instruments and radios. There is also an opening port above the chart table for light.
The aft cabin is accessed through a door next to the navigation station, and has a large double berth that spans across the stern of the boat. There are shelves along the hull sides, drawers under the berth, and a hanging locker to port. There is also an overhead hatch and two opening ports for light and air.
The head is located between the forward cabin and the saloon, and has a marine toilet, a sink with hot and cold water, a shower with a sump pump, and a storage cabinet. There is also an opening port and an overhead hatch for ventilation.
Hull and Deck
The hull of the Gulfstar 36 is made of solid fiberglass, with no core or liner. The hull is hand-laid using alternating layers of mat and roving, with extra reinforcement in high-stress areas. The hull is finished with a gelcoat that resists fading and cracking.
The deck is made of fiberglass with a balsa core, except in areas where hardware is mounted, where the core is replaced with plywood or solid fiberglass. The deck has a molded-in nonskid pattern that provides good traction and easy maintenance.
Keel and Rudder
The Gulfstar 36 has a fin keel that is bolted to the hull with stainless steel bolts. The keel is made of lead, which has a lower center of gravity and higher density than iron, resulting in better stability and performance. The keel has a draft of 5 feet (1.5 m), which allows the boat to access shallow waters while still providing adequate lift and lateral resistance.
The rudder of the Gulfstar 36 is skeg-hung, which means it is attached to a partial fin that extends from the bottom of the hull. This provides extra support and protection for the rudder, as well as improved directional stability and steering response. The rudder is made of fiberglass with a stainless steel stock and shaft. The rudder is connected to the wheel by a cable-and-pulley system that runs through a pedestal in the cockpit.

The above text was drafted by sailboat-cruising.com using GPT-4 (OpenAI's large-scale language-generation model) as a research assistant to develop source material; we believe it to be accurate to the best of our knowledge.
---
Other sailboats in the Gulfstar range include:
Nov 29, 23 08:35 AM

Here's where people with sailing equipment for sale advertise their stuff entirely free of charge. If you're looking for used sailing gear or other used boating accessories, here's where to find it!

Nov 10, 23 02:34 AM

My 47' Cheoy Lee sailboat is for sale. Designed by Bill Luders, she is a beautiful and functional liveaboard cruising yacht.

Oct 30, 23 04:22 PM

This article explores the journey of chartering a sailing yacht, from the initial planning stages to the final touches. It provides insight into the joys and challenges of embarking on a voyage of dis…
---