The Hinckley 48 Sailboat

Specs & Key Performance Indicators
The Hinckley 48, a heavy displacement long keel sailboat, was designed by William H Trip and built in the USA by Henry Hinckley & Company.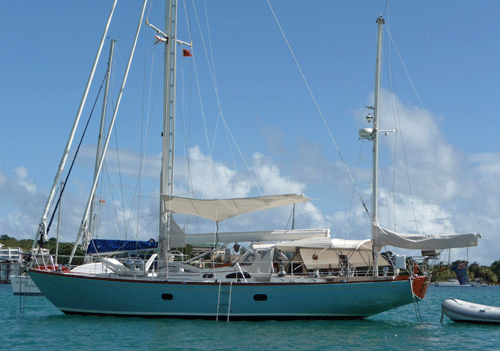 A Hinckley 48
Published Specification for the Hinckley 48
Underwater Configuration: Long keel with centreboard
Hull Material: GRP (Fibreglass)
Length Overall: 48'3" (14.7m)
Waterline Length: 34'2" (10'4")
Beam: 13.0" (4.0m)
Draft: Max 11'9" (3.6m), Min 5'2" (1.6m)
Rig Type: Yawl (also produced as a sloop)
Displacement: 36,000lb (16,330kg)
Designer: William H Trip
Builder: Henry Hinckley & Company (US)
Year First Built: 1965
Year Last Built: 1974
Number Built: 8
---
Published Design Ratios for the Hinckley 48
1. Sail Area/Displacement Ratio: 15.0
2. Ballast/Displacement Ratio: 29.4
3. Displacement/Length Ratio: 403
4. Comfort Ratio: 47.6
5. Capsize Screening Formula: 1.6
Summary Analysis of the Design Ratios for the Hinckley 48
1. A Sail Area/Displacement Ratio of 15.0 suggests that the Hinckley 48 will need a stiff breeze to get her going. In light conditions, unless you've got plenty of time on your hands, motor-sailing may be the way to go.
2. A Ballast/Displacement Ratio of 29.4 means that Hinckley 48 will have a tendency to heel excessively in a gust, and she'll need to be reefed early to keep her sailing upright in a moderate breeze. 
3. A Displacement/Length Ratio of 403, tells us the Hinckley 48 is firmly in the ultra-heavy displacement category. Load her up as much as you like and her performance will be hardly affected. Few if any sailboats are built to this displacement category these days - but they remain popular with some long-distance sailors.
4. Ted Brewer's Comfort Ratio of 47.6 suggests that crew comfort of a Hinckley 48 in a seaway is similar to what you would associate with the motion of a heavy bluewater cruising boat. Pitching and rolling will be well damped - your cup of coffee on the salon table stands a reasonable chance of staying there in most conditions.
5. The Capsize Screening Formula (CSF) of 1.6 tells us that a Hinckley 48 would be a safer choice of sailboat for an ocean passage than one with a CSF of more than 2.0. 
---
Any Questions?
There were two versions of the Hinckley 48: a sloop version and a yawl version.
The accommodation in the Hinckley 48 Yawl varies depending on the layout, but typically it has a V-berth forward, a head with shower to port, a hanging locker to starboard, a U-shaped dinette to port and a settee to starboard in the main salon, a U-shaped galley to port and a navigation station to starboard aft of the salon, and a quarter berth aft of the navigation station. The Hinckley Talaria 48 has a master stateroom forward with an island queen berth and an ensuite head with a separate shower, a guest cabin to port with twin berths that can convert to a double, a day head with shower to starboard, and a spacious salon with a U-shaped settee and table to port and two helm seats and a galley to starboard.
The Hinckley 48 Yawl had some variations in the layout, such as having two heads instead of one, or having an aft cabin instead of a quarter berth.

The Hinckley 48 Yawl is a heavy displacement cruiser that is stable and comfortable in most sea conditions. It is not very fast or agile, but it can handle long passages and offshore sailing well. It has good balance and directional stability, and it can be easily handled by a small crew.
The average cost of a secondhand Hinckley 48 depends on the condition, age, and model of the boat. Based on the web search results, the price range for a used Hinckley 48 Yawl is between $120,000 and $160,000 USD.

Yes, Hinckley Yachts is still in business and has been since 1928. It is one of the oldest and most respected boatbuilders in the United States, and it is known for its high-quality craftsmanship and innovation. It has several locations in the US, and it offers a range of services and products, including new and used boats, brokerage, service, charter, and jetboat school.
William H Tripp Jr was a prolific and influential yacht designer who created many sailboats for Hinckley Yachts and other boatbuilders. Some of his other designs include the Bermuda 40, the Sou'wester 42, the Hood 38, the Block Island 40, the Columbia 50, the Columbia 57, the Columbia 62, the Tripp 37, the Tripp 40, and the Tripp 47.
The above answers were drafted by sailboat-cruising.com using GPT-4 (OpenAI's large-scale language-generation model) as a research assistant to develop source material; to the best of our knowledge, we believe them to be accurate.
---
Sep 29, 23 05:38 PM

Sailing characteristics and performance predictions, pics, specifications, dimensions and those all-important design ratios for the Hanse 400 sailboat...

Sep 29, 23 03:17 AM

Interested in the Gulf 32 sailboat? Here are the pics, specs and performance predictions you're looking for...

Sep 28, 23 04:04 PM

Sailing characteristics and performance predictions, pics, specifications, dimensions and those all-important design ratios for the Fuji 35 sailboat
---