The Jouet 1300 Sailboat

Specs & Key Performance Indicators
The Jouet 1300, a light displacement sloop, was designed by Daniel Tortarolo and built by Yachting France.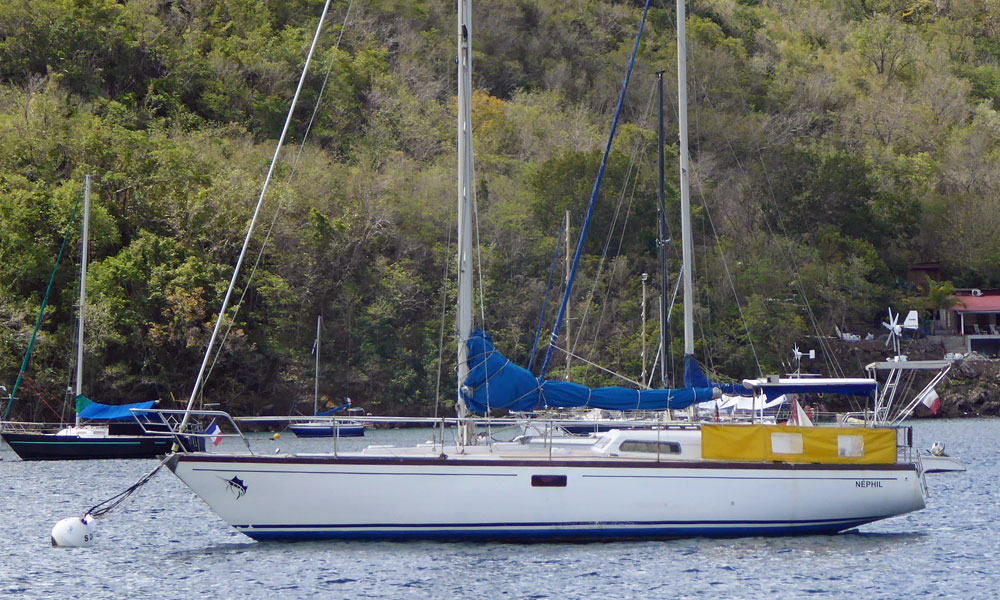 A Jouet 1300
Published Specification for the Jouet 1300
Underwater Profile: Fin keel with skeg hung rudder
Hull Material: GRP (Fibreglass)
Length Overall: 42'0" (12.8m)
Beam: 13'11" (4.3m)
Draft: 6'7" (2.0m)
Rig Type: Masthead sloop
Displacement: 22,046lb (10,000kg)
Designer: Daniel Tortarolo
Builder: Yachting France
Year First Built: 1978
Year Last Built: 1982
Published Design Ratios for the Jouet 1300
1. Sail Area/Displacement Ratio: 20.2

Less than 16 would be considered under-powered;
16 to 20 would indicate reasonably good performance;
Over 20 suggests relatively high performance.
2. Ballast/Displacement Ratio: 37.0
Under 40: less stiff, less powerful
Over 40: stiffer, more powerful
3. Displacement/Length Ratio: 171
Under 100: Ultralight
100 to 200: Light
200 to 275: Moderate
275 to 350: Heavy
Over 350: Ultraheavy
4. Comfort Ratio: 25.7
Under 20 indicates a lightweight racing boat
20 to 30 indicates a coastal cruiser
30 to 40 indicates a moderate offshore cruising boat
40 to 50 indicates a heavy offshore boat
Over 50 indicates an extremely heavy offshore boat
5. Capsize Screening Formula: 1.9
Under 2.0 (the lower the better): Better suited for ocean passages
Over 2.0: Less suited for ocean passages
Summary Analysis of the Design Ratios for the Jouet 1300
1. A Sail Area/Displacement Ratio of 20.2 suggests that, in the right hands, the Jouet 1300 will have enough performance to leave most other sailboats of similar waterline length well astern. 

2. A Ballast/Displacement Ratio of 37.0 means that a sailboat like the Jouet 1300 (which doesn't have a stiffness-enhancing bulb keel), is likely to benefit from being reefed early to keep her sailing upright in a moderate breeze.
3. A Displacement/Length Ratio of 171, tells us the Jouet 1300 is a light displacement sailboat. If she's loaded with too much heavy cruising gear her performance will suffer to a degree.
4. Ted Brewer's Comfort Ratio of 25.7 suggests that crew comfort of a Jouet 1300 in a seaway is similar to what you would associate with the motion of a coastal cruiser with moderate stability, which is not encouraging news for anyone prone to seasickness. 
5. The Capsize Screening Formula (CSF) of 1.9 indicates that a Jouet 1300 would be a safer choice of sailboat for an ocean passage than one with a CSF of more than 2.0. 
Jul 04, 22 10:29 AM

'Stormalong', a steel-hulled go-anywhere Van de Stadt Caribbean 40 sailboat is for sale

Jul 01, 22 03:18 AM

Interested in the Tartan 34 sailboat? Here are the pics, specs and performance predictions you're looking for...

Jun 29, 22 02:45 PM

'Endeavour' is a very special Tartan 34C, as you will see from the cutter rig modification, Ratcliffe wind vane auxiliary rudder self-steering, SSB radio, radar, and more.
---