The Jouet Regent 27 Sailboat

The Jouet Regent 27, a masthead sloop, was designed by Jean-Pierre Jouët and built in France by Yachting France.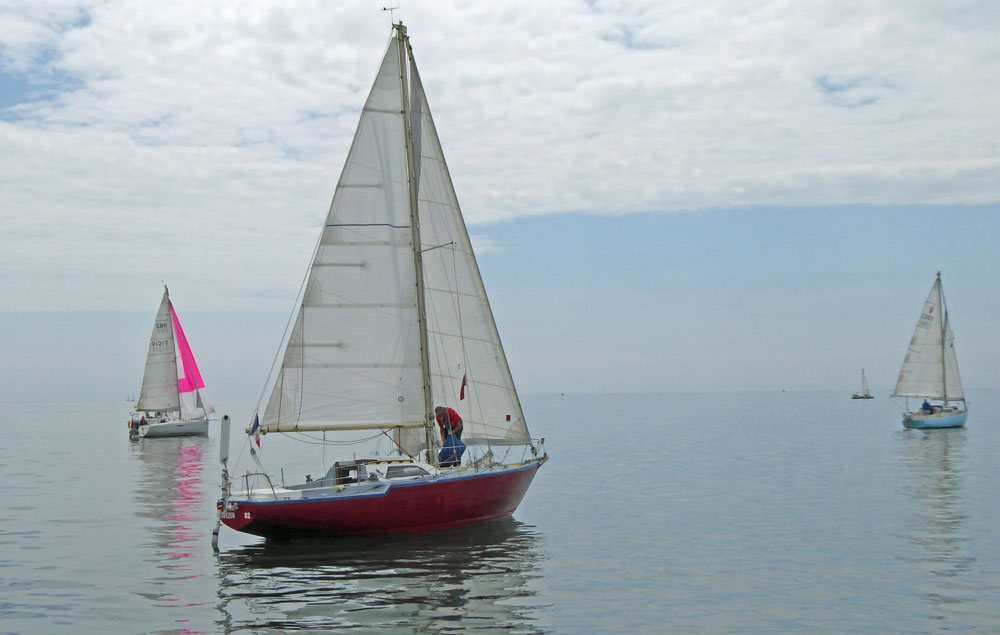 Hardly a breath of wind to drive this Jouet Regent 27...
Published Specification for the Jouet Regent
Underwater Configuration:  Fin with spade rudder
Hull Material:  GRP (fibreglass)
Length Overall 27' 5" / 8.4m
Waterline Length: 21' 6" / 6.6m
Beam: 8' 2" / 2.5m
Draft: 4' 6" / 1.4m
Rig Type: Masthead Sloop
Displacement: 7,055lb / 3,200kg
Designer: Jean-Pierre Jouët

Builder: Jouet (France)
Year First Built: 1966
Published Design Ratios for the Jouet Regent
1. Sail Area/Displacement Ratio: 16.5
Less than 16 would be considered under-powered;
16 to 20 would indicate reasonably good performance;
Over 20 suggests relatively high performance.
2. Ballast/Displacement Ratio: ?
Under 40: less stiff, less powerful
Over 40: stiffer, more powerful
3. Displacement/Length Ratio: 317
Under 100: Ultralight
100 to 200: Light
200 to 275: Moderate
275 to 350: Heavy
Over 350: Ultraheavy
4. Comfort Ratio: 28.5
Under 20 indicates a lightweight racing boat
20 to 30 indicates a coastal cruiser
30 to 40 indicates a moderate offshore cruising boat
40 to 50 indicates a heavy offshore boat
Over 50 indicates an extremely heavy offshore boat
5. Capsize Screening Formula: 1.7
Under 2.0 (the lower the better): Better suited for ocean passages
Over 2.0: Less suited for ocean passages
Summary Analysis of the Design Ratios for the 
Jouët Regent
A Sail Area/Displacement Ratio of 16.5 suggests that the Jouet Regent will approach her maximum hull speed readily and satisfy the sailing performance expectations of most cruising sailors.
A Displacement/Length Ratio of 317, tells us she's clearly a heavy displacement cruising boat. You can load her down with all your cruising gear and equipment and it will hardly affect her waterline. Not an ideal choice for coastal sailing, but will come into her own on an offshore passage in testing conditions.
Ted Brewer's Comfort Ratio of 28.5 suggests that crew comfort in a seaway is similar to what you would associate with the motion of a coastal cruiser, which is not encouraging news for anyone prone to seasickness. 
Her Capsize Screening Formula of 1.7 tells us that she would be a better choice of sailboat for ocean passage-making than one with a CS rating of more than 2.0. 
Sailboats in the Jouët range include the:
Jouët 1040
Jouët 1080
Jouët 1280
Jouët 1300
Jouët 17
Jouët 18
Jouët 20
Jouët 22
Jouët 23
Jouët 24
Jouët 26
Jouët 32
Jouët 37
Jouët 550
Jouët 600
Jouët 680
Jouët 760
Jouët 820
Jouët 920
Jouët 940 MS
Jouët 950
Jouët Caprice
Jouët Fandango 33
Jouët Golif
Jouët Regent
Jouët Tarentelle
Jouët Tiburon
Jouët Triton
---
May 16, 22 04:32 AM

Interested in the Etap 32i sailboat? Here are the pics, specs and performance predictions you're looking for...

May 15, 22 10:55 AM

Interested in the X-332 sailboat? Here are the pics, specs and performance predictions you're looking for...

May 14, 22 06:47 AM

Interested in the Jeanneau Sun Odyssey 44 sailboat? Here are the pics, specs and performance predictions you're looking for...
---