The C&C Landfall 42 Sailboat

Specs & Key Performance Indicators
The C&C Landfall 42 cutter was designed by the renowned team of George Cuthbertson & George Cassian and built in USA by C&C Yachts.

Many thanks to the Lemerys family for this pic of their 1980 C&C Landfall 42.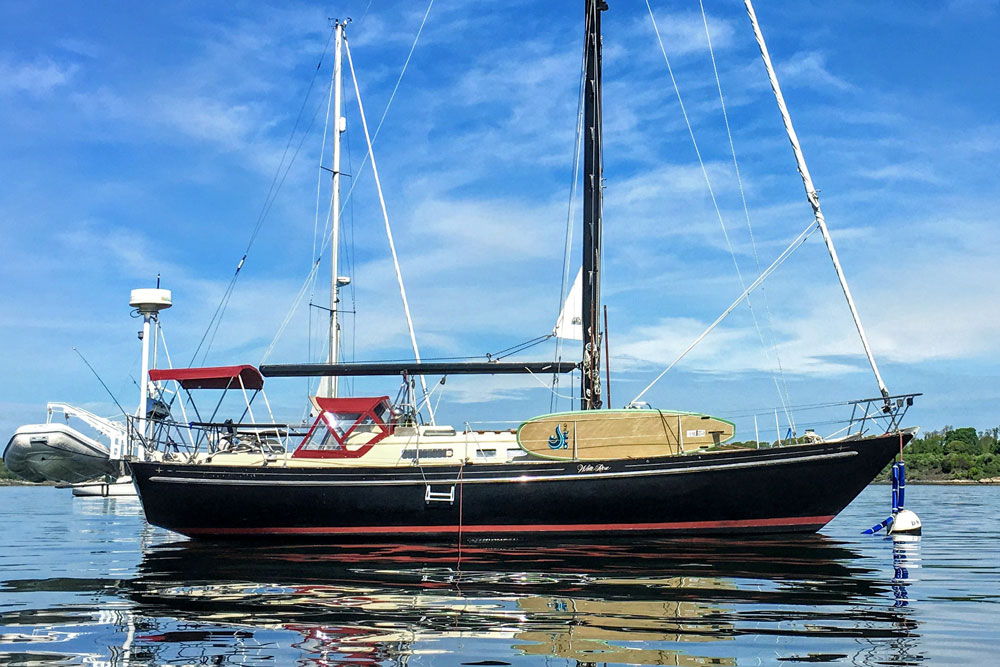 A C&C Landfall 42 cutter with Hood In-Mast Furling
Published Specification for the C&C Landfall 42
Underwater Profile: Fin keel with skeg-hung rudder
Hull Material: GRP
Length Overall: 41'8" (12.7m)
Waterline Length: 30'0" (9.1m)
Beam: 12'6" (3.8m()
Draft: 5'0" (1.5m)
Rig Type: Cutter
Displacement: 21,000lb (9,526kg)
Designer: George Cuthbertson & George Cassian
Builder: C&C Yachts (Canada)
Year First Built: 1976
---
Published Design Ratios for the C&C Landfall 42
1. Sail Area/Displacement Ratio: 13.9
2. Ballast/Displacement Ratio: 41.9
3. Displacement/Length Ratio: 347
4. Comfort Ratio: 33.5
5. Capsize Screening Formula: 1.8
Summary Analysis of the Design Ratios for the C&C Landfall 42
1. A Sail Area/Displacement Ratio of 13.9 suggests that the C&C Landfall 42 will need a stiff breeze to get her going. In light conditions, unless you've got plenty of time on your hands, motor-sailing may be the way to go.
2. A Ballast/Displacement Ratio of 41.9 means that the C&C Landfall 42 will stand up well to her canvas in a blow, helping her to power through the waves.
3. A Displacement/Length Ratio of 347, tells us the C&C Landfall 42 is clearly a heavy displacement cruising boat. You can load her down with all your cruising gear and equipment and it will hardly affect her waterline. Not an ideal choice for coastal sailing, but she'll come into her own on an offshore passage in testing conditions.
4. Ted Brewer's Comfort Ratio of 33.5 suggests that crew comfort of a xxxx in a seaway is similar to what you would associate with the motion of a moderate bluewater cruising boat - a predictable and acceptable motion for most seasoned sailors.
5. The Capsize Screening Formula (CSF) of 1.8 tells us that a C&C Landfall 42 would be a safer choice of sailboat for an ocean passage than one with a CSF of more than 2.0. 
C&C Landfall 42 below decks...
C&C Landfall 42 accommodation layout (aft cockpit version)
The C&C Landfall 42 sailboat has a spacious interior with ample storage space and comfortable accommodations for up to six people. The boat has a forward cabin with a double berth, a main salon with a L-shaped dinette that converts to a double berth and a settee that can be used as a single berth, a galley with a stove, oven, sink and refrigerator and an aft cabin with another double berth. The head is on the starboard side opposite the galley, and the navigation station is at the foot of the companionway steps on the starboard side.
---
Cruisers' Questions about this Sailboat...
Yes, there was a centre cockpit version of the Landfall 42 sailboat. The centre cockpit version was offered as an alternative to the aft cockpit version, and had a different interior layout with the galley and head more or less under the cockpit. The centre cockpit version also had a companionway to the aft cabin, while the aft cockpit version did not.
There were two versions of the C&C Landfall 42 sailboat produced: the Landfall 42 and the Landfall 43. The Landfall 42 was the original version that was built from 1976 to 1984, while the Landfall 43 was a modified version that was built from 1984 to 1986. The main difference between the two versions was that the Landfall 43 had a longer transom that increased the length overall by about one foot and added some extra space in the aft cabin. The Landfall 43 also had a different mast that was stepped further aft and had a shorter boom and a taller masthead. The Landfall 43 had a slightly larger sail area and a higher aspect ratio than the Landfall 42.
The price of the C&C Landfall 42 sailboat varies depending on its condition, equipment and location. According to some online listings, the average asking price for a used C&C Landfall 42 sailboat is around $60,000 USD, but it can range from $40,000 to $80,000 USD or more.
Some similar sailboats to the C&C Landfall 42 sailboat are the Morgan Out Island 41, the Irwin Citation 40, the Whitby 42, the Tayana Vancouver 42 and the Island Packet 40. These are all cruising-oriented sailboats that have similar dimensions, specifications and features to the C&C Landfall 42 sailboat.
The above answers were drafted by sailboat-cruising.com using GPT-4 (OpenAI's large-scale language-generation model) as a research assistant to develop source material; to the best of our knowledge, we believe them to be accurate.
---
Other sailboats in the C&C range include:
The C&C 34+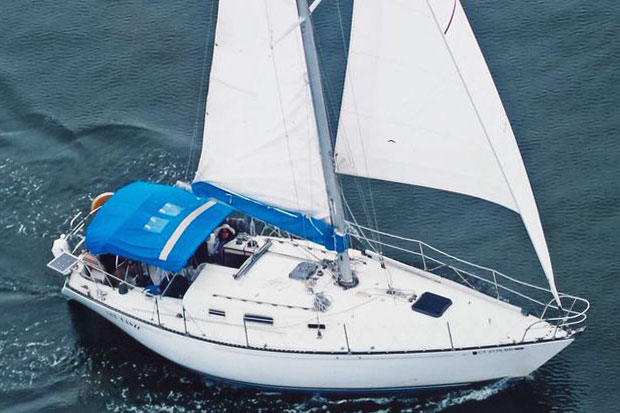 The C&C 36.1
---
Nov 29, 23 08:35 AM

Here's where people with sailing equipment for sale advertise their stuff entirely free of charge. If you're looking for used sailing gear or other used boating accessories, here's where to find it!

Nov 10, 23 02:34 AM

My 47' Cheoy Lee sailboat is for sale. Designed by Bill Luders, she is a beautiful and functional liveaboard cruising yacht.

Oct 30, 23 04:22 PM

This article explores the journey of chartering a sailing yacht, from the initial planning stages to the final touches. It provides insight into the joys and challenges of embarking on a voyage of dis…
---