The MP 27 Sailboat

The plywood hulled MP 27 sailboat was designed by Matti 'Masi' Pulli (hence 'MP') and built in Finland in 1973 and 1974. There's no doubt that 'Masi' designed a very pretty sailboat with the MP 27.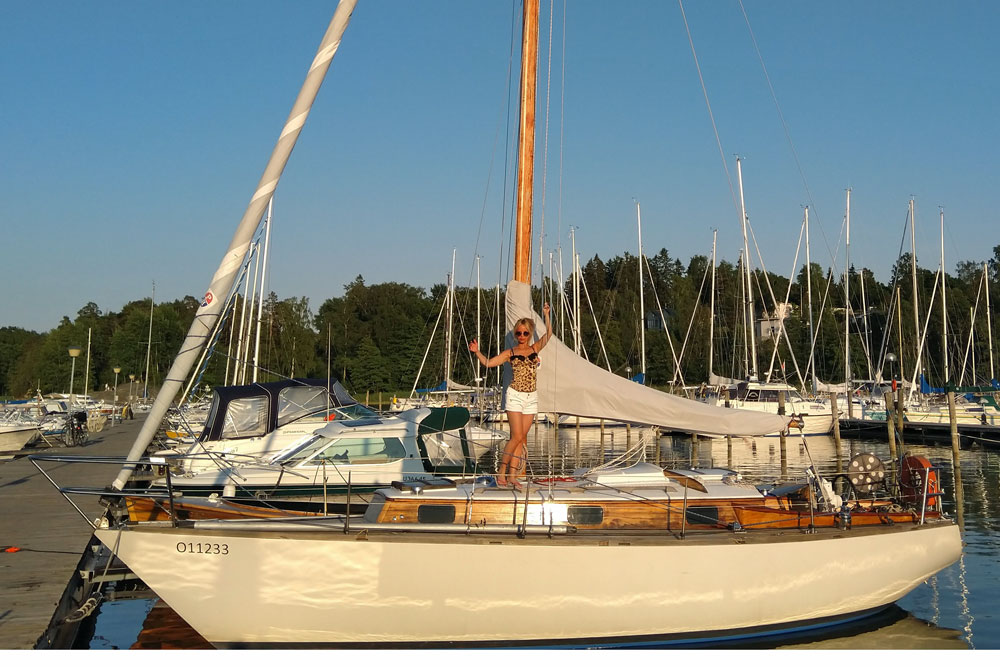 Thank you Christofer Forsberg, for this great pic of your MP 27 'West Wind'
Published Specification for the MP 27
Hull Type: Fin keel with skeg-hung rudder
Hull Material:  Marine plywood (cold laminate construction)
Length Overall: 27' 5" / 8.4m
Waterline Length: 22' 4" / 6.8m
Beam: 9' 1" / 2.8m
Draft: 4' 7" / 1.4m
Rig Type: Masthead sloop
Displacement: 6,614lb / 3,000kg
Designer: Matti Pulli
Builder: Länsivene Oy (Finland)
Year First Built: 1973
Year Last Built: 1974
Number Built: 7
Owners Association: MP Boats
Published Design Ratios for the MP 27
Sail Area/Displacement Ratio: 17.7
Less 16 would be considered under-powered;
16 to 20 would indicate reasonably good performance;
Over 20 suggests relatively high performance.
Displacement/Length Ratio: 266
Under 100: Ultralight
100 to 200: Light
200 to 275: Moderate
275 to 350: Heavy
Over 350: Ultraheavy
Ballast/Displacement Ratio: 41.7
Under 40: less stiff, less powerful
Over 40: stiffer, more powerful
Comfort Ratio: 22.7
Under 20 indicates a lightweight racing boat
20 to 30 indicates a coastal cruiser
30 to 40 indicates a moderate offshore cruising boat
40 to 50 indicates a heavy offshore boat
Over 50 indicates an extremely heavy offshore boat
Capsize Screening Formula: 1.93
Under 2.0 (the lower the better): Better suited for ocean passages
Over 2.0: Less suited for ocean passages
Summary Analysis of Published Design Ratios for the MP 27
You can expect reasonably good performance;
She's of light to moderate displacement;
She's relatively stiff and powerful;
She's a coastal cruiser.
She's better suited for ocean passages that some similar boats in this size range.
Other Boats in MP Range include:
All boats in the MP range were designed by Matti Pulli. Most of Pulli's boats were made of wood veneer by cross-lamination. Others were also made of reinforced plastic, and many wooden hulls also have a reinforced plastic cover.
Used MP 27s for Sale...
Are there any used MP 27s or similar sailboats advertised for sale on Sailboat-Cruising.com? Check here...

---
Mar 31, 23 08:51 AM

'Exhibit A', a Hunter 356 is in great condition, having had many recent upgrades, and is ready for her new owner to step aboard and sail away

Mar 28, 23 05:54 AM

The true cost of boat ownership will almost certainly be more than what you originally thought it might be; the components of cost are...

Mar 28, 23 05:33 AM

Here's where people with sailing equipment for sale advertise their stuff entirely free of charge. If you're looking for used sailing gear or other used boating accessories, here's where to find it!
---