The Najad 460 Sailboat

Specs & Key Performance Indicators
The Najad 460, a centre-cockpit cutter, was designed by Judel & Vrolijk and built in Sweden by Najad Yachts.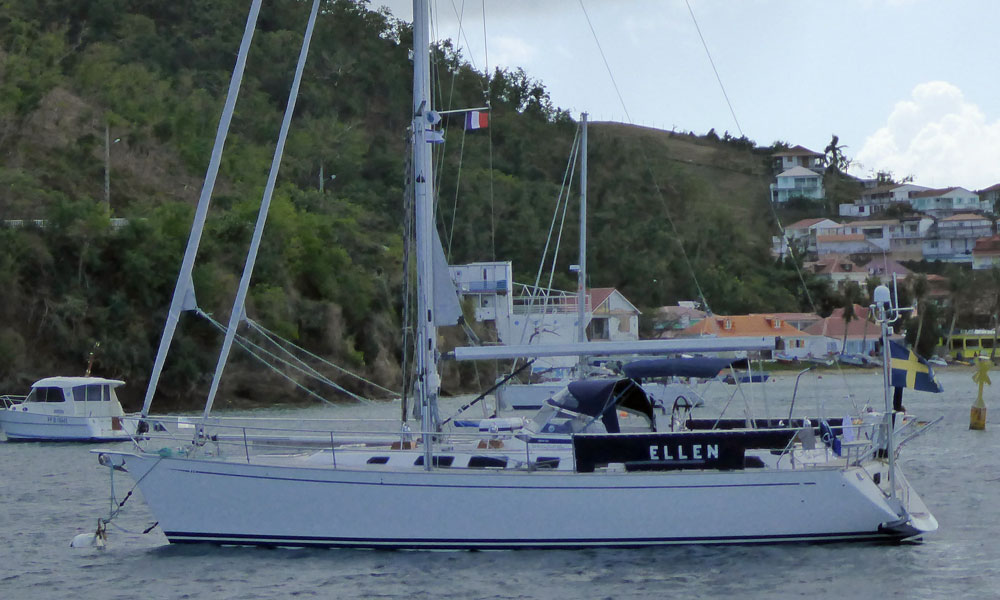 The Najad 490
Published Specification for the Najad 460
Underwater Configuration: Bulb fin keel & spade rudder
Hull Material: GRP (Fibreglass)
Length Overall: 45'9" (14.0m)
Waterline Length: 39'0" (11.9m)
Beam: 14'0" (4.3m)
Draft: 7'0" (2.2m)
Rig Type: Cutter
Displacement: 34,171lb (15,500kg)
Designer: Judel & Vrolijk
Builder: Najad Yachts (Sweden)
Year First Built: 2000
Owners Association: Najad Owners
---
Published Design Ratios for the Najad 460
1. Sail Area/Displacement Ratio: 16.3
2. Ballast/Displacement Ratio: 34.8
3. Displacement/Length Ratio: 258
4. Comfort Ratio: 38.2
5. Capsize Screening Formula: 1.7
Summary Analysis of the Design Ratios for the Najad 460
1. A Sail Area/Displacement Ratio of 16.3 suggests that the Najad 460 will, in the right conditions, approach her maximum hull speed readily and satisfy the sailing performance expectations of most cruising sailors.
2. A Ballast/Displacement Ratio of 34.8 would usually mean that the Najad 460 would have a tendency to heel excessively in a gust, and need to be reefed early to keep her sailing upright in a moderate breeze.
However, as she has much of her ballast concentrated in a bulb at the foot of the keel, she's likely to be considerably stiffer than her published Ballast/Displacement Ratio might suggest.
3. A Displacement/Length Ratio of 258, tells us the Najad 460 is a moderate displacement cruiser, which means she'll carry all your cruising gear without it having a dramatic effect on her performance. Most of today's sailboats intended for offshore cruising fall into this displacement category.
4. Ted Brewer's Comfort Ratio of 38.2 suggests that crew comfort of a Najad 460 in a seaway is similar to what you would associate with the motion of a moderate bluewater cruising boat - a predictable and acceptable motion for most seasoned sailors.
5. The Capsize Screening Formula (CSF) of 1.7 tells us that a Najad 460 would be a safer choice of sailboat for an ocean passage than one with a CSF of more than 2.0. 
Najad 460 accommodation layout
The Najad 460 features a spacious and comfortable cockpit, a high-quality teak deck, and a gorgeous interior with satin-finish African mahogany joinery. The boat has three cabins, two heads, a saloon, a galley, and a navigation station.
---
Cruisers' Questions about this Sailboat...
The Najad 460 sails well in various wind conditions, with a soft and supple helm, good tracking, and a decent turn of speed. It has an in-mast-furling main and a jib-furling gear for the jib and the staysail.
The Najad 460 has a spacious cockpit with comfortable seating and an excellent running rigging layout. Both main and headsail sheets are easily accessed from the helm. It also has a teak deck, a power windlass, and a folding propeller. The accommodation plan is well suited for long-term liveaboard cruising, with two or three cabins, two heads, a large saloon, and ample storage space.
The Najad 460 is not a cheap boat, with a price of $474,000 (FOB Sweden) in 2003. It is also not a lightweight cruiser, with a displacement of 34,200 lbs (15,513 kg). Some reviewers have noted that the galley is slightly undersized for a boat of this length, and that the heads lack handholds.
The maximum speed of the Najad 460 depends on the wind and sea conditions, as well as the sail configuration and engine power. However, based on the web search results, some approximate values are:


Under sail, the Najad 460 has a hull speed of about 9.2 knots, which is the theoretical maximum speed that a displacement hull can move efficiently through the water. This is determined by its waterline length and displacement;

Under engine, the Najad 460 is typically equipped with a Yanmar 4JH4G-HTE diesel engine at 96 hp , which gives a maximum speed of about 7.8 knots. However, some models may have a different engine or power rating, which may affect the speed.
This exclusive and solid vessel is perfect for ocean sailing, yet easy to handle for coastal cruising as well. Some of the features that make the Najad 460 suitable for a circumnavigation are:


A powerful, extremely seaworthy hull of modern design that can handle any weather conditions;

A cutter rig with a high clewed jib and a fixed inner foresail, both on Furlex gear, that provides great pulling power and ease of sail handling. The cutter rig also allows for the Simbo Rig, which is a twin jib configuration that can be set on whisker poles for downwind sailing;

A spacious and comfortable cockpit with excellent visibility and access to the running rigging. The cockpit also has a large table, a sprayhood, and a bimini for socializing and relaxing;

A luxurious and well-equipped interior with different layout options to suit your cruising needs. The interior features satin-finish African mahogany joinery work, leather upholstery, Corian countertops, and ample storage space. The interior also has a heater, an air conditioner, a watermaker, and a generator for your convenience.
The above answers were drafted by sailboat-cruising.com using GPT-4 (OpenAI's large-scale language-generation model) as a research assistant to develop source material; to the best of our knowledge, we believe them to be accurate.
---
Other sailboats in the Najad range include:
Oct 02, 23 12:17 PM

It's true that the ketch sailboat with its split rig can make an attractive cruising sailboat for a short-handed crew, but there is a downside to these types of sailboats

Oct 02, 23 08:47 AM

Thinking of buying a Hanse 548 sailboat? Perhaps you should first take a look at these pics, specs and key performance indicators...

Oct 02, 23 04:56 AM

Thinking of buying a Hanse 458 sailboat? Perhaps you should first take a look at these pics, specs and key performance indicators...
---