The Pacific Seacraft 37 Sailboat

Specs & Key Performance Indicators
The Pacific Seacraft 37 (aka the Crealock 37) is a cruising sailboat designed by William Crealock and produced by Pacific Seacraft, a US-based company. Known for its sturdy construction and excellent offshore capabilities, the Crealock 37 has gained a reputation as a reliable and comfortable blue water cruiser. It features a cutter rig, a full keel, and a relatively spacious interior layout, making it a popular choice among long-distance cruisers and liveaboards.
Hero, a Pacific Seacraft 37
Published Specification for the Pacific Seacraft 37

Underwater Profile: Fin keel, with skeg-hung rudder
Hull Material: GRP (fiberglass)
Length Overall: 36'11" / 11.3m
Waterline Length: 27'9" / 8.5m
Beam: 10'10" / 3.3m
Draft: 5'6" / 1.7m
Rig Type: Masthead sloop (also available as a cutter or yawl)
Displacement: 16,000lb / 7,258kg
Designer: Bill Crealock
Builder: Pacific Seacraft (USA)
Year First Built: 1980
Design Ratios: The Key Performance Indicators
The Crealock 37, a sailboat designed by renowned maritime designer W.I.B. Crealock, has long been a favorite amongst sailing enthusiasts. Its timeless design combined with its rugged construction and outstanding performance make it an attractive option for those looking for a true blue-water cruiser.
Analyzing the design ratios of the Crealock 37 gives a clear understanding of its potential performance.
The Sail Area/Displacement (SA/D) ratio is 16.41, which is indicative of a moderate cruiser. This ratio signifies the balance between the sail area and the boat's weight, with a higher number generally indicating a faster, more performance-oriented boat.
The Ballast/Displacement ratio of the Crealock 37 is 40.21%. This demonstrates the boat's ability to resist capsizing, with a higher number indicating better stability. This is a crucial feature for those looking to undertake long-distance cruising, particularly in rough conditions.
The boat's Displacement/Length (D/L) ratio is 324.48. This is slightly higher than some other boats in its class, indicating a heavier boat with more volume. This translates into more onboard storage and living space, a significant advantage for those planning extended trips at sea.
The Comfort Ratio of the Crealock 37 stands at 33.95. This indicates the boat's motion in a seaway, with a higher number representing a more sedate and comfortable ride. This makes the Crealock 37 well-suited for cruising rather than racing.
A Capsize Screening Formula (CSF) of 1.73 suggests that the Crealock 37 has good seaworthiness. The lower the number, the better the boat's theoretical capsize resistance, making it a safe choice for offshore voyages.
Alternative Rigs
The original design of the Crealock 37 is a cutter rig, but alternative options are available. These include a sloop and a ketch design, each with its unique benefits and considerations for cruising performance and handling.
Pros & Cons
The Crealock 37 is renowned for its build quality and attention to detail. The boat is sturdy, well-constructed, and built to last, as evidenced by the many vintage models that are still sailing today.

In terms of strengths, the Crealock 37 scores highly for its safety, comfort, and efficiency. The boat's design ratios indicate good stability and performance, while its construction quality ensures reliability and longevity.
However, like all boats, the Crealock 37 does have some weaknesses. Some users find the boat a bit challenging for single-handed sailing due to its size and weight. Others may prefer a lighter, more performance-oriented boat.
Despite these minor criticisms, reports from seasoned sailors and accredited marine journals suggest a high level of satisfaction with the Crealock 37. Many praise its sturdy construction, comfortable interior, and excellent seaworthiness, confirming its reputation as a top choice among sailors.
The Secondhand Market
The Crealock 37 is also popular on the secondhand market, with prices typically ranging from $75,000 to $150,000. The price can vary significantly depending on factors such as model year, condition, and included equipment.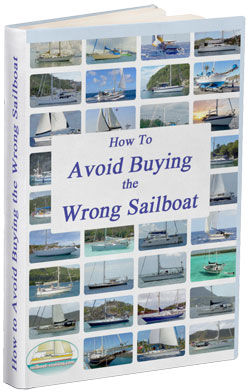 The essential eBook for potential boat buyers...
---
The Pacific Seacraft 37: A Few FAQs...
The sailing press gave positive reviews to the Pacific Seacraft 37, praising its quality, performance, and aesthetics.

For example, Practical Sailor called it "a superb cruising boat" that "sails well on all points of sail" and "has few peers in terms of construction quality".

Sail Magazine named it one of the "10 Great Cruising Boats" in its January/February 2000 issue.

Blue Water Sailing Magazine described it as "a proven blue water voyager that is both comfortable at sea and at anchor".
There were two alternative versions of the Pacific Seacraft 37: the Crealock 37 and the Orion 37. The Crealock 37 was the original version designed by William Crealock and built by Cruising Consultants from 1979 to 1980. It had a shorter mast (46 ft) and a longer boom (15 ft) than the later Pacific Seacraft version. The Orion 37 was a pilothouse version of the Crealock 37, with a raised deckhouse and an inside steering station. It was built by Pacific Seacraft from 1984 to 1992.
The Pacific Seacraft 37 can sleep up to six people in two cabins and the main saloon. The forward cabin has a V-berth that can be converted into a double berth with an insert. The aft cabin has a quarter berth that can accommodate one or two people. The main saloon has two settees that can be used as single berths or converted into a double berth with a drop-down table.
The Pacific Seacraft 37 was originally designed by William Crealock for Cruising Consultants, a company founded by Henry Mohrschladt and Mike Howarth in California in 1976. They sold the design rights to Pacific Seacraft in 1980, which was also founded by Mohrschladt and Howarth in California in 1976. Pacific Seacraft continued to build the boat until 2011, when it filed for bankruptcy protection and closed its doors.

In 2012, Pacific Seacraft was acquired by a new owner, Stephen Brodie, who relocated the company to North Carolina. The company resumed production of some of its models, but not the Pacific Seacraft 37.

The Pacific Seacraft 37 is comparable to other similar sailboats in its class, such as the Valiant 40, the Tayana 37, the Westsail 32, and the Cape Dory 36. These boats are all designed for long-distance cruising and have similar features, such as cutter rigs, long keels, canoe sterns, and traditional looks. However, they also have some differences in terms of size, weight, performance, comfort, and price.

For example, the Valiant 40 is larger (40 ft), heavier (22,500 lbs), faster (6.5 knots), more spacious (6 berths), and more expensive ($150,000) than the Pacific Seacraft 37.

The Westsail 32 is smaller (32 ft), lighter (11,000 lbs), slower (5 knots), less spacious (4 berths), and cheaper ($35,000) than the Pacific Seacraft 37.
I wrote this article using GPT-4, OpenAI's large-scale language-generation model, as a research assistant to develop source material. I wrote the final draft in its entirety and believe it to be accurate to the best of my knowledge.
Dick McClary, creator and owner of sailboat-cruising.com
---
Other sailboats in the Pacific Seacraft range include:
Sep 29, 23 05:38 PM

Sailing characteristics and performance predictions, pics, specifications, dimensions and those all-important design ratios for the Hanse 400 sailboat...

Sep 29, 23 03:17 AM

Interested in the Gulf 32 sailboat? Here are the pics, specs and performance predictions you're looking for...

Sep 28, 23 04:04 PM

Sailing characteristics and performance predictions, pics, specifications, dimensions and those all-important design ratios for the Fuji 35 sailboat
---