The SHE 31 Sailboat

Specs & Key Performance Indicators
The SHE 31, a heavy displacement sloop, was designed by Sparkman & Stephens and built in the UK by South Hants Engineering Ltd (hence 'SHE').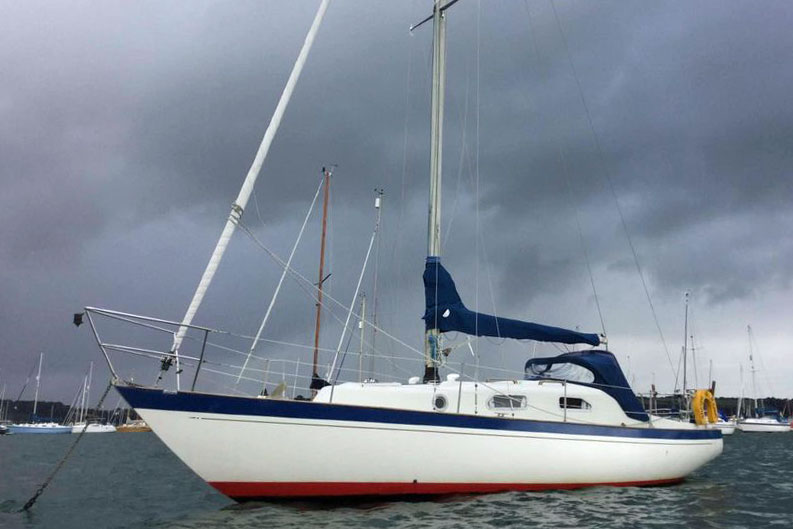 The SHE 31
Published Specification for the SHE 31
Underwater Profile: Fin keel & skeg-hung rudder
Hull Material: GRP (Fibreglass)
Length Overall: 30'4" (9.2m)
Waterline Length: 22'0" (6.7m)
Beam: 8'10" (2.7m)
Draft: 5'5" (1.7m)
Rig Type: Masthead sloop
Displacement: 7,800lb (3,538kg)
Ballast: 3,400lb (1,542kg)
Designer: Sparkman & Stephens
Builder: South Hants Engineering Ltd (UK)
Year First Built: 1969
---
Published Design Ratios for the SHE 31
Sail Area/Displacement Ratio: 16.7
Ballast/Displacement Ratio: 43.6
Displacement/Length Ratio: 327
Comfort Ratio: 27.0
Capsize Screening Formula: 1.8
Summary Analysis of the Design Ratios for the SHE 31
1. A Sail Area/Displacement Ratio of 16.7 suggests that the SHE 31 will, in the right conditions, approach her maximum hull speed readily and satisfy the sailing performance expectations of most cruising sailors.
2. A Ballast/Displacement Ratio of 43.6 means that the SHE 31 will stand up well to her canvas in a blow, helping her to power through the waves.
3. A Displacement/Length Ratio of 327, tells us the SHE 31 is clearly a heavy displacement cruising boat. You can load her down with all your cruising gear and equipment and it will hardly affect her waterline. Not an ideal choice for coastal sailing, but she'll come into her own on an offshore passage in testing conditions.
4. Ted Brewer's Comfort Ratio of 27.0 suggests that crew comfort of a SHE 31 in a seaway is similar to what you would associate with the motion of a coastal cruiser with moderate stability, which is not the best of news for anyone prone to seasickness. 
5. The Capsize Screening Formula (CSF) of 1.8 indicates that a SHE 31 would be a safer choice of sailboat for an ocean passage than one with a CSF of more than 2.0. 
---
The She 31: A Classic Yacht that Combines Design with Modern Performance
Overview
The SHE 31 was designed by Sparkman & Stephens and built by South Hants Engineering (SHE) in the UK and has enjoyed popularity among recreational sailors. Nicknamed a "baby Swan", the SHE 31 has a sharp bow profile, a swept-back fin keel, a skeg-hung rudder and a masthead sloop rig. SHE is fast, close-winded and stable in nearly all sea conditions. SHE also has a spacious and comfortable interior with plenty of headroom and stowage. The SHE 31 is a versatile yacht that can be adapted for cruising or racing, depending on your preference.
Accommodation
The original SHE 31 had a limited accommodation with very little headroom, especially in the forecabin. However, the builder responded to public demand by producing the 9.5 Traveller, a cruising version of the SHE 31, with a new deck, higher topsides and increased headroom. The Traveller has a traditional layout with a V-berth in the forecabin, a saloon with two settee berths and folding pilot berths above, a galley to starboard, a navigation station to port and a quarter berth aft. There is also a separate head compartment with a marine toilet and a washbasin. The interior is finished in varnished mahogany veneers and has a warm and cozy feel. The Traveller has 1.78m (5ft 11in) of headroom in the saloon.
Hull and Deck
The hull of the SHE 31 is made of fiberglass with an iron fin keel that is carefully faired into the hull. The hull shape is optimized for racing under the IOR handicap system and has pinched bow and tail sections and a tumblehome amidships. The deck is also made of fiberglass and has a molded nonskid surface.
The cockpit is spacious and well-protected by high coamings. The cockpit seats are long enough to sleep on and have lockers underneath for stowage. The cockpit is steered by a tiller that connects to a skeg-hung rudder. The deck hardware is simple but functional and includes two primary winches, two halyard winches, two genoa tracks, two spinnaker poles and an anchor locker.
Mast and Rigging
The mast of the SHE 31 is made of aluminum and is deck-stepped on a tabernacle that allows it to be lowered for canal or bridge passages. The mast has two sets of spreaders and supports a masthead sloop rig with a mainsail and a genoa. The sail area is 38.1 m² (410 sq ft) and gives the SHE 31 a sail area/displacement ratio of 16.7, which indicates good performance potential. The rigging is stainless steel wire with swaged terminals and turnbuckles. The mainsail has slab reefing with two reef points and the genoa has roller furling for easy handling. The spars are made of aluminum.
Keel and Rudder
The keel of the SHE 31 is a fin keel with an iron ballast that weighs 1,542 kg (3,400 lbs). The keel gives the SHE 31 a ballast/displacement ratio of 43.6%, which indicates good stability and stiffness. The keel also helps the SHE 31 to point well upwind and to tack quickly. The rudder of the SHE 31 is a skeg-hung rudder that provides good directional control and protection from grounding or collision damage. The rudder is connected to a tiller that gives good feedback to the helmsman.
The above text was drafted by sailboat-cruising.com using GPT-4 (OpenAI's large-scale language-generation model) as a research assistant to develop source material; we believe it to be accurate to the best of our knowledge.
---
Nov 29, 23 08:35 AM

Here's where people with sailing equipment for sale advertise their stuff entirely free of charge. If you're looking for used sailing gear or other used boating accessories, here's where to find it!

Nov 10, 23 02:34 AM

My 47' Cheoy Lee sailboat is for sale. Designed by Bill Luders, she is a beautiful and functional liveaboard cruising yacht.

Oct 30, 23 04:22 PM

This article explores the journey of chartering a sailing yacht, from the initial planning stages to the final touches. It provides insight into the joys and challenges of embarking on a voyage of dis…
---