The Southerly 110 Sailboat

Specs & Key Performance Indicators
The Southerly 110, an aft-cockpit fractional sloop, was designed by Rob Humphreys and built in the UK by Northshore Yachts.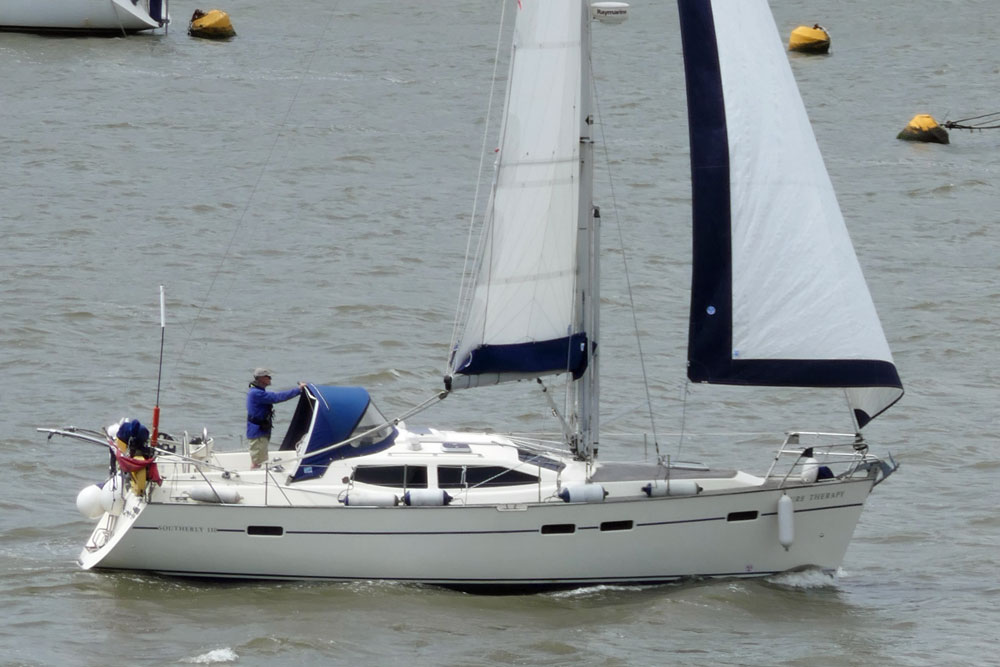 A Southerly 110
Published Specification for the Southerly 110

Underwater Profile: Swing keel & skeg-supported rudder
Hull Material: GRP (Fibreglass)
Length Overall: 35'6" (10.8m)
Waterline Length: 30'3" (9.2m)
Beam: 11'9" (3.6m)
Draft: Max 7'2" (2.2m), Min 2'4" (0.7m)
Rig Type: Fractional sloop
Displacement: 15,388lb (6,980kg)
Designer: Rob Humphreys
Builder: Northshore Yachts (UK)
Year First Built: 1999
---
Published Design Ratios for the Southerly 110
1. Sail Area/Displacement Ratio: 15.1
Less than 16 would be considered under-powered;
16 to 20 would indicate reasonably good performance;
Over 20 suggests relatively high performance.
2. Ballast/Displacement Ratio: 46.6
Under 40: less stiff, less powerful
Over 40: stiffer, more powerful
3. Displacement/Length Ratio: 248
Under 100: Ultralight
100 to 200: Light
200 to 275: Moderate
275 to 350: Heavy
Over 350: Ultraheavy
4. Comfort Ratio: 28.2
Under 20 indicates a lightweight racing boat
20 to 30 indicates a coastal cruiser
30 to 40 indicates a moderate offshore cruising boat
40 to 50 indicates a heavy offshore boat
Over 50 indicates an extremely heavy offshore boat
5. Capsize Screening Formula: 1.9
Under 2.0 (the lower the better): Better suited for ocean passages
Over 2.0: Less suited for ocean passages
read more about these Key Performance Indicators...
---
Summary Analysis of the Design Ratios for the Southerly 110
1. A Sail Area/Displacement Ratio of just 15.1 suggests that the Southerly 110 will need a stiff breeze to get her going. In light conditions, unless you've got plenty of time on your hands, motor-sailing may be the way to go.
2. A Ballast/Displacement Ratio of 46.6 means that the Southerly 110 will stand up well to her canvas in a blow, helping her to power through the waves.
3. A Displacement/Length Ratio of 248, tells us the Southerly 110 is a moderate displacement cruiser, which means she'll carry all your cruising gear without it having a dramatic effect on her performance. Most of today's sailboats intended for offshore cruising fall into this displacement category.
4. Ted Brewer's Comfort Ratio of 28.2 suggests that crew comfort of a Southerly 110 in a seaway is similar to what you would associate with the motion of a coastal cruiser with moderate stability, which is not encouraging news for anyone prone to
5. The Capsize Screening Formula (CSF) of 1.9 indicates that a Southerly 110 would be a safer choice of sailboat for an ocean passage than one with a CSF of more than 2.0. 
---
---
The Southerly 110
The Southerly 110 is a lifting-keel sailboat that is best suited as a coastal cruiser. It is a moderate displacement sailboat that is slightly underpowered but very stable and stiff with good righting capability if capsized. The fuel capacity is originally small and there is a short water supply range.
According to a review by Sailing Magazine, the Southerly 110 has an ease of handling and steady bearing in the water. The review also mentions that the boat was tested in light breeze and gentle sea state.
The Southerly 110 has a masthead sloop rig with slab reefing mainsail and roller furling genoa. The mast is deck stepped.
The boat has an aft cockpit with a large cockpit locker on the port side. The accommodation below decks includes two dedicated sleeping cabins, one forward and one aft, with four single berths in total. The galley is located on the starboard side of the saloon and includes a two-burner stove, oven, and refrigerator. The navigation station is located on the port side of the saloon. There are two heads, one forward and one aft, each with a marine toilet, sink, and shower.
According to Practical Sailor, despite being slightly under-canvassed, the Southerly 110 compares favorably with a number of "normal" cruisers and has an easy comfortable motion at sea under sail.
Rob Humphreys is a British yacht designer who has designed many sailboats, including the Southerly 110 and the Southerly 115 which was also built by Northshore Yachts.
Northshore Yachts has been established since 1971. They have built a total of 41 sailboats including the Southerly 100, 110, 115, 135, 420 and 47.
The above text was drafted by sailboat-cruising.com using GPT-4 (OpenAI's large-scale language-generation model) as a research assistant to develop source material; we believe it to be accurate to the best of our knowledge.
---
Other sailboats in the Southerly range include:
Sep 29, 23 05:38 PM

Sailing characteristics and performance predictions, pics, specifications, dimensions and those all-important design ratios for the Hanse 400 sailboat...

Sep 29, 23 03:17 AM

Interested in the Gulf 32 sailboat? Here are the pics, specs and performance predictions you're looking for...

Sep 28, 23 04:04 PM

Sailing characteristics and performance predictions, pics, specifications, dimensions and those all-important design ratios for the Fuji 35 sailboat
---