The Xc45 Sailboat

Specs & Key Performance Indicators
The Xc45, a light displacement aft-cockpit sloop, was designed by Niels Jeppesen and built in Denmark by X-Yachts.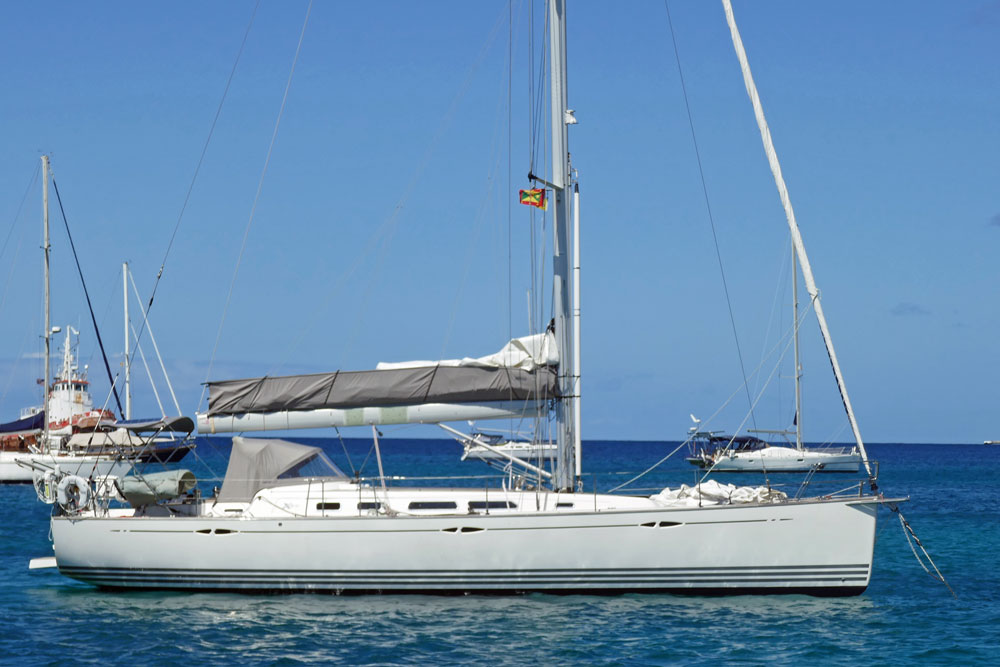 An Xc45
Published Specification for the Xc45
Underwater Profile: Bulb fin keel & spade rudder
Hull Material: GRP (Fibreglass)
Length Overall: 45'6" (13.9m)
Waterline Length: 41'10" (4.3m)
Beam: 14'2" (12.8m)
Draft: 7'3" (2.2m)
Rig Type: Fractional sloop
Displacement: 29,145lb (13,220kg)
Designer: Niels Jeppesen
Builder: X-Yachts (Denmark)
Year First Built: 2008
Published Design Ratios for the Xc45
1. Sail Area/Displacement Ratio: 20.4

Less than 16 would be considered under-powered;
16 to 20 would indicate reasonably good performance;
Over 20 suggests relatively high performance.
2. Ballast/Displacement Ratio: 43.4
Under 40: less stiff, less powerful
Over 40: stiffer, more powerful
3. Displacement/Length Ratio: 177
Under 100: Ultralight
100 to 200: Light
200 to 275: Moderate
275 to 350: Heavy
Over 350: Ultraheavy
4. Comfort Ratio: 30.7
Under 20 indicates a lightweight racing boat
20 to 30 indicates a coastal cruiser
30 to 40 indicates a moderate offshore cruising boat
40 to 50 indicates a heavy offshore boat
Over 50 indicates an extremely heavy offshore boat
5. Capsize Screening Formula: 1.9
Under 2.0 (the lower the better): Better suited for ocean passages
Over 2.0: Less suited for ocean passages
Summary Analysis of the Design Ratios for the Xc45
1. A Sail Area/Displacement Ratio of 20.4 suggests that, in the right hands, the Xc45 will have enough performance to leave most other sailboats of similar waterline length well astern. 
2. A Ballast/Displacement Ratio of 43.4 means that the Xc45 will stand up well to her canvas in a blow, helping her to power through the waves.
3. A Displacement/Length Ratio of 177, tells us the Xc45 is clearly a light displacement sailboat. If she's loaded with too much heavy cruising gear her performance will suffer to a degree.
4. Ted Brewer's Comfort Ratio of 30.7 suggests that crew comfort of a Xc45 in a seaway is similar to what you would associate with the motion of a moderate bluewater cruising boat - a predictable and acceptable motion for most seasoned sailors.
5. The Capsize Screening Formula (CSF) of 1.9 indicates that a Xc45 would be a safer choice of sailboat for an ocean passage than one with a CSF of more than 2.0. 
Sailboat-Cruising.com says...
About the Boat:
The Xc45 sailboat is a sleek cruiser that strikes a deft balance between comfort, performance, security and great looks. It is a very user-friendly, inviting boat to sail, neither daunting in size nor heavy enough to exert worrying demands on the crew. The Xc45 is considered to be one of the best XYachts has ever made!
The Xc45 has a sloop rig with a Solent rig option. The Solent rig provides a more versatile sail plan and would consist of a small working jib on the inner stay with a furler and a large genoa for broad and beam reaching on the outer stay.
In terms of motion at sea under sail, the Xc45 is soft, quiet and well-mannered giving an easy comfortable motion for her crew. She's an ideal sailboat for offshore and ocean voyages.
About the Designer:
Niels Jeppesen is a Danish yacht designer who designed the Xc45 plus the following sailboats that were built by X-Yachts in Denmark.
X-442: A 44'4" (13.5m) cruiser-racer sailboat built between 1993 and 2003 by X-Yachts with 54 hulls completed. She has been awarded "2000 - Cruising World - Boat of the Year: Cruiser/Racer".
X-412: A 41' (12.5m) cruiser-racer sailboat built between 1989 and 2003 by X-Yachts with 252 hulls completed.
X-50: A 49'2" (14.99m) cruiser-racer sailboat built between 2004 and 2010 by X-Yachts with 70 hulls completed.
X-65: A 64'11" (19.79m) cruiser-racer sailboat built between 2007 and 2016 by X-Yachts with 20 hulls completed.
This additional info was drafted by sailboat-cruising.com using GPT-4 (OpenAI's large-scale language-generation model) as a research assistant to develop source material, and believes it to be accurate to the best of their knowledge.
Other sailboats in the X-Boats range include:
---
Sep 29, 23 05:38 PM

Sailing characteristics and performance predictions, pics, specifications, dimensions and those all-important design ratios for the Hanse 400 sailboat...

Sep 29, 23 03:17 AM

Interested in the Gulf 32 sailboat? Here are the pics, specs and performance predictions you're looking for...

Sep 28, 23 04:04 PM

Sailing characteristics and performance predictions, pics, specifications, dimensions and those all-important design ratios for the Fuji 35 sailboat
---