Caribbean Island Hopping

Part 1: The Leeward Islands
Take it from someone who's got years of Caribbean Island Hopping under his keel - there's few, if any, sailboat cruising grounds that can compete with what the Windward & Leeward Islands of the Eastern Caribbean have to offer.
The Leeward Islands stretch from Anguilla to Dominica; the Windward Islands from Martinique to Grenada.
But What's So Special About These Islands?
Well, for starters:
Constant warm north-east trade winds;
Glorious sailing in the long ocean swells between the islands;
Plenty of sheltered anchorages on the leeward (western) side of the islands. For the more adventurous sailor, shelter from the seas (but not the wind) can sometimes be found behind the reefs on the eastern side of the islands;
Islands just a daysail apart - didn't I say it was an island-hopping paradise?
Good yachting services and facilities on the larger islands;
Memorable beach bars and restaurants ashore varying from haute cuisine to what the rest of us eat;
Scenic walks ashore to suit all ages and fitness levels. The jewel in the crown here has to be Dominica in the Leeward Islands
A sailing season throughout which Canadians, North Americans and Europeans would otherwise be having to be dealing with ice, snow, rain and other meteorological unpleasantness;
Friendly, delightful local people.
Got your attention? Got your up-to-date navigational charts and pilot books to hand?
Right, let's cast off our lines and head south from Anguilla, the northernmost island of the Leeward Islands...
---
Island Hopping through the Leeward Islands of the Caribbean
Anguilla
Like many of these islands, Anguilla was discovered in the 15th century by the Italian explorer Cristopher Columbus.
He named it Anguilla, meaning 'eel' or 'little snake' in Italian, presumable owing to its shape. Nowadays, Anguilla is a British Overseas Territory.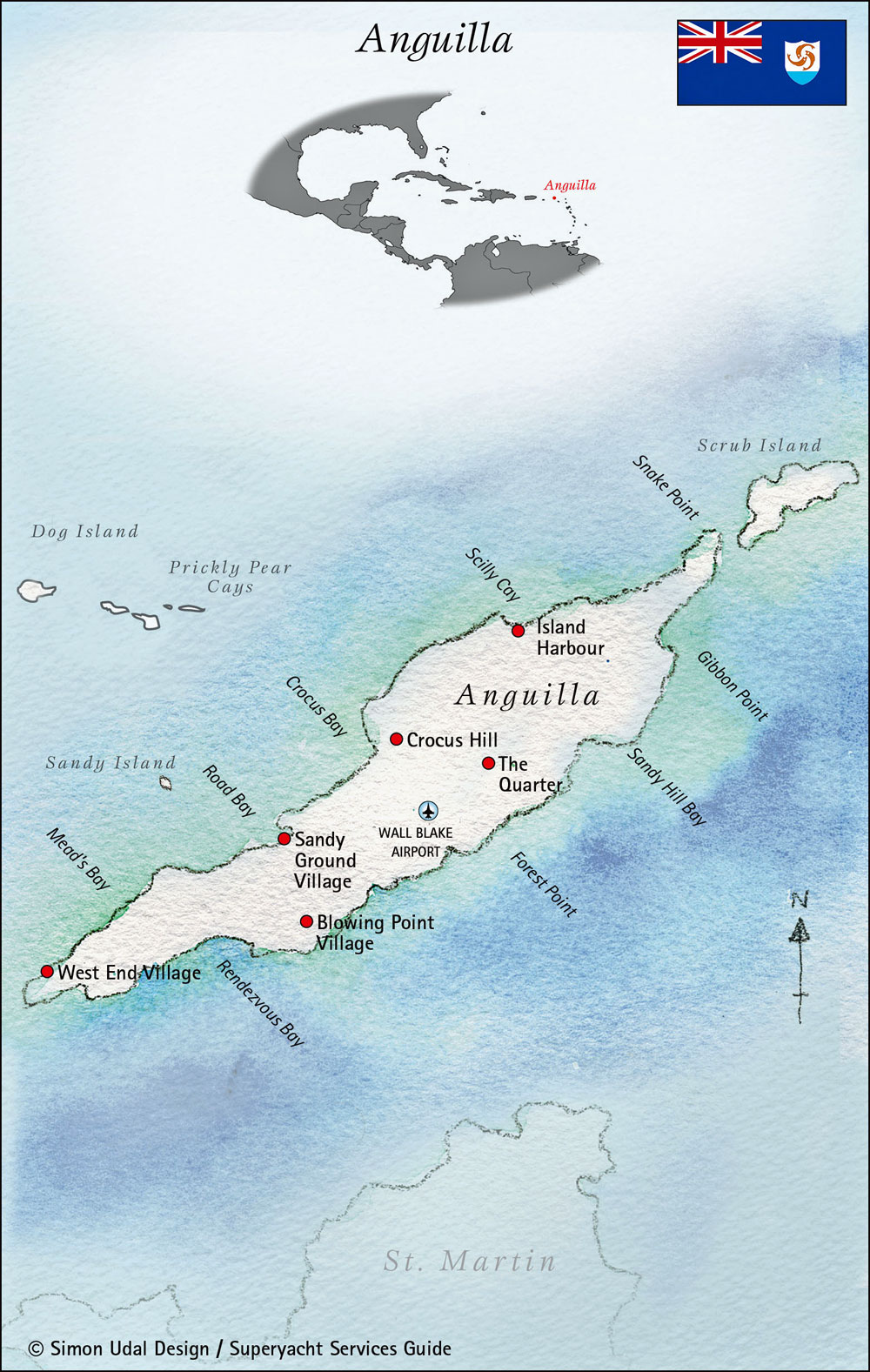 Currency:  Eastern Caribbean Dollars (EC$)
Official Language: English
Port of Entry: Road Bay
The main anchorage is Road Bay, where you'll find the Customs & Immigration Offices near the dinghy dock. 

There are several small but exquisite islands to the north:
Sandy Island, with a few mooring buoys and a limited anchoring area;
Dog Island, where solitude is almost guaranteed.
Prickly Pear Cays, another delightful day anchorage but in northerly swells or unsettled 20kn+ conditions this anchorage is anything but delightful, and is best avoided. Overnighting here is prohibited.
But you must give Scrub Island a miss as there's no suitable anchorage for yachts.
---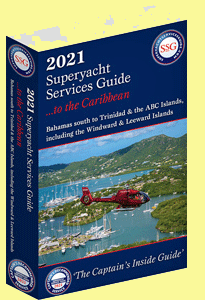 The above map of Anguilla, and the other island maps that follow below, are reproduced with the kind permission of their creators 'Superyacht Publications Ltd' and are taken from their super-useful Superyacht Services Guides for the Caribbean in which they make recommendations for all yachting services in each of the islands.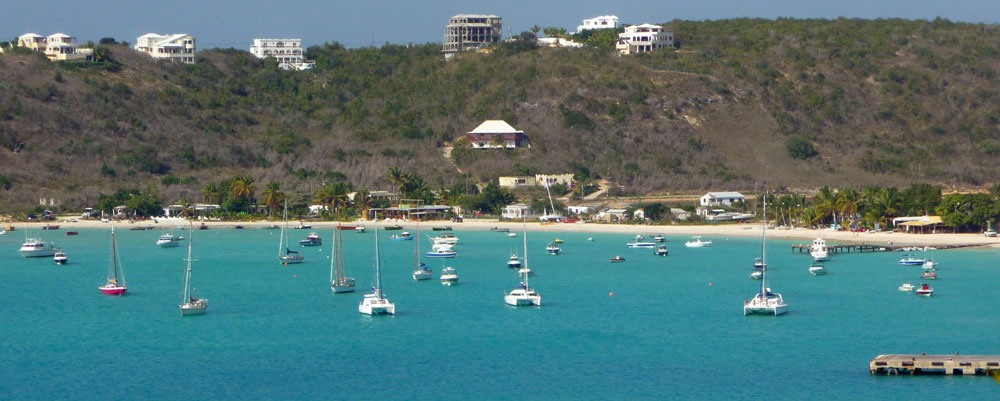 Anguilla, Road Bay Anchorage
---
Is it a boat that wants to be a bar, or vice versa?
---

St Martin & Sint Maarten
Just a short sail south from Anguilla lies the dual-nation island of St Martin & Sint Maarten, the northern part French (St Martin) and the southern part Dutch (Sint Maarten).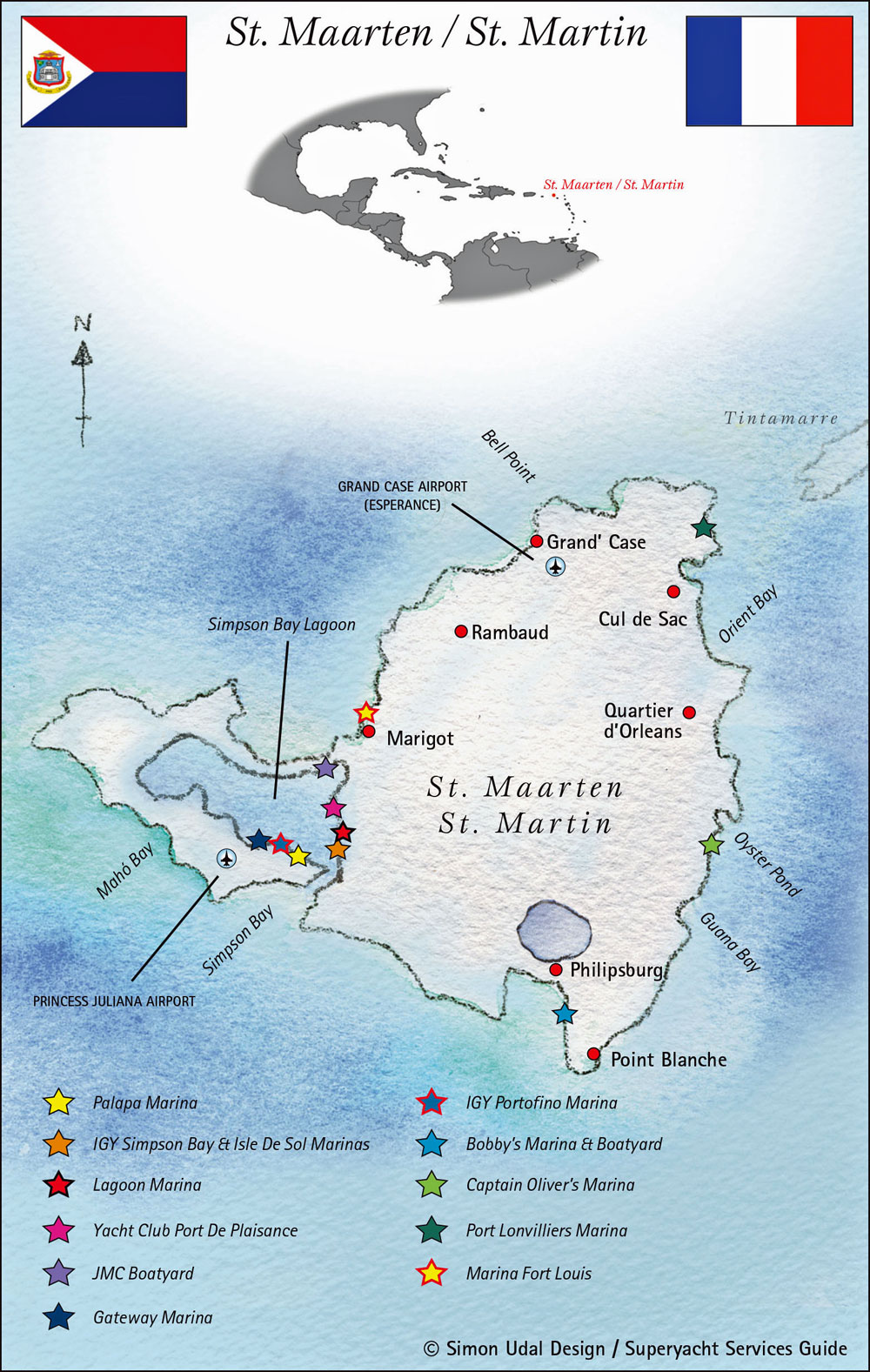 Currency:  Euro (€), plus Dutch Guilder & US$ on Dutch side.
Official Language: English (Dutch side); French (French side)
Ports of Entry: Simpson Bay (Dutch side); Marigot (French side)
The popular anchorage of Simpson Bay Lagoon is similarly shared on a north/south basis, accessed through individual French and Dutch channels.
Some years ago, a stormy night at anchor in Simpson Bay Lagoon demonstrated to me that the holding is distinctly unreliable; the events of that night will stay in my memory for a long time.
Ashore, the night-life is lively - particularly so on the Dutch side!
---

The 4-Day Heineken Regatta is a popular annual event for Sint Maarten
---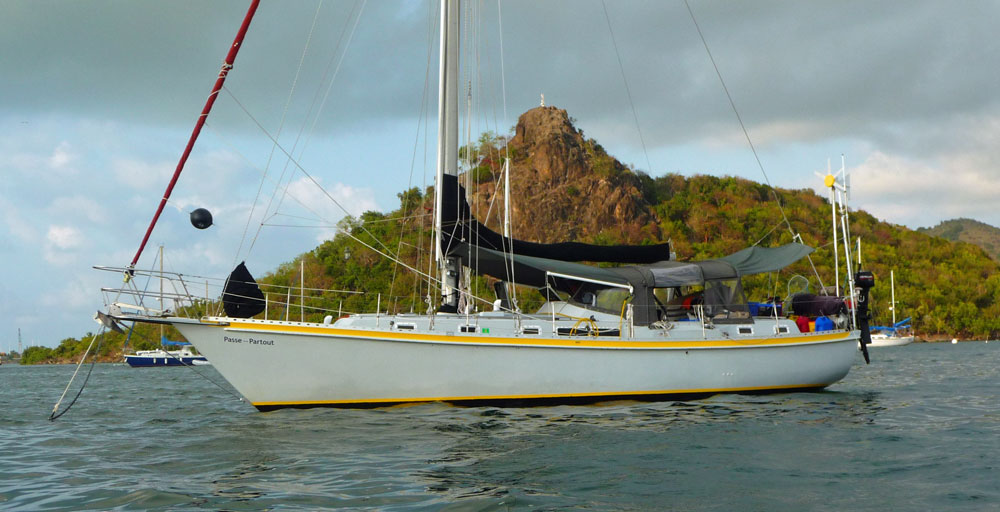 At anchor in Simpson Bay Lagoon, under the exquisitely named Witch's Tit.
Some 100Nm to the west of St Martin & Sint Maarten lies another Caribbean Island Hopping paradise - the Virgin Islands.
But for the moment we're continuing south to the French island of St Barts...
---

St Barthelemy ('St Barts')
When beating southeast (and it will be a beat) from St Martin & Sint Maarten to the French island of St Barts - or more correctly St Barthelemy - you should resist the temptation to stop off in the anchorage at Ile Fourche before checking in with Customs & Immigration, as it will seriously upset them if they find out about it.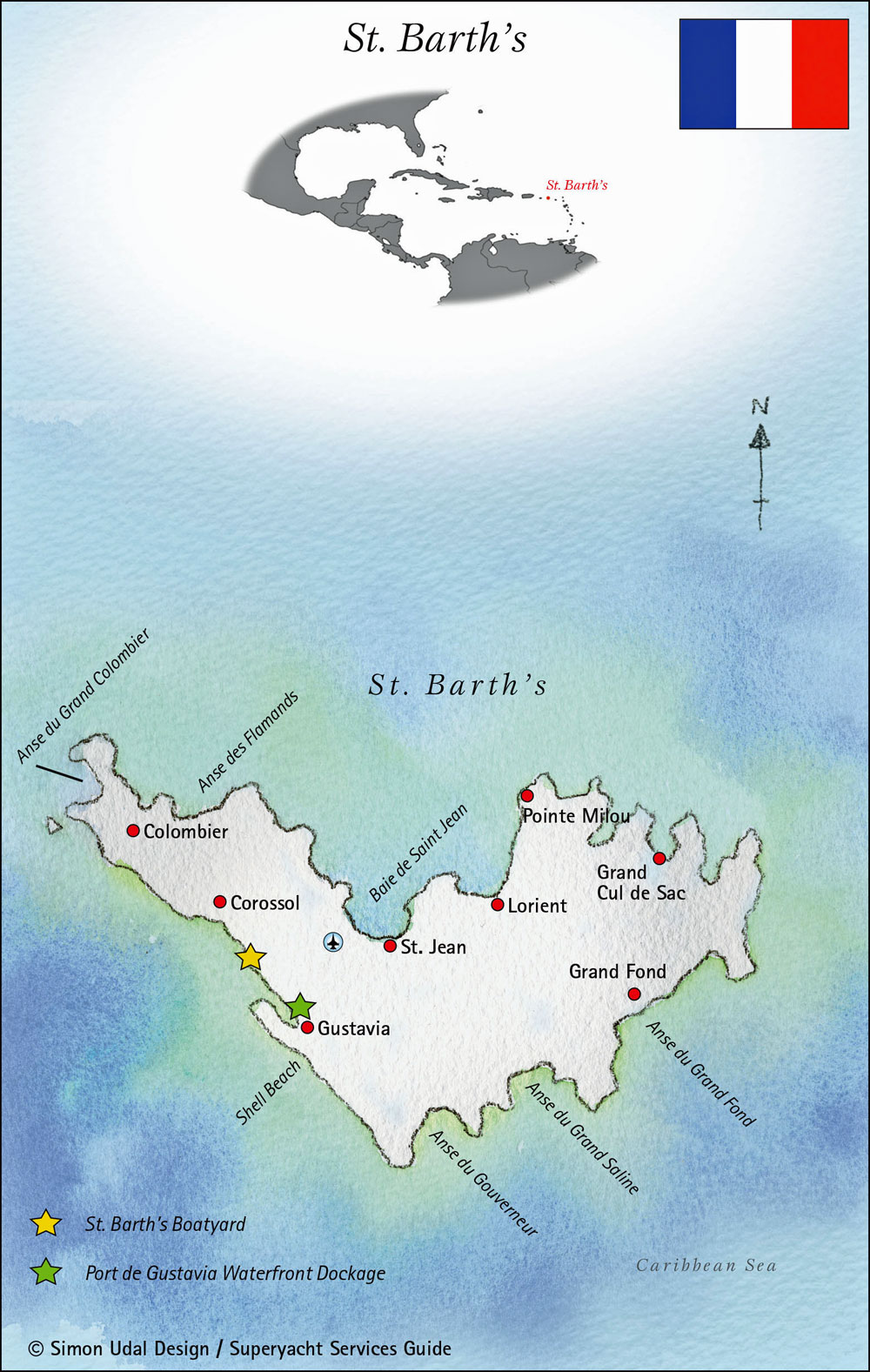 Currency:  Euro (€)
Official Language: French
Port of Entry: Gustavia
Instead, bash on to Gustavia to complete checking-in procedures which, as in all the islands of the French West Indies, is a breeze.
You'll be hard pressed to find an available dock in the harbour, so anchor outside and dinghy in, tying-up in the dinghy dock close to the Port captain's Office.
Two of the anchorages you won't want to miss are Anse du Colombier and that on the aforementioned Ile Fourchue, both of which offer good snorkelling - and in the case of Ile Fourche, some solitude; there's nothing ashore but a dilapidated hut.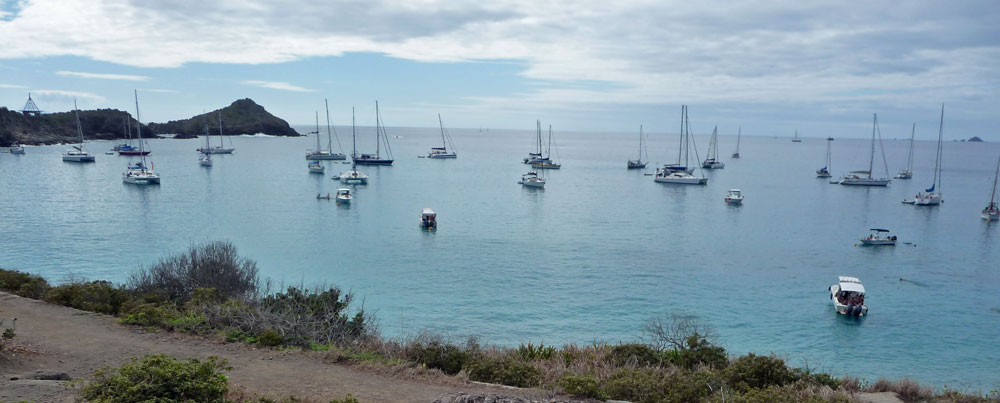 Anse du Colombier, a popular anchorage in St Barts
---
The Customs & Immigration Dock at the Port of Gustavia.
---
When it's time to leave St Barts you have the choice of two island hopping destinations:
You can ease the sheets and enjoy a glorious reach to Saba, or
Continue a windward bash to the island nation of Antigua & Barbuda.
---

Saba
Saba is a small Dutch Island, the most westerly of the Leeward islands.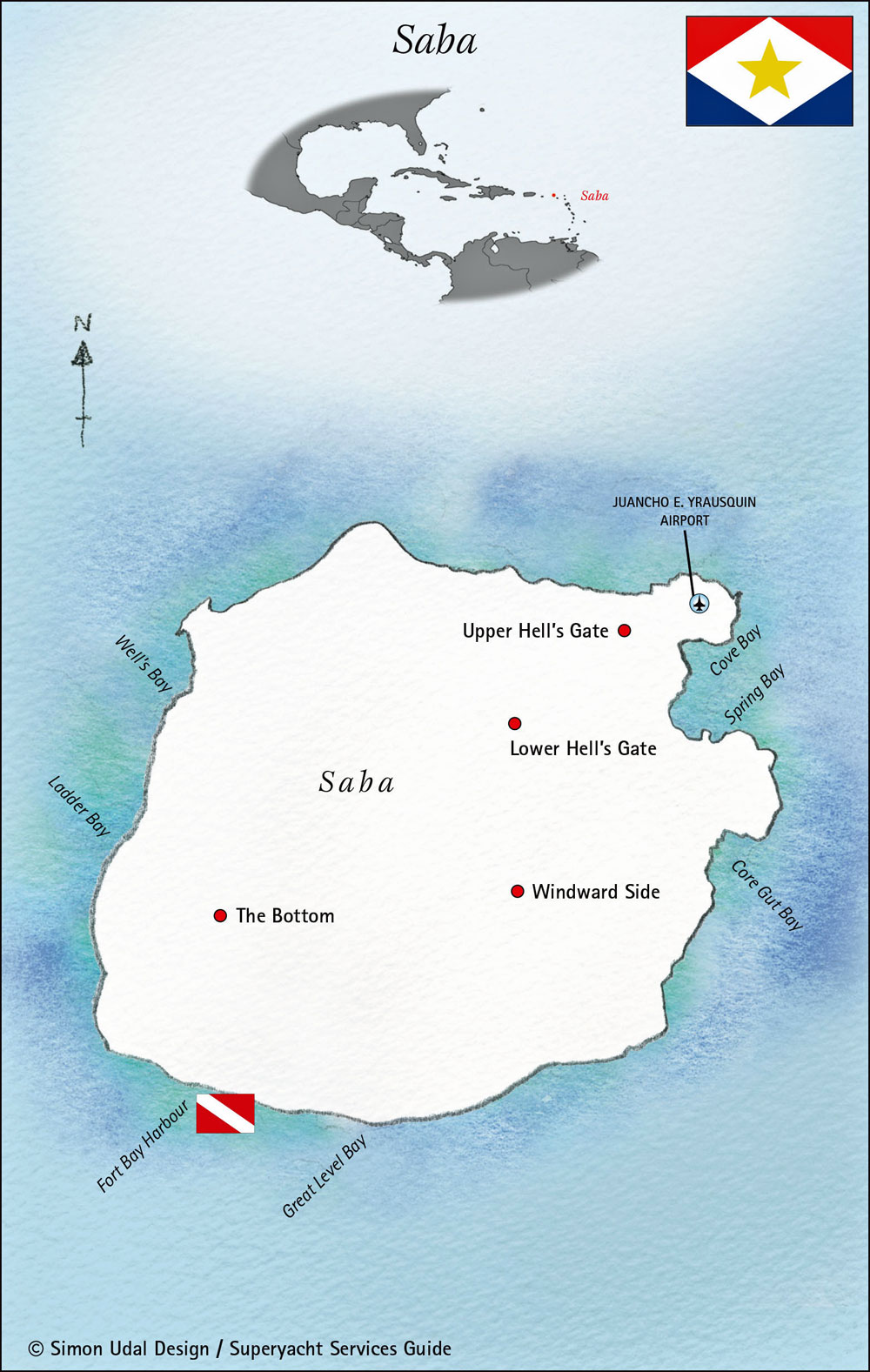 Currency:  US Dollars (US$)
Official Language: Dutch, but English and Spanish are also widely spoken.
Port of Entry: Fort Bay
The two main anchorages are at Well's Bay and Ladder Bay, where you can pick up a mooring if any are available.
The trip around to the harbour at Fort Bay can be something of a challenge in a small dinghy.
There are also four moorings off Fort Bay, but these are likely to be less comfortable unless a northerly swell is running.
Saba is unique, and is another of those destinations where an island tour is an absolute must!
---
Moored in Wells Bay, Saba
---

St Eustatia ('Statia')
Currency:  US Dollars (US$)
Official Language: Dutch, but English spoken everywhere
Port of Entry: Oranje Baai
Statia has the dubious distinction of having probably the rolliest anchorage in the Caribbean. It's at Oranje Baai. 
Unusually for us we picked up a mooring, possibly swayed by the apparent bargain of getting the third night free if you pay up-front for two.
As it turned out, we had had more than enough after the second night without sleep and proceeded gratefully southwards to St Kitts & Nevis.
In all other respects, Statia is delightful. The dormant volcano 'The Quill' demands that you hike to its summit. A well-marked trail takes you to the rim of the crater where you can peer down into its densely foliated interior.
Curiously, a cockerel led the way for us, managed to star in every photo we took and followed us back down.
Mary and I - plus the cockerel of course - on the rim of the Quill's crater
---

St Kitts & Nevis
The two-island state of St Kitts & Nevis was granted full independence from Great Britain in 1983, but opted to remain within the British Commonwealth.
Currency:  Eastern Caribbean Dollars (EC$)
Official Language: English
Ports of Entry: Basseterre (St Kitts); Charlestown (Nevis)
Approaching St Kitts from the north its densely rainforest-covered central mountain range is prominent. This provides a perfect home for the large population of African green vervet monkeys descended from those having arrived via the sail trading vessels of the past.
Approaching St Kitts from the north its densely rainforest-covered central mountain range is prominent.
This provides a perfect habitat for the large population of African green vervet monkeys descended from those having arrived via the sail trading vessels of the past.
The best anchorages in St Kitts are found in the southern end of the island, but all can be uncomfortable - untenable at times - if there is south in the wind.
In such conditions, the Porte Zante Marina at Basseterre provides comfort and safety.
St Kitts has the only operating railway in the Caribbean, a relic from its sugar cane industry. It used to run around the island, but part of it has been restored for the tourists.
It's very popular with the cruise-ship passengers, but Mary and I decided to evade the crowds by going on a day there were no cruise-ships. It was a wasted trip - it doesn't operate when there are no cruise-ships.
Just across 'The Narrows', is Nevis. You won't have any trouble finding a mooring on the west side of Nevis - there are around 100 of them belonging to the NPA (Nevis Port Authority) - and you can drop the hook in other areas outside the mooring field.
Ashore there are wonderful walks through the rain forest, where monkeys abound. 
Plenty of vacant moorings off Pinney's Beach, Charlestown, with St Kitts in the background.
---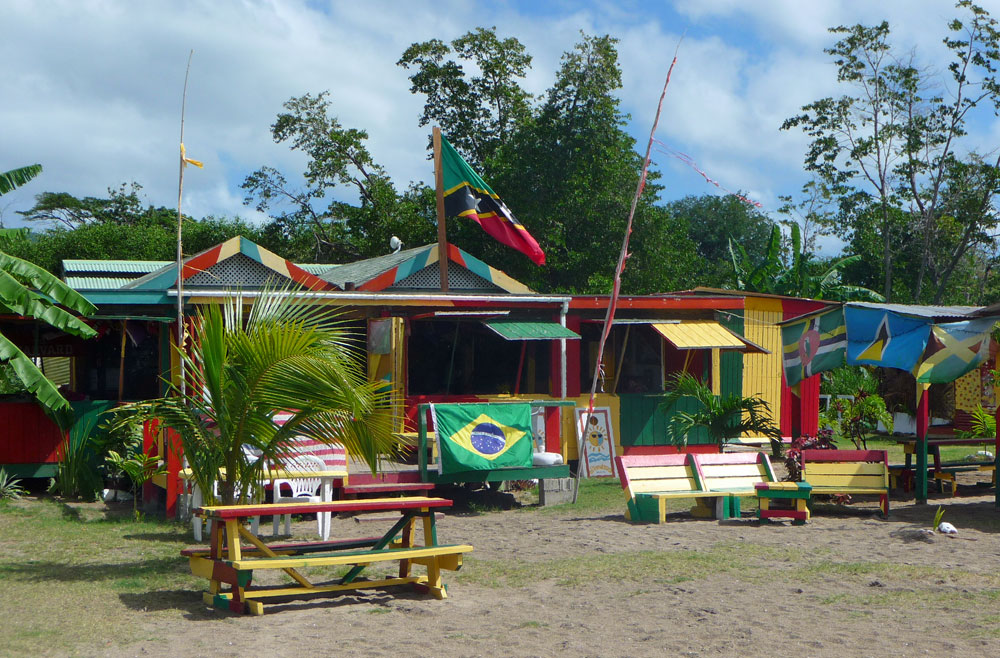 A colourful bar/restaurant on Pinneys Beach, Nevis
---

Montserrat
The Soufriere Hills volcano on the southern region of Monserrat erupted in 1985 and has been polluting the atmosphere with volcanic ash ever since, as a result of which there's much to be said for sailing down the windward (east) side of the island.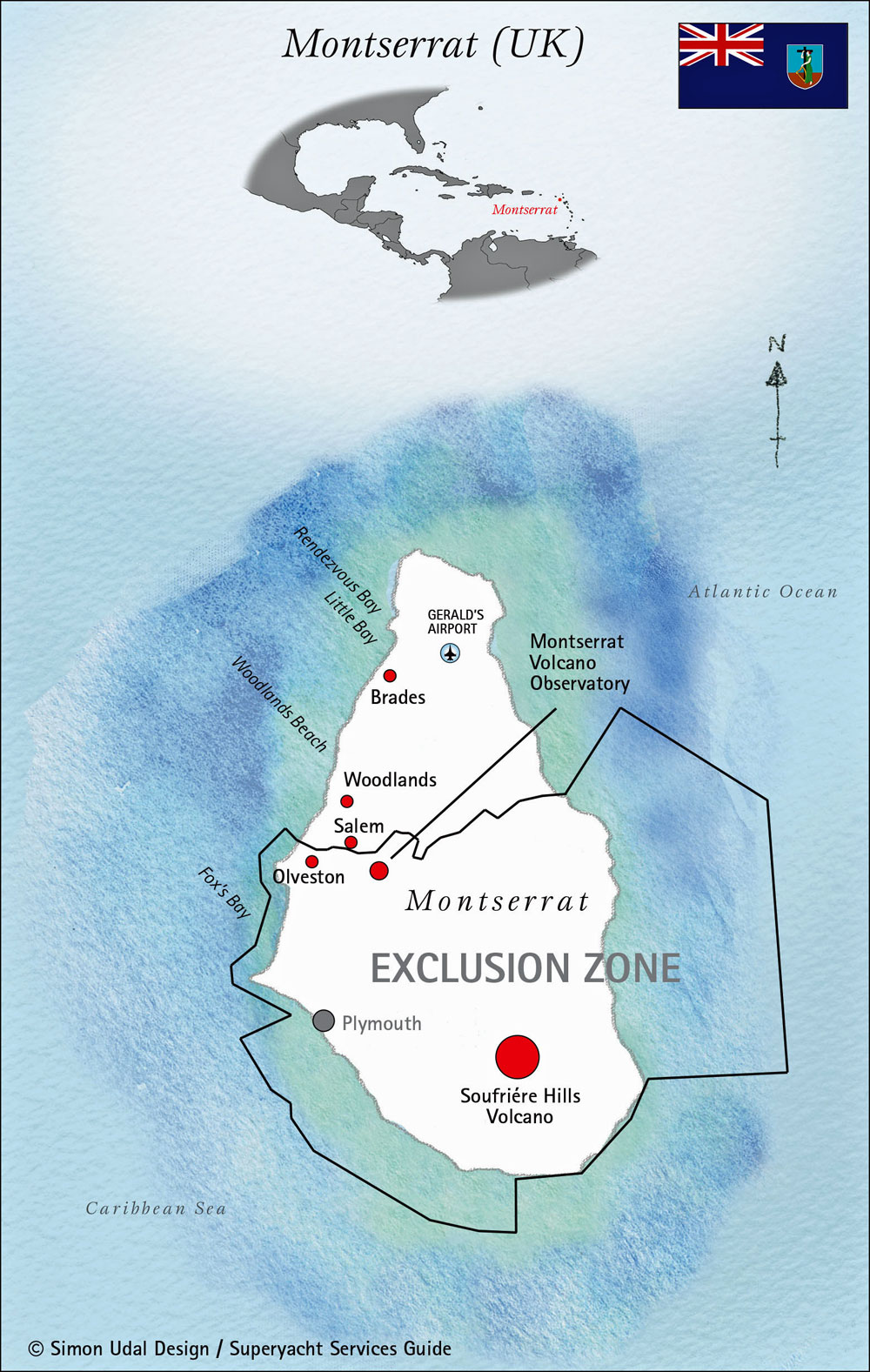 Currency:  Eastern Caribbean Dollars (EC$)
Official Language: English
Port of Entry: Little Bay
With more than half its area designated an exclusion zone you may think that Montserrat would be hardly worth a visit, but nothing could be further from the truth.
Anchor your boat in Little Bay and hire the services of an island tour guide - you'll not be disappointed.
There are numerous hiking trails into the rain forest, where you'll find a multitude of tropical birds and plants. 
Continuing to island hop, you have two choices of destination: northeast to Antigua or southeast to Guadeloupe. Clearly the wind direction will play a part in choosing which one.
---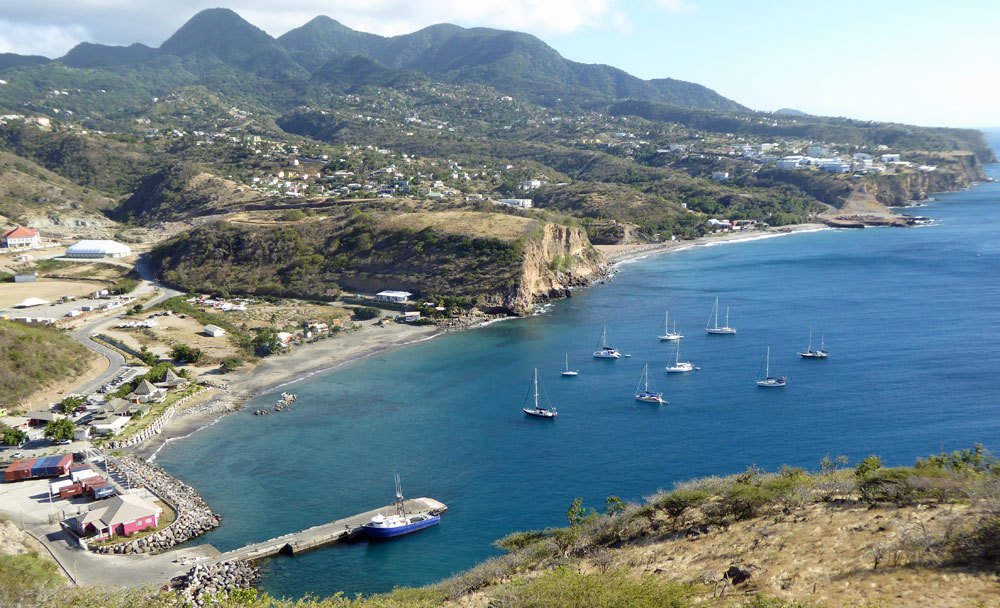 Little Bay Anchorage, Montserrat
---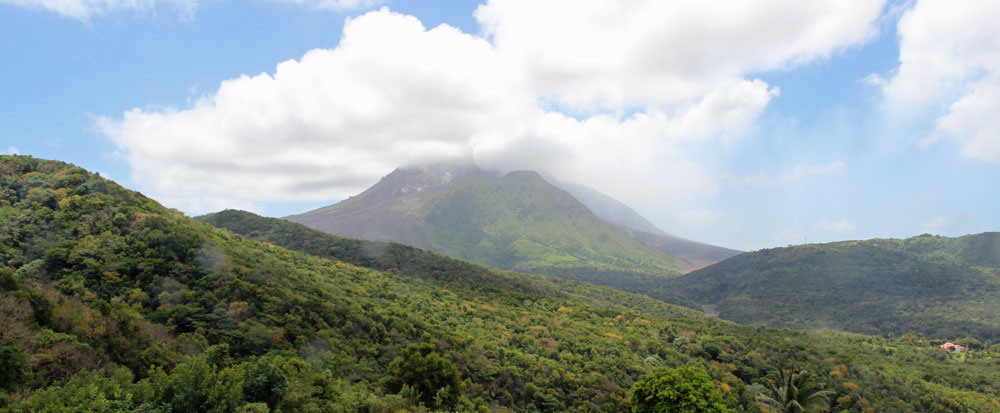 Soufriere Hills volcano rumbles on...
---

Antigua & Barbuda
Antigua & Barbuda are a two-island country that joined the British Commonwealth in 1981, following independence from the UK.
Currency:  Eastern Caribbean Dollars (EC$)
Official Language: English
Ports of Entry: English Harbour, Jolly Harbour
Unlikely I know, but if you were restricted to cruising around just one of these islands, then Antigua would be the one to choose.
Antigua has more anchorages than any other in this island chain, some of which will offer total peace and tranquility whilst others such as English harbour and Falmouth Harbour will be crowded with much going on ashore.
The anchorage of Great Bird Island is one of the 'peace and tranquility' locations - it's one of our favourites
There are several locations where you can haul out your boat for the hurricane season, with facilities which will meet the requirements of most yacht insurance companies.
---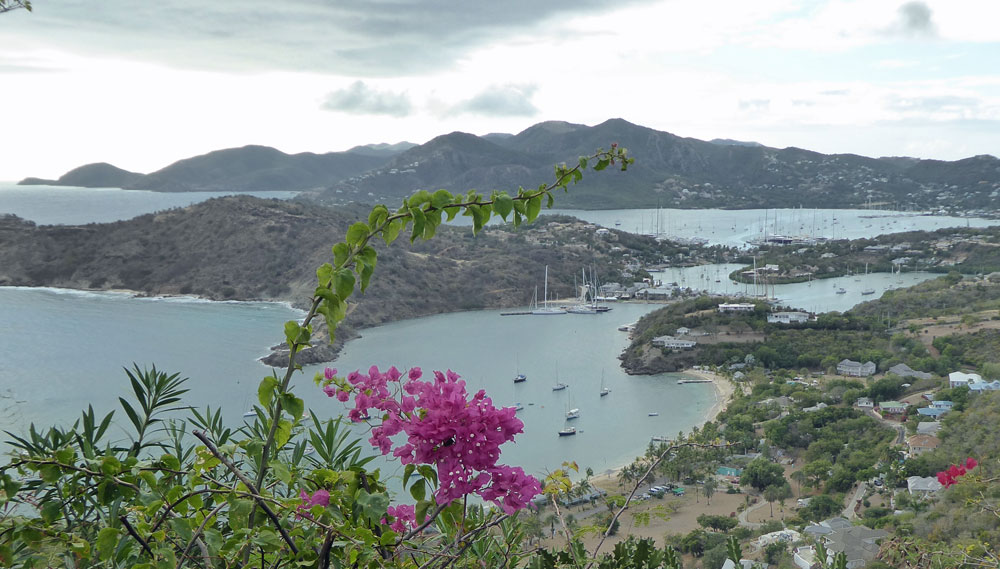 Looking over Freeman Bay to English Harbour and Nelson's Dockyard, with Falmouth Harbour in the distance
---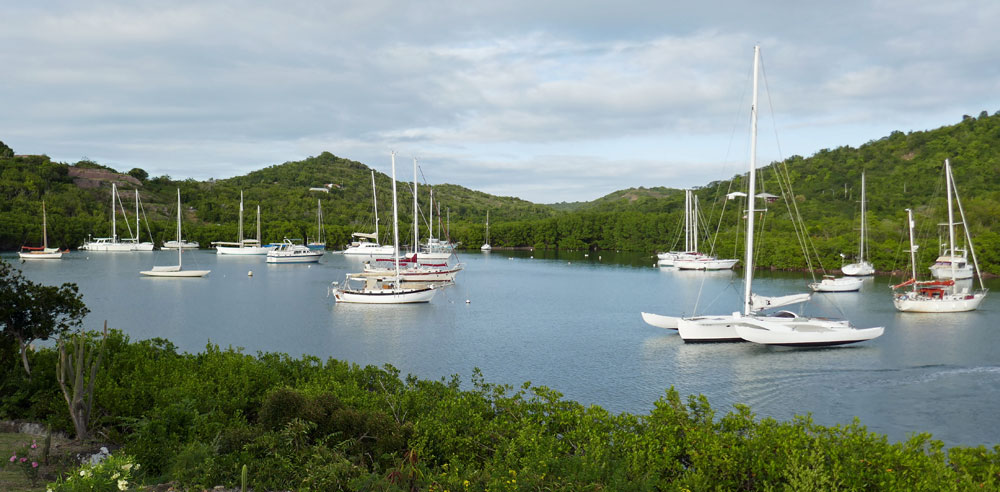 The 'hurricane hole' in the mangroves at the north end of English Harbour
---

Falmouth Harbour - 3 marinas and plenty of anchoring space
---
On entering Falmouth Harbour, you'll find the Pigeon Beach anchorage on your starboard side
---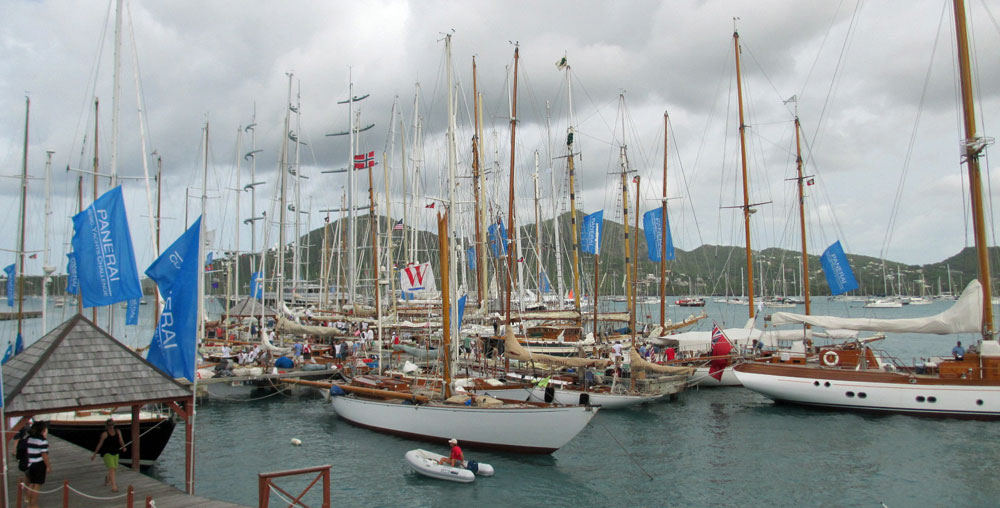 Entrants for Antigua's Classic Yacht Regatta congregate at Antigua Yacht Club Marina in Falmouth Harbour
---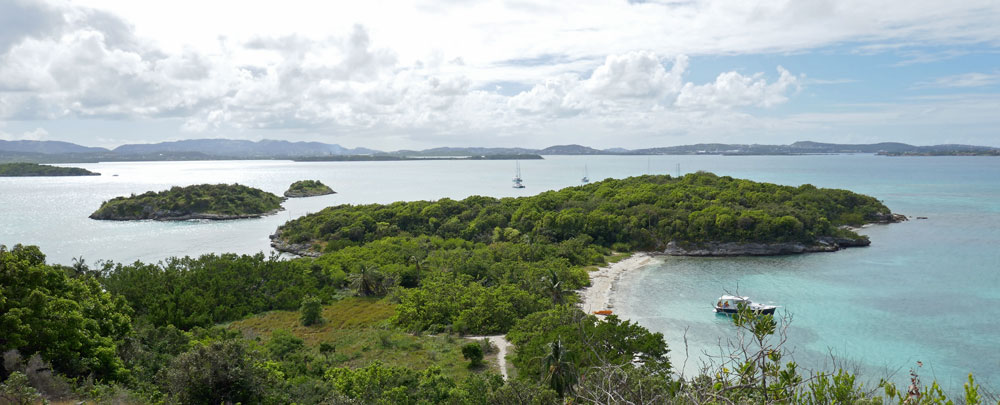 An abundance of sheltered anchorages in North Sound
---
Nonsuch Bay, another well protected anchorage
---
Peace and tranquility on the north side of Five Islands Bay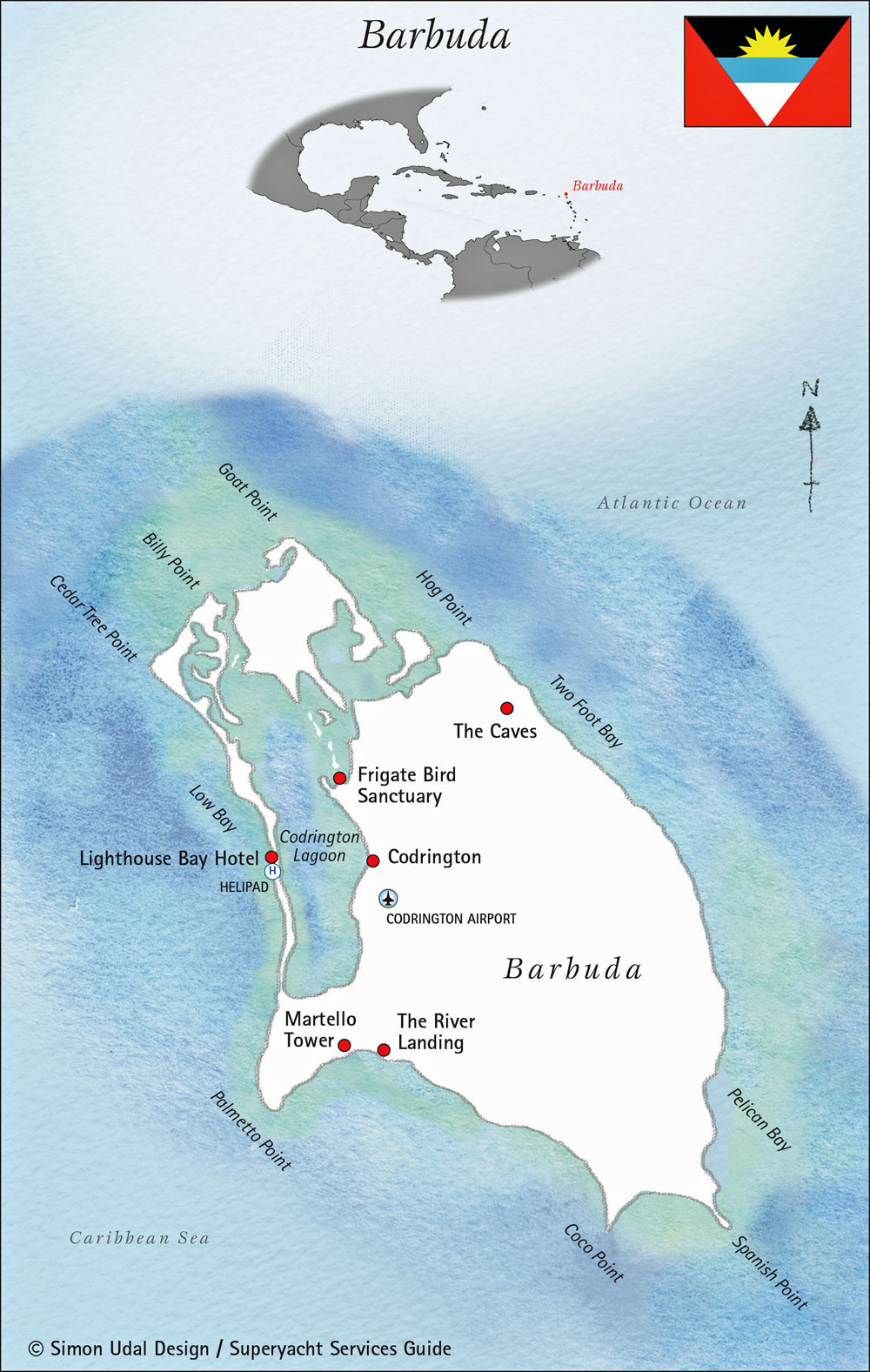 Sadly, Barbuda was hit by hurricane Irma in 2017, when 180mph winds damaged almost every structure on the island, flattening many of them.
The long white sand beach (11 miles of it) was breached by the hurricane allowing dinghy access into the lagoon, where you can visit the once-charming town of Codrington or the world-famous frigate bird colony at the north end of Codrington Lagoon.
Prior to the breach you had to haul your dinghy over the sand spit into the lagoon, or call a water taxi on VHF. Every cloud... 
Most cruisers anchor off the 11 mile beach north of Palmetto Point, the Old Boat Harbour near the Martello Tower or in one of the distinctly reefy spots between Cocoa Point and Spanish Point.
---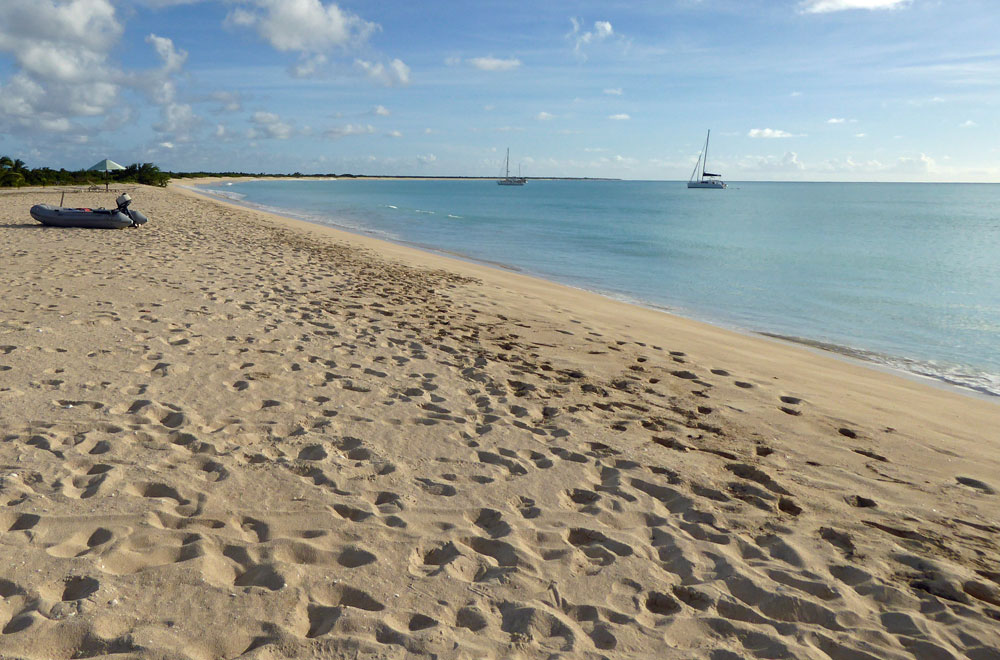 Eleven Mile Beach, Barbuda - Take nothing but photographs, leave nothing but footprints
---
The Frigate Birds soon re-established their colony after the devastation of Hurricane Irma
---

Guadeloupe
Guadeloupe is an archipelago and overseas department of France. It consists of four main island regions:
Guadeloupe, 

Marie-Galante, 

La Désirade, and 

Les Îles des Saintes.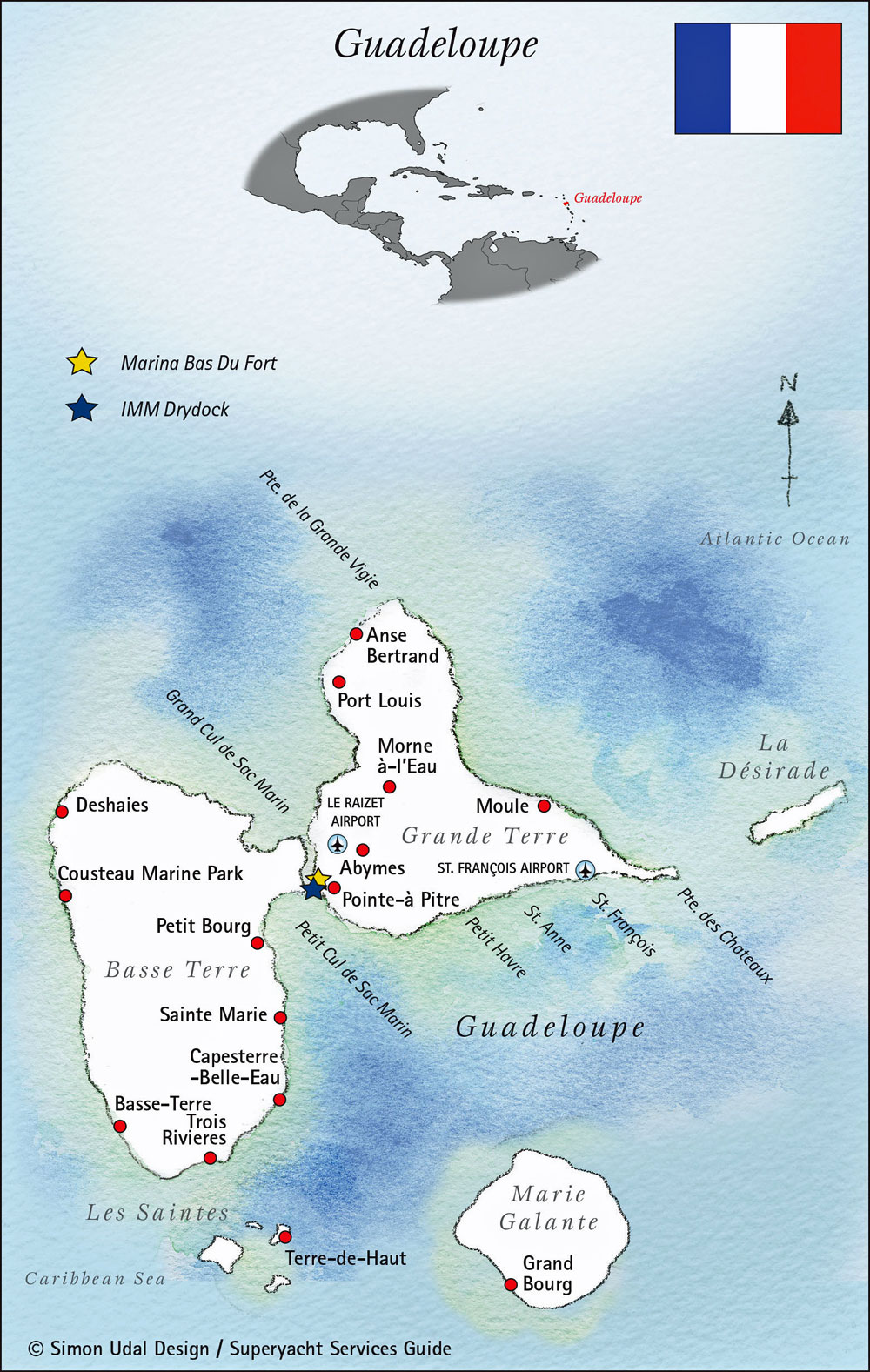 Currency:  Euro (€)
Official Language: French
Ports of Entry: Deshaies, Basse Terre, Pointe a Pitre, Les Saintes and Marie Galante
Deshaies, a picturesque fishing village, is the northernmost anchorage on the east side of Guadeloupe.
Most of the moorings are taken by local boats, but you can normally find a spot to drop the hook somewhere.
Pigeon Island is the next anchorage to the south, where the Cousteau Marine Park is a favourite spot for snorkellers and scuba divers.
Two further anchorages are Anse de la Barque and Marina Riviere Sens which is around a mile south of Basse-Terre.
Les Saintes are a delightful group of islands, where the main anchorage is off Bourge de Saintes on Terre d'en Haut. If you'd prefer a mooring - and many skippers do as these waters are deep and anchoring opportunities limited - you need to arrive early!
It would be a shame not to visit Marie Galante, but it if you set off from Les Saintes it will be hard on the wind. In north-easterlies it is a much easier sail from Pointe-a-Pitre.
---
Sundowners at Deshaies
---
Anse a la Barque anchorage
---
The Ilet du Gosier anchorage, which is close to Pointe-a-Pitre
---
Terre D'en Haut anchorage in Les Saintes
---
Fierce squalls often develop between the southern end of Guadeloupe and Les Saintes
---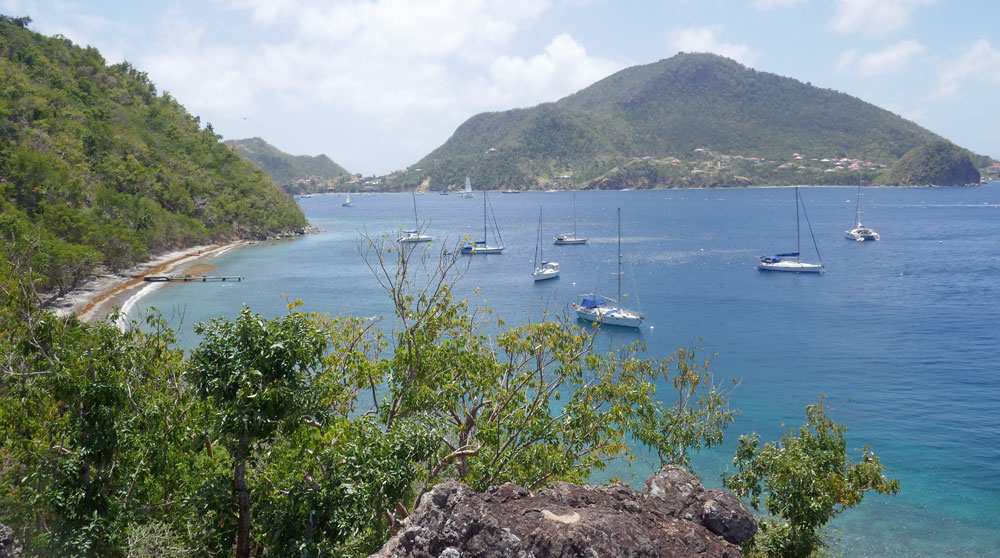 The Anse Fideling anchorage on Terre D'en Bas, with Terre D'en Haut in the background
---

Dominica
Some 20 nautical miles south of Les Saintes lies the delightful island of Dominica - the Nature Island - which is at the southern end of the Leeward Islands. Coming from the north, your first port of call will be Portsmouth in Prince Rupert Bay.
Currency:  Eastern Caribbean Dollars (EC$)
Official Language: English
Port of Entry: Portsmouth and Roseau
Rounding the headland you will, in all likelihood, be approached by a local boatman - "Hi Skip, welcome to Dominica!" - who will find you a mooring or a place to anchor, and will be on hand to assist you with anything else during your stay in this charming bay.
He will almost certainly suggest you take an island tour - and without any doubt, you should take him up on it!
Heading south you'll find the next anchorage at Salisbury, followed shortly afterwards by another, off Mero, where you'll see the ruins of the Castaways Beach Hotel.

---
Portsmouth Anchorage, Prince Rupert Bay
---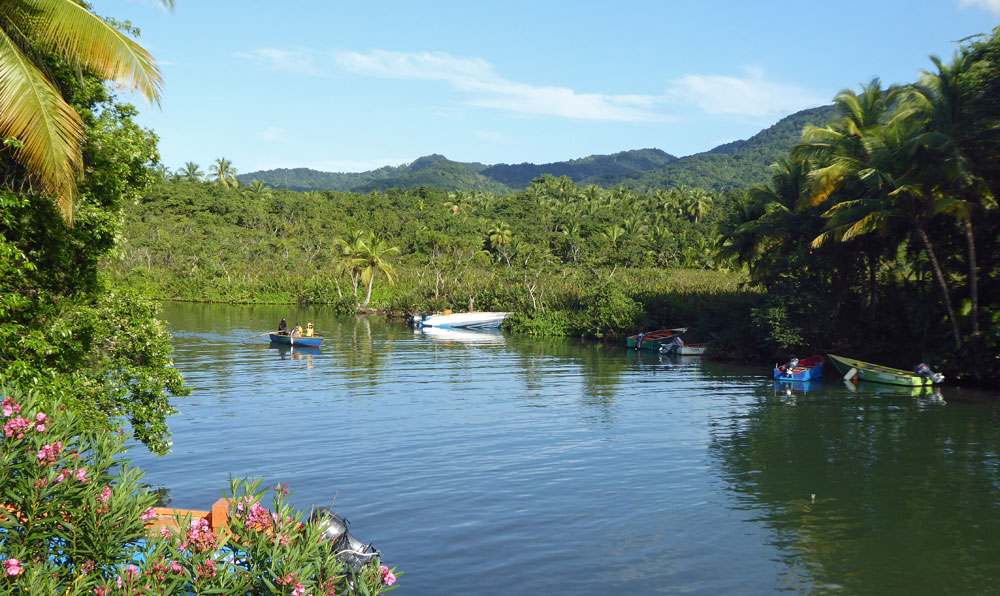 A quiet boat trip (no outboard) up the Indian River is a must!
Roseau is the capital of Dominica and it's from here you will leave this special island, as you depart the Leeward Islands.
---
So now it's south to Martinique - the first of the Windward Islands... 
Caribbean Island Hopping Part 2: The Windward Islands
---
Jan 21, 23 01:37 PM

Here's where people with sailing equipment for sale advertise their stuff entirely free of charge. If you're looking for used sailing gear or other used boating accessories, here's where to find it!

Jan 21, 23 08:28 AM

The Hustler 35 sailboat is a hugely capable classic offshore cruiser. My 'Sea Wraith' has recently had an extensive mechanical and equipment refurbishment to ensure she is absolutely ready to take on…

Jan 11, 23 09:07 AM

Large, well-equipped cruising yachts of this size can cross oceans in relative comfort and speed, but you'll need deep pockets to operate and maintain them.
---