The Bowman 45 Sailboat

Specs & Key Performance Indicators
The Bowman 45, an aft-cockpit cutter, was designed by Chuck Paine and built in the UK by Rustler Yachts Ltd.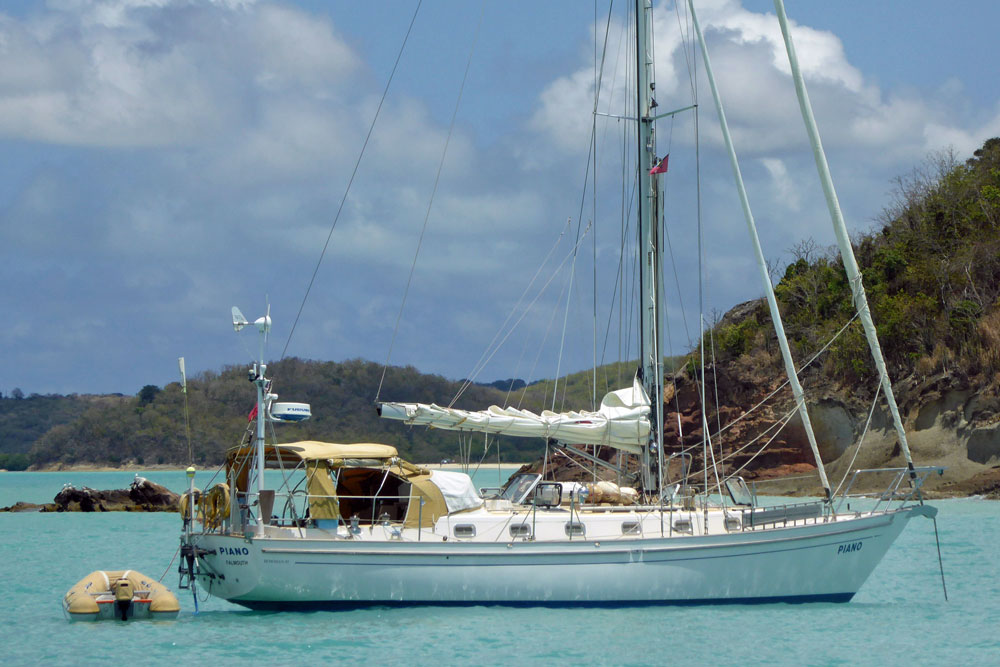 A Bowman 45 at anchor in Five Islands Bay, Antigua
Published Specification for the Bowman 45
Underwater Profile: Fin keel & skeg-hung rudder
Hull Material: GRP (Fibreglass)
Length Overall: 45'2" (13.8m)
Waterline Length: 36'6" (11.1m)
Beam: 13'0" (4.0m)
Draft: 5'9" (1.8m)
Rig Type: Cutter
Displacement: 24,500lb (11,113kg)
Designer: Chuck Paine Ltd
Builder: Rustler Yachts Ltd (UK)
Published Design Ratios for the Bowman 45
1. Sail Area/Displacement Ratio: 17.6

Less than 16 would be considered under-powered;
16 to 20 would indicate reasonably good performance;
Over 20 suggests relatively high performance.
2. Ballast/Displacement Ratio: 44.0
Under 40: less stiff, less powerful
Over 40: stiffer, more powerful
3. Displacement/Length Ratio: 225
Under 100: Ultralight
100 to 200: Light
200 to 275: Moderate
275 to 350: Heavy
Over 350: Ultraheavy
4. Comfort Ratio: 31.8
Under 20 indicates a lightweight racing boat
20 to 30 indicates a coastal cruiser
30 to 40 indicates a moderate offshore cruising boat
40 to 50 indicates a heavy offshore boat
Over 50 indicates an extremely heavy offshore boat
5. Capsize Screening Formula: 1.8
Under 2.0 (the lower the better): Better suited for ocean passages
Over 2.0: Less suited for ocean passages
Summary Analysis of the Design Ratios for the Bowman 45
1. A Sail Area/Displacement Ratio of 17.6 suggests that the Bowman 45 will, in the right conditions, approach her maximum hull speed readily and satisfy the sailing performance expectations of most cruising sailors.
2. A Ballast/Displacement Ratio of 44 means that the Bowman 45 will stand up well to her canvas in a blow, helping her to power through the waves.
3. A Displacement/Length Ratio of 225, tells us the Bowman 45 is a moderate displacement cruiser, which means she'll carry all your cruising gear without it having a dramatic effect on her performance. Most of today's sailboats intended for offshore cruising fall into this displacement category.
4. Ted Brewer's Comfort Ratio of 31.8 suggests that crew comfort of a Bowman 45 in a seaway is similar to what you would associate with the motion of a moderate bluewater cruising boat - a predictable and acceptable motion for most seasoned sailors.
5. The Capsize Screening Formula (CSF) of 1.8 indicates that a Bowman 45 would be a safer choice of sailboat for an ocean passage than one with a CSF of more than 2.0. 
The Bowman 45: A Classic Ocean-Cruising Yacht
Accommodation

The Bowman 45 has a spacious and well-crafted interior that can accommodate up to six people in comfort. The layout varies depending on the owner's choice, but typically there are two or three sleeping cabins, a large saloon, a galley, a navigation station, and one or two heads. Some of the options include:
A forward cabin with a V-berth or an island double berth, and an ensuite head with shower;
A master cabin aft with a centerline double berth, and an ensuite head with shower;
A guest cabin with upper and lower single berths, or a double berth;
A U-shaped galley to port or starboard, with a three-burner stove, an oven, a fridge, a freezer, and ample storage and counter space;
A navigation station opposite the galley, with a large chart table, instruments, and electrical panel;
A saloon with a U-shaped settee and a drop-leaf table to port or starboard, and a straight settee opposite. The settees can be used as single berths if needed.
The interior is finished in teak or cherry woodwork, with white bulkheads and overheads. The upholstery is durable and comfortable, and the lighting is warm and cozy. The ventilation is excellent, with opening ports, hatches, and dorade vents. The headroom is generous throughout, ranging from 6'4" to 6'8".
Rigging and Sails
The Bowman 45 has a Bermudan cutter rig. The mast is aluminum, with two sets of spreaders and stainless-steel standing rigging. The boom is also aluminum, with slab reefing or in-mast or in-boom furling. The sail area is 1096 ft³, which gives the boat a sail area/displacement ratio of 17.6. This means that the boat has reasonably good performance under sail, especially in moderate to strong winds.
The cutter rig allows for various sail combinations, depending on the wind and sea conditions. The typical sail inventory includes:
A mainsail with three reefs;
A staysail on a self-tacking boom;
A spinnaker or a gennaker;
A storm jib and a trysail.
The sails are controlled by winches and clutches on the mast and in the cockpit. The cockpit has two primary winches for the genoa sheets, two secondary winches for the staysail sheets, and two more winches for the main halyard, reefing lines, vang, outhaul, etc.
Hull and Deck
The Bowman 45 has a solid fiberglass hull with a fin keel and a skeg-hung rudder. The hull is heavily built and well ballasted, giving the boat a displacement of 24,500 lb and a ballast/displacement ratio of 44. This means that the boat is stiff and stable in rough seas, and can carry a lot of cruising gear without compromising its performance.
The deck is also fiberglass, with teak or synthetic teak overlay. The deck has wide side decks for easy movement forward and aft. The bow has a large anchor locker with space for two anchors and chain. The stern has a lazarette locker for storing fenders, lines, etc.
The cockpit is aft, with a pedestal-mounted wheel steering system. The cockpit has high coamings for protection from spray and waves. The cockpit seats are long enough to lie down on. There is also a folding cockpit table for dining al fresco.
The boat has various safety features, such as:
A strong skeg-hung rudder that can withstand grounding or collision;
A stainless steel pulpit, pushpit, stanchions, and lifelines;
A dodger and a bimini for shelter from sun and rain;
A liferaft mounted on the coachroof or the stern rail;
A manual or electric bilge pump;
A fire extinguisher and a smoke detector.
Performance and Handling
The Bowman 45 is designed for ocean cruising, and has proven itself in many long-distance voyages. The boat has a good seakeeping ability, with a comfortable and predictable motion in a seaway. The boat can handle heavy weather well, with its cutter rig and reefing system. The boat is also easy to handle by a small crew or even single-handed, with its self-tacking staysail and roller-furling genoa.
The boat's weak point is its windward performance, which is uninspiring. The boat has a relatively low aspect ratio keel, which reduces its pointing ability. The boat also has a lot of wetted surface, which increases its drag. The boat may need help from the engine in light winds or when tacking against the current.
The boat's engine is a 75 hp Yanmar diesel, which gives the boat a cruising speed of about 7 knots and a maximum speed of about 8 knots. The boat has a fuel tank capacity of 100 gallons, which gives the boat a range of about 700 nautical miles at cruising speed. The boat also has a water tank capacity of 150 gallons, which can be supplemented by a watermaker if needed.
Pros and Cons
The Bowman 45 is a classic ocean-cruising yacht that offers:
A spacious and well-crafted interior with various layout options;
A cutter rig that allows for versatile sail combinations;
A solid and seaworthy hull that can withstand rough seas;
A comfortable and stable motion in a seaway;
An easy handling by a small crew or single-handed.
However, the Bowman 45 also has some drawbacks and limitations, such as:
A high purchase cost compared to mass-production boats;
A poor windward performance that may require motor assistance;
A moderate displacement that may limit its speed potential;
A traditional style that may not appeal to everyone.
The above text was drafted by sailboat-cruising.com using GPT-4 (OpenAI's large-scale language-generation model) as a research assistant to develop source material; we believe it to be accurate to the best of our knowledge.
Other sailboats in the Bowman range include:
Nov 29, 23 08:35 AM

Here's where people with sailing equipment for sale advertise their stuff entirely free of charge. If you're looking for used sailing gear or other used boating accessories, here's where to find it!

Nov 10, 23 02:34 AM

My 47' Cheoy Lee sailboat is for sale. Designed by Bill Luders, she is a beautiful and functional liveaboard cruising yacht.

Oct 30, 23 04:22 PM

This article explores the journey of chartering a sailing yacht, from the initial planning stages to the final touches. It provides insight into the joys and challenges of embarking on a voyage of dis…
---