The Discovery 55 Sailboat

Specs & Key Performance Indicators
The Discovery 55, a centre-cockpit sloop, was designed by Ron Holland and built in the UK by Discovery Yachts.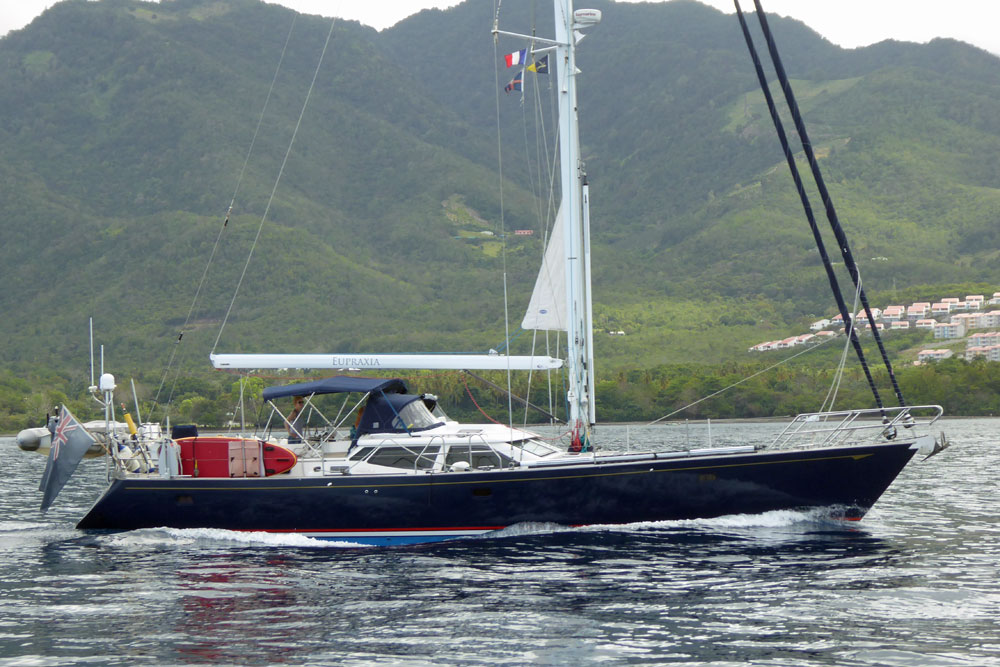 The Discovery 55
This one is fitted with the double-headed Solent rig, although they were also available as cutters.
Published Specification for the Discovery 55
Underwater Profile: Fin keel & skeg-hung rudder
Hull Material: GRP (Fibreglass)
Length Overall: 54'10" (16.7m)
Waterline Length: 49'3" (15.0m)
Beam: 15'8" (4.8m)
Draft: 7'4" (2.2m)
Rig Type: Masthead sloop
Displacement: 49,604lb (22,500kg)
Designer: Ron Holland
Builder:  Discovery Yachts (UK)
Year First Built: 2000
Number Built: 55
Owners Association: Discovery Yacht Owners
Published Design Ratios for the Discovery 55
1. Sail Area/Displacement Ratio: 14.7

Less than 16 would be considered under-powered;
16 to 20 would indicate reasonably good performance;
Over 20 suggests relatively high performance.
2. Ballast/Displacement Ratio: 42.2
Under 40: less stiff, less powerful
Over 40: stiffer, more powerful
3. Displacement/Length Ratio: 186
Under 100: Ultralight
100 to 200: Light
200 to 275: Moderate
275 to 350: Heavy
Over 350: Ultraheavy
4. Comfort Ratio: 38.6
Under 20 indicates a lightweight racing boat
20 to 30 indicates a coastal cruiser
30 to 40 indicates a moderate offshore cruising boat
40 to 50 indicates a heavy offshore boat
Over 50 indicates an extremely heavy offshore boat
5. Capsize Screening Formula: 1.7
Under 2.0 (the lower the better): Better suited for ocean passages
Over 2.0: Less suited for ocean passages
Summary Analysis of the Design Ratios for the Discovery 55
1. A Sail Area/Displacement Ratio of 14.7 suggests that the Discovery 55 will need a stiff breeze to get her going. In light conditions, unless you've got plenty of time on your hands, motor-sailing may be the way to go.
2. A Ballast/Displacement Ratio of 42.2 means that the Discovery 55 will stand up well to her canvas in a blow, helping her to power through the waves.
3. A Displacement/Length Ratio of 186, tells us the Discovery 55 is a light-to-moderate displacement sailboat. If she's loaded with too much heavy cruising gear her performance will suffer to a degree.
4. Ted Brewer's Comfort Ratio of 38.6 suggests that crew comfort of a Discovery 55 in a seaway is similar to what you would associate with the motion of a moderate bluewater cruising boat - a predictable and acceptable motion for most seasoned sailors.
5. The Capsize Screening Formula (CSF) of 1.7 tells us that a Discovery 55 would be a safer choice of sailboat for an ocean passage than one with a CSF of more than 2.0. 
---
The Discovery 55...
The Discovery 55 is a sailboat designed by renowned naval architect Ron Holland and built by Discovery Yachts in England. This 55-foot (17-meter) monohull boat is part of the Discovery range of yachts, which includes the 50 Catamaran, the 58, and the 67. The boat was launched in 2000 and updated to the Mk II version in 2015, with some improvements and refinements.
The Discovery 55 is a boat that offers comfort and convenience on board. It has a bright and spacious deck saloon with panoramic windows that showcase stunning views. The boat also has a well-equipped and large galley with ample storage space and a full-size fridge/freezer. There is a dedicated navigation station with all the necessary instruments and electronics to plan your voyage. Depending on your preference, the boat has three or four cabins with comfortable berths and plenty of storage space. The boat also has two or three heads, with electric toilets and separate showers. Moreover, it has a generator, an air conditioner, a watermaker, a washing machine, a dishwasher, and even a coffee machine. The Discovery 55 has everything you need to feel at home on the water.
But the Discovery 55 is not just a floating hotel. It is also a sailing machine that can take you across oceans or along coastlines with ease and grace. It has a powerful rig with a slab reefing mainsail (or an optional in-mast or in-boom furling system) and a self-tacking jib that make sailing effortless. The boat has a keel-stepped mast that adds strength and stability to the structure. Additionally, the boat has an aft cockpit that provides excellent visibility and protection from the elements. With a twin-wheel steering system, the boat gives you precise control and feedback. A bow thruster helps you maneuver in tight spaces. The boat's 160-horsepower Yanmar engine gives you reliable power when you need it.
The Discovery 55 is a boat that can handle any weather conditions and sea states with confidence and safety. It has a solid fiberglass hull with Kevlar reinforcement that can withstand impacts and abrasions. The boat has a deep fin keel (or an optional shoal keel) that provides excellent stability and performance. It has a balanced spade rudder that responds quickly and smoothly. Moreover, the boat's sleek hull shape cuts through the waves with minimal resistance. The boat's moderate displacement gives it a comfortable motion at sea, without compromising speed or agility.
The Discovery 55 is a boat that is designed for long-distance cruising, whether it is inshore, offshore, or ocean sailing. With a large fuel tank (1,334 liters) and water tank (1,008 liters), the boat has an impressive range and autonomy. The boat also has a robust electrical system that can power all your appliances and devices without draining your batteries. An efficient ventilation system keeps the interior fresh and cool. The boat has plenty of safety features such as a liferaft, EPIRB, fire extinguishers, bilge pumps, and more.
The above text was drafted by sailboat-cruising.com using GPT-4 (OpenAI's large-scale language-generation model) as a research assistant to develop source material; we believe it to be accurate to the best of our knowledge.
---
Nov 29, 23 08:35 AM

Here's where people with sailing equipment for sale advertise their stuff entirely free of charge. If you're looking for used sailing gear or other used boating accessories, here's where to find it!

Nov 10, 23 02:34 AM

My 47' Cheoy Lee sailboat is for sale. Designed by Bill Luders, she is a beautiful and functional liveaboard cruising yacht.

Oct 30, 23 04:22 PM

This article explores the journey of chartering a sailing yacht, from the initial planning stages to the final touches. It provides insight into the joys and challenges of embarking on a voyage of dis…
---