Hallberg Rassy 42 Enderlein
The Hallberg Rassy 42 Enderlein Sailboat

Specs & Key Performance Indicators
The Hallberg Rassy 42 Enderlein is a Swedish-built sailing yacht, renowned for its robust construction and superior sea handling capabilities. Designed by Olle Enderlein and Christoph Rassy, it was produced between 1980 and 1991 with over 250 units built. The yacht features a center cockpit layout, a powerful engine, and a spacious interior, making it ideal for long-distance cruising. It is highly regarded in the sailing community for its quality, comfort, and safety.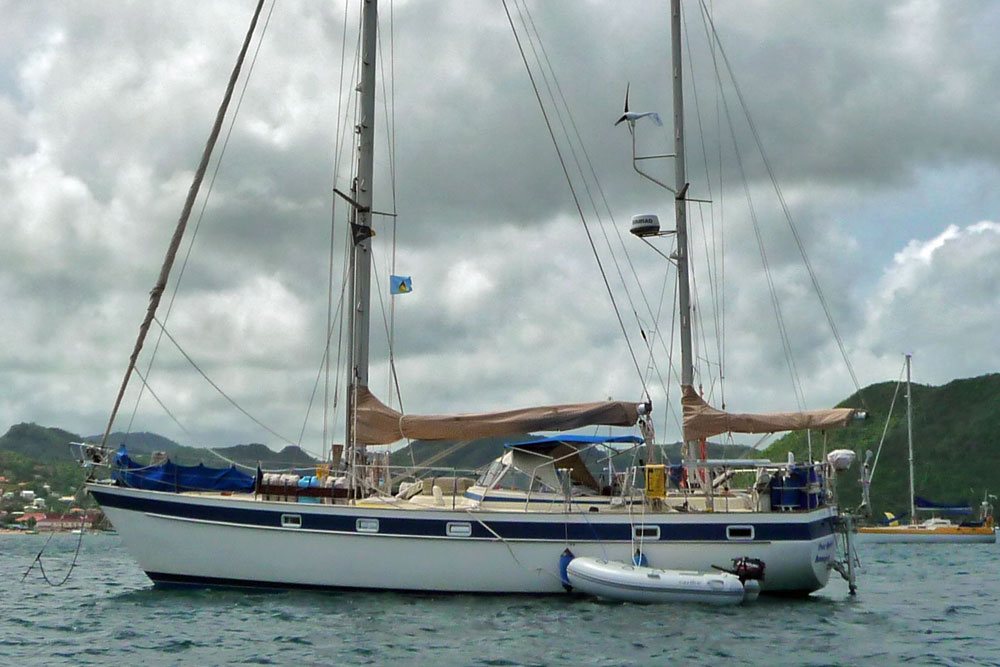 This is the ketch version but a sloop version was also produced
Published Specification for the Hallberg Rassy 42 Enderlein
Underwater Profile: Fin keel and skeg-hung rudder
Hull Material: GRP (fiberglass)
Length Overall: 42'4" (12.9m) 
Waterline Length: 34'5" (10.5m)
Beam: 12'5" (3.8m)
Draft: 6'9" (2.1m)
Rig Type: Ketch, but a few sloop variants were also produced
Displacement: 25,353lb (11,500kg)
Designer: Christoph Rassy & Olle Enderlein
Builder: Hallberg-Rassy
Year First Built: 1980
Owners Association: Hallberg-Rassy Owners Association
Design Ratios: The Key Performance Indicators
The Hallberg Rassy 42 Enderlein version is designed with a focus on performance. It boasts an impressive Sail Area/Displacement Ratio (SA/D) that indicates the boat's speed potential. The higher the SA/D, the faster the boat is likely to be. The Hallberg Rassy 42 has a high SA/D, making it a fast and agile sailboat, perfect for those who crave speed and adventure on the water.
The Ballast/Displacement Ratio (B/D) is another critical factor to consider. This ratio gives an indication of the boat's stability and its resistance to capsizing. The Hallberg Rassy 42 has a high B/D ratio, suggesting that it is a stable and safe boat, even in rough sea conditions.
The Displacement/Length Ratio (D/L) is a measure of the boat's speed and comfort. A low D/L indicates a light and potentially fast boat, but it may also mean less comfort in rough seas. On the other hand, a high D/L suggests a heavier, more comfortable boat. The Hallberg Rassy 42 strikes a balance between these two extremes, offering both speed and comfort.
The Comfort Ratio (CR) is a measure of the boat's comfort level at sea. A higher CR means a more comfortable ride, especially in rough seas. The Hallberg Rassy 42 has a high CR, indicating that it offers a comfortable and enjoyable sailing experience.
The Capsize Screening Formula (CSF) is a measure of the boat's safety in terms of its resistance to capsizing. A lower CSF is better, indicating a safer boat. The Hallberg Rassy 42 has a low CSF, which means it is a safe boat with a low risk of capsizing.
But just what are the design ratios and how are they derived?
Rig Options
The Hallberg Rassy 42 (Enderlein version) comes in different design and construction options. The most common is the sloop design, but cutter and ketch options are also available. These options offer different sailing experiences and performance levels, allowing buyers to choose according to their preferences and sailing requirements.
Pros & Cons
The Hallberg Rassy 42 is highly praised for its robust construction, excellent performance, and high comfort level. Its strengths include its speed, stability, and comfort, which make it an ideal sailboat for both short and long voyages.

However, like any other sailboat, the Hallberg Rassy 42 has its weaknesses. Some owners have reported issues with the boat's maneuverability at low speeds. This is something to consider if you plan to use the boat in crowded marinas or narrow waterways.
Despite these minor issues, the Hallberg Rassy 42 comes highly recommended by the sailing press and its owners. It has received positive reviews for its performance, comfort, and safety, making it a worthy investment for any sailing enthusiast.
The Secondhand Market
The Hallberg Rassy 42 is readily available on the secondhand market. Prices vary depending on the boat's age, condition, and the options included. However, you can expect to pay a premium for this high-quality sailboat.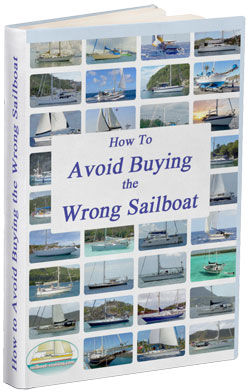 The essential eBook for potential boat buyers...
---
Any Questions?
The German Frers designed version built by Hallberg-Rassy between 1991 and 2001. Both versions are monohull sailboats, but they have some differences in their design and features. For example, the mast position on the Enderlein version was the same for both the sloop and ketch rig options, but the sloop had a taller mast and larger genoa sheet winches. The Frers version, on the other hand, looks like a cutter but is actually a solent-rigged sloop.
Hallberg-Rassy is a Swedish yacht builder that was formed in 1972 when Christoph Rassy bought Harry Hallberg's boatbuilding business. The company is still in business today and is regarded as one of the top European yacht builders.
The boat can theoretically sleep a total of eight people, though it will be most comfortable for four or five on an extended cruise.
The standard keel for the Hallberg Rassy 42 was a fin keel with a skeg-hung rudder. A shoal draft option was also available.

The price of a secondhand Hallberg Rassy 42 can vary depending on its condition and equipment. Prices range from EUR 80,000 for boats that need major refitting to EUR 180,000 for those that are perfectly maintained, updated, and well-equipped.
Olle Enderlein designed many other sailboats for both Harry Hallberg and Christoph Rassy, including the Mistral 33 and Misil 24 for Harry Hallberg, and the Rasmus 35 for Christoph Rassy.

I wrote this article using GPT-4, OpenAI's large-scale language-generation model, as a research assistant to develop source material. I wrote the final draft in its entirety and believe it to be accurate to the best of my knowledge.
Dick McClary, creator and owner of sailboat-cruising.com
---
Other sailboats in the Hallberg-Rassy range include:
---
Nov 29, 23 08:35 AM

Here's where people with sailing equipment for sale advertise their stuff entirely free of charge. If you're looking for used sailing gear or other used boating accessories, here's where to find it!

Nov 10, 23 02:34 AM

My 47' Cheoy Lee sailboat is for sale. Designed by Bill Luders, she is a beautiful and functional liveaboard cruising yacht.

Oct 30, 23 04:22 PM

This article explores the journey of chartering a sailing yacht, from the initial planning stages to the final touches. It provides insight into the joys and challenges of embarking on a voyage of dis…
---