The Hallberg Rassy 43 Sailboat

Specs & Key Performance Indicators
The Hallberg Rassy 43, a centre-cockpit cutter, was designed by German Frers and built in Sweden by Hallberg-Rassy.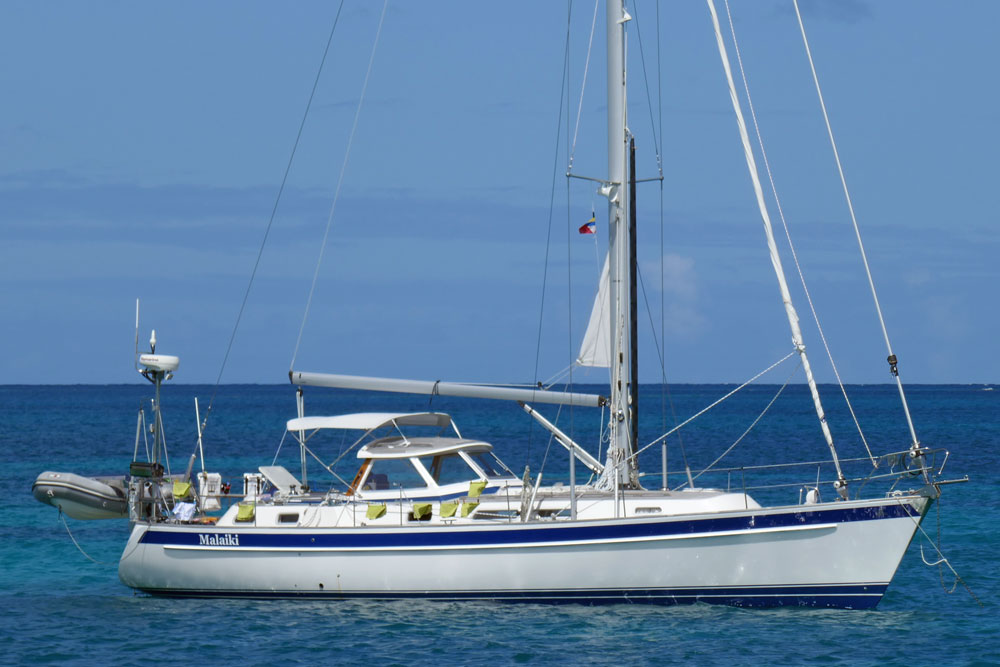 A Hallberg Rassy 43 Cutter
Published Specification for the Hallberg Rassy 43
Underwater Profile: Fin keel with skeg-hung rudder
Hull Material: GRP (Fibreglass)
Length Overall: 44'6" (13.6m)
Waterline Length: 38'6" (11.8m)
Beam: 13'5" (4.1m)
Draft: 6'7" (2.0m)
Rig Type: Masthead sloop (or cutter)
Displacement: 27,998lb (12,700kg)
Designer: German Frers
Builder: Hallberg-Rassy (Sweden)
Year First Built: 2001
Year Last Built: 2016
Number Built: 199
---
Published Design Ratios for the Hallberg Rassy 43
Sail Area/Displacement Ratio: 17.4
Ballast/Displacement Ratio: 35.4
Displacement/Length Ratio: 218
Comfort Ratio: 33.9
Capsize Screening Formula: 1.8
read more about these Key Performance Indicators...
---
Summary Analysis of the Design Ratios for the Hallberg Rassy 43
1. A Sail Area/Displacement Ratio of 17.4 suggests that the Hallberg Rassy 43 will, in the right conditions, approach her maximum hull speed readily and satisfy the sailing performance expectations of most cruising sailors.
2. A Ballast/Displacement Ratio of 35.4 means that a sailboat like the Hallberg Rassy 43 (which doesn't have a stiffness-enhancing bulb keel), is likely to benefit from being reefed early to keep her sailing upright in a moderate breeze.
3. A Displacement/Length Ratio of 218, tells us the Hallberg Rassy 43 is a moderate displacement cruiser, which means she'll carry all your cruising gear without it having a dramatic effect on her performance. Most of today's sailboats intended for offshore cruising fall into this displacement category.
4. Ted Brewer's Comfort Ratio of 33.9 suggests that crew comfort of a Hallberg Rassy 43 in a seaway is similar to what you would associate with the motion of a moderate bluewater cruising boat - a predictable and acceptable motion for most seasoned sailors.
5. The Capsize Screening Formula (CSF) of 1.8 indicates that a Hallberg Rassy 43 would be a safer choice of sailboat for an ocean passage than one with a CSF of more than 2.0. 
---
The Hallberg Rassy 43 Sailboat: A Comfortable Offshore Cruiser
If you are looking for a well-built, spacious and seaworthy sailing boat that can take you anywhere in style and comfort, you might want to consider the Hallberg Rassy 43 yacht. This 44-foot cruiser, designed by renowned naval architect German Frers, is one of the most successful models from the Swedish builder Hallberg Rassy, known for its high-quality craftsmanship and attention to detail. In this article, we will give you an overview of the main features and specifications of the Hallberg Rassy 43 sailboat, and answer some of the common questions that potential buyers may have.
Overview
The Hallberg Rassy 43 was launched in 2001 and produced until 2013, with a total of 253 hulls built. In 2007, a MkII version was introduced, with some minor changes to the interior layout and the cockpit. The boat has a modern hull shape with a moderate displacement, a fin keel with a bulb, and a spade rudder. The rig is a masthead sloop with a deck-stepped mast, double spreaders, and a fractional genoa.
The boat can be fitted with various sail options, such as in-mast or in-boom furling mainsail, cutter stay, gennaker or code zero. The spars are made of aluminum, but carbon fiber is available as an option.
The Hallberg Rassy 43 has a distinctive raised coachroof that provides ample headroom and light in the interior. The deck is covered with teak and has wide side decks and a large aft cockpit with wheel steering. The cockpit is well protected by a fixed windscreen and a sprayhood, and has an integrated table and plenty of storage space. The transom has a folding bathing platform and a ladder for easy access to the water.
The boat is powered by a 55-hp Volvo diesel engine with a saildrive and a folding propeller. The fuel tank capacity is 105 gallons, which gives the boat a good range under power. The boat also has a bow thruster for maneuvering in tight spaces.
Accommodation
The Hallberg Rassy 43 offers spacious and comfortable accommodation for up to six people in three separate cabins. The interior is finished in mahogany woodwork with white panels and blue upholstery. The boat has central heating, hot water, and plenty of ventilation through opening hatches and portlights.
The forward cabin has a V-shaped double berth with storage underneath, a hanging locker, shelves, and an en-suite head with a shower. The head can also be accessed from the saloon as a day head.
The saloon has an L-shaped settee to starboard that can be converted into a double berth, and a straight settee to port. There is a large folding table in between, with bottle storage inside. There are also lockers, shelves, and bookcases on both sides of the saloon.
The galley is located to starboard aft of the saloon. It has a double stainless steel sink, a gimbaled three-burner stove with oven, a top-loading refrigerator, and a front-opening freezer. There is also plenty of counter space and storage for pots, pans, dishes, and provisions.
The navigation station is opposite the galley to port. It has a large chart table with drawers underneath, an instrument panel, an electrical panel, and a swivel seat. There is also a wet locker behind the seat for storing foul weather gear.
The aft cabin has an island double berth with storage underneath, two hanging lockers, shelves, drawers, and an en-suite head with shower.
Hull and Deck
The hull of the Hallberg Rassy 43 is made of hand-laid fiberglass with Divinycell foam core above the waterline for stiffness and insulation. The hull is reinforced with longitudinal stringers and transverse bulkheads. The hull-deck joint is bonded and bolted for strength and watertightness.
The deck of the Hallberg Rassy 43 is also made of fiberglass with Divinycell core and laminated to the hull. The deck has molded-in nonskid areas and teak planks on the rest of the surface. The deck hardware is of high-quality stainless steel and includes six mooring cleats, two bow rollers, an electric windlass with chain locker, six self-tailing winches (two electric), genoa tracks with adjustable cars, mainsheet track on the coachroof, halyard clutches on the mast base and on both sides of the companionway hatch.
The cockpit of the Hallberg Rassy 43 is spacious and comfortable for sailing and relaxing. It has an ergonomic single wheel steering pedestal with a leather-covered wheel, a compass, and a folding cockpit table. The engine controls, the bow thruster control, and the autopilot control are within easy reach of the helmsman.
The cockpit also has a fixed windscreen with an opening center section and a sprayhood that can be extended to cover the entire cockpit. The cockpit seats and coamings are covered with teak and have cushions and backrests. There are two large lockers under the seats for storing fenders, lines, and other gear. The cockpit also has a stern locker for storing gas bottles and a liferaft.
The transom of the Hallberg Rassy 43 has a folding bathing platform with a ladder and a shower. There is also a stern anchor with a roller and a cleat.
Mast and Rigging
The mast and rigging of the Hallberg Rassy 43 are designed for easy handling and performance. The mast is deck-stepped and supported by a stainless steel compression post in the saloon. The mast is made of aluminum and has two sets of swept-back spreaders and an internal conduit for wiring. The mast height is 62 feet above the waterline, which allows the boat to pass under most bridges.
The rig is a masthead sloop with a fractional genoa. The forestay has a Furlex roller furling system for the genoa, which has UV protection and foam luff. The mainsail is fully battened and has three reefs. The mainsail can be either in-mast or in-boom furling, depending on the owner's preference. The boom has an outhaul, a topping lift, and a rod kicker. The mainsheet is led to a traveler on the coachroof and to a winch on the starboard side of the cockpit.
The boat can also be fitted with various sail options, such as a cutter stay with a removable inner forestay and running backstays for flying a staysail, a gennaker or code zero on a removable bowsprit, or an asymmetric spinnaker with a snuffer. The spars are made of aluminum, but carbon fiber is available as an option.
The standing rigging is made of stainless steel wire with swaged terminals and turnbuckles. The running rigging is made of low-stretch polyester rope with color coding for easy identification. The halyards are led to the mast base and to clutches and winches on both sides of the companionway hatch.
Keel and Rudder
The keel of the Hallberg Rassy 43 is a fin keel with a lead bulb. The keel is bolted to the hull with stainless steel bolts and has an epoxy barrier coat to prevent osmosis. The keel draft is 6 feet 7 inches, which gives the boat good stability and performance.
The rudder of the Hallberg Rassy 43 is a spade rudder with a stainless steel stock and self-aligning bearings. The rudder is balanced and has a large surface area for good control and maneuverability. The rudder is connected to the wheel steering by cables and chain.
Conclusion
The Hallberg Rassy 43 sailboat is a well-designed, well-built, and well-equipped offshore cruiser that can take you anywhere in comfort and safety. It has a spacious and elegant interior, a solid and seaworthy hull, a versatile and easy-to-handle rig, and a reliable and efficient engine. It is suitable for sailors who want to enjoy long-distance cruising or live aboard in style.
The above text was drafted by sailboat-cruising.com using GPT-4 (OpenAI's large-scale language-generation model) as a research assistant to develop source material; we believe it to be accurate to the best of our knowledge.
---
Other sailboats in the Hallberg-Rassy range include:
---
Sep 30, 23 11:02 AM

Experience luxury and performance with our Bavaria 44AC sailboat! With its well-crafted interiors, state-of-the-art navigation gear, spacious layout, and robust sailing capabilities, it's perfect for…

Sep 29, 23 05:38 PM

Sailing characteristics and performance predictions, pics, specifications, dimensions and those all-important design ratios for the Hanse 400 sailboat...

Sep 29, 23 03:17 AM

Interested in the Gulf 32 sailboat? Here are the pics, specs and performance predictions you're looking for...
---