The Hunter 356 Sailboat

Specs & Key Performance Indicators
The Hunter 356, an aft-cockpit B&R sloop, was designed by Glenn Henderson and built in the USA by Hunter Marine.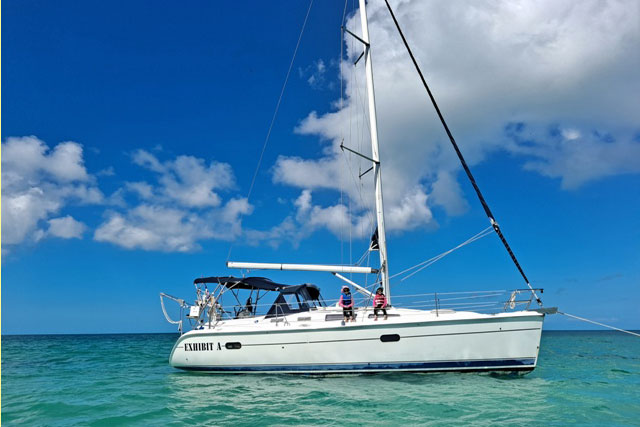 Published Specification for the Hunter 356

Underwater Profile: Fin keel & spade rudder
Hull Material: GRP (Fibreglass)
Length Overall: 35'6" (10.8m)
Waterline Length: 30'7" (9.3m)
Beam: 12'0" (3.7m)
Draft: 6'5" (2.0m)
Rig Type: B&R 
Displacement: 13,900lb (6,305kg)
Designer: Glenn Henderson
Builder: Hunter Marine (USA)
Year First Built: 2000
Number Built: 500
---
Published Design Ratios for the Hunter 356
Sail Area/Displacement Ratio: 20.0
Ballast/Displacement Ratio: 36.1
Displacement/Length Ratio: 217
Comfort Ratio: 24.5
Capsize Screening Formula: 2.0
Summary Analysis of the Design Ratios for the Hunter 356
1. A Sail Area/Displacement Ratio of 20.0 suggests that the Hunter 356 will, in the right conditions, approach her maximum hull speed readily and satisfy the sailing performance expectations of most cruising sailors. 
2. A Ballast/Displacement Ratio of 36.1 means that a sailboat like the Hunter 356 (which doesn't have a stiffness-enhancing bulb keel), is likely to benefit from being reefed early to keep her sailing upright in a moderate breeze.
3. A Displacement/Length Ratio of 217, tells us the Hunter 356 is a moderate displacement cruiser, which means she'll carry all your cruising gear without it having a dramatic effect on her performance. Most of today's sailboats intended for offshore cruising fall into this displacement category.
4. Ted Brewer's Comfort Ratio of 24.5 suggests that crew comfort of a Hunter 356 in a seaway is similar to what you would associate with the motion of a coastal cruiser with moderate stability, which is not encouraging news for anyone prone to seasickness. 
5. The Capsize Screening Formula of 2.0 tells us that a Hunter 356 would not be as good a choice of sailboat for ocean passage-making, owing to the increased risk of capsize in strong winds and heavy seas when compared to a sailboat with a CSF of less than 2.0.
---
---
The Hunter 356: A Great Choice for Recreational Sailors
The Hunter 356 was designed by Glenn Henderson and introduced in 2000 by Hunter Marine, one of the largest sailboat manufacturers in the US. The Hunter 356 is part of a scaled series that includes the smaller Hunter 306 and 326, and was later developed into the Hunter 36-2 in 2008. The Hunter 356 won the award for Best Production Cruiser Under $200,000 from Cruising World magazine in 2001, and has been praised for its value, quality and performance.

Hunter 356 Accommodation Plan
Accommodation

The Hunter 356 has a spacious and comfortable interior, with plenty of natural light and ventilation from the many ports and hatches. The boat can accommodate up to six people in two separate cabins and the saloon.
The forward cabin has a large V-berth that can sleep two adults comfortably, with storage lockers underneath and shelves on both sides. There is also a hanging locker and a vanity with a sink and mirror on the port side.
The aft cabin has an athwartships double berth that can also sleep two adults comfortably, with storage lockers underneath and shelves on both sides. There is also a hanging locker on the starboard side.
The saloon has a U-shaped dinette on the starboard side that can seat six people around a large table that can be lowered to convert into another double berth if needed. There is also a settee on the port side that can seat two people or serve as a single berth.
The galley is located on the starboard side aft of the saloon, and has everything you need to prepare meals on board. It has a two-burner stove with oven, a double stainless steel sink with hot and cold water, a top-loading refrigerator/freezer, a microwave oven, and plenty of storage cabinets and drawers.
The navigation station is located on the port side aft of the saloon, opposite the galley. It has a large chart table with storage underneath, an electrical panel, a VHF radio, and space for other instruments and devices.
The head is located on the port side forward of the saloon, next to the forward cabin door. It has a marine toilet with holding tank, a shower with hot and cold water, a sink with vanity and mirror, and a wet locker for hanging wet clothes.
The boat has a generous amount of headroom throughout, ranging from 6.4 ft (1.95m) in the saloon to 5.8 ft (1.77m) in the aft cabin.
The boat also has a 12V DC and 110V AC electrical system, with outlets in every cabin, a water heater, a battery charger, and a stereo system with speakers.
Hull and Deck
The Hunter 356 has a solid fiberglass hull with a balsa core sandwich construction for stiffness and insulation. The hull is white with a blue boot stripe and a gold cove stripe. The deck is also fiberglass with a balsa core, and has molded-in nonskid surfaces for safety and traction. The deck is white with gray accents.
The boat has a wide and open cockpit, with high coamings and comfortable seats. There is a stern rail seat on each side of the cockpit, which provides a great view and a place to relax. There is also a folding cockpit table that can be mounted on the pedestal for dining or drinks.
The boat has a walk-through transom that leads to a swim platform with a folding ladder for easy access to the water. There is also a hot and cold water shower on the transom for rinsing off after swimming or diving.
The boat has stainless steel bow and stern pulpits, stanchions, lifelines, handrails, and cleats for safety and durability. The boat also has an anchor locker on the bow, with an electric windlass for easy anchoring. The boat comes with a Delta anchor with chain and rode, as well as a spare Danforth anchor.
The boat has an aluminum toe rail that runs along the edge of the deck, which provides extra strength and attachment points for blocks and lines. The boat also has six opening ports, four fixed ports, five opening hatches, and two dorade vents for light and ventilation.
Mast and Rigging
The Hunter 356 has an anodized aluminum mast that is deck-stepped on a stainless steel compression post. The mast is 55.33 ft (16.87 m) tall from the waterline, which means it can clear most bridges and power lines. The mast has two sets of swept-back spreaders and no backstay, which gives it more support and reduces the load on the masthead.
The boat has a fractional sloop B&R rig, which means it has a large mainsail and a small jib that are both furling. The mainsail is mast-furling, which means it can be rolled up inside the mast by turning a line on the cockpit. The jib is roller-furling, which means it can be rolled up on the forestay by turning another line on the cockpit.
The boat has stainless steel wire standing rigging that connects the mast to the deck at four points: the chainplates on both sides of the hull near the shrouds, and the stemhead fitting on the bow near the forestay. The boat also has low-stretch polyester running rigging that controls the sails: halyards to hoist them up, sheets to trim them in or out, outhauls to adjust their shape, and reefing lines to reduce their size.
The boat has all lines led aft to the cockpit through organizers and clutches for convenience and safety. The boat has two self-tailing winches on the cabin top for halyards and reefing lines, and two larger self-tailing winches on the coaming for sheets. The boat also has two winch handles that can be stored in holders on the coaming.
The boat comes with a mainsail cover that protects the sail when it is furled inside the mast, as well as a UV protection strip on the jib that protects it from sun damage when it is furled on the forestay.
Keel and Rudder
The Hunter 356 has a fixed fin keel that gives it good stability and performance upwind. The keel is made of lead encapsulated in fiberglass, which makes it strong and resistant to corrosion.
The boat has an internally-mounted spade-type rudder that gives it good maneuverability and responsiveness. The rudder is made of fiberglass with a stainless steel stock and shaft that connects to the wheel steering system through cables and pulleys.

The above text was drafted by sailboat-cruising.com using GPT-4 (OpenAI's large-scale language-generation model) as a research assistant to develop source material; we believe it to be accurate to the best of our knowledge.
---
Other sailboats in the Hunter range include:
---
Sep 29, 23 05:38 PM

Sailing characteristics and performance predictions, pics, specifications, dimensions and those all-important design ratios for the Hanse 400 sailboat...

Sep 29, 23 03:17 AM

Interested in the Gulf 32 sailboat? Here are the pics, specs and performance predictions you're looking for...

Sep 28, 23 04:04 PM

Sailing characteristics and performance predictions, pics, specifications, dimensions and those all-important design ratios for the Fuji 35 sailboat
---