The Luders 36 Sailboat

Specs & Key Performance Indicators
The Luders 36, an ultra-heavy displacement long-keeler, was designed by Alfred Luders and built in Hong Kong by Cheoy Lee Shipyard Ltd.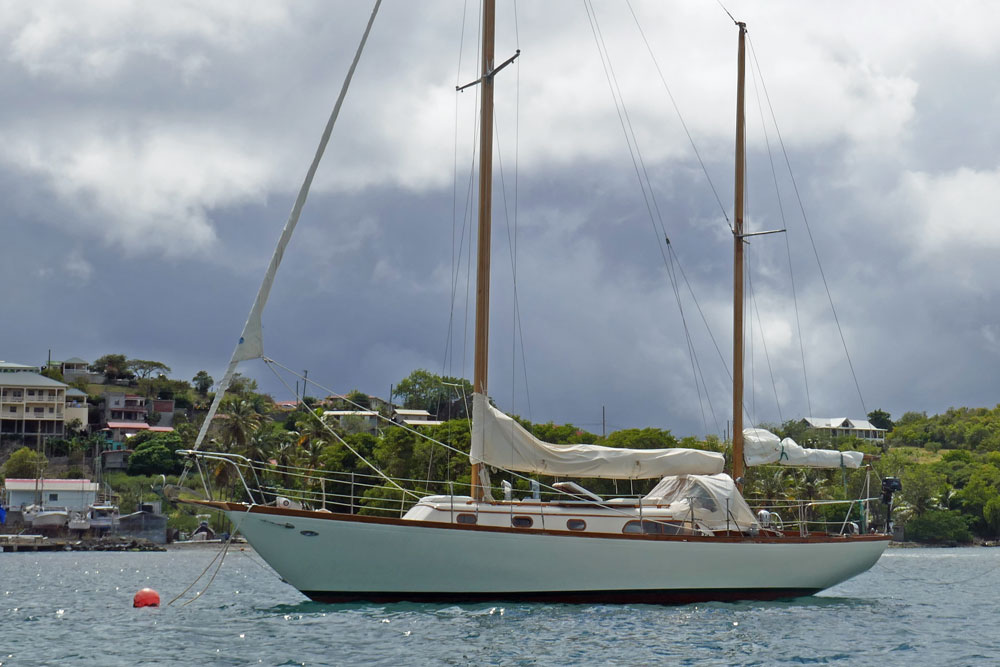 A ketch version of the Luders 36
Published Specification for the Luders 36

Underwater Profile: Long Keel
Hull Material: GRP (Fibreglass)
Length Overall: 35'6" (10.8m)
Waterline Length: 25'0" (7.6m)
Beam: 10'3" (3.1m)
Draft: 5'3" (1.6m)
Rig Type: Ketch
Displacement: 15,000lb (6,804kg)
Designer: Alfred Luders
Builder: Cheoy Lee Shipyard Ltd
Year First Built: 1966
Year Last Built: 1978
Number Built: 65
---
Published Design Ratios for the Luders 36
1. Sail Area/Displacement Ratio: 15.8
2. Ballast/Displacement Ratio: 35.0
3. Displacement/Length Ratio: 429
4. Comfort Ratio: 37.1
5. Capsize Screening Formula: 1.7
Summary Analysis of the Design Ratios for the Luders 36
1. A Sail Area/Displacement Ratio of 15.8 suggests that the Luders 36 will need a stiff breeze to get her going. In light conditions, unless you've got plenty of time on your hands, motor-sailing may be the way to go.
2. A Ballast/Displacement Ratio of 35.0 means that a sailboat like the Luders 36 (which doesn't have its ballast concentrated in a bulb at the foot of a deep keel), is likely to benefit from being reefed early to keep her sailing upright in a moderate breeze.
3. A Displacement/Length Ratio of 429, tells us the Luders 36 is firmly in the ultra-heavy displacement category. Load her up as much as you like and her performance will be hardly affected, not that it was ever startling. Few if any sailboats are built to this displacement category these days - but they remain popular with some long-distance sailors.
4. Ted Brewer's Comfort Ratio of 37.1 suggests that crew comfort of a Luders 36 in a seaway is similar to what you would associate with the motion of a moderate bluewater cruising boat - a predictable and acceptable motion for most seasoned sailors.
5. The Capsize Screening Formula (CSF) of 1.7 tells us that a Luders 36 would be a safer choice of sailboat for an ocean passage than one with a CSF of more than 2.0. 
---
---
Cruisers' Questions about this Sailboat...
The accommodation in the Luders 36 sailboat varies depending on the layout and the modifications made by previous owners. However, a typical layout would have a V-berth forward, followed by a head compartment with a shower to port and a hanging locker to starboard. The main saloon would have a U-shaped dinette to port that converts to a double berth, and a settee to starboard that can also be used as a single berth. The galley would be aft to port, with a stove, an oven, a sink, and a refrigerator. The navigation station would be opposite to starboard, with a chart table and an electrical panel. There would also be a quarter berth aft of the nav station. The interior would have teak joinery and trim, with ample storage space and ventilation.
The Luders 36 sailboat was produced as a sloop, a yawl, and a ketch. The sloop version has a single mast with a mainsail and a headsail. The yawl version has two masts, with the smaller mizzen mast located aft of the rudder post. The ketch version also has two masts, but the larger mizzen mast is located forward of the rudder post. The sail plan and rigging options may also vary depending on the modifications made by previous owners. Some common options include roller furling for the headsail, lazy jacks or stack pack for the mainsail, spinnaker or gennaker for downwind sailing, and self-tailing winches for ease of handling.
The Luders 36 sailboat has only one keel option, which is a long keel that runs almost the entire length of the hull. The long keel provides directional stability and protection for the propeller and rudder, but also increases wetted surface area and drag. The long keel also makes the boat less responsive to steering and harder to manoeuvre in tight spaces.
The Luders 36 sailboat is a classic cruiser that performs well in moderate to heavy winds and seas. It is stable, sturdy, and seaworthy, capable of handling rough conditions and long passages. However, the Luders 36 sailboat is slow and sluggish in light winds owing to its heavy displacement and large wetted area. It has a low sail area/displacement ratio, which means that it needs a stiff breeze to get going. It also has a high displacement/length ratio, which means that it has a lot of inertia and resistance to overcome.
The above answers were drafted by sailboat-cruising.com using GPT-4 (OpenAI's large-scale language-generation model) as a research assistant to develop source material; to the best of our knowledge, we believe them to be accurate.
---
Sep 29, 23 05:38 PM

Sailing characteristics and performance predictions, pics, specifications, dimensions and those all-important design ratios for the Hanse 400 sailboat...

Sep 29, 23 03:17 AM

Interested in the Gulf 32 sailboat? Here are the pics, specs and performance predictions you're looking for...

Sep 28, 23 04:04 PM

Sailing characteristics and performance predictions, pics, specifications, dimensions and those all-important design ratios for the Fuji 35 sailboat
---