The Oyster Heritage 37 Sailboat

Specs & Key Performance Indicators
The Oyster Heritage 37, an aft-cockpit masthead sloop, was designed by Holman & Pye and built in the UK by Oyster Marine Ltd.

'Spellbound', an Oyster Heritage 37
'Spellbound' is the coachroof version. A Pilothouse version was also produced.
There was also a centre-board option drawing 4'3" with the board up and 8'0" with it down.
Published Specification for the Oyster Heritage 37

Underwater Profile: Fin keel with Skeg-Hung Rudder
Hull Material: GRP (Fiberglass)
Length Overall: 37'0" (11.3m)
Waterline Length: 31'3" (9.5m)
Beam: 12'0" (3.7m)
Draft: 5'4" (1.6m)
Rig Type: Masthead sloop
Displacement: 14,535lb (6,593kg)
Designer: Holman & Pye
Builder: Oyster Marine Ltd (UK)
Year First Built: 1984
Year Last Built: 1988
Number Built: 35
Owners Association: Oyster Owners
---
Published Design Ratios for the Oyster Heritage 37
1. Sail Area/Displacement Ratio: 16.5
2. Ballast/Displacement Ratio: 41.3
3. Displacement/Length Ratio: 213
4. Comfort Ratio: 24.9
5. Capsize Screening Formula: 2.0
Summary Analysis of the Design Ratios for the Oyster Heritage 37
The Oyster Heritage sailboat has some interesting statistics based on the design ratios provided.
Starting with the Sail Area/Displacement Ratio (SA/D), it is a measure of the sail area available relative to the boat's weight. A high SA/D ratio suggests a boat will be faster and have a better light-air performance. A low SA/D ratio suggests the opposite – better performance in heavy air. The Oyster Heritage's SA/D ratio of 16.5 suggests it's somewhat on the lower end. This indicates that the boat might perform better in strong winds and heavier air, but might be slower and less efficient in light-air conditions.
The Ballast/Displacement ratio (B/D) is used to assess a sailboat's stability and its stiffness under winds. With a B/D of 41.3, the Oyster Heritage is a relatively sturdy and stable boat, and it should do well under heavy winds.
The Displacement/Length Ratio (D/L) is a measure of a boat's speed potential. Low D/L ratios (under 200) suggest high speed and better performance. High D/L ratios (over 300) indicate a slower, more comfortable and easy-to-handle cruising yacht. The Oyster Heritage sits at a D/L ratio of 213, which is on the lower side of the scale, indicating a potential for better speed and performance.
The Comfort Ratio gives an index of a yacht's motion in a seaway, where higher numbers indicate a more comfortable ride. The Comfort Ratio of the Oyster Heritage is 24.9, which is on the lower end, suggesting the ride can be livelier.
Lastly, the Capsize Screening Formula (CSF) is intended to predict a yacht's suitability for offshore conditions. A number below 2.0 suggests a reasonably safe blue water sailing yacht. For Oyster Heritage, this formula gives us 2.0, suggesting it has an acceptable safety level for offshore sailing.
In summary, the Oyster Heritage sailboat might perform relatively better in strong winds, with good stability and potentially, better speed and performance. But it might have a more lively ride, and just passes the safe level for offshore sailing.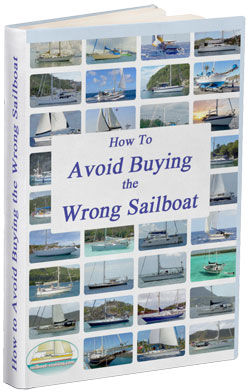 The essential eBook for potential boat buyers...
I wrote this article using GPT-4, OpenAI's large-scale language-generation model, as a research assistant to develop source material. I wrote the final draft in its entirety and believe it to be accurate to the best of my knowledge.
Dick McClary, creator and owner of sailboat-cruising.com
Other sailboats in the Oyster range include:
---
Nov 29, 23 08:35 AM

Here's where people with sailing equipment for sale advertise their stuff entirely free of charge. If you're looking for used sailing gear or other used boating accessories, here's where to find it!

Nov 10, 23 02:34 AM

My 47' Cheoy Lee sailboat is for sale. Designed by Bill Luders, she is a beautiful and functional liveaboard cruising yacht.

Oct 30, 23 04:22 PM

This article explores the journey of chartering a sailing yacht, from the initial planning stages to the final touches. It provides insight into the joys and challenges of embarking on a voyage of dis…
---