The Oyster 625 Sailboat

Specs & Key Performance Indicators
The Oyster 625, a centre-cockpit sloop, was designed by Rob Humphreys and built in the UK by Oyster Marine Ltd.

Published Specification for the Oyster 625
Underwater Profile: Fin keel with bulb & skeg-hung rudder
Hull Material: GRP (Fibreglass)
Length Overall: 63'6" (19.4m)
Waterline Length: 56'6" (17.2m)
Beam: 17'10" (5.4m)
Draft: 9'2" (2.8m)
Rig Type: Masthead Sloop
Displacement: 73,854lb (33,500kg)
Designer: 

Rob Humphreys

Builder:

 Oyster Marine (UK)

Year First Built: 2015
Owners Association: Oyster Owners
---
Published Design Ratios for the Oyster 625
Sail Area/Displacement Ratio: 23.2
Ballast/Displacement Ratio: Not published
Displacement/Length Ratio: 182
Comfort Ratio: 41.9
Capsize Screening Formula: 1.7
Summary Analysis of the Design Ratios for the 
Oyster 625
1. A Sail Area/Displacement Ratio of 23.2 suggests that, in the right hands, the Oyster 625 will have enough performance to leave most other sailboats of similar waterline length well astern. 
2. The Ballast/Displacement Ratio of the Oyster 625 has not been published, hence we are unable to comment on this aspect of its stiffness however as much of the ballast is concentrated in a bulb at the foot of her keel, she's likely stand up well to her canvas.
3. A Displacement/Length Ratio of 182, tells us the Oyster 625 is clearly a light displacement sailboat. If she's loaded with too much heavy cruising gear her performance will suffer to a degree.
4. Ted Brewer's Comfort Ratio of 41.9 suggests that crew comfort of an Oyster 625 in a seaway is similar to what you would associate with the motion of a heavy bluewater cruising boat. Pitching and rolling will be well damped - your cup of coffee on the salon table stands a reasonable chance of staying there in most conditions.
5. The Capsize Screening Formula (CSF) of 1.7 tells us that an Oyster 625 would be a safer choice of sailboat for an ocean passage than one with a CSF of more than 2.0. 
---
The Oyster 625 Sailboat: A Review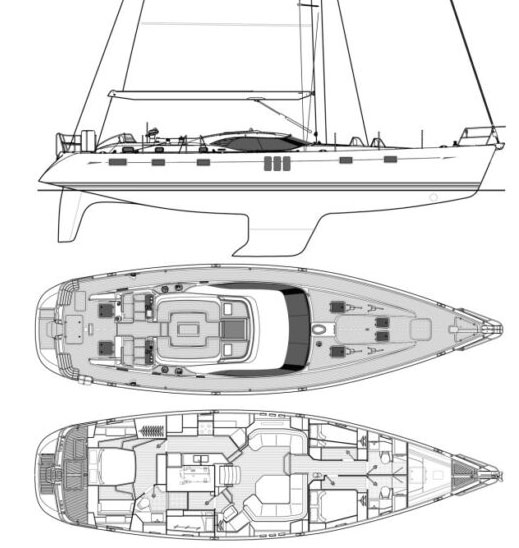 The Oyster 625 sailboat is a product of Oyster Yachts, a British company that has been building quality sailing yachts since 1973. The Oyster 625 was designed by Humphreys Yacht Design, one of the world's leading yacht design studios, with input from Oyster's own experienced team of naval architects, engineers, and craftsmen.

The Oyster 625 sailboat was launched in 2011 and was built until 2019. It has won several prestigious awards, including the European Yacht of the Year in the Luxury Cruiser category in 2012. It has also received rave reviews from sailing magazines and experts, who praised its performance, handling, comfort, and quality.
The Oyster 625 sailboat is a true ocean-going sailboat that can handle any weather conditions and deliver exhilarating sailing experiences. It has a displacement-length ratio of 182 and a sail-area displacement ratio of 22.3, which indicate a well-balanced design that offers both stability and speed. It can accommodate up to 10 guests in five cabins, plus two crew members if required.
The Oyster 625 sailboat is also a versatile sailing yacht that can be customized to suit different preferences and needs. It offers several interior arrangements, including the option for a forepeak layout to accommodate a full-time crew member.
Accommodation
One of the most attractive aspects of the Oyster 625 sailboat is its spacious and luxurious accommodation. The interior design features teak and holly floors, maple joinery, cream veneer detail, and elegant soft furnishings. The saloon houses what are now the Oyster's signature triple 'Seascape' windows, with three vertical portlights set into the port and starboard sides of her hull, providing a new perspective of her cruising grounds and breathtaking views out over the water – a real superyacht feature.
The saloon is an open plan with the formal dining area on starboard and an additional sofa on port. The galley is located aft of the saloon on port side and is fully equipped with modern appliances, ample storage space, and a large countertop. The navigation station is located aft of the saloon on starboard side and features a large chart table, an ergonomic seat, and an array of instruments and controls.
The Oyster 625 sailboat offers four or five cabins to accommodate up to 10 guests comfortably. The master cabin is located aft of the saloon and spans the full beam of the yacht. It features a centerline double bed, a sofa on port side, a vanity desk on starboard side, ample storage space, an en-suite bathroom with separate shower stall, and private access to the aft deck via a sliding companionway. The master cabin also has direct access to a single cabin on starboard side that can be used as a workshop, a guest cabin, or a children's cabin.
Forward of the saloon are two guest cabins with en-suite bathrooms. One cabin has a double bed on port side and another cabin has upper and lower bunk beds on starboard side. Alternatively, there is an option for a forepeak layout that features a double cabin with en-suite bathroom and a separate crew cabin with two single beds and a shared bathroom. This option is ideal for those who want to have a full-time crew member on board or who need more privacy for their guests.
Hull and Deck
The Oyster 625 sailboat has a sleek and modern hull and deck design that enhances its performance and aesthetics. The hull is made of composite materials, with a balsa-cored sandwich structure for strength and stiffness, and a vinylester resin for osmosis protection. The hull shape is optimized for speed and handling, with a fine entry, a powerful mid-section, and a balanced stern.
The deck is also made of composite materials, with a balsa-cored sandwich structure for lightness and rigidity, and a teak overlay for durability and beauty. The deck layout is designed for easy sailing and outdoor living, with a large cockpit, a flat aft deck, and a forward sundeck. The cockpit is the main social area of the yacht, where guests can enjoy al fresco dining, relaxing, and entertaining. It features a U-shaped seating area on port side with a folding table, an additional seating area on starboard side with a drinks fridge, and a removable Bimini cover for shade. The cockpit also has remote operated music system and speakers for entertainment.
The aft deck is spacious and uncluttered, with plenty of room to sit back and enjoy the view. It has two steering wheels on port and starboard sides, which offer excellent visibility and control. It also has an electric transom door that opens to reveal a swim platform and a dinghy garage. The forward deck is equally inviting, with a large sunpad built into the foredeck, ideal for sunbathing or relaxing. It also has an electric anchor windlass and a flush anchor locker for easy anchoring.
The Oyster 625 sailboat showcases a cleaner, more modern bulwark profile, with wide side decks and integral fittings for easy movement from bow to stern. The deck also features stainless steel stanchions, lifelines, cleats, fairleads, handrails, dorade vents, hatches, portlights, and other fittings that add to the quality and safety of the yacht.
Mast and Rigging
The Oyster 625 sailboat has a sporty and efficient mast and rigging system that allows it to sail fast and easy in any wind conditions. The mast is made of aluminum alloy or carbon fiber (optional), with three sets of swept-back spreaders and discontinuous rod rigging. The mast is keel-stepped or deck-stepped (optional), depending on the owner's preference. The mast height can be customized to suit different sailing areas, such as the standard 27.5m (90ft) mast or the ICW-friendly 23.5m (77ft) mast.
The rigging is also made of aluminum alloy or carbon fiber (optional), with hydraulic or manual (optional) backstay adjusters, vang, outhaul, cunningham, inner forestay tensioner, mainsheet traveler control lines, genoa sheet cars, genoa furling drum, staysail furling drum, spinnaker pole topping lift and downhaul. The rigging can be configured as a sloop or cutter (optional), depending on the owner's sailing style. The rigging also offers various options for reefing systems, such as in-mast or in-boom (optional) reefing for the mainsail, or slab reefing for the staysail.
The Oyster 625 sailboat has a sail area of 232 m2 (2497 ft2) with 100% foretriangle. It carries a fully battened mainsail with lazy jacks and stack pack system, a furling genoa with UV strip, a furling staysail with UV strip (optional), an asymmetric spinnaker with snuffer (optional), and other sails as required by the owner. The sails are made of high-quality materials by reputable sailmakers such as North Sails or Doyle Sails. The sails are controlled by electric or manual (optional) winches by Lewmar or Harken.
Keel and Rudder
The Oyster 625 sailboat has a well-designed keel and rudder system that provides stability, maneuverability, and performance. The keel is made of cast iron or lead (optional), with an external ballast bulb that lowers the center of gravity and increases the righting moment. The keel is attached to the hull with stainless steel bolts and epoxy resin. The keel can be customized to suit different sailing areas, such as the standard 2.7m (8.8ft) draft keel or the shoal 1.83m (6ft) draft keel (optional).
The rudder is made of composite materials, with a foam core and a carbon fiber or stainless steel (optional) stock. The rudder is a balanced spade rudder, which offers excellent responsiveness and control. The rudder is connected to the steering wheels by a cable or rod (optional) linkage system, with a hydraulic autopilot. The rudder also has an emergency tiller that can be fitted in case of steering failure.
The above text was drafted by sailboat-cruising.com using GPT-4 (OpenAI's large-scale language-generation model) as a research assistant to develop source material; we believe it to be accurate to the best of our knowledge.
---
Other sailboats in the Oyster range include:
---
Nov 29, 23 08:35 AM

Here's where people with sailing equipment for sale advertise their stuff entirely free of charge. If you're looking for used sailing gear or other used boating accessories, here's where to find it!

Nov 10, 23 02:34 AM

My 47' Cheoy Lee sailboat is for sale. Designed by Bill Luders, she is a beautiful and functional liveaboard cruising yacht.

Oct 30, 23 04:22 PM

This article explores the journey of chartering a sailing yacht, from the initial planning stages to the final touches. It provides insight into the joys and challenges of embarking on a voyage of dis…
---