The Rival 41 Sailboat

Specs & Key Performance Indicators
The Rival 41, designed by Peter Brett and built in the UK by Southern Boatbuilding Company, was produced with a number of accommodation layouts and rig configurations.
There were centre and aft cockpit versions, along with a sloop, cutter, and ketch rig alternatives. The centre cockpit version was more often rigged as a ketch.
It's the centre-cockpit version (known as the Rival 41CC) that's shown in the pic below and described in the text that follows it.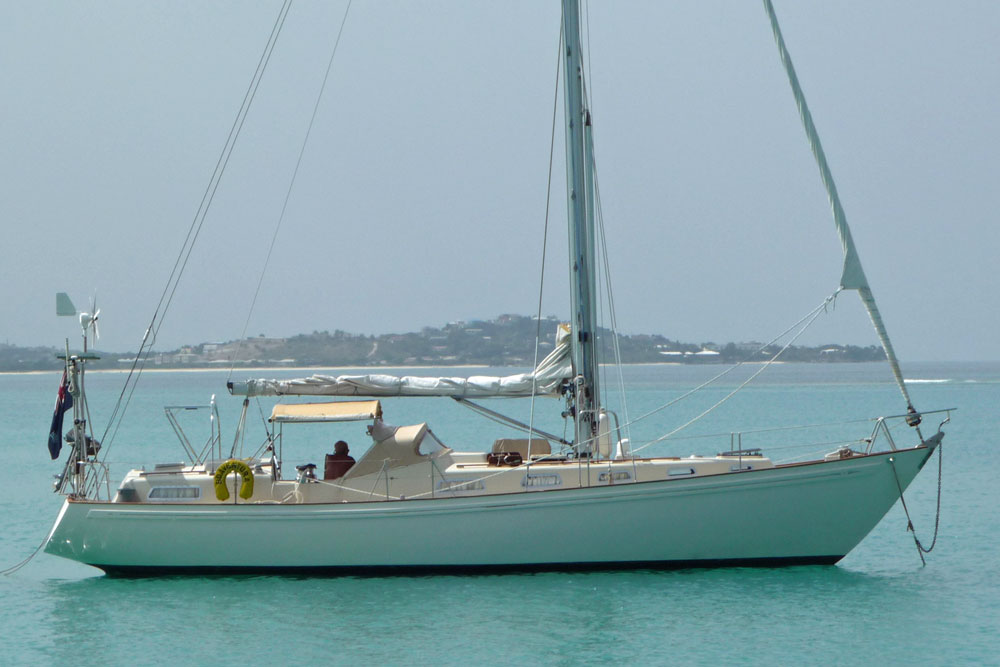 A Rival 41CC anchored in North Sound, Antigua, West Indies
Published Specification for the Rival 41CC
Underwater Profile: Fin and skeg-supported rudder
Hull Material: GRP (Fiberglass)
Length Overall: 40'7" (12.4m)
Waterline Length: 32'8" (10.0m)
Beam: 12'2" (3.7m)
Draft: 5'11" (1.8m)
Rig Type: Masthead sloop
Displacement: 22,046lb (10,000kg)
Designer: Peter Brett
Builder: Southern Boatbuilding Company (UK)
Year First Built: 1974
Year Last Built: 1990
Number Built: 57
Owners Association: Rival Owners Association
---
Published Design Ratios for the Rival 41CC
1. Sail Area/Displacement Ratio: 16.1
2. Ballast/Displacement Ratio: 44.5
3. Displacement/Length Ratio: 282
4. Comfort Ratio: 34.9
5. Capsize Screening Formula: 1.7
Performance Expectations, Based on the Design Ratios
The Rival 41 was designed by Peter Brett, a naval architect who had a keen interest in comparing modern offshore racing hull and keel design to cruising yachts. He wanted to create a boat that was fast, seaworthy, and easy to handle. He achieved this by giving the Rival 41 a fin keel and a skeg-hung rudder, which improved the manoeuvrability and performance of the boat compared to traditional long keels. He also gave the boat a moderate displacement and a high ballast ratio, which increased the stability and power of the boat in heavy weather.
The Rival 41 has a sail area/displacement ratio of 16.1, which indicates that it has reasonably good performance and can reach its maximum hull speed of 7.7 knots in the right conditions.
The boat also has a comfort ratio of 34.9, which suggests that it has a moderate offshore cruising motion that is acceptable for most seasoned sailors. The capsize screening formula of 1.7 tells us that the Rival 41 is well suited for ocean passages and has a low risk of capsizing.
Production Period and Numbers Produced
The Rival 41 was first built in 1974 by Southern Boatbuilding Company in the UK. The production continued until 1990, with some variations in the design and layout over the years. According to the Rival Owners Association, there were 57 Rival 41s built in total, with different rig configurations and cockpit versions. The most common version was the centre-cockpit ketch, which had a spacious aft cabin and a large cockpit protected by a hard dodger. There were also aft-cockpit versions, which had either a sloop or a cutter rig, and offered more space in the saloon and galley.
Alternative Versions & Options
As mentioned above, the Rival 41 came in different versions depending on the rig and cockpit configuration:
The centre-cockpit version had either a ketch or a sloop rig, while the aft-cockpit version had either a cutter or a sloop rig.
The ketch rig offered more sail area and flexibility in sail trim, while the cutter rig offered better balance and performance upwind.
The sloop rig was simpler and easier to handle, but had less sail options.
The centre-cockpit version had an advantage in terms of comfort and privacy, as it had a separate aft cabin with an ensuite head and shower.
The aft-cockpit version had an advantage in terms of space and ventilation, as it had a larger saloon and galley with more windows and hatches.
Number & Location of Sleeping Berths
The Rival 41 could accommodate up to six people in three cabins. The centre-cockpit version had a double berth in the aft cabin, two single berths in the forward cabin, and two single berths in the saloon. The aft-cockpit version had a double berth in the forward cabin, two single berths in the quarter cabin, and two single berths in the saloon. The berths were all comfortable and well ventilated, with plenty of storage space and lighting.
Press Reviews
The Rival 41 received positive reviews from various sailing magazines and websites over the years. Here are some excerpts from some of them:

"The Rival 41 is considered to be one of those rare boats that can do anything well – coastal cruising or ocean voyaging – without compromising either safety or performance." -

Sailboat Guide
"The Rival 41 is one of those boats that inspires confidence as soon as you step aboard. She feels solid, well built and ready for anything." -

Yachting Monthly
"The Rival 41 is a boat that has stood the test of time and proved itself as a capable and comfortable offshore cruiser. She is not flashy or trendy, but rather a classic and timeless design that appeals to serious sailors who value quality and seaworthiness." -

YachtWorld
Owner Testimonials
The Rival 41 has a loyal and active community of owners who share their experiences and advice on the Rival Owners Association website and Facebook group. Here are some testimonials from some of them:

History of the Boatbuilder
Rival Yachts was founded in the late 1960s by Peter Brett, who dreamed of selling 50 yachts from his initial design. He perfected his design skills from his earlier career in comparing modern offshore racing hull and keel design to cruising yachts. He launched his first model, the Rival 31, in 1967, which was an instant success and sold over 200 units. He then followed up with the Rival 32 in 1971, which was another popular model that sold over 300 units. He then designed the Rival 41 in 1974, which was his largest and most ambitious model yet. He also designed smaller models such as the Rival 34 and the Rival 38 in the late 1970s and early 1980s.
Rival Yachts was initially based in Southampton, but later moved to Lymington in Hampshire. The company was run by Peter Brett until his retirement in 1989. The company then changed hands several times until it ceased production in the early 1990s. The molds for the Rival models were sold to various buyers over the years, some of whom continued to produce limited numbers of boats under different names.
Secondhand Values
The Rival 41 is a sought-after boat on the secondhand market, as it is regarded as a high-quality and durable boat that holds its value well. The price range for a used Rival 41 varies depending on the condition, age, equipment, and location of the boat. According to YachtWorld, the average asking price for a Rival 41 in April 2023 was £39,000 (about $54,000), with the lowest price being £19,995 (about $27,000) and the highest price being £53,000 (about $73,000). The price also depends on whether the boat is a centre-cockpit or an aft-cockpit version, as well as whether it is a ketch, a cutter, or a sloop.

The above text was drafted by sailboat-cruising.com using GPT-4 (OpenAI's large-scale language-generation model) as a research assistant to develop source material; we believe it to be accurate to the best of our knowledge.
Other sailboats in the Rival range include:
Nov 29, 23 08:35 AM

Here's where people with sailing equipment for sale advertise their stuff entirely free of charge. If you're looking for used sailing gear or other used boating accessories, here's where to find it!

Nov 10, 23 02:34 AM

My 47' Cheoy Lee sailboat is for sale. Designed by Bill Luders, she is a beautiful and functional liveaboard cruising yacht.

Oct 30, 23 04:22 PM

This article explores the journey of chartering a sailing yacht, from the initial planning stages to the final touches. It provides insight into the joys and challenges of embarking on a voyage of dis…
---