The Starlight 35 Sailboat

Specs & Key Performance Indicators
The Starlight 35, an aft-cockpit masthead sloop, was designed by Stephen Jones and built in the UK by Sadler Yachts (initially) and Rival Bowman.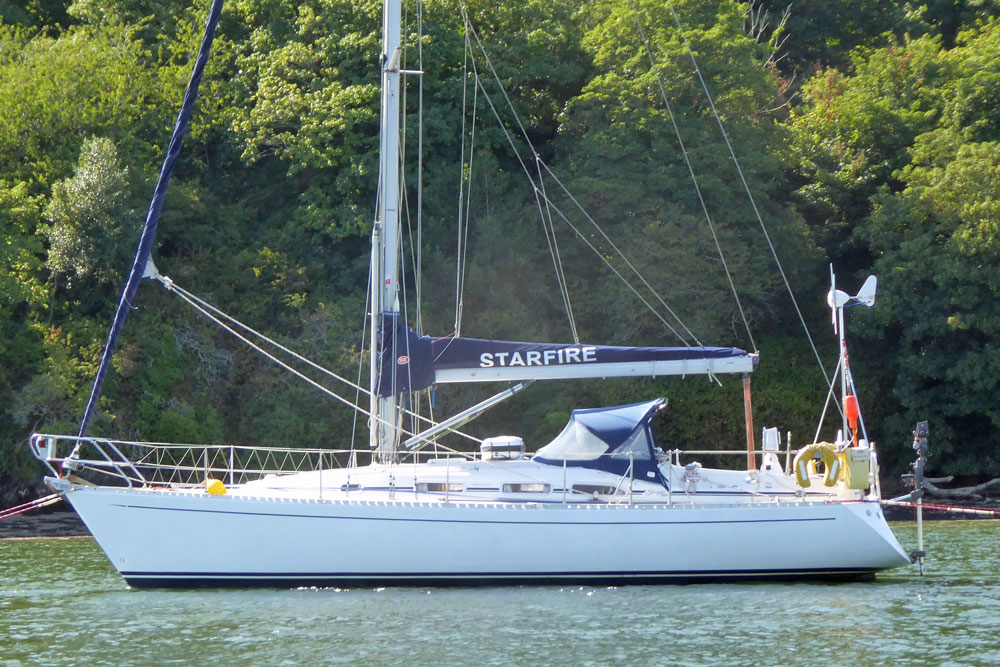 A Starlight 35
Published Specification for the Starlight 35

Underwater Profile: Wing keel & semi-balanced rudder
Hull Material: GRP (Fibreglass)
Length Overall: 36'1" (11.0m)
Waterline Length: 28'1" (8.6m)
Beam: 11'6" (3.5m)
Draft: 4'9" (1.4m)
Rig Type: Masthead sloop
Displacement: 13,200lb (5,987kg)
Ballast: 5,300lb (2,404kg)
Designer: Stephen Jones
Builder: Sadler Yachts & Rival Bowman Yachts (Both in UK)
Year First Built: 1991
Year Last Built: 1997
Number Built: 50
---
Published Design Ratios for the Starlight 35
1. Sail Area/Displacement Ratio: 16.
2. Ballast/Displacement Ratio: 40.2
3. Displacement/Length Ratio: 266
4. Comfort Ratio: 25.9
5. Capsize Screening Formula: 1.9
Summary Analysis of the Design Ratios for the Starlight 35
1. A Sail Area/Displacement Ratio of 16.5 suggests that the Starlight 3 will, in the right conditions, approach her maximum hull speed readily and satisfy the sailing performance expectations of most cruising sailors.
2. A Ballast/Displacement Ratio of 40.2 means that the Starlight 35 will stand up well to her canvas in a blow, helping her to power through the waves.
3. A Displacement/Length Ratio of 266, tells us the Starlight 35 is a moderate displacement cruiser, which means she'll carry all your cruising gear without it having a dramatic effect on her performance. Most of today's sailboats intended for offshore cruising fall into this displacement category.
4. Ted Brewer's Comfort Ratio of 25.9 suggests that crew comfort of a Starlight 35 in a seaway is similar to what you would associate with the motion of a coastal cruiser with moderate stability, which is not encouraging news for anyone prone to seasickness. 
5. The Capsize Screening Formula (CSF) of 1.9 indicates that a Starlight 35 would be a safer choice of sailboat for an ocean passage than one with a CSF of more than 2.0. 
---
---
Any Questions?
The Starlight 35 was launched in 1991 as a smaller version of the Starlight 39, which was designed by Stephen Jones in 1988. The Starlight 35 had a MkI and a MkII model, with the latter having a slightly larger rig. The Starlight 35 also had different keel options, such as a fin keel, a shallow fin keel and a wing keel.
The Starlight 35 has a spacious and comfortable interior, with an inner moulding that provides insulation and a smooth finish. The accommodation consists of a forward cabin with a double berth and a hanging locker, a saloon with two settees that can be used as single berths, a folding table and plenty of storage, a U-shaped galley with a two-burner stove, an oven, a fridge and a sink, a navigation station with a large chart table and an instrument panel, and an aft cabin with another double berth and a hanging locker. The head compartment is located aft of the saloon on the port side, with a marine toilet, a washbasin and a shower.
The Starlight 35 has three keel options: a fin keel with a draught of 5'11", a shallow fin keel with a draught of 5'0", and a wing keel with a draught of 4'9". The keels are made of cast iron and bolted onto a GRP stub that forms part of the hull. The wing keel option is said to improve her windward performance while reducing her draught for shallow water sailing.
The Starlight 35 is a delight to sail, as she is responsive, balanced and easy to handle. She has good directional stability and tracks well on all points of sail. She tacks easily and confidently through 80° and can point up to 32° off the apparent wind. She is fast and agile in light airs, reaching up to 7 knots at 45° off the wind in a stiff breeze. She is also stiff and seaworthy in heavy weather, thanks to her high ballast ratio and low center of gravity. She has a well-protected cockpit with good visibility and ergonomics.
The average cost of a secondhand Starlight 35 depends on the year, condition and equipment of the boat. According to some online listings, the price range can vary from £40,000 to £65,000 (as of July 2023).
The original boatbuilder of the Starlight 35 was Sadler Yachts, which was founded by David Sadler in 1974. Sadler Yachts went into receivership in 1993 due to the recession and was taken over by Rival Bowman Yachts, which continued to build the Starlight range until 1998. Rival Bowman Yachts also went out of business in 1998 and sold the moulds to Rustler Yachts, which built a few more Starlights to order. Rustler Yachts is still in business today, but it does not produce the Starlight 35 anymore.
The above answers were drafted by sailboat-cruising.com using GPT-4 (OpenAI's large-scale language-generation model) as a research assistant to develop source material; to the best of our knowledge, we believe them to be accurate.
---
Other sailboats in the Starlight range include:
---
Sep 29, 23 05:38 PM

Sailing characteristics and performance predictions, pics, specifications, dimensions and those all-important design ratios for the Hanse 400 sailboat...

Sep 29, 23 03:17 AM

Interested in the Gulf 32 sailboat? Here are the pics, specs and performance predictions you're looking for...

Sep 28, 23 04:04 PM

Sailing characteristics and performance predictions, pics, specifications, dimensions and those all-important design ratios for the Fuji 35 sailboat
---