The Starlight 39 Sailboat

Specs & Key Performance Indicators
The Starlight 39, an aft-cockpit masthead sloop was designed by Stephen Jones and built in the UK by Sadler Yachts.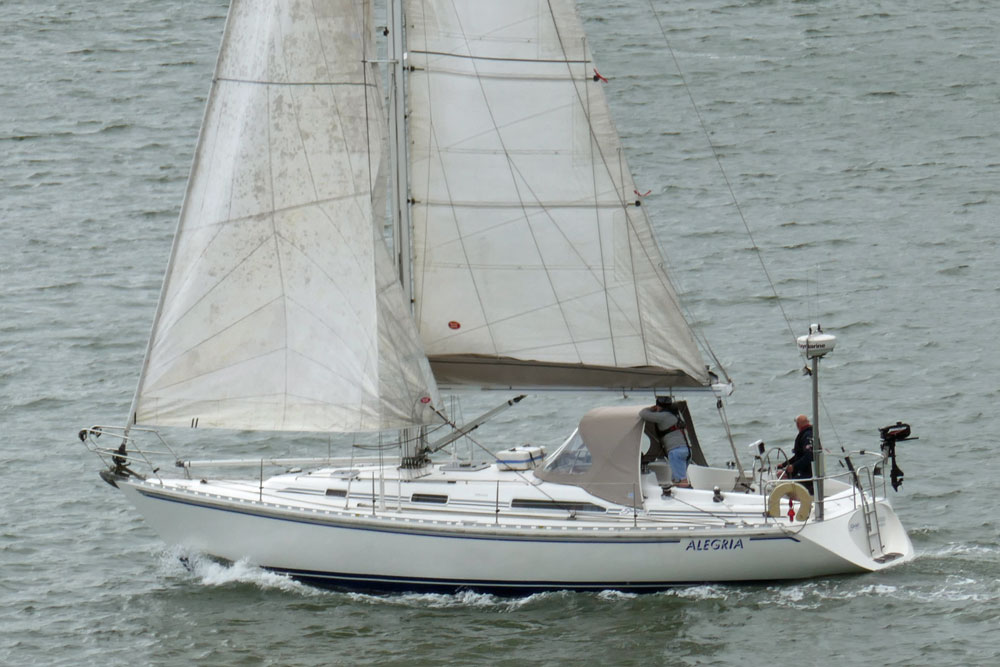 A Starlight 39
Published Specification for the Starlight 39

Underwater Profile: Wing keel & skeg-hung rudder
Hull Material: GRP (Fibreglass)
Length Overall: 38'10" (11.8m)
Waterline Length: 31'9" (9.7m)
Beam: 12'6" (3.8m)
Draft: 5'4" (1.6m)
Rig Type: Masthead sloop
Displacement: 19,749lb (8,958kg)
Ballast: 7,119lb (3,229kg)
Designer: Stephen Jones
Builder: Sadler Yachts, Rustler Yachts (both UK)
Year First Built: 1990
Year Last Built: 1994
Number Built: 34
---
Published Design Ratios for the Starlight 39
1. Sail Area/Displacement Ratio: 15.7
Less than 16 would be considered under-powered;
16 to 20 would indicate reasonably good performance;
Over 20 suggests relatively high performance.
2. Ballast/Displacement Ratio: 36.1
Under 40: less stiff, less powerful
Over 40: stiffer, more powerful
3. Displacement/Length Ratio: 275
Under 100: Ultralight
100 to 200: Light
200 to 275: Moderate
275 to 350: Heavy
Over 350: Ultraheavy
4. Comfort Ratio: 31.2
Under 20 indicates a lightweight racing boat
20 to 30 indicates a coastal cruiser
30 to 40 indicates a moderate offshore cruising boat
40 to 50 indicates a heavy offshore boat
Over 50 indicates an extremely heavy offshore boat
5. Capsize Screening Formula: 1.8
Under 2.0 (the lower the better): Better suited for ocean passages
Over 2.0: Less suited for ocean passages
read more about these Key Performance Indicators...
---
Summary Analysis of the Design Ratios for the Starlight 39
1. A Sail Area/Displacement Ratio of 15.7 suggests that the Starlight 39 will need a stiff breeze to get her going. In light conditions, unless you've got plenty of time on your hands, motor-sailing may be the way to go.
2. A Ballast/Displacement Ratio of 36.1 would usually mean that the Starlight 39 would have a tendency to heel uncomfortably in a gust, and need to be reefed early to keep her sailing upright in a moderate breeze.
However, as she has much of her ballast concentrated in wings at the foot of her keel, she's likely to be considerably stiffer than her published Ballast/Displacement Ratio might suggest.
3. A Displacement/Length Ratio of 275, tells us the Starlight 39 is a moderate displacement cruiser, which means she'll carry all your cruising gear without it having a dramatic effect on her performance. Most of today's sailboats intended for offshore cruising fall into this displacement category.
4. Ted Brewer's Comfort Ratio of 31.2 suggests that crew comfort of a Starlight 39 in a seaway is similar to what you would associate with the motion of a moderate bluewater cruising boat - a predictable and acceptable motion for most seasoned sailors.
5. The Capsize Screening Formula (CSF) of 1.8 indicates that a Starlight 39 would be a safer choice of sailboat for an ocean passage than one with a CSF of more than 2.0. 
---
Other sailboats in the Starlight range include:
---
Mar 28, 23 05:54 AM

The true cost of boat ownership will almost certainly be more than what you originally thought it might be; the components of cost are...

Mar 28, 23 05:33 AM

Here's where people with sailing equipment for sale advertise their stuff entirely free of charge. If you're looking for used sailing gear or other used boating accessories, here's where to find it!

Mar 26, 23 08:29 AM

Offshore cruising yachts of this size are probably the maximum size that most cruising couples can handle safely without taking on additional crew.
---