The S&S (Sparkman & Stephens) Swan 40 Sailboat

Specs & Key Performance Indicators
The Swan 40, a masthead sloop, was designed by Sparkman & Stephens and built in Sweden by Nautor Swan.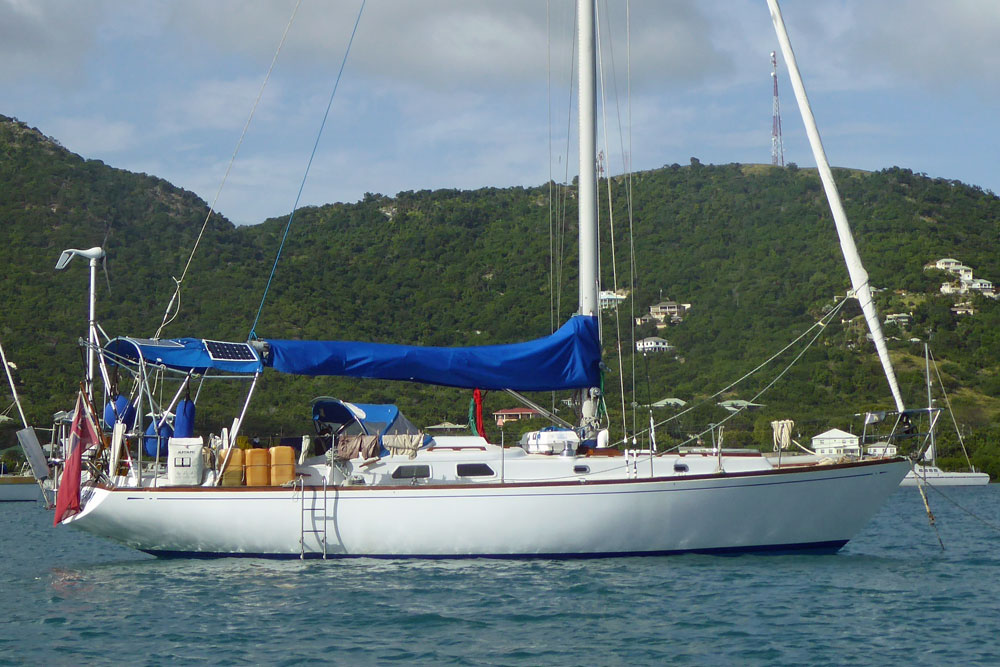 The classic S&S Swan 40 - not to be confused with the much later version designed by German Frers and first built in 1992
Published Specification for the Swan 40

Underwater Profile: Fin keel and skeg-hung rudder
Hull Material: GRP (Fiberglass)
Length Overall: 39'3" (12.00m)
Waterline Length: 28'6" (8.7m)
Beam: 10'10" (3.3m)
Draft: 6'8" (2.1m)
Rig Type: Masthead Sloop
Displacement: 19,000lb (8,618kg)
Designer: Sparkman & Stephens
Builder: Nautor Swan
Year First Built: 1970
Year Last Built: 1972
Number Built: 51
Owners Association: S&S Swan Association
---
Published Design Ratios for the Swan 40
1. Sail Area/Displacement Ratio: 16.0
2. Ballast/Displacement Ratio: 41.6
3. Displacement/Length Ratio: 365
4. Comfort Ratio: 38.7
5. Capsize Screening Formula: 1.6
Summary Analysis of the Design Ratios for the Swan 40
1. A Sail Area/Displacement Ratio of 16.0 suggests that the Swan 40 will, in the right conditions, approach her maximum hull speed readily and satisfy the sailing performance expectations of most cruising sailors.
2. A Ballast/Displacement Ratio of 41.6 means that the Swan 40 will stand up well to her canvas in a blow, helping her to power through the waves.
3. A Displacement/Length Ratio of 365, tells us the Swan 40 is firmly in the ultra-heavy displacement category. Load her up as much as you like and her performance will be hardly affected, not that it was ever startling. Few if any sailboats are built to this displacement category these days - but they remain popular with some long-distance sailors.
4. Ted Brewer's Comfort Ratio of 38.7 suggests that crew comfort of a Swan 40 in a seaway is similar to what you would associate with the motion of a moderate bluewater cruising boat - a predictable and acceptable motion for most seasoned sailors.
5. The Capsize Screening Formula (CSF) of 1.6 tells us that a Swan 40 would be a considerably safer choice of sailboat for an ocean passage than one with a CSF of more than 2.0. 
---
---
The Swan 40 Sailboat: A Classic Cruiser 
The Swan 40 has a Bermuda rig with a masthead sloop configuration. The mast is keel-stepped and has two sets of spreaders. The boom is aluminum and has slab reefing. The sail area is 708ft2 (65.8m2) with a mainsail of 320ft2 (29.8m2) and a genoa of 388ft2 (36.1m2). There was also an optional tall mast version that increased the sail area to 765ft2 (71m2).
The Swan 40 is powered by a Volvo Penta MD2B diesel engine of 25 hp (19 kW) that drives a two-blade propeller. The fuel tank holds 40 U.S. gallons (150L; 33 imp gal) and the freshwater tank has a capacity of 48 U.S. gallons (180L; 40 imp gal).
The Swan 40 (S&S)
Accommodation

The Swan 40 can accommodate up to six people in three cabins. The forward cabin has a double "V"-berth with storage lockers and shelves on both sides. The main cabin has two straight settee berths that can be used as seats or beds, with storage under and behind them. There is also a folding table that can be lowered or raised as needed. The aft cabin has two single berths that are separated by a hanging locker and a shelf.
The galley is located at the foot of the companionway on the starboard sider. It is "L"-shaped and has a three-burner stove with an oven, an ice box and a double sink with pressurized water. There are also plenty of drawers, cabinets and counter space for cooking and storage.
The navigation station is opposite the galley, on the port side. It has a large chart table with drawers and shelves, an instrument panel, a radio and an electrical panel.
The head is located just aft of the forward cabin on the port side. It has a marine toilet, a sink with hot and cold water, a shower and storage lockers.
The Swan 40 has plenty of natural light and ventilation thanks to the large windows, hatches and portholes throughout the boat. The interior is finished in teak wood with white cushions and curtains, creating a warm and cozy atmosphere.
Hull and Deck
The hull of the Swan 40 is made of fiberglass reinforced plastic (FRP) with longitudinal stringers and transverse frames for strength and stiffness. The deck is also made of FRP with balsa core for insulation and rigidity.
The deck layout is simple and functional, with wide side decks, teak handrails, stainless steel stanchions and lifelines, and an aluminum toe rail for safety and comfort. The cockpit is spacious and well-protected by the reverse transom, the coaming and the dodger. It has a single wheel steering system with a pedestal, a compass, a binnacle and engine controls. There are also two self-tailing winches for the genoa sheets, two winches for the halyards and reefing lines, and a mainsheet traveler on the cabin top. The cockpit seats have lockers under them for storage.
The foredeck has a large anchor locker with a windlass and a bow roller. There are also two dorade vents, two hatches and four mooring cleats. The aft deck has a lazarette locker, a stern pulpit with a boarding ladder, and two mooring cleats.
Mast and Rigging
The mast and rigging of the Swan 40 are designed for performance and reliability. The mast is made of aluminum and is keel-stepped for stability and strength. It has two sets of spreaders, a jumper strut, a spinnaker pole track, internal halyards and wiring, and a steaming light. The boom is also made of aluminum and has slab reefing, an outhaul, a topping lift and a boom vang.
The rigging is stainless steel wire with swaged terminals and turnbuckles. The forestay has a roller furling system for the genoa. The backstay has an adjustable tensioner for tuning the mast bend. The shrouds have chainplates that are bolted to the hull. The running rigging is made of braided polyester rope with snap shackles and stoppers .
The sail inventory of the Swan 40 includes a mainsail, a genoa, a spinnaker, a storm jib and a trysail. The sails are made of dacron or nylon and have battens, reef points, telltales and sail numbers.
Keel and Rudder
The keel of the Swan 40 is a fixed fin keel that provides stability and performance. It is made of lead and is bolted to the hull with stainless steel bolts. It has a draft of 6.70 ft (2.04 m) and weighs 7,900 lb (3,583 kg).
There was also an optional retractable centreboard version that had a shorter fin keel with a slot for the centreboard. The centreboard was made of steel and was operated by a winch in the cockpit. It reduced the draft to 4.00 ft (1.22 m) when raised and increased it to 8.00 ft (2.44 m) when lowered.
The rudder of the Swan 40 is skeg-mounted that provides directional control and balance. It is made of FRP with a stainless steel stock and fittings. It is connected to the wheel by cables and pulleys.
The above text was drafted by sailboat-cruising.com using GPT-4 (OpenAI's large-scale language-generation model) as a research assistant to develop source material; we believe it to be accurate to the best of our knowledge.
---
Other sailboats in the Nautor Swan range include:
---
Nov 29, 23 08:35 AM

Here's where people with sailing equipment for sale advertise their stuff entirely free of charge. If you're looking for used sailing gear or other used boating accessories, here's where to find it!

Nov 10, 23 02:34 AM

My 47' Cheoy Lee sailboat is for sale. Designed by Bill Luders, she is a beautiful and functional liveaboard cruising yacht.

Oct 30, 23 04:22 PM

This article explores the journey of chartering a sailing yacht, from the initial planning stages to the final touches. It provides insight into the joys and challenges of embarking on a voyage of dis…
---