The Allied Seawind Sailboat
The Allied Seawind 30, a long-keeled ketch, was designed by Thomas Gilmer and built in the USA by the Allied Boat Company Inc.

Published Specification for the Allied Seawind
Underwater Profile: Long keel with transom-hung rudder
Hull Material: GRP (Fibreglass)
Length Overall: 30'6" (9.3m)
Waterline Length: 24'0" (7.3m)
Beam: 9'3" (2.8m)
Draft: 4'3" (1.3m)
Rig Type: Ketch (a cutter version was also produced with a club-footed staysail)
Displacement: 12,000lb (5,443kg)
Designer: Thomas Gilmer
Builder: Allied Boat Company Inc (US)
Year First Built: 1962
Year Last Built: 1982
Number Built: 161
Owners Association: www.alliedseawindii.org
---
Published Design Ratios for the Allied Seawind
1. Sail Area/Displacement Ratio: 15.4
Less than 16 would be considered under-powered;
16 to 20 would indicate reasonably good performance;
Over 20 suggests relatively high performance.
2. Ballast/Displacement Ratio: 34.0
Under 40: less stiff, less powerful
Over 40: stiffer, more powerful
3. Displacement/Length Ratio: 388
Under 100: Ultralight
100 to 200: Light
200 to 275: Moderate
275 to 350: Heavy
Over 350: Ultraheavy
4. Comfort Ratio: 36.9
Under 20 indicates a lightweight racing boat
20 to 30 indicates a coastal cruiser
30 to 40 indicates a moderate offshore cruising boat
40 to 50 indicates a heavy offshore boat
Over 50 indicates an extremely heavy offshore boat
5. Capsize Screening Formula: 1.6
Under 2.0 (the lower the better): Better suited for ocean passages
Over 2.0: Less suited for ocean passages
read more about these all-revealing numbers...
---
Summary Analysis of the Design Ratios for the Allied Seawind
1. A Sail Area/Displacement Ratio of just 15.4 suggests that the Allied Seawind will need a stiff breeze to get her going. In light conditions, unless you've got plenty of time on your hands, motor-sailing may be the way to go.
2. A Ballast/Displacement Ratio of 34.0 means that a long-keel sailboat like the Allied Seawind is likely to benefit from being reefed early to keep her sailing upright in a moderate breeze.
3. A Displacement/Length Ratio of 388, tells us the Allied Seawind is firmly in the ultra-heavy displacement category. Load her up as much as you like and her performance will be hardly affected, not that it was ever startling. Few if any sailboats are built to this displacement category these days - but they remain popular with some long-distance sailors.
4. Ted Brewer's Comfort Ratio of 36.9 suggests that crew comfort of a Allied Seawind in a seaway is similar to what you would associate with the motion of a moderate bluewater cruising boat - a predictable and acceptable motion for most seasoned sailors.
5. The Capsize Screening Formula (CSF) of 1.6 tells us that a Allied Seawind would be a safer choice of sailboat for an ocean passage than one with a CSF of more than 2.0. 
Cruisers Questions
It's called a 'riding' or 'steadying' sail and its purpose is to help keep the boat head to wind and reduce any tendency to swing at anchor.
A ketch and a yawl are both types of sailboats with two masts, but they differ in the position and size of the mizzen mast (the shorter mast behind the main mast). On a ketch, the mizzen mast is in front of the rudder post (where the rudder attaches to the boat) and is usually taller than on a yawl. On a yawl, the mizzen mast is behind the rudder post and is usually smaller than on a ketch. The mizzen sail on a yawl is mainly used for balance and stability, while the mizzen sail on a ketch can provide more power and versatility.
A transom hung rudder is a type of rudder that is attached to the stern of the boat, usually on a vertical or reverse transom. Some of the benefits and advantages of a transom hung rudder over other types of rudder are:

It is easy to make a deep balanced rudder that reduces steering effort and drag.
The fittings are easily mounted to a beefed up transom and the forces go straight into the hull and deck, no skeg to bend or damage.
The boat will turn faster with the stern sliding sideways and the rudder being in the most effective place in terms of turning moment.
The rudder is easy to clean and inspect, and can be removed with the boat afloat if needed.
The rudder is easy to make strong enough using timber and glass or foam and glass or carbon or kevlar.

Some of the disadvantages of a transom hung rudder are:

It adds extra length to the boat that may be charged for in marinas or affect stability.
The trailing edge gets rubbed by ropes when rafted or damaged by obstacles.
The gudgeons may be prone to clonking noise on mooring or anchorage with any swell.
It gets in the way of boarding ladder, dinghy, etc.
The surface piercing foil may be prone to cavitation at extreme speeds.
Other sailboats in the Allied range include: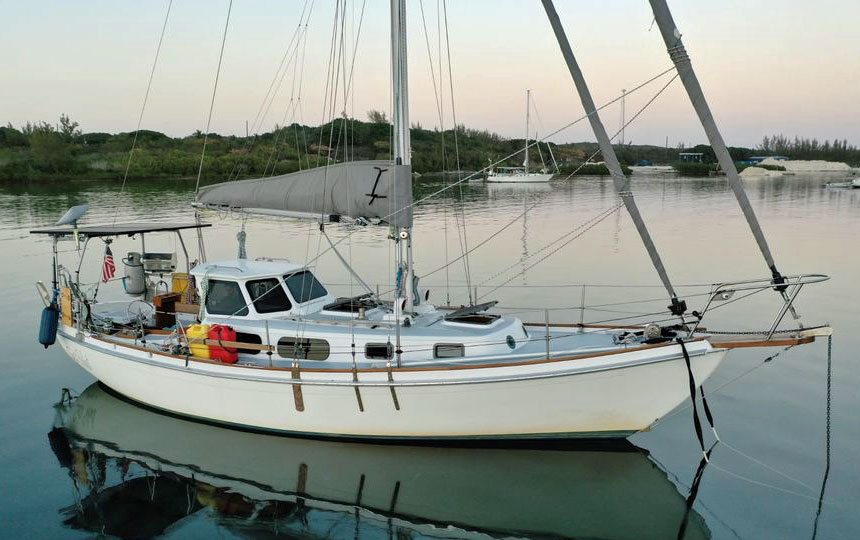 The Allied Seawind 32
Nov 29, 23 08:35 AM

Here's where people with sailing equipment for sale advertise their stuff entirely free of charge. If you're looking for used sailing gear or other used boating accessories, here's where to find it!

Nov 10, 23 02:34 AM

My 47' Cheoy Lee sailboat is for sale. Designed by Bill Luders, she is a beautiful and functional liveaboard cruising yacht.

Oct 30, 23 04:22 PM

This article explores the journey of chartering a sailing yacht, from the initial planning stages to the final touches. It provides insight into the joys and challenges of embarking on a voyage of dis…
---