The Beneteau 343 Sailboat
The Beneteau 343, also known as the Oceanis Clipper 343, was designed by Berret & Racoupeau and built in France by Beneteau.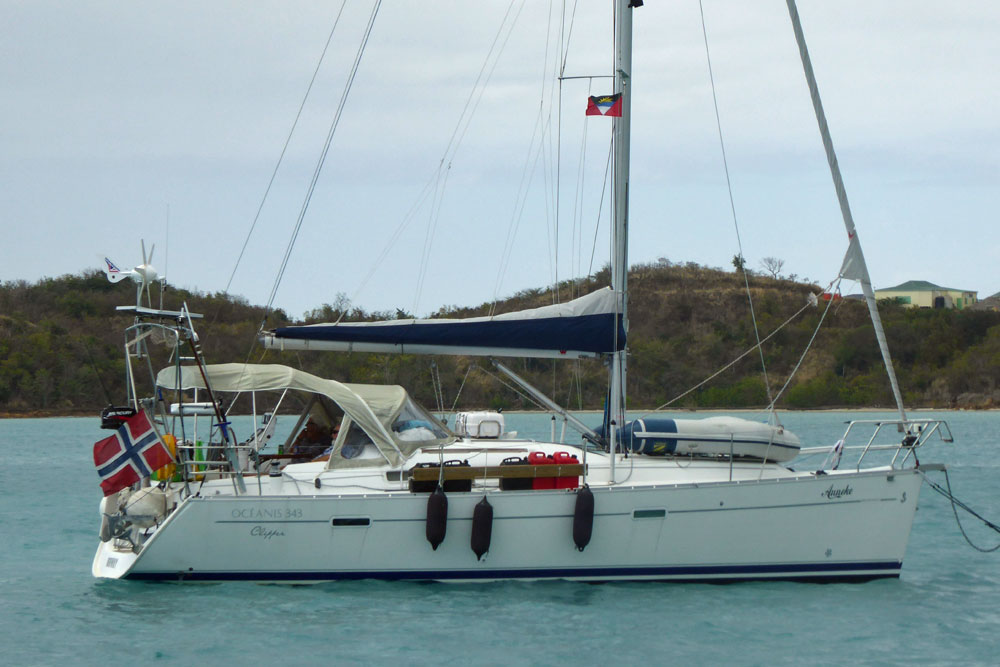 The Beneteau Oceanis Clipper 343
Published Specification for the Beneteau 343
Underwater Profile: Bulb fin keel with spade rudder
Hull Material: GRP
Length Overall: 35'4" / 10.8m
Waterline Length: 33'10" / 10.3m
Beam: 11'3" / 3.5m
Draft: 6'3" / 1.9m
Rig Type: Masthead sloop
Displacement: 17,416lb / 7,900kg
Designer: Berret & Racoupeau
Builder: Beneteau (France)
Year First Built: 2005
Year Last Built: 2008
Owners Contact: Beneteau Owners' Association
---
Published Design Ratios for the Beneteau 343
1. Sail Area/Displacement Ratio: 19.1
2. Ballast/Displacement Ratio: 36.4
3. Displacement/Length Ratio: 181
4. Comfort Ratio: 22.2
5. Capsize Screening Formula: 2.0
Performance Predictions, Based on the Design Ratios
The Beneteau 343 is a moderately fast boat that can perform well in light to moderate winds. It has a sail area-displacement ratio of 18.5, which indicates that it has enough sail power to move in light airs. It also has a displacement-length ratio of 197, which suggests that it has a moderate displacement for its length and can handle some waves. It has a ballast-displacement ratio of 25%, which means that it has adequate stability and stiffness to carry sail. It has a capsize screening value of 2.0, which implies that it has a low risk of capsize in bad weather.
Alternative Versions & Options
The Beneteau 343 was available in two versions: a standard version with a fin keel and a performance version with a stub keel and centreboard. The performance version had a taller mast, a deeper keel, and a larger sail area than the standard version. The boat also had an option for a shoal draft keel, which reduced the draft to 4 ft 10 in (1.47 m).
The boat also had various options for the interior layout, the rigging, and the equipment. The interior layout could be either two cabins or three cabins, with one or two heads. The rigging could be either standard or classic, with different types of sails and furling systems. The equipment could include items such as air conditioning, heating, generator, bow thruster, autopilot, radar, chartplotter, windlass, davits, dinghy, and more.
Number & Location of Sleeping Berths
The Beneteau 343 has sleeping accommodation for four people in two cabins or six people in three cabins. The two cabin interior has a double "V"-berth in the bow cabin and a large double berth in the aft cabin. The three cabin interior has a double "V"-berth in the bow cabin and two aft cabins, each with a double berth. Both versions have a "U"-shaped settee and a straight settee in the main cabin that can be used as additional berths if needed.
The boat has one or two heads, depending on the version. The two cabin version has one head located aft of the saloon on the port side. The three cabin version has two heads, one located forward of the bow cabin on the starboard side and one located aft of the saloon on the port side.
History of the Boatbuilder
Beneteau is a French company that was founded in 1884 by Benjamin Beneteau in Saint-Gilles-Croix-de-Vie, France. The company started as a small workshop that built fishing boats and trawlers for the local fishermen. In 1964, Beneteau launched its first sailboat, the Forban MK II, which was designed by André Mauric. Since then, Beneteau has become one of the world's largest and most successful boatbuilders, producing a wide range of sailboats and powerboats for various markets and purposes.
Beneteau has several brands under its umbrella, such as Jeanneau, Lagoon, Prestige, Monte Carlo Yachts, CNB Yachts, Excess Catamarans, Four Winns, Glastron, Wellcraft, Scarab Jet Boats, and Delphia Yachts. Beneteau also has several production facilities around the world, such as France, Poland, Italy, Brazil, China, and the United States.
Beneteau is known for its innovation, quality, design, and performance in the boating industry. Some of its most famous models include the First series (racing/cruising sailboats), the Oceanis series (cruising sailboats), the Figaro series (one-design racing sailboats), the Sense series (deck saloon sailboats), and the Fast series (performance sailboats).
Secondhand Values
According to YachtWorld.com, the average listing price for a Beneteau 343 sailboat in 2021 is $79,900. The lowest listing price is $59,900 and the highest listing price is $99,000. The prices vary depending on the year of manufacture, the condition of the boat, the location of the boat, and the options included on the boat.

Press Reviews
The Beneteau 343 sailboat has received mostly positive reviews from various sailing magazines and websites. Here are some excerpts from some of them:

"The Beneteau 343 is an attractive cruiser that offers good performance under sail and power. It is easy to handle and comfortable to live aboard. It is well suited for coastal cruising or overnighting in comfort." Sail Magazine
"The Beneteau 343 is a well-executed everyday sailboat that will appeal to sailors who want to keep things simple. She's well-equipped on deck; has middle-of-the-road accommodations; will hold her own under sail amid any fleet of production-built 34-footers; and is competitively priced." Practical Sailor
"The Beneteau 343 is a versatile boat that can be used for cruising or racing. It has a bright and airy interior that can be configured in two or three cabins. It has a well-equipped galley and a large head with a separate shower. It has a modern and efficient sailplan that can be easily adjusted from the cockpit. It has a reliable and economical diesel engine that can power the boat at 7 knots. It is a boat that can satisfy a wide range of sailors, from beginners to experts." Boats.com
"The Beneteau 343 is fast, stable, responsive, and easy to sail. It is spacious, comfortable, and well-appointed. It is affordable, durable, and low-maintenance. It is a boat that will make you happy, whether you are cruising with your family, racing with your friends, or sailing solo." Cruising World
The above text was drafted by sailboat-cruising.com using GPT-4 (OpenAI's large-scale language-generation model) as a research assistant to develop source material; we believe it to be accurate to the best of our knowledge.
Other sailboats in the Beneteau 'Oceanis' product range:
---
Nov 29, 23 08:35 AM

Here's where people with sailing equipment for sale advertise their stuff entirely free of charge. If you're looking for used sailing gear or other used boating accessories, here's where to find it!

Nov 10, 23 02:34 AM

My 47' Cheoy Lee sailboat is for sale. Designed by Bill Luders, she is a beautiful and functional liveaboard cruising yacht.

Oct 30, 23 04:22 PM

This article explores the journey of chartering a sailing yacht, from the initial planning stages to the final touches. It provides insight into the joys and challenges of embarking on a voyage of dis…
---