The Beneteau Oceanis 48 Sailboat

Specs & Key Performance Indicators
The Beneteau Oceanis 48, a light displacement fractional sloop, was designed by Berret Racoupeau Yacht Design and built in France by Beneteau.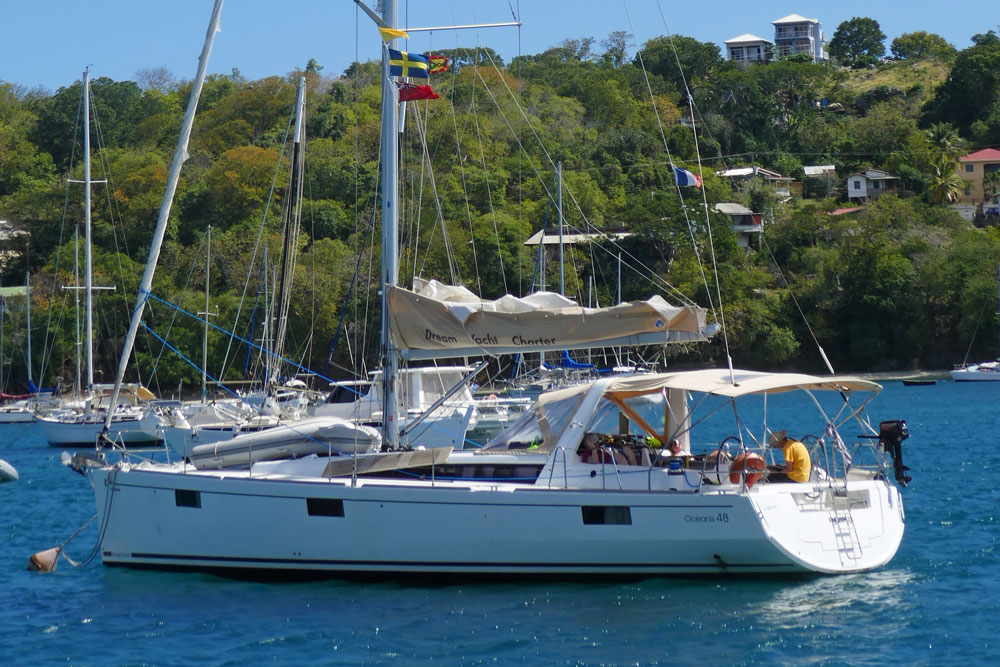 A Beneteau Oceanis 48
Published Specification for the Beneteau Oceanis 48
Underwater Profile: Bulb fin keel & spade rudder
Hull Material: GRP (Fibreglass)
Length Overall: 47'11" (14.6m)
Waterline Length: 43'0" (13.1m)
Beam: 15'7" (4.8m)
Draft: 7'1" (2.2m)
Rig Type: Fractional sloop
Displacement: 29,313lb (13,296kg)
Designer: Berret Racoupeau Yacht Design
Builder: Beneteau (France)
Year First Built: 2012
Design Ratios: The Key Performance Indicators
To understand how the Oceanis 48 performs, it's crucial to analyze its design ratios. 
Starting with the Sail Area/Displacement Ratio (SA/D), which is a measure of speed potential, the Oceanis 48's ratio of around 18 puts it in the category of cruisers well-suited to light and moderate winds.
The Ballast/Displacement Ratio of the Oceanis 48 is around 30%. A higher ratio generally indicates a better righting moment, which is the ability of a boat to return to its upright position after being heeled over by wind or waves. This boat's ratio suggests it has sufficient stability but is also designed to be somewhat comfortable and not too stiff.
The Oceanis 48's Displacement/Length Ratio (D/L) is about 150. This ratio determines the boat's speed and comfort. A lower D/L ratio will generally equate to a faster, more easily-driven boat, while a higher D/L ratio might be more comfortable in rough seas.
The Comfort Ratio of the Oceanis 48 is around 28, which indicates a moderate level of comfort for long-distance cruising. This ratio takes into account the boat's displacement and the beam, suggesting the Oceanis 48 should provide a stable and smooth ride in most sea conditions.
The Capsize Screening Formula for the Oceanis 48 is approximately 2.1, which is under the general safety threshold of 2.0. However, as this is just a rough guide, it does not imply that the yacht is unsafe, especially given its design, build quality, and other features.
In terms of performance, while it may not be the fastest in its class due to its D/L ratio, it strikes a good balance between speed and comfort, making it a versatile cruiser for a variety of sailing conditions.
Rig Type
The standard version of the Beneteau Oceanis 48 is a fractional sloop rig with a mainsail arch, a popular configuration for cruising sailboats due to its simplicity and efficiency. The sloop configuration features a single mast and two sails, a mainsail and a jib.

As of now, there is no alternative rigging version provided by Beneteau for the Oceanis 48, meaning no cutter, or ketch configurations are available. However, custom modifications can be made depending on the owner's sailing needs and preferences. One such modification could be the Solent Rig.
Reputation
The sailing press has generally praised the Beneteau Oceanis 48 for its balance of performance and comfort. In their reviews, they highlight its spacious interiors, sleek design, and ease of handling, even in challenging sailing conditions.
One point raised by a few owners is about the boat's light-air performance due to its D/L ratio. However, this is generally compensated by the option to use a gennaker or spinnaker for more sail area in such conditions.
The build quality of the Oceanis 48 is also a selling point. Beneteau has a reputation for constructing durable and reliable yachts, and the Oceanis 48 is no exception.
The Beneteau Oceanis 48 also stands out for its design. Its sleek and modern appearance is not only aesthetically pleasing, but it also contributes to its performance and ease of handling.
The cockpit layout of the Oceanis 48 is well-thought-out, offering a comfortable and efficient workspace for the crew. This is a crucial aspect for those who plan to spend a lot of time on the water.
Another advantage of the Oceanis 48 is its easy handling. Thanks to its well-balanced rig and powerful engine, it offers a smooth sailing experience, even for less experienced sailors.
To sum up, the Beneteau Oceanis 48 is a versatile and comfortable cruiser that offers a balance of performance and luxury. While it may require regular maintenance and may not excel in light-air conditions, its benefits far outweigh these minor drawbacks.
The Secondhand Market
Looking at the secondhand market, the availability of the Beneteau Oceanis 48 varies, but it's relatively high compared to other models in its class. This is likely due to the popularity and high production numbers of this model.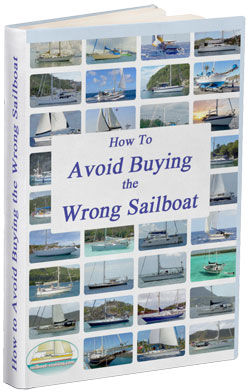 The essential eBook for potential boat buyers...
In terms of pricing, used Beneteau Oceanis 48 sailboats can range from approximately $200,000 to $350,000. The price usually depends on the boat's age, condition, and any additional equipment or upgrades it comes with.

For those in search of a Beneteau Oceanis 48 for sale, you'll often find a range of options on the secondhand market. These can range from relatively new models with all the latest features and extras to older, more affordable options that still have plenty to offer.
If you're considering selling your Oceanis 48, its popular design, high build quality, and reputation for reliable performance will likely attract a wide range of potential buyers.
When compared to other sailboats in its class, the Beneteau Oceanis 48 stands out for its spacious and luxurious interior, which includes three cabins and two heads in the standard layout. This makes it an excellent choice for those planning extended cruises or liveaboard use.
---
A Few FAQs...
The sailing press generally gave positive reviews to the Beneteau Oceanis 48, praising its sleek design, spacious interior, innovative features, and sailing performance. Some of the highlights from the reviews are:


"The new Berret-Racoupeau designed cruising sloop builds on the elements of her 41 and 45 sisterships, while optimizing her appeal for both living aboard and sailing. With an award-winning transom design and different interior layouts, the Oceanis 48 will suit a wide range of sailors."

"The Oceanis 48 is an impressive boat that offers a great combination of comfort, space and sailing ability. The innovative transom design is a real bonus for cruising families and charterers alike, while the choice of layouts allows for customization to suit different needs. The boat is well-built, well-equipped and well-priced for its size and quality."

"The Oceanis 48 is a big, handsome boat that delivers on its promise of easy sailing and comfortable living. The boat has a modern look and feel, with plenty of light and ventilation, ample storage and practical features. The boat handles well under sail and power, with good speed and stability. The boat is ideal for long-distance cruising or chartering, with options to suit different tastes and budgets."
Owners of the Beneteau Oceanis 48 generally have positive feedback about their boats, expressing satisfaction with their performance, comfort, quality, and value. Some of the comments from owners are:


"We love our Oceanis 48. It is a beautiful boat that sails very well in all conditions. It is very spacious and comfortable inside, with plenty of room for our family and guests. It has everything we need for cruising, from a fully-equipped galley to a generator to air conditioning. It is also very easy to maintain and operate, with simple systems and good access to all parts."

"Our Oceanis 48 is our dream boat. It is elegant, fast and fun to sail. It has a lot of character and charm, with a classic style and modern features. It has a great layout that suits our needs perfectly, with a large owner's cabin forward and two guest cabins aft. It has plenty of storage space and clever solutions for organizing our gear. It is also very reliable and safe, with quality materials and equipment."

"We are very happy with our Oceanis 48. It is a fantastic boat that offers a lot of value for money. It is very versatile and adaptable, with different options for sailing and living on board. It has a huge cockpit that is great for entertaining or relaxing, as well as a drop-down transom that makes swimming or dinghy access easy. It has a bright and airy interior that is cozy and inviting. It also sails very well, with good speed and balance."
The Beneteau Oceanis 48 has two keel options: a deep draft version and a shoal draft version. The deep draft version has a deeper L-shaped keel that offers better performance especially upwind, while the shoal draft version has a shallower winged keel that allows access to more shallow waters. The deep draft version has a draft of 6 feet (1.83 meters), while the shoal draft version has a draft of 5 feet 5 inches (1.65 meters).

The average asking price of a secondhand Beneteau Oceanis 48 varies depending on the year, condition, location, and equipment of the boat. According to YachtWorld, an online marketplace for boats, the average asking price of a secondhand Beneteau Oceanis 48 as of September 2023 is $295,000 USD. However, this price may change depending on the market demand and supply.
The Beneteau Oceanis 48 is comparable to other similar sailboats in its class, such as the Jeanneau Sun Odyssey 490, the Bavaria Cruiser 46, the Dufour 460 Grand Large, and the Hanse 458.

These boats are all around 45 to 50 feet long, have similar layouts and features, and are designed for cruising or chartering. However, there are also some differences between them in terms of design, performance, quality, and price. Some of the advantages and disadvantages of the Beneteau Oceanis 48 compared to these boats are:


Advantages: The Beneteau Oceanis 48 has a sleek and modern design that stands out from the crowd. It has an innovative transom design that opens up to create a large swim platform or closes to form a secure cockpit. It has a spacious and bright interior that can accommodate up to 12 people in different configurations. It has a well-balanced sailplan and rig that offers good sailing performance and ease of handling.

Disadvantages: The Beneteau Oceanis 48 has a relatively high price compared to some of its competitors. It has a limited range of customization options for the interior and exterior. It has some issues with ventilation and insulation in some areas of the boat. It has some quality problems with some of the fittings and equipment.
---
Other sailboats in the Beneteau 'Oceanis' product range:
I wrote this article using GPT-4, OpenAI's large-scale language-generation model, as a research assistant to develop source material. I wrote the final draft in its entirety and believe it to be accurate to the best of my knowledge.
Dick McClary, creator and owner of sailboat-cruising.com
---
Sep 29, 23 05:38 PM

Sailing characteristics and performance predictions, pics, specifications, dimensions and those all-important design ratios for the Hanse 400 sailboat...

Sep 29, 23 03:17 AM

Interested in the Gulf 32 sailboat? Here are the pics, specs and performance predictions you're looking for...

Sep 28, 23 04:04 PM

Sailing characteristics and performance predictions, pics, specifications, dimensions and those all-important design ratios for the Fuji 35 sailboat
---