The Beneteau 46 Sailboat

Specs & Key Performance Indicators
The Beneteau 46, an aft-cockpit fractional sloop, was designed by Berret Racoupeau Yacht Design and built in France by Beneteau.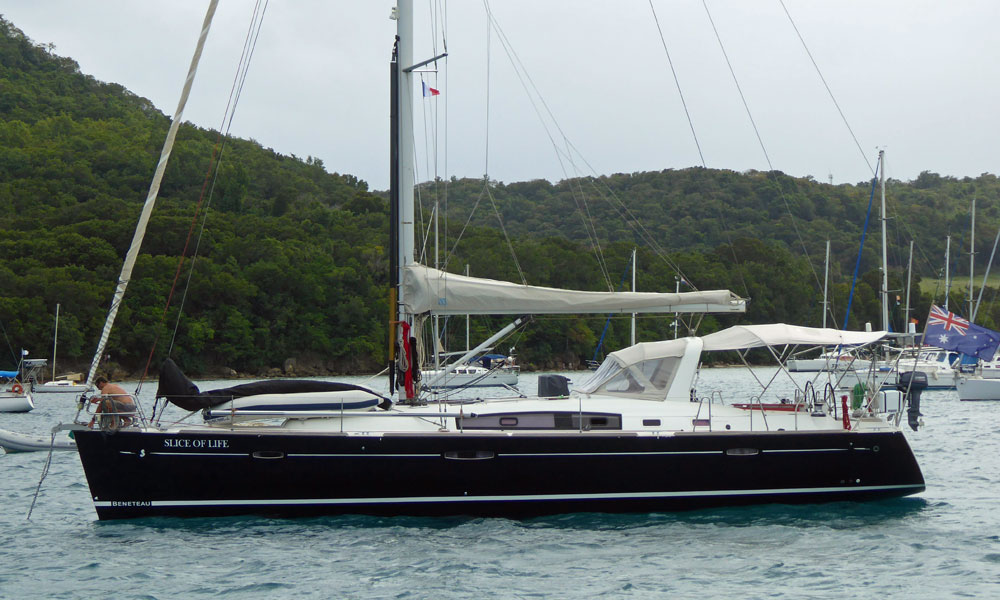 A Beneteau 46
Published Specification for the Beneteau 46
Underwater Profile: Bulb fin keel & skeg-hung rudder
Hull Material: GRP (Fibreglass)
Length Overall: 47'3" (14.4m)
Waterline Length: 40'0" (12.2m)
Beam: 13'11" (4.2m)
Draft: 5'9" (1.8m)
Rig Type: Fractional sloop
Displacement: 23,292lb (10,565kg)
Designer: Berret Racoupeau Yacht Design
Builder: Beneteau (France)
Year First Built: 2005
---
Published Design Ratios for the Beneteau 46
1. Sail Area/Displacement Ratio: 20.8
2. Ballast/Displacement Ratio: 30.7
3. Displacement/Length Ratio: 162
4. Comfort Ratio: 25.6
5. Capsize Screening Formula: 1.9
Summary Analysis of the Design Ratios for the Beneteau 46
1. A Sail Area/Displacement Ratio of 20.8 suggests that, in the right hands, the Beneteau 46 will have enough performance to leave most other sailboats of similar waterline length well astern. 
2. A Ballast/Displacement Ratio of 30.7 would usually mean that the Beneteau 46 would have a tendency to heel uncomfortably in a gust, and need to be reefed early to keep her sailing upright in a moderate breeze.
However, as she has much of her ballast concentrated in a bulb at the foot of her keel, she's likely to be considerably stiffer than her published Ballast/Displacement Ratio might suggest.
3. A Displacement/Length Ratio of 162 tells us the Beneteau 46 is clearly a light displacement sailboat. If she's loaded with too much heavy cruising gear her performance will suffer to a degree.
4. Ted Brewer's Comfort Ratio of 25.6 suggests that crew comfort of a Beneteau 46 in a seaway is similar to what you would associate with the motion of a coastal cruiser with moderate stability, which is not encouraging news for anyone prone to seasickness. 
5. The Capsize Screening Formula (CSF) of 1.9 indicates that a Beneteau 46 would be a safer choice of sailboat for an ocean passage than one with a CSF of more than 2.0. 
---
Cruisers' Questions about this Sailboat...
The Beneteau 46 sailboat has a comfortable and functional accommodation that can sleep up to 8 people in 2 or 3 cabins, depending on the layout. The master cabin is located forward and has a centerline double bed, a vanity, a hanging locker and an ensuite bathroom with a separate shower stall. The guest cabin or cabins are located aft and have double beds, storage space and access to a shared bathroom with a shower. The saloon is spacious and bright, with a U-shaped settee, a dining table, a bench seat and a navigation station. The galley is well equipped with a fridge, a freezer, an oven, a microwave, a double sink and plenty of storage.
The Beneteau 46 sailboat offers two alternative accommodation layout versions: one with 2 cabins and one with 3 cabins. The 2-cabin version has a larger master cabin with more storage space and a larger guest cabin with more headroom. The 3-cabin version has a smaller master cabin with less storage space and two smaller guest cabins with less headroom.
The Beneteau 46 sailboat is designed to deliver excellent sailing performance in all weather and sea conditions. It has a sleek hull shape, a wide beam, a low center of gravity and a high aspect ratio sail plan that provide stability, speed and maneuverability. It has twin rudders that ensure optimal steering control and responsiveness. It can reach speeds of up to 9 knots in moderate winds. It has an optional 'Dock & Go' System that facilitates docking and maneuvering in tight spaces.
The Beneteau 'Dock & Go' system is a revolutionary technology that simplifies yacht maneuvers when sailing on engines. It allows absolute control in moving 90° to port or starboard, forward, astern and even turning on the spot; enabling safe maneuver in limited space areas and in cases of complex berthing situations. The system uses a joystick to coordinate a synchronized bowthruster and a 360° pivoting saildrive, which is powered by an electric motor. The helm is locked during the maneuver and the computer equipped with an AI microprocessor provides the synchronization. The 'Dock & Go' system is offered as an option on many Beneteau sailing yacht models fitted with Yanmar 75 HP SD engines, including the Oceanis 46. You can watch a video demonstration of the 'Dock & Go' system here.


www.beneteau.com/us/oceanis/oceanis-46
www.youtube.com/watch?v=RReCZ6gPRZo
The price for a new Beneteau 46 is around $247,900 USD for the base model. The cost of a secondhand Beneteau 46 will vary depending on the year, condition and equipment of the boat. However, according to some sources, the average cost of a secondhand Beneteau 46 sailboat is around $200,000 USD.
The above answers were drafted by sailboat-cruising.com using GPT-4 (OpenAI's large-scale language-generation model) as a research assistant to develop source material; to the best of our knowledge, we believe them to be accurate.
---
Other sailboats in the Beneteau product range include:
---
Sep 29, 23 05:38 PM

Sailing characteristics and performance predictions, pics, specifications, dimensions and those all-important design ratios for the Hanse 400 sailboat...

Sep 29, 23 03:17 AM

Interested in the Gulf 32 sailboat? Here are the pics, specs and performance predictions you're looking for...

Sep 28, 23 04:04 PM

Sailing characteristics and performance predictions, pics, specifications, dimensions and those all-important design ratios for the Fuji 35 sailboat
---