The Moody 44 MkII Sailboat

Specs & Key Performance Indicators
The Moody 44 MkII, a masthead sloop, was designed by Bill Dixon and built in the UK by Marine Projects.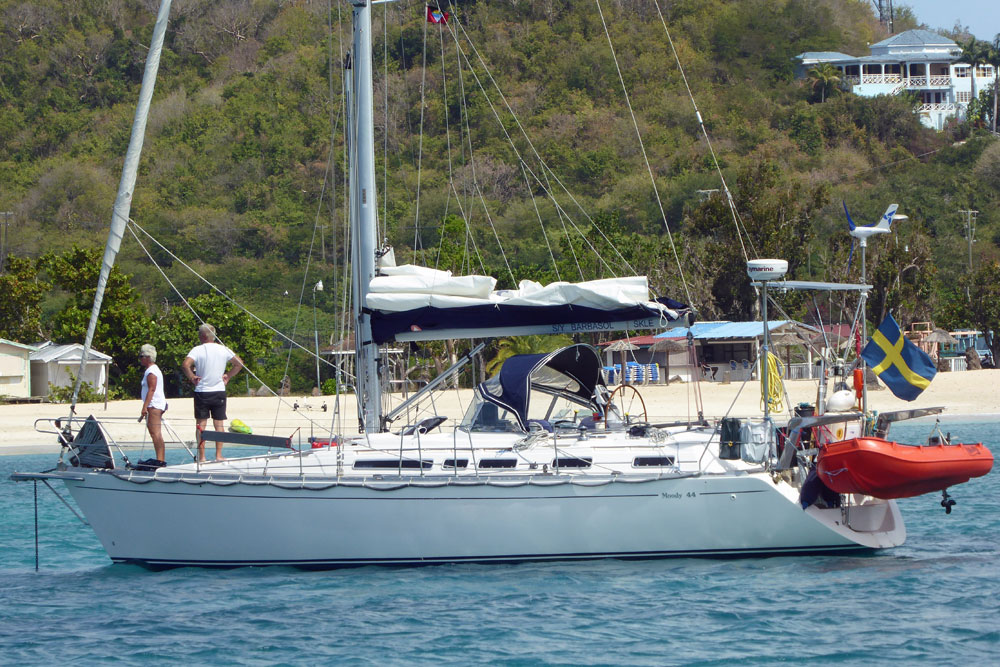 A Moody 44 MkII
Published Specification for the Moody 44 MkII
Underwater Profile: Fin keel and skeg-hung rudder
Hull Material: GRP
Length Overall: 44'0" (13.4m)
Waterline Length: 36'0" (11.0m)
Beam: 13'8" (4.2m)
Draft: 4'11" (1.5m)
Rig Type: masthead sloop
Displacement: 23,631lb (10,719kg
Designer: Bill Dixon
Builder: Marine Projects (UK)
Year First Built: 1991
Year Last Built: 1996
Number Built: 114
Owners Association: Moody Owners Association
Read more about the current range of Moody Yachts...
---
Published Design Ratios for the Moody 44 MkII
1. Sail Area/Displacement Ratio: 16.0
2. Ballast/Displacement Ratio: 40.0
3. Displacement/Length Ratio: 226
4. Comfort Ratio: 30.1
5. Capsize Screening Formula: 1.9
Summary Analysis of the Design Ratios for the Moody 44 MkII
1. A Sail Area/Displacement Ratio of 16.0 suggests that the Moody 44 MkII will, in the right conditions, approach her maximum hull speed readily and satisfy the sailing performance expectations of most cruising sailors.
2. A Ballast/Displacement Ratio of 40.0 means that the Moody 44 MkII will initially stand up reasonably well to her canvas in a moderate breeze, but she'll need a reef in the main to avoid heeling excessively in a gust.
3. A Displacement/Length Ratio of 226, tells us the Moody 44 MkII is a moderate displacement cruiser, which means she'll carry all your cruising gear without it having a dramatic effect on her performance. Most of today's sailboats intended for offshore cruising fall into this displacement category.
4. Ted Brewer's Comfort Ratio of 30.1 suggests that crew comfort of a Moody 44 MkII in a seaway is similar to what you would associate with the motion of a moderate bluewater cruising boat - a predictable and acceptable motion for most seasoned sailors.
5. The Capsize Screening Formula (CSF) of 1.9 tells us that a Moody 44 MkII would be a safer choice of sailboat for an ocean passage than one with a CSF of more than 2.0. 
---
Any Questions?
The Moody 44 MkII is the second version of the Moody 44, which was first launched in 1988. The MkII version has a modified interior layout, a larger cockpit, and a sugar scoop transom. The Moody 44 was also available as a center cockpit or an aft cockpit version.
The Moody 44 MkII sailboat has spacious and comfortable accommodation for up to eight people. The standard layout features a large owner's cabin aft with an en-suite head and shower, a double cabin forward with a shared head and shower, and two single berths in the saloon. The saloon also has a U-shaped settee and a large dining table, a navigation station, and a well-equipped galley.
The Moody 44 MkII sailboat was also offered with an alternative layout that replaced the forward double cabin with two smaller cabins, one with upper and lower berths and one with a V-berth. This layout increased the sleeping capacity to ten people, but reduced the storage space and headroom in the forward cabins.

The Moody 44 MkII sailboat has a masthead sloop rig with a double spreader mast and a furling genoa. The mainsail can be either fully battened or in-mast furling, depending on the owner's preference. The sail area is 1,000 sq ft (93 sq m), which gives the boat a moderate sail area/displacement ratio of 16.0. 
The Moody 44 MkII has a fin keel with a skeg-hung rudder. The keel is made of cast iron and has a ballast of 9,480 lb (4,300 kg), which gives the boat a high ballast/displacement ratio of 40%. The draft of the keel is 4'11" (1.5 m), which allows the boat to access shallow waters but also limits its performance upwind.
The Moody 44 MkII sailboat is a solid and seaworthy cruiser that can handle most weather conditions. It has a good balance of speed and comfort, with a hull speed of 8.1 knots and a displacement/length ratio of 226. It is easy to handle by a small crew, thanks to its well-designed cockpit and deck layout.
Yes, the yacht builder is still in business. Moody Yachts is one of the oldest and most respected British yacht builders, founded in 1827 by John Moody. The company has gone through several changes of ownership over the years, but it still produces high-quality sailing yachts under the Moody brand. The current range of Moody yachts includes the decksaloon series (41 DS, 45 DS, and 54 DS) and the aft cockpit series (41 AC and 45 AC).
The designer of the Moody 44 MkII sailboat is Bill Dixon, a renowned British naval architect who has designed many successful sailing yachts for various brands. Some of his other designs include:


The Taswell series (Taswell 43, Taswell 49, Taswell 50, Taswell 56, Taswell 58);

The Moody 54, Moody 64, and Moody 66;

The Hylas 46, Hylas 49, Hylas 54, and Hylas 70;

The Island Packet 485 and Island Packet 525;

The Southerly 42, Southerly 47, and Southerly 57.
The above answers were drafted by sailboat-cruising.com using GPT-4 (OpenAI's large-scale language-generation model) as a research assistant to develop source material; to the best of our knowledge, we believe them to be accurate.
---
Other sailboats in the Moody range include:
The Moody 33S
---
Oct 02, 23 12:17 PM

It's true that the ketch sailboat with its split rig can make an attractive cruising sailboat for a short-handed crew, but there is a downside to these types of sailboats

Oct 02, 23 08:47 AM

Thinking of buying a Hanse 548 sailboat? Perhaps you should first take a look at these pics, specs and key performance indicators...

Oct 02, 23 04:56 AM

Thinking of buying a Hanse 458 sailboat? Perhaps you should first take a look at these pics, specs and key performance indicators...
---