The Moody 34 Sailboat

Specs & Key Performance Indicators
The Moody 34 is a classic cruising sailboat that was designed by Bill Dixon and built by Moody Yachts in England. It features a centre cockpit, a fin keel, a masthead sloop rig, and a spacious interior with two cabins and a separate head. It's known for its solid construction, comfortable sailing performance, and generous storage space, and is a popular choice for long-distance cruising or liveaboard sailing.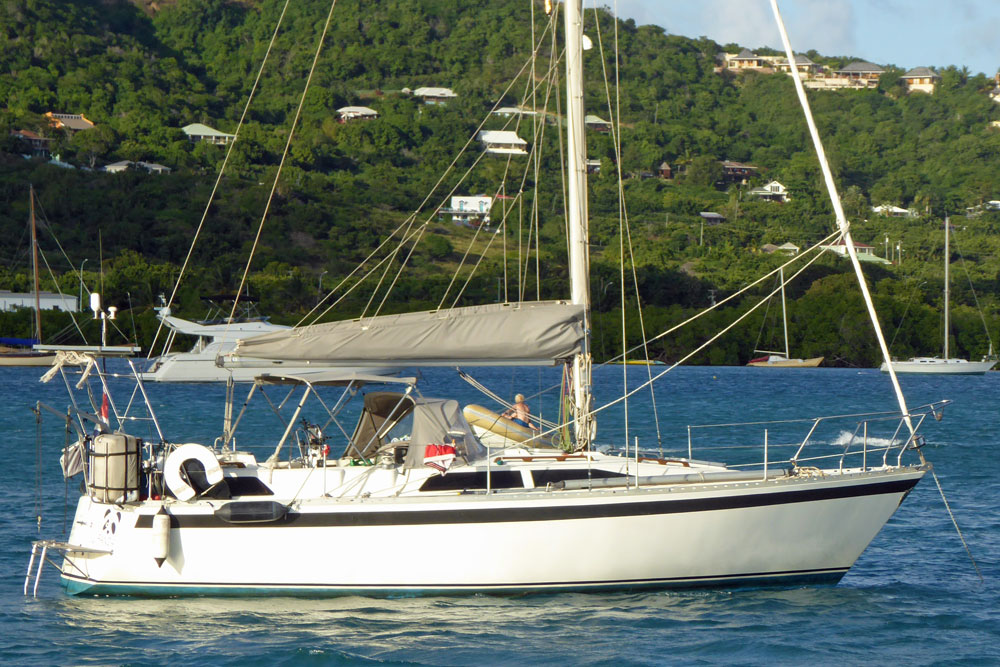 A Moody 34 cruising sloop
Published Specification for the Moody 34
Underwater Profile: Fin keel & Skeg-Hung Rudder;
Hull Material: GRP;
Length Overall: 33'5" / 10.2m;
Waterline Length: 27'9" / 8.5m;
Beam: 11'8" / 3.6m;
Draft: 5'0" / 1.5m;
Rig Type: Masthead sloop;
Displacement: 11,200lb / 5,080kg;
Designer: Bill Dixon;
Builder:  Marine Projects Ltd (UK);
Year First Built: 1983;
Owners Association: Moody Owners Association
Read more about the current range of Moody Yachts...
---
Published Design Ratios for the Moody 34
1. Sail Area/Displacement Ratio: 16.6
2. Ballast/Displacement Ratio: 40.2
3. Displacement/Length Ratio: 234
4. Comfort Ratio: 22.3
5. Capsize Screening Formula: 2.1
Summary Analysis of the Design Ratios for the Moody 34
1. A Sail Area/Displacement Ratio of 16.6 suggests that the Moody 34 will, in the right conditions, approach her maximum hull speed readily and satisfy the sailing performance expectations of most cruising sailors.
2. A Ballast/Displacement Ratio of 40.2 means that the Moody 34 will stand up well to her canvas in a blow, helping her to power through the waves.
3. A Displacement/Length Ratio of 234, tells us the Moody 34 is a moderate displacement cruiser, which means she'll carry all your cruising gear without it having a dramatic effect on her performance. Most of today's sailboats intended for offshore cruising fall into this displacement category.
4. Ted Brewer's Comfort Ratio of 22.3 suggests that crew comfort of a Moody 34 in a seaway is similar to what you would associate with the motion of a coastal cruiser with moderate stability, which is not encouraging news for anyone prone to seasickness.
5. The Capsize Screening Formula (CSF) of 2.1 indicates that a Moody 34 would not be the wisest choice of sailboat for ocean passage-making owing to the lower resistance to capsize in strong winds and heavy seas that is associated with sailboats with a CSF of 2.0 and above.

---
Any Questions?
No, the Moody 34 is not still in production. Production ended in 1986 after 165 units were built.
The builders of the Moody 34 are Moody Yachts, a British company that was founded in 1827 by John Moody. The company has a long and distinguished history of building quality sailing yachts for various markets and purposes. The company went through several changes of ownership and management over the years, and is currently owned by HanseYachts AG, a German company that also owns Dehler, Hanse, Fjord, Sealine, and Privilège.
One verion of the Moody 34 has a fin keel and a skeg-hung rudder; another has a bilge keel with a draft of 3'9".

The Moody 34 has six berths in two cabins and the saloon. The forward cabin has a V-berth that can be converted into a double berth with an infill cushion. The aft cabin has a double berth that can be accessed from both sides. The saloon has two settees that can be used as single berths.
The Moody 34 is a well-balanced and easy-to-handle sailboat that can perform well in various wind and sea conditions. It has a moderate displacement of about 5 tons (11,023 pounds) and a moderate sail area to displacement ratio of about 16. It has a good hull speed of about 7 knots (8 miles per hour) and can point up to about 45 degrees off the wind.
The average cost of a secondhand Moody 34 depends on the condition, equipment, location, and age of the boat. According to YachtWorld, the current asking prices for Moody 34 boats for sale range from £25,689 to £69,995 (about $33,800 to $92,000). According to Apollo Duck, the current asking prices for Moody 34 boats for sale range from £36,000 to £42,000 (about $47,300 to $55,200).
The designer of the Moody 34 is Bill Dixon, a British naval architect who has designed many other sailboats for various brands and markets. Some of his other designs include the Moody Eclipse series, the Moody Halberdier series, the Westerly Ocean series, the Taswell series, the Hylas series, the Discovery series, the Clipper series, and the Azuree series
The above answers were drafted by sailboat-cruising.com using GPT-4 (OpenAI's large-scale language-generation model) as a research assistant to develop source material; to the best of our knowledge, we believe them to be accurate.
---
Other sailboats in the Moody range include:
The Moody 33S
---
Sep 29, 23 05:38 PM

Sailing characteristics and performance predictions, pics, specifications, dimensions and those all-important design ratios for the Hanse 400 sailboat...

Sep 29, 23 03:17 AM

Interested in the Gulf 32 sailboat? Here are the pics, specs and performance predictions you're looking for...

Sep 28, 23 04:04 PM

Sailing characteristics and performance predictions, pics, specifications, dimensions and those all-important design ratios for the Fuji 35 sailboat
---