The Moody 346 Sailboat

Specs & Key Performance Indicators
The Moody 346, a centre cockpit sloop, was designed by Bill Dixon and built in the UK by Marine Projects Ltd.

A Moody 346
Published Specification for the Moody 346
Underwater Profile: Fin keel & skeg-hung rudder
Hull Material: GRP (Fibreglass)
Length Overall: 34'6" (10.5m)
Waterline Length: 27'11" (8.5m)
Beam: 11'7" (3.5m)
Draft: 5'0" (1.5m)
Rig Type: Masthead sloop
Displacement: 11,200lb (5,080kg)
Designer: Bill Dixon
Builder: Marine Projects Ltd (UK)
Year First Built: 1986
Year Last Built: 1990
Number Built: 254
Design Ratios: The Key Performance Indicators
Analysing the Moody 346 sailboat using design ratios provides a broader perspective on her performance and seaworthiness. Let's take a look at these, one by one.

Starting with the Sail Area/Displacement Ratio (SA/D), this ratio provides an idea of the sailboat's speed potential; the higher the number, the faster the sailboat, in general. For the Moody 346, it's around 16.2, indicating moderate cruising speed capabilities.
The Ballast/Displacement Ratio provides an indication of the sailboat's stability. In the case of Moody 346, the ratio hovers around 39. This suggests that the Moody 346 has good stiffness and lower tendency to heel, contributing to a safer and more comfortable voyage.
When it comes to the Displacement/Length Ratio (D/L), it gives a sense of the sailboat's wave-handling ability. The Moody 346 has a D/L of about 239, showing that it has good wave-handling capabilities.
The Comfort Ratio (CR) of the Moody 346 is around 29.3. This implies that she is designed with a priority for comfort, making her suitable for extended cruising or live-aboard scenarios.
Another important factor to consider is the Capsize Screening Formula (CSF). Generally, a lower CSF translates to a vessel that is less likely to capsize. With a CSF of 1.85, the Moody 346 stands as a relatively stable boat, suitable for longer ocean passages.
But how reliable are these design ratios, and how are they derived?
Interior Layout & Design
Now let's move on to the interior design of the Moody 346. As standard feature, she offers a spacious saloon with seating areas, a galley equipped with a cooker, refrigerator, and storage areas, two cabins, and a separate head.
The master cabin offers a double bed and private access to the head for added convenience, while the secondary cabin has a cozy design with two single berths. This layout ensures comfortable accommodation for up to four crew members or family guests.
The design of the Moody 346 is versatile, with some versions offering alternative layouts such as an additional third cabin, potentially suiting those with larger crews.
Hull, Deck & Rigging
Moving to the exterior, the Moody 346 boasts a well-designed cockpit and a wide side deck for safe and easy movement around the vessel. The deck is fitted with high-quality equipment, including winches and cleats for secure anchoring and mooring.
The hull design is arguably one of the Moody 346's best features. The hull is solidly constructed from fiberglass-reinforced plastic, providing strength and durability against harsh marine elements.
The Moody 346 is equipped with husky rigging, a good-sized main, and a sizable genoa. It also features bilge keel which is great for those looking to explore shallow waters or moor in tidal areas.
In a Nutshell...
The Moody 346 is a renowned sailboat model produced by Moody, one of UK's distinguished boat manufacturers. It was designed by renowned yacht architect, Bill Dixon, and introduced in 1986 as a successor to the 34 model. The mid-sized yacht features a combination of comfort and performance, ideal for both cruising and blue water adventures.
The Moody 346 boasts a length of almost 10.5 meters and a considerable beam of over 3.5 meters, allowing it a spacious layout for its size. This boat usually comes with two cabins, a sizable salon, a fully equipped galley, and a single head. It can comfortably sleep up to six people, making it an excellent choice for families or small groups.
One of the distinguishing features of the Moody 346 is its bilge keel design, providing excellent stability and allowing the boat to stand upright when beached or moored in tidal areas. The boat is powered typically by a 35HP Thorneycroft diesel engine, which combines reliability with adequate power.
In terms of performance, the Moody 346 is known for its solid build and safe handling in various sea conditions. Yet, it's still quite responsive and easy to manoeuvre. The boat is equipped with a slab reefing mainsail and a furled headsail, designed to make single-handed sailing possible.
With its blend of comfortable living space, durable construction, and balanced sailing performance, the Moody 346 remains a popular choice among sailing enthusiasts and is often considered an ideal 'live aboard' yacht.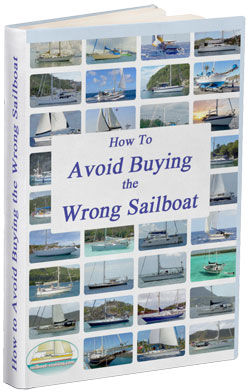 The essential eBook for potential boat buyers...
The Moody 346: A few FAQs...
The Moody 34 and Moody 346, designed by Bill Dixon, share quite a few similarities due to being designed for achieving a balance between performance and comfort. However, there are some notable differences between the two models.

The Moody 34 was introduced in 1982 and produced till 1986, when the manufacturing of Moody 346 began as its improved successor. The most significant difference between the two models lies in the interior layout, size, and comfort.

In terms of size, the Moody 346 is slightly larger with a length of 10.52 meters, whereas the Moody 34 has a length of 10.21 meters. Moreover, the Moody 346 showcases a more optimized and spacious layout featuring a more compact chart table and repositioned galley compared to the Moody 34 ensuring more free space.

Furthermore, the Moody 346 comes with a new innovation in terms of a large toilet and shower compartment aft on the port side, with the option of an entrance from the aft cabin, which is not present in the Moody 34. In the Moody 346, the forward cabin is also made more spacious with more locker room, and the taller output engine is used for better power.

In terms of keel design, the Moody 346 was available with bilge keels, improving stability and allowing the boat to remain upright when beached or in tidal areas, whereas the Moody 34 typically comes with a fin keel.

Overall, the Moody 346 was designed as an enhancement over the Moody 34, with changes mostly in the interior and keel design for improved comfort and stability.
The Moody 346 was primarily designed with two keel options to suit different sailing preferences and conditions. These include the bilge keel and the fin keel.

The bilge keel is a twin keel design that provides excellent stability and allows the boat to stand upright when beached or in shallow tidal areas. This design makes it ideal for sailors who wish to explore areas with significant tides or those wanting more stability while sailing.

On the other hand, the fin keel option offers better performance in terms of speed and manoeuvrability. It is deeper and more streamlined, making it more efficient underwater and thus faster especially upwind. This keel type would be the preferred choice for those prioritizing performance and offshore cruising.

In general, the choice between these two keel options depends on the individual sailing plans and preferences of the boat owner.
I wrote this article using GPT-4, OpenAI's large-scale language-generation model, as a research assistant to develop source material. I wrote the final draft in its entirety and believe it to be accurate to the best of my knowledge.
Dick McClary, creator and owner of sailboat-cruising.com
---
Other sailboats in the Moody range include:
The Moody 33S
---
Nov 29, 23 08:35 AM

Here's where people with sailing equipment for sale advertise their stuff entirely free of charge. If you're looking for used sailing gear or other used boating accessories, here's where to find it!

Nov 10, 23 02:34 AM

My 47' Cheoy Lee sailboat is for sale. Designed by Bill Luders, she is a beautiful and functional liveaboard cruising yacht.

Oct 30, 23 04:22 PM

This article explores the journey of chartering a sailing yacht, from the initial planning stages to the final touches. It provides insight into the joys and challenges of embarking on a voyage of dis…
---