The Moody 422 Sailboat

Specs & Key Performance Indicators
The Moody 422, a centre-cockpit sloop, was designed by Bill Dixon and built in the UK by Marine Projects Ltd.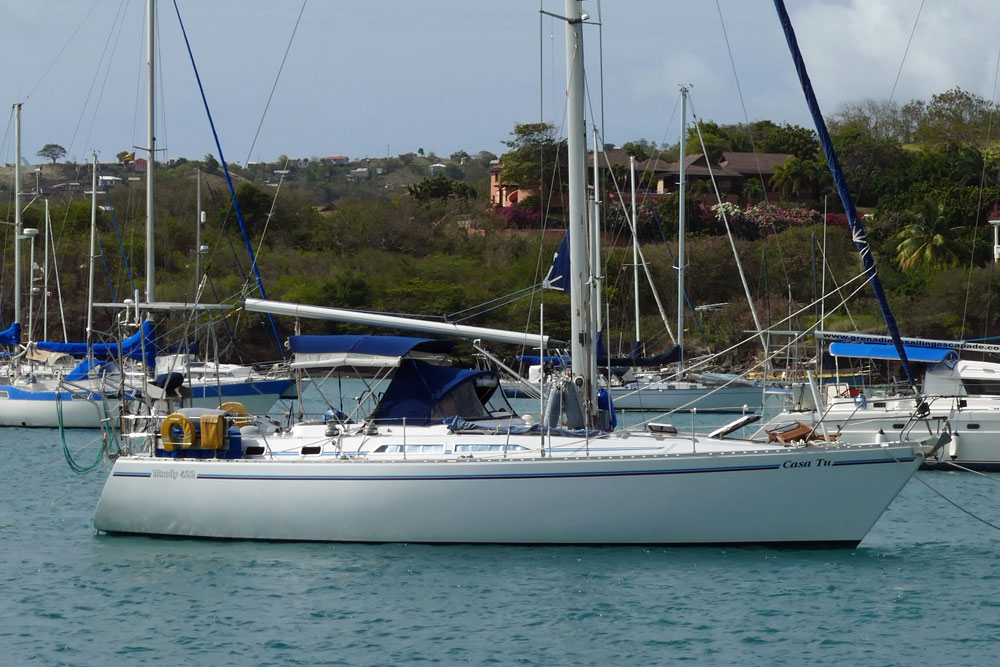 A Moody 422
Published Specification for the Moody 422
Underwater Profile: Fin keel & skeg-hung rudder
Hull Material: GRP (Fibreglass)
Length Overall: 40'8" (12.4m)
Waterline Length: 33'2" (10.4m)
Beam: 13'3" (4.0m)
Draft: 5'9" (1.8m)
Rig Type: Masthead sloop
Displacement: 21,000lb (9,525kg)
Designer: Bill Dixon
Builder: Marine Projects Ltd (UK)
Year First Built: 1986
Read more about the current range of Moody Yachts...
---
Published Design Ratios for the Moody 422
Sail Area/Displacement Ratio: 16.5
Ballast/Displacement Ratio: 40.0
Displacement/Length Ratio: 23
Comfort Ratio: 28
Capsize Screening Formula: 1.9
Summary Analysis of the Design Ratios for the Moody 422
1. A Sail Area/Displacement Ratio of 16.5 suggests that the Moody 422 will, in the right conditions, approach her maximum hull speed readily and satisfy the sailing performance expectations of most cruising sailors.
2. A Ballast/Displacement Ratio of 40.0 means that the Moody 422 will initially stand up reasonably well to her canvas in a moderate breeze, but she's likely to benefit from a reef in the main to avoid heeling uncomfortably in a gust.
3. A Displacement/Length Ratio of 235, tells us the Moody 422 is a moderate displacement cruiser, which means she'll carry all your cruising gear without it having a dramatic effect on her performance. Most of today's sailboats intended for offshore cruising fall into this displacement category.
4. Ted Brewer's Comfort Ratio of 28.8 suggests that crew comfort of a Moody 422 in a seaway is similar to what you would associate with the motion of a coastal cruiser with moderate stability, which is not encouraging news for anyone prone to seasickness. 
5. The Capsize Screening Formula (CSF) of 1.9 indicates that a Moody 422 would be a safer choice of sailboat for an ocean passage than one with a CSF of more than 2.0. 
---
The Moody 422: A Spacious and Comfortable Cruiser for All Seasons
The Moody 422 is a well-built and well-equipped cruising sloop that can take you on long-distance voyages or coastal hops with ease.
Accommodation
One of the main attractions of the Moody 422 sailing boat is its spacious and well-designed accommodation layout. The boat has three separate cabins that can sleep six people comfortably, plus two more berths in the saloon if needed.
The master cabin is located aft, and has a large centerline double bed, plenty of storage, and an ensuite head with shower. The master cabin also has its own companionway to the cockpit, which provides extra ventilation and privacy.
The forward cabin has a V-shaped double bed, a hanging locker, and shelves. It also has access to the second head, which is shared with the third cabin.
The third cabin is located on the port side amidships, and has two single bunk beds, a hanging locker, and drawers.
The saloon is bright and airy, thanks to the large windows and hatches. It has a U-shaped settee on the starboard side, which can convert into a double berth if needed. There is also a large folding table that can seat up to eight people for dining or socializing. On the port side of the saloon, there is another settee that can be used as a single berth or as a seat for the navigation station.
The navigation station is located aft of the port settee, and has a large chart table, an instrument panel, and a swivel seat.
The galley is located on the starboard side aft of the saloon settee, and has everything you need to prepare meals on board. It has a double stainless steel sink, a three-burner gas stove with oven and grill, a top-loading refrigerator with freezer compartment, and plenty of storage for food and utensils. The galley also has ample counter space and an opening port for ventilation.
Hull and Deck
The Moody 422 yacht has a solid fiberglass hull with no core material, which makes it strong and durable. The hull shape is moderate, with a fine entry at the bow and a flat run aft. The hull has no hard chines or knuckles, which gives it a smooth and elegant appearance.
The deck is made of fiberglass with a balsa core for stiffness and insulation and is molded in one piece with an integral toe rail and raised bulwarks for safety. The deck also has molded-in nonskid surfaces for traction.
The deck layout is simple and functional, with wide side decks that allow easy movement around the boat. There are six mooring cleats, two bow rollers, an electric anchor windlass, and an anchor locker at the bow. There are also two dorade vents on the coachroof for ventilation below decks.
The cockpit is large and comfortable, with high coamings that provide shelter from spray and wind. There is a single wheel steering on a pedestal at the helm station, which has engine controls, compass, instruments, and autopilot. There are also two self-tailing winches on either side of the helm for handling the genoa sheets. The cockpit has a teak-laid floor and seats, which add warmth and beauty to the boat. There are also two large lockers under the seats for storing sails, fenders, lines, and other gear. 
There is also a fold-down table that can be attached to the pedestal for dining or drinks in the cockpit. The stern of the boat has a swim platform with a folding ladder, which makes it easy to get in and out of the water. There is also a transom shower for rinsing off after swimming or diving.
Mast and Rigging
The Moody 422 has a sloop rig with a deck-stepped mast and a single set of spreaders. The mast is made of aluminum and has internal halyards and wiring. The mast also has an in-mast reefing system for the mainsail, which allows you to reduce sail area without leaving the cockpit. The boom is also made of aluminum and has an outhaul and a topping lift.
Keel and Rudder
The Moody 422 has a fin keel that is bolted to the hull with stainless steel bolts. The keel is made of cast iron and has a lead ballast for stability and low center of gravity.
The rudder is skeg-hung, which means it is supported by a partial skeg that extends from the bottom of the hull. The skeg provides protection for the rudder from grounding or collision, as well as extra strength and stiffness.
The rudder is made of fiberglass with a stainless steel stock and bearingsand is connected to the wheel by a cable-and-chain system that runs through a pedestal and a quadrant. The rudder also has an emergency tiller that can be attached to the top of the rudder stock in case of steering failure.
Conclusion

The Moody 422 sailboat is a great choice for anyone who wants to enjoy sailing in comfort and style. 
It is a well-built and well-equipped boat that can handle any sea conditions with ease. 
It has a spacious and comfortable interior that can accommodate up to eight people in three separate cabins and two heads. 
It also has a large galley, a navigation station, and a saloon that can serve as a living room or dining room on board. 
It has a sloop rig with easy-to-use sails that can be controlled from the cockpit. 
It also has a powerful engine that can propel the boat at good speed under power. 
It has a fin keel and a skeg-hung rudder that give it good performance and stability on all points of sail. 
It also has a large cockpit with plenty of seating and storage, as well as a swim platform at the stern for easy access to the water.
The above text was drafted by sailboat-cruising.com using GPT-4 (OpenAI's large-scale language-generation model) as a research assistant to develop source material; we believe it to be accurate to the best of our knowledge.
---
Other sailboats in the Moody range include:
---
Nov 29, 23 08:35 AM

Here's where people with sailing equipment for sale advertise their stuff entirely free of charge. If you're looking for used sailing gear or other used boating accessories, here's where to find it!

Nov 10, 23 02:34 AM

My 47' Cheoy Lee sailboat is for sale. Designed by Bill Luders, she is a beautiful and functional liveaboard cruising yacht.

Oct 30, 23 04:22 PM

This article explores the journey of chartering a sailing yacht, from the initial planning stages to the final touches. It provides insight into the joys and challenges of embarking on a voyage of dis…
---