Beneteau Oceanis Clipper 311
The Beneteau Oceanis Clipper 311 Sailboat

Specs & Key Performance Indicators
The Beneteau Oceanis Clipper 311 was designed by Group Finot, and built by the French boatbuilder, Beneteau. Its production period was from 2001 to 2005 over which a total of 1,040 boats were manufactured.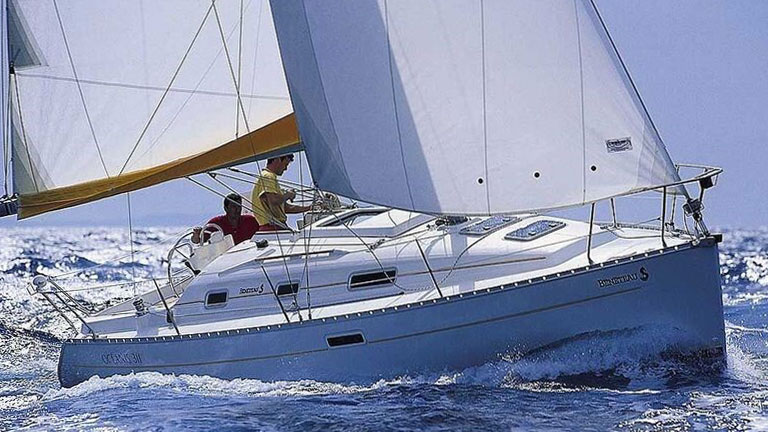 Beneteau Oceanis Clipper 311
The Beneteau Oceanis Clipper 311 was available in two versions with different drafts:

The fixed-keel version has a draft of 4'8" (1.42m);

The centreboard-equipped version which has a draft of 7'1" (2.2m) with the centreboard down and 2'7" (0.8m) with it up.
Published Specification for the Beneteau Oceanis Clipper 311
Underwater Profile: Bulb fin keel with twin rudders
Hull Material: GRP (Fibreglass)
Length Overall: 32'3" (9.8m)
Waterline Length: 28'8" (8.7m)
Beam: 10'6" (8.7m)
Draft: 4'8" (1.4m)
Rig Type: Fractional sloop
Displacement: 7.716lb (3,500kg)
Ballast: 2,425lb (1,100kg)
---
Performance Predictions based on the Design Ratios
Based on the published design ratios, the Beneteau Oceanis Clipper 311 is expected to deliver a solid performance.
Its Sail Area to Displacement Ratio (SA/D) of 22.1 indicates a well-powered sailboat capable of impressive speeds, particularly in heavier winds. It does, however, require skilled handling in stronger winds.
The Ballast to Displacement Ratio (B/D) of 31.4 suggests a moderate level of stability. This boat will respond lively to wind gusts and may heel quite rapidly, yet it will also offer an exciting and responsive sailing experience.
A Displacement to Length Ratio (D/L) of 146 places the boat in the heavier displacement category. This means it may not perform well in light wind conditions, but it will be more comfortable and steady during long-distance cruising, providing a smoother journey at sea.
The Comfort Ratio (CR) of 17.5 falls into the middle range suggesting a good level of comfort for the crew during sailing. This sailboat would not have a very rough motion in waves, making it well-suited for average wind and sea conditions.
Finally, the Capsize Screening Formula (CSF) value of 2.1 is slightly above the general safety guideline of 2.0. This indicates that the boat could be more prone to capsize in certain conditions. However, it doesn't necessarily mean the boat is unsafe, but it does underline the importance of skilled handling and prudent seamanship.
To summarize, the Beneteau Oceanis Clipper 311 should present a balance between comfort and performance, offering an enjoyable cruising experience particularly in moderate to heavy wind conditions.

The Designer
Group Finot, now known as Finot-Conq Architects, is a renowned yacht design firm that has been instrumental in bringing forth some acclaimed sailboats.
Pioneered by Jean-Marie Finot and Pascal Conq, the design team has been credited for their innovative and performance-driven design approach in the competitive sailing realm. They have been the vanguard behind the acclaimed designs of both racing yachts and cruising yachts. Notably, they have designed a series of Beneteau models including the Beneteau Oceanis range.
They also designed the Opium 39, the Pogo range for Structures shipyard which includes Pogo 30, Pogo 36 and the high-speed cruiser Pogo 50. Their portfolio is diverse and extensive, marking their significant influence in sailing yacht design.
The Builder
Beneteau, founded by Benjamin Bénéteau in 1884, is one of the oldest and most prominent boat-building companies in the world. Originating as a small shipyard in Croix-de-Vie, France, Beneteau initially built fishing boats and later expanded to recreational yachts due to increased leisure sailing popularity. The company is famed for its Oceanis, First, and Sense series in the sailing categories, and Antares and Flyer series in the motorboats segment. Iconic models over the years include the Beneteau First 30, Oceanis 38, and Beneteau Oceanis 55.
Today Beneteau has developed into a global leader in boat building, encompassing numerous other brands including Jeanneau, Lagoon, and Prestige under its umbrella. Despite the industry fluctuations, Beneteau has preserved its status and is very much a thriving entity. Today, under Luca Brancaleon's leadership, it continues to manufacture an array of dedicated cruising and racing sailboats, and motorboats, along with luxury yachts, symbolizing the unmistakable French nautical engineering and design.
Summary
In conclusion, the Beneteau Oceanis Clipper 311, with its robust manufacturing and thoughtful design, has carved out a significant place among cruising sailboats. Notably lauded by the sailing press for its fusion of performance, stability, and comfort, the yacht carries the distinctive stamp of its designers, the Group Finot.
Many owners have often reported their satisfaction with the boat, noting its adept handling in diverse sailing conditions, its seaworthy characteristics, and the living comfort it grants.
Although production ceased in 2005, consistent demand for this model remains a testament to its enduring appeal. Despite newer models and designs joining the sailing scene, the Beneteau Oceanis Clipper 311 continues to be highly reliable, embodying the brand's tradition of quality and innovation while also echoing Group Finot's maritime design expertise.

Other sailboats in the Beneteau 'Oceanis' product range:
The Beneteau Oceanis 381
I wrote this article using GPT-4, OpenAI's large-scale language-generation model, as a research assistant to develop source material. I wrote the final draft in its entirety and believe it to be accurate to the best of my knowledge.
Dick McClary, creator and owner of sailboat-cruising.com
Nov 29, 23 08:35 AM

Here's where people with sailing equipment for sale advertise their stuff entirely free of charge. If you're looking for used sailing gear or other used boating accessories, here's where to find it!

Nov 10, 23 02:34 AM

My 47' Cheoy Lee sailboat is for sale. Designed by Bill Luders, she is a beautiful and functional liveaboard cruising yacht.

Oct 30, 23 04:22 PM

This article explores the journey of chartering a sailing yacht, from the initial planning stages to the final touches. It provides insight into the joys and challenges of embarking on a voyage of dis…
---