The Hunter 36 Legend Sailboat

Specs & Key Performance Indicators
The Hunter 36 Legend is a popular production cruiser that was designed by Glenn Henderson and built in the USA by Hunter Marine from 2001 to 2008. The boat features a spacious and comfortable interior, a fractional B&R rig with no backstay, a choice of two keel options and a comprehensive standard inventory. The boat is well suited for coastal cruising and family sailing.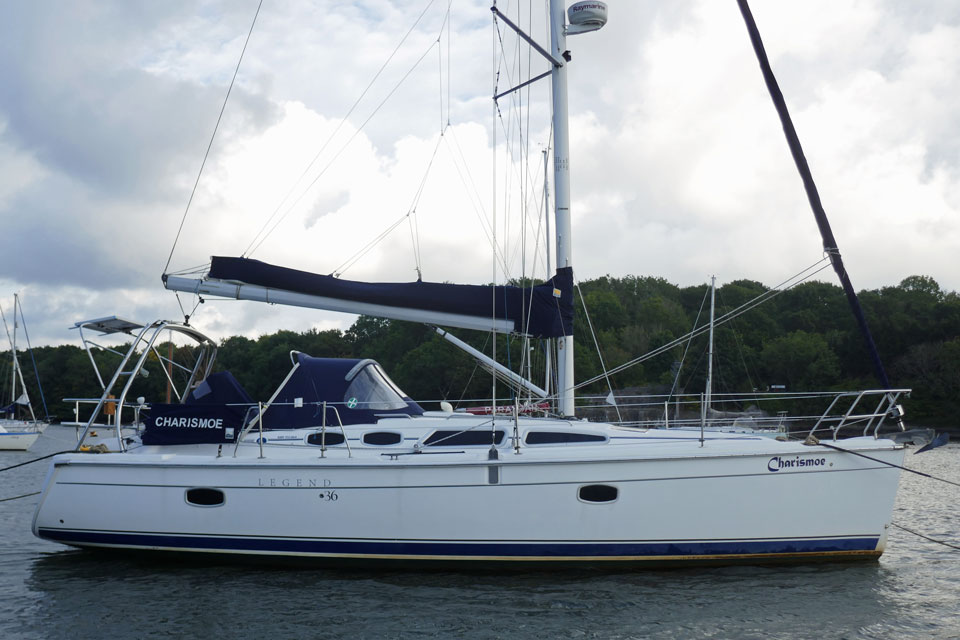 A Hunter 36 Legend
Published Specification for the Hunter 36 Legend

Underwater Profile: Fin keel with spade rudder
Hull Material: GRP (Fibreglass)
Length Overall: 35'9" (10.9m)
Waterline Length: 31'6" (9.6m)
Beam: 12'4" (3.8m)
Draft: 6'10" (2.1m)
Rig Type: B&R
Displacement: 14,330lb (6,500kg)
Ballast: 5,132lb (2,328kg)
Designer: Glenn Henderson
Builder: Hunter Marine (USA)
Year First Built: 2001
---
Published Design Ratios for the Hunter 36 Legend
1. Sail Area/Displacement Ratio: 17.2
2. Ballast/Displacement Ratio: 35.8
3. Displacement/Length Ratio: 204
4. Comfort Ratio: 23.8
5. Capsize Screening Formula: 2.1
Summary Analysis of the Design Ratios for the Hunter 36 Legend
1. A Sail Area/Displacement Ratio of 17.2 suggests that the Hunter 36 Legend will, in the right conditions, approach her maximum hull speed readily and satisfy the sailing performance expectations of most cruising sailors.

2. A Ballast/Displacement Ratio of 35.8 means that a sailboat like the Hunter 36 Legend is likely to benefit from being reefed early to keep her sailing upright in a moderate breeze.
3. A Displacement/Length Ratio of 204, tells us the Hunter 36 Legend is a moderate displacement cruiser, which means she'll carry all your cruising gear without it having a dramatic effect on her performance. Most of today's sailboats intended for offshore cruising fall into this displacement category.
4. Ted Brewer's Comfort Ratio of 23.8 suggests that crew comfort of a Hunter 36 Legend in a seaway is similar to what you would associate with the motion of a coastal cruiser with moderate stability, which is not the best of news for anyone prone to seasickness. 
5. The Capsize Screening Formula of 2.1 tells us that a Hunter 36 Legend would not be as good a choice of sailboat for ocean passage-making, owing to the increased risk of capsize in strong winds and heavy seas when compared to a sailboat with a CSF of less than 2.0.
---
---
Any Questions?
The Hunter 36 Legend has a spacious and comfortable interior, with two cabins, one head, a separate shower stall, a wet locker, a U-shaped galley, a large saloon and a navigation station. The boat features many home comforts such as sprung mattresses, top- and front-opening fridges, pressurised hot water, Corian countertops, and more. The boat is beamy, bright, airy and voluminous.
According to the original brochure, the Hunter 36 Legend was available with two alternative accommodation layouts: one with a V-berth forward cabin and another with a Pullman berth forward cabin. Both layouts have a double aft cabin and a convertible dinette in the saloon.
The Hunter 36 Legend has a fractional B&R rig with swept-back spreaders and no backstay . The boat comes standard with a roller-furling genoa and a fully battened mainsail with two reefs. The mainsail is controlled by a single-line reefing system and an arch-mounted traveller.
The Hunter 36 Legend was offered with two keel options: a shoal draft wing keel with a draft of 1.52 m (5.00 ft) and a deep draft fin keel with a draft of 1.98 m (6.50 ft).
The Hunter 36 Legend is a lively and responsive boat that performs well in various wind conditions. The boat is reasonably well arranged for shorthanded sailing, with all control lines led aft to the cockpit. The boat is mainly driven by its powerful mainsail, so it needs reefing early in strong winds.
According to YachtWorld, the average asking price for a secondhand Hunter 36 Legend in December 2022 was £57,473 ($76,000), based on two listings. The prices ranged from £44,995 ($59,500) for a 2008 model to £69,950 ($92,500) for a 2007 model.
Yes, Hunter Marine (now known as Marlow-Hunter) is still in business and continues to produce sailboats in Alachua, Florida. The company was founded in 1973 by Warren Luhrs and was acquired by David Marlow in 2012.
Glenn Henderson is an American naval architect who has designed many sailboats for Hunter Marine, such as the Hunter 306, Hunter 356, Hunter 41 DS, Hunter 45 CC, Hunter 49 and more. He is also the founder of Henderson Yacht Design, which specializes in high-performance racing yachts.

The above answers were drafted by sailboat-cruising.com using GPT-4 (OpenAI's large-scale language-generation model) as a research assistant to develop source material; to the best of our knowledge, we believe them to be accurate.
---
Other sailboats in the Hunter range include:
---
Nov 29, 23 08:35 AM

Here's where people with sailing equipment for sale advertise their stuff entirely free of charge. If you're looking for used sailing gear or other used boating accessories, here's where to find it!

Nov 10, 23 02:34 AM

My 47' Cheoy Lee sailboat is for sale. Designed by Bill Luders, she is a beautiful and functional liveaboard cruising yacht.

Oct 30, 23 04:22 PM

This article explores the journey of chartering a sailing yacht, from the initial planning stages to the final touches. It provides insight into the joys and challenges of embarking on a voyage of dis…
---