The Dehler 39 CWS Sailboat

Specs & Key Performance Indicators
The Dehler 39 CWS, a fractionally rigged sloop, was designed by E. G. Van de Stadt and built in Germany by Dehler Yachts.

A Dehler 39 CWS
Published Specification for the Dehler 39 CWS

Underwater Profile: Bulb fin keel & spade rudder
Hull Material: GRP (Fibreglass)
Length Overall: 38'11" (11.9m)
Waterline Length: 30'2" (9.2m)
Beam: 10'10" (3.3m)
Draft: 6'2" (1.9m)
Rig Type: Fractional sloop
Displacement: 11,246lb (5,101kg)
Designer: E. G. Van de Stadt
Builder: Dehler Yachts (Germany)
Year First Built: 1988
Published Design Ratios for the Dehler 39 CWS
1. Sail Area/Displacement Ratio: 18.8
2. Ballast/Displacement Ratio: Not published
3. Displacement/Length Ratio: 182
4. Comfort Ratio: 22.2
5. Capsize Screening Formula: 1.94
read more about these Key Performance Indicators...
---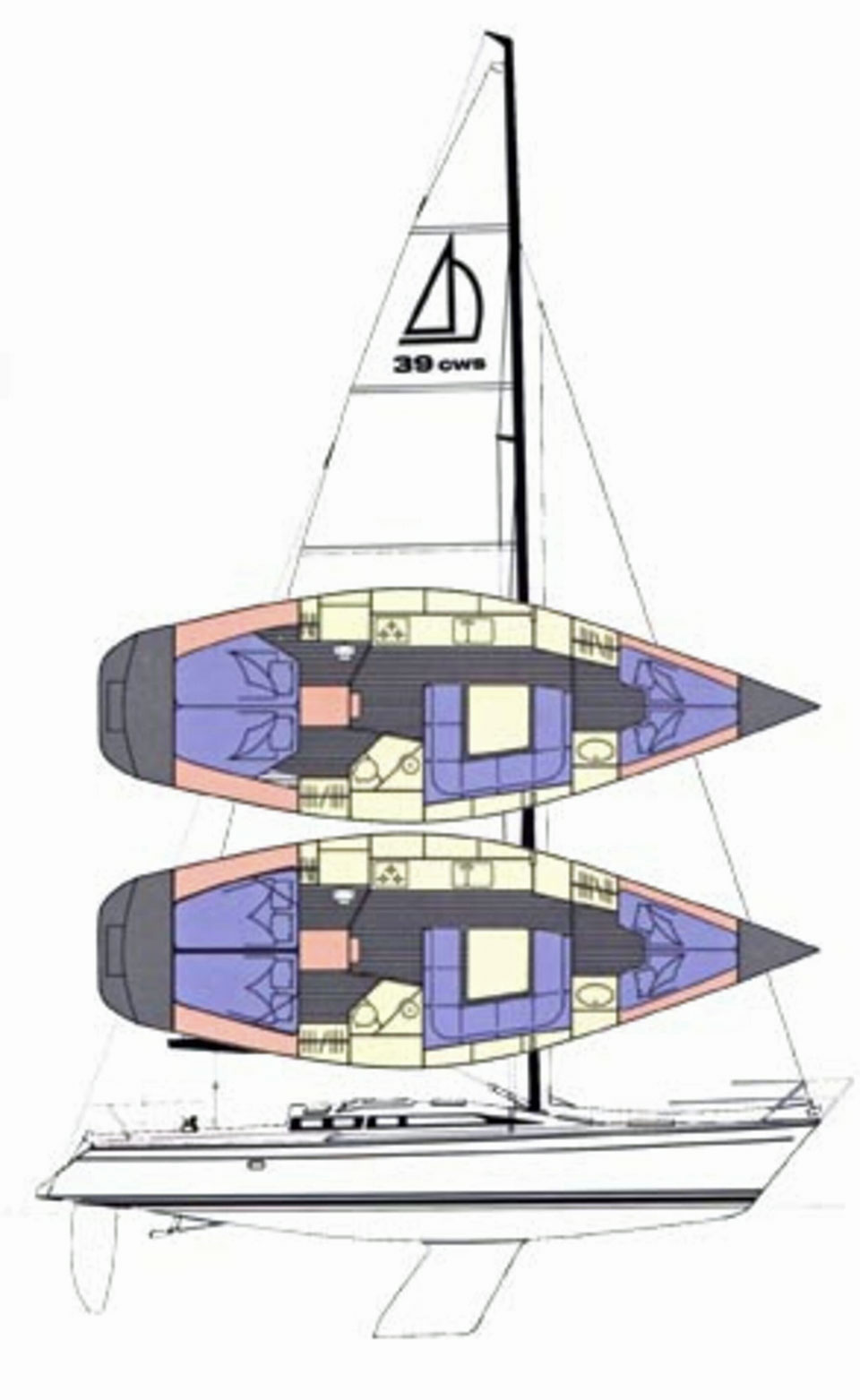 Sailplan & Accommodation Layout Options
Check out the latest sailboats in the Dehler range...
Summary Analysis of the Design Ratios for the Dehler 39 CWS
1. A Sail Area/Displacement Ratio of 18.8 suggests that the Dehler 39 CWS will, in the right conditions, approach her maximum hull speed readily and satisfy the sailing performance expectations of most cruising sailors.
2. In the absence of any published ballast weight, we are unable to calculate the Ballast/Displacement Ratio for the Dehler 39 CWS.
3. A Displacement/Length Ratio of 182, tells us the Dehler 39 CWS is clearly a light displacement sailboat. If she's loaded with too much heavy cruising gear her performance will suffer to a degree.
4. Ted Brewer's Comfort Ratio of 22.2 suggests that crew comfort of a Dehler 39 CWS in a seaway is similar to what you would associate with the motion of a coastal cruiser with moderate stability, which is not the best of news for anyone prone to seasickness. 
5. The Capsize Screening Formula (CSF) of 1.94 indicates that a Dehler 39 CWS would be a safer choice of sailboat for an ocean passage than one with a CSF of more than 2.0. 
---
---
The Dehler 39 CWS sailboat: A sleek and elegant cruiser-racer
If you are looking for a boat that combines exceptional sailing performance with a modern and comfortable interior, you might want to check out the Dehler 39 CWS sailboat. This boat is the flagship of the new Dehler yacht generation, designed by Van de Stadt and Partners with an unobtrusive design and equipped with proven outstanding technology.
In this article, we will give you an overview of the main features and specifications of this boat, as well as some of the options and variations that are available for different sailing needs and preferences.

Overview
The Dehler 39 CWS is a 39-foot (11.9-meter) sailboat that can accommodate up to six people in three cabins. It has a beam of 12.1 feet (3.7 meters) and a draft of 6.4 feet (1.95 meters). It has a displacement of 7.5 tons (6.8 metric tons) and a ballast of 3 tons (2.7 metric tons). It has a sail area of 807 square feet (75 square meters) and a mast height of 54.8 feet (16.7 meters).

The boat is powered by a Volvo Penta MD2030 diesel engine with 29 horsepower (21 kilowatts) and a saildrive transmission. It has a fuel capacity of 34 gallons (130 liters) and a water capacity of 92 gallons (350 liters). It has a stainless steel steering wheel and a self-draining cockpit with teak seats and floor.

One of the distinctive features of this boat is the CWS system, which stands for Central Winch System. This system allows the halyards and trim lines to be controlled from the center of the cockpit, using two electric winches and a control panel. This makes sailing easier and safer, especially for small or inexperienced crews.

Accommodation
The Dehler 39 CWS has a spacious and contemporary interior, with mahogany woodwork and blue upholstery. The layout can be customized according to the owner's preferences, but the standard version has three cabins: one forward cabin with a double berth and two aft cabins with single berths. There is also a convertible saloon with a U-shaped settee and a folding table that can seat up to six people.

The boat has one head compartment with a marine toilet, a washbasin and a shower. The head is accessible from both the saloon and the forward cabin. The boat also has a navigation station with a chart table, an instrument panel and a seat on the starboard side of the saloon.

The galley is located on the port side of the saloon, opposite the navigation station. It is equipped with a two-burner gas stove with an oven, a refrigerator, a double sink and plenty of storage space.

Hull and Deck
The hull of the Dehler 39 CWS is made of fiberglass reinforced plastic (FRP) with balsa core sandwich construction. The hull is white with blue stripes and has a blue antifouling coating on the bottom. The deck is also made of FRP with balsa core sandwich construction and has an anti-slip surface.

The deck has a flush design, with no raised cabin or cockpit coaming. This gives the boat a sleek and elegant appearance, as well as reducing windage and improving visibility. The deck also has an integrated platform on the stern, which provides safety and comfort when boarding or swimming.

The deck is fitted with stainless steel stanchions, lifelines, cleats, handrails, bow pulpit and stern pushpit. It also has six mooring cleats, four fairleads, two bow rollers, an anchor locker, two dorade vents, two skylights, four opening portholes, two fixed windows, two cockpit lockers, two gas bottle lockers, two cockpit speakers, a cockpit table, a sprayhood, a bimini top and a bathing ladder.

Mast and Rigging
The mast of the Dehler 39 CWS is made of aluminum alloy and is deck-stepped on a stainless steel compression post. The mast has two sets of swept-back spreaders and an internal conduit for wiring. The mast also has an anodized finish and is equipped with masthead lights, steaming lights, deck lights, a Windex, a VHF antenna and a wind instrument.
The rigging of the Dehler 39 CWS is made of stainless steel wire and is configured as a fractional sloop rig. The rigging includes a forestay, a backstay, two upper shrouds, two lower shrouds, two intermediate shrouds, two aft lower shrouds and two running backstays. The rigging also has turnbuckles, toggles, chainplates and tensioners.
The sails of the Dehler 39 CWS are made of Dacron and include a mainsail, a genoa, a jib and a spinnaker.
The sail handling equipment of the Dehler 39 CWS includes two electric winches, two manual winches, two winch handles, two rope clutches, two jammers, two blocks, two tracks, two cars, two travellers, two stoppers, two cleats, two cam cleats, two eye straps, two snap shackles, two sheets, two halyards and two reefing lines.

Keel and Rudder
The keel of the Dehler 39 CWS is made of cast iron and has a fin shape with a bulb at the bottom. The keel is bolted to the hull with stainless steel bolts and nuts. The keel has a draft of 6.4 feet (1.95 meters) and a weight of 3 tons (2.7 metric tons).

The rudder of the Dehler 39 CWS is made of FRP with a foam core and has a spade shape. 
Conclusion
The Dehler 39 CWS sailboat is a great choice for recreational sailors who want a boat that can perform well in various conditions and offer a comfortable and versatile living space. The boat has a sleek and elegant design, with an innovative CWS system that makes sailing easier and safer. The boat also has a spacious and contemporary interior, with three cabins and one head. The boat can be customized according to the owner's preferences, with different options for the layout, the rigging, the sails and the equipment.

The above text was drafted by sailboat-cruising.com using GPT-4 (OpenAI's large-scale language-generation model) as a research assistant to develop source material; we believe it to be accurate to the best of our knowledge.
---
Other sailboats in the Dehler range include:
Sep 30, 23 11:02 AM

Experience luxury and performance with our Bavaria 44AC sailboat! With its well-crafted interiors, state-of-the-art navigation gear, spacious layout, and robust sailing capabilities, it's perfect for…

Sep 29, 23 05:38 PM

Sailing characteristics and performance predictions, pics, specifications, dimensions and those all-important design ratios for the Hanse 400 sailboat...

Sep 29, 23 03:17 AM

Interested in the Gulf 32 sailboat? Here are the pics, specs and performance predictions you're looking for...
---