The Dehler 43 CWS Sailboat

Specs & Key Performance Indicators
The Dehler 43 CWS, a fractionally rigged sloop, was designed by E. G. Van de Stadt and built in Germany by Dehler Yachts.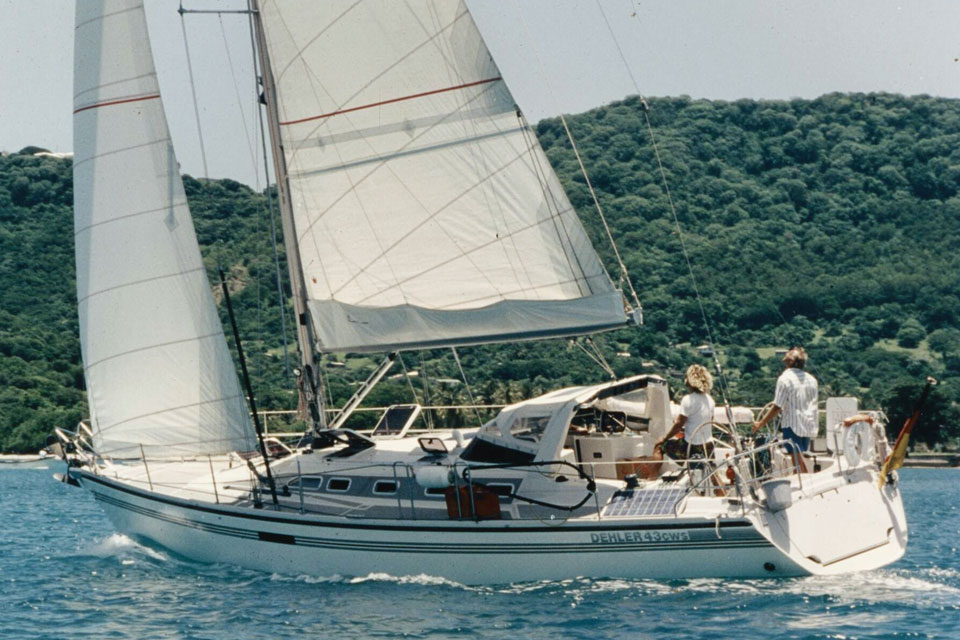 A Dehler 43 CWS
Published Specification for the Dehler 43 CWS
Underwater Profile: Bulb fin keel & spade rudder
Hull Material: GRP (Fibreglass)
Length Overall: 43'4" (13.2m)
Waterline Length: 34'9" (10.6m)
Beam: 12'9" (3.9m)
Draft: 6'9" (2.1m)
Rig Type: Fractional sloop
Displacement: 19,180lb (8,700kg)
Ballast: 8,377lb (3,800kg)
Designer: E. G. Van de Stadt
Builder: Dehler Yachts (Germany)
Year First Built: 1985

Dehler 46 CWS Accommodation Plan
The Dehler 43 CWS is a sailboat that is widely recognized for its performance and design. It brings together a unique blend of speed, comfort, and functionality, making it a sought-after model among sailing enthusiasts. 

Design Ratios: The Key Performance Indicators
Diving into its performance capabilities, the Dehler 43 CWS boasts some impressive design ratios.
Notably, its Sail Area/Displacement Ratio (SA/D) stands at 18.96, indicating that it's well-suited for light to moderate wind conditions. This ratio suggests the boat's potential for speed and acceleration, making it an ideal choice for those who value performance on the water.
The Ballast/Displacement Ratio (B/D) of the Dehler 43 CWS is 39.6%, a value that signifies a significant amount of stability. This high ratio ensures the boat remains balanced in high wind and rough sea conditions, providing a comfortable and safe sailing experience.
The boat's Displacement/Length Ratio (D/L) is 176.46, which is within the medium displacement range. This implies that the Dehler 43 CWS is a versatile boat that can perform commendably in a variety of sea conditions, offering a balance between speed and stability.
The Comfort Ratio (CR) of the Dehler 43 CWS stands at 29.06. This ratio measures the boat's comfort level when cruising, considering the motion of the boat in relation to the sea. A lower CR value suggests a sportier, faster boat, whilst the higher CR indicates a comfortable cruiser. The Dehler 43 CWS tends to lean more towards the sporty side, providing a thrilling sailing experience.
The Capsize Screening Formula (CSF) for the Dehler 43 CWS is 2.02, which is within the safe range. This suggests that the boat has a good level of seaworthiness and is less likely to capsize in extreme conditions, thus promising a safe and secure voyage.
The Rig
The standard setup of Dehler 43 CWS is a a standard 7/8 fractional rig with a self-tacking jib, well-liked for its simplicity and its performance characteristics.

However, like most Dehler models, the 43 CWS does not offer alternative rigging configurations such as cutter or ketch, instead focusing on optimizing the performance of the default sloop configuration.
The CWS stands for 'Central Winch System' which allows the helmsman to control all the sheets and halyards from a single powered winch in the cockpit, making it easier to handle the boat single-handedly or with a small crew. This system enhances safety and convenience by reducing the need to go to the mast or foredeck to adjust sails or control lines. 
Reviews
The Dehler 43 CWS has been positively reviewed by the sailing press. The boat's sailing performance, stability, and comfort have been praised, while its high-quality construction and attention to detail have also been recognized.

Any boat, however, has its weaknesses. Some reviewers have noted that the relatively sporty nature of the Dehler 43 CWS may not be to everyone's taste. Those who prefer a more sedate and comfortable cruising experience may find the boat's performance-oriented design less appealing.
The Secondhand Market
On the secondhand market, the availability of the Dehler 43 CWS varies. As a popular model, it is generally in demand, but the exact number of boats available for sale at any given time will depend on a variety of factors, including the time of year and the location.

The asking prices for a used Dehler 43 CWS can vary widely based on its condition, age, location, and any additional features or equipment it may have. However, as of September 2023, prices range from approximately £70,000 to £120,000 .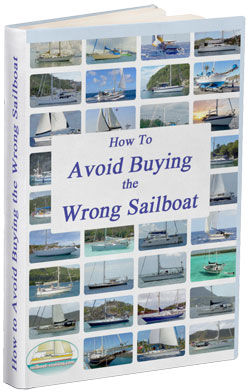 The essential eBook for potential boat buyers...
Comparing the Dehler 43 CWS with similar sailboats in its class, one might note that it stands out in terms of performance and design. Its sail area to displacement ratio, ballast to displacement ratio, and displacement to length ratio are all favorable, suggesting superior performance and stability on the water.

In terms of comfort, while the Dehler 43 CWS may not be the most luxurious boat in its class, it certainly doesn't skimp on amenities. It offers a comfortable and spacious interior, with ample room for passengers and gear.
Many sailors have testified to the seaworthiness of the Dehler 43 CWS. Its capsize screening formula indicates a good level of safety and resilience in extreme conditions, an essential factor for any boat owner.

The Dehler 43 CWS's sloop configuration is efficient and provides excellent performance, although those who prefer alternative setups such as cutter or ketch may be disappointed by the lack of these options.
In terms of construction, the Dehler 43 CWS is built to a high standard, with quality materials and craftsmanship evident throughout. This is a major selling point for the boat and contributes to its overall value.
The boat's design is modern and sleek, with an emphasis on performance and functionality. While its aesthetic may not appeal to everyone, there's no denying that it's a good-looking boat that's sure to turn heads in any marina.
The availability of the Dehler 43 CWS on the secondhand market is generally good, but prospective buyers will need to be proactive in their search. This is a popular model, and good examples tend to be snapped up quickly.
The asking price for a used Dehler 43 CWS is competitive, especially considering the quality and performance of the boat. However, buyers should be prepared for potential additional costs such as maintenance and mooring fees.
In comparison to other boats in its class, the Dehler 43 CWS holds its own. It offers excellent performance, a high level of comfort, and a solid construction, making it a worthy contender for any boat buyer's shortlist.
Ultimately, whether the Dehler 43 CWS is the right boat for you will depend on your personal sailing requirements and ambitions. This boat offers a potent combination of performance, comfort, and quality, making it a strong choice for many sailors.
However, it's essential to thoroughly research and fully understand what owning a boat like the Dehler 43 CWS entails before making a purchase decision. Consider factors such as the boat's design ratios, reviews, availability, and price, as well as your own sailing skills, experience, and goals.
In conclusion, the Dehler 43 CWS is a truly outstanding sailboat with a lot to offer. Whether you're an experienced sailor or just starting on your sailing journey, this boat deserves careful consideration. Its blend of performance, comfort, and quality, combined with the adventure and challenge it offers, makes it a great choice for a wide range of sailors.
Other sailboats in the Dehler range include:
I wrote this article using GPT-4, OpenAI's large-scale language-generation model, as a research assistant to develop source material. I wrote the final draft in its entirety and believe it to be accurate to the best of my knowledge.
Dick McClary, creator and owner of sailboat-cruising.com
Sep 30, 23 11:02 AM

Experience luxury and performance with our Bavaria 44AC sailboat! With its well-crafted interiors, state-of-the-art navigation gear, spacious layout, and robust sailing capabilities, it's perfect for…

Sep 29, 23 05:38 PM

Sailing characteristics and performance predictions, pics, specifications, dimensions and those all-important design ratios for the Hanse 400 sailboat...

Sep 29, 23 03:17 AM

Interested in the Gulf 32 sailboat? Here are the pics, specs and performance predictions you're looking for...
---