The Dehler 36 CWS

Specs & Key Performance Indicators
The Dehler 36 CWS, a fractional sloop, was designed by E.G. van de Stadt and built in Germany by Dehler Yachts.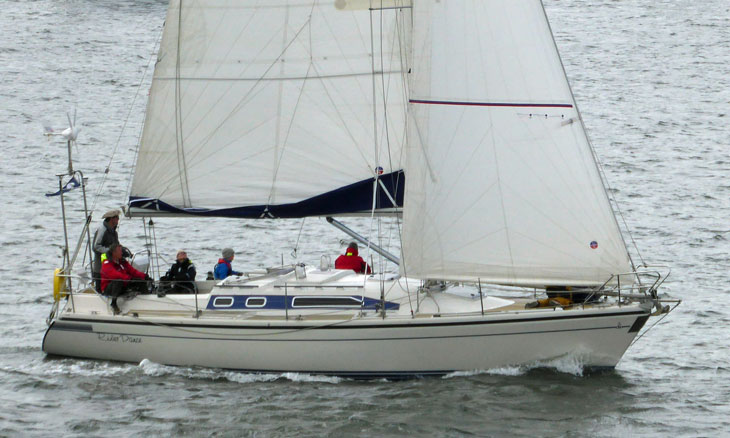 'River Dance', a Dehler 36 CWS
Published Specification for the Dehler 36 CWS
*
Underwater Profile: Bulb Keel & Spade Rudder
Hull Material: GRP (Fiberglass)
Length Overall: 36'1" (11.0m)
Waterline Length: 29'6" (9.0m)
Beam: 11'6" (3.5m)
Draft: 6'1" (1.9m)
Rig Type: Fractional sloop
Displacement: 12,348lb (5,600kg)
Designer: E.G. van de Stadt
Builder: Dehler (Germany)
Year First Built: 1986
Year Last Built: 1994
* 'CWS' (Central Winch System) relates to a single, electrically powered winch in the cockpit which controls the sheets, halyards and reefing lines.
---
Published Design Ratios for the Dehler 36 CWS
1. Sail Area/Displacement Ratio: 19.1
2. Ballast/Displacement Ratio: 42.9
3. Displacement/Length Ratio: 214
4. Comfort Ratio: 23.5
5. Capsize Screening Formula: 2.0
Summary Analysis of the Design Ratios for the Dehler 36 CWS
1. A Sail Area/Displacement Ratio of 19.1 suggests that the Dehler 36 CWS will, in the right conditions, approach her maximum hull speed readily and satisfy the sailing performance expectations of most cruising sailors.
2. A Ballast/Displacement Ratio of 42.9 means that the Dehler 36 CWS will stand up well to her canvas in a blow, helping her to power through the waves.
3. A Displacement/Length Ratio of 214, tells us the Dehler 36 CWS is a moderate displacement cruiser, which means she'll carry all your cruising gear without it having a dramatic effect on her performance. Most of today's sailboats intended for offshore cruising fall into this displacement category.
4. Ted Brewer's Comfort Ratio of 23.5 suggests that crew comfort of a Dehler 36 CWS in a seaway is similar to what you would associate with the motion of a coastal cruiser with moderate stability, which is not encouraging news for anyone prone to seasickness.  
5. The Capsize Screening Formula (CSF) of 2.0 indicates that a Dehler 36 would not be the wisest choice of sailboat for ocean passage-making owing to the lower resistance to capsize in strong winds and heavy seas that is associated with similar sailboats with a CSF of 2.0 and above.

---
More about the Dehler 36CWS...
The Dehler 36 CWS is a 36-foot fractional sloop that has a sleek and modern look. It has a long waterline, a low-profile cabin, a high-performance 7/8 rig and a bulb fin keel and an elliptical spade rudder. The boat is built in a composite design, which means that it has a sandwich construction of fibreglass and balsa core for strength and lightness.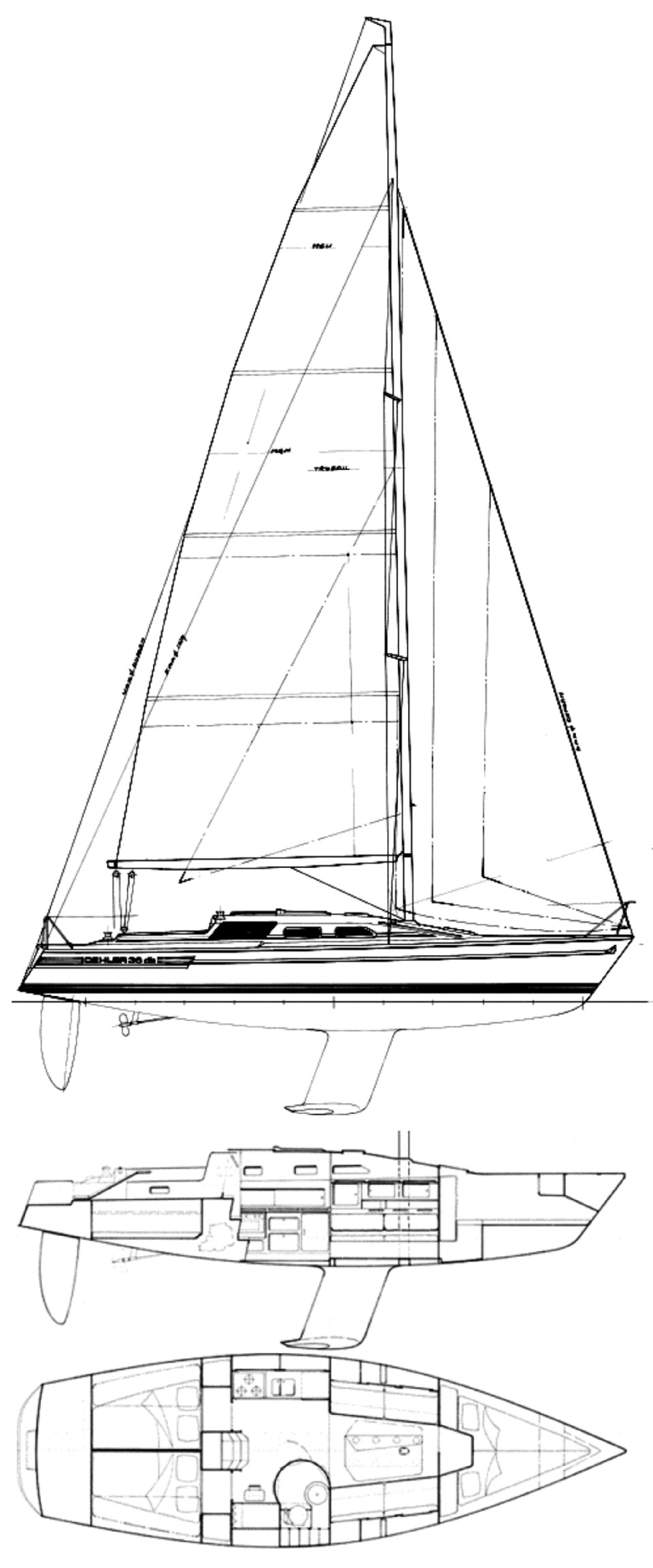 Dehler 36 CWS Layout & Sailplan
The Dehler 36 CWS is a fast and agile sailboat that handles well in various wind and sea conditions. It has low water resistance values and high righting moments, which make it stable and responsive. The boat is suitable for both racing and cruising, as it offers good performance and comfort. The boat can accommodate up to six people in two double cabins and two single berths in the saloon.

Accommodation
The Dehler 36 CWS has a spacious and luxurious interior with a saloon that can seat six people comfortably. The table can be lowered to create an extra berth if needed. At the foot of the companionway steps on the port side there is a long galley that has a two-burner stove with an oven, a double sink, a refrigerator, and plenty of storage space.
The forward cabin has a V-shaped double berth with storage underneath, a hanging locker, and shelves. There is also an opening hatch for ventilation and light. The aft cabin has another double berth with storage underneath, a hanging locker, shelves, and an opening portlight.
The navigation station is located on the starboard side opposite the galley. It has a large chart table with drawers, a seat with storage underneath, an electrical panel, and instruments. There is also a wet locker next to the companionway for storing foul weather gear.
Hull and Deck
The hull of the Dehler 36 CWS is made of fibreglass reinforced plastic (FRP) with balsa core sandwich construction. The deck is also made of FRP with balsa core sandwich construction and has an anti-slip surface. The hull-deck joint is bonded and bolted for extra strength.
The deck layout of the Dehler 36 CWS is designed for easy handling and safety. The cockpit is large and comfortable, with high coamings, teak seats, and stowage lockers.
The wheel steering is mounted on a pedestal that has an instrument panel, engine controls, compass, drink holders, and grab rail.
The central winch system is located behind the wheel pedestal and consists of two electric self-tailing winches that can be operated by foot switches or remote control. The winches control all halyards, sheets, reefing lines, vang, outhaul, backstay tensioner, traveller, etc.
The above text was drafted by sailboat-cruising.com using GPT-4 (OpenAI's large-scale language-generation model) as a research assistant to develop source material; we believe it to be accurate to the best of our knowledge.
---
Other sailboats in the Dehler range include:
---
Sep 29, 23 05:38 PM

Sailing characteristics and performance predictions, pics, specifications, dimensions and those all-important design ratios for the Hanse 400 sailboat...

Sep 29, 23 03:17 AM

Interested in the Gulf 32 sailboat? Here are the pics, specs and performance predictions you're looking for...

Sep 28, 23 04:04 PM

Sailing characteristics and performance predictions, pics, specifications, dimensions and those all-important design ratios for the Fuji 35 sailboat
---